Jump to Recipe

One of the most classic barbecue side dishes is baked beans and in my opinion this is one of the best recipes available. It's cooked in a cast iron skillet for a few hours and everytime I make this recipe it reminds of a baked bean recipe that a cowboy would be eating sitting out next to his horse on a campsite. This baked bean recipe is from Alton Brown's show on Food Network called "Good Eats." This Alton Brown's Baked Beans recipe requires soaking your beans overnight and then baking them for about 6 hours. It might sound like a lot of work but it is well worth it.
The first step is to soak the beans overnight. I make sure to fill the bowl with enough water to allow for the beans to expand. This turns out to be about 1 inch of water over the beans.
The next day you chop the bacon, dice the jalapenos and onions and add them to your pan. Alton Brown recommends a cast iron dutch oven. I don't have a cast iron dutch oven but I do have a 4 qt cast iron skillet. I used this and it turned out just fine. I would imagine this baked bean recipe would also work well in a crock pot as long as you do the initial sauteing in a regular frying pan. Over medium heat sautee the onions, jalapenos and bacon until the onions are soft (about 5-8 min).
After the onions are soft, add the tomato paste, brown sugar and molasses to the skillet.
Stir this around for a little bit and then strain the beans and add them to the skillet. Save the water the beans were soaking in and then add 4 cups of this water to the skillet. It may seem like a lot of liquid but all this liquid will reduce by quite a bit during the cook. Add the cayenne pepper, salt, and pepper and bring this to a boil over high heat.
Once the beans are boiling, cover the skillet and place it in a preheated 250 degree oven for about 6-8 hours. I kept thinking to myself that I bet this would work well on an extra grate of a smoker while a pork shoulder was cooking!
After 6 and a half hours my ribs were ready and so were my beans.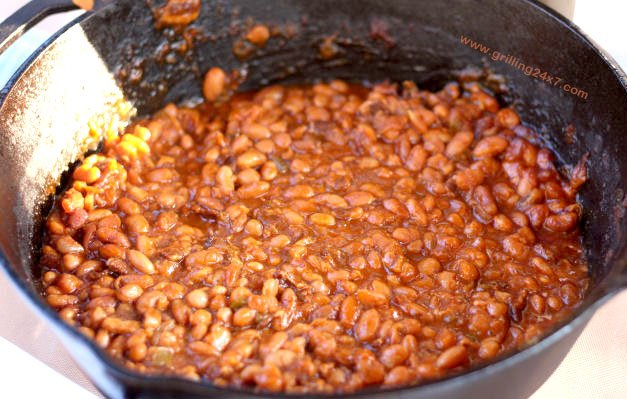 This is a really nice bean recipe to accompany your BBQ. Just look how nice it goes along with my ribs!
Print Recipe
How to make Alton Brown's Baked Beans
Instructions
first step is to soak the beans overnight. I make sure to fill the bowl with enough water to allow for the beans to expand. This turns out to be about 1 inch of water over the beans.

The next day you chop the bacon, dice the jalapenos and onions and add them to your pan. Alton Brown recommends a cast iron dutch oven. I don't have a cast iron dutch oven but I do have a 4 qt cast iron skillet. I used this and it turned out just fine. I would imagine this baked bean recipe would also work well in a crock pot as long as you do the initial sauteing in a regular frying pan. Over medium heat sautee the onions, jalapenos and bacon until the onions are soft (about 5-8 min).

After the onions are soft, add the tomato paste, brown sugar and molasses to the skillet

Stir this around for a little bit and then strain the beans and add them to the skillet. Save the water the beans were soaking in and then add 4 cups of this water to the skillet. It may seem like a lot of liquid but all this liquid will reduce by quite a bit during the cook. Add the cayenne pepper, salt, and pepper and bring this to a boil over high heat.

Once the beans are boiling, cover the skillet and place it in a preheated 250 degree oven for about 6-8 hours