Looking for a cheap cut of meat that's great for smoking? Eye Round is a tough cut of beef that's often prepared poorly turning out either too tough or too dry.With a little bit of attention this tough cut can give your Texas brisket a run for its money.
Eye Round

The Eye of Round Roast is located on the back leg of the cow and at first glance looks very similar to the tenderloin. That being said it's an extremely tough cut of beef because of its constant movement and being a weight bearing muscle of the animal. It is very lean with lots of connective inter muscular tissue. To break all that down you'll want to cook this cut low and slow. Not for nothing another big advantage of the eye round is the price. Eye round is often on sale at local markets and in my research almost always cheaper than brisket.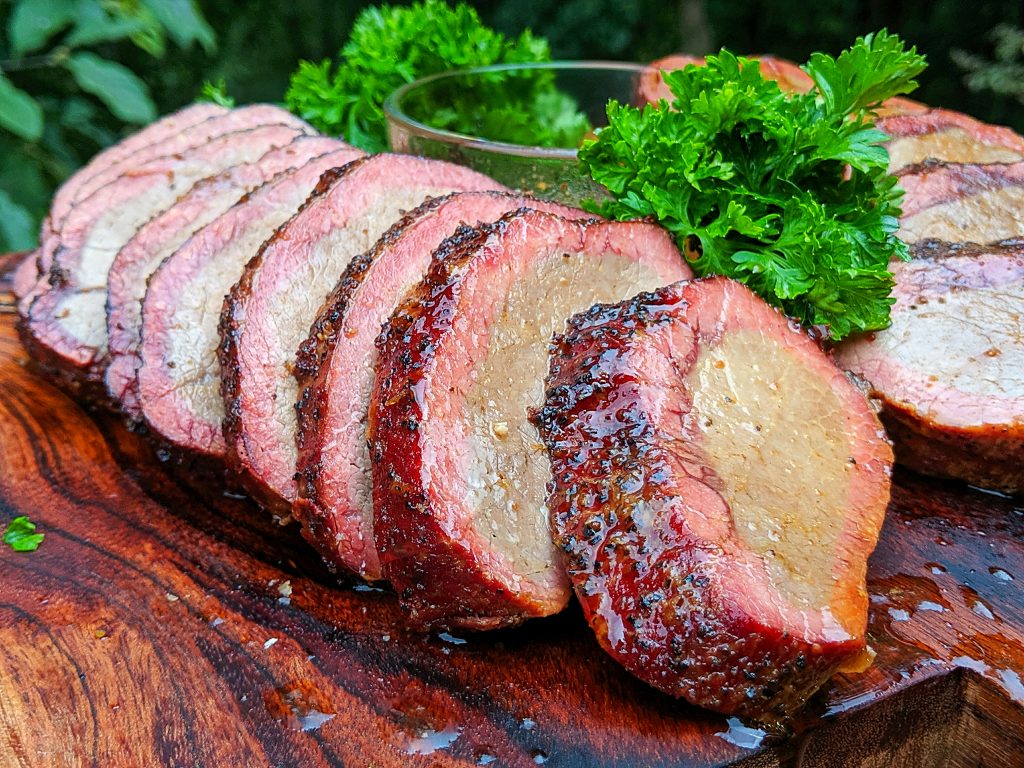 Brining Beef

Most of the time when you think of brining or curing beef we are discussing brisket to make corned beef or pastrami. Eye Round can benefit from some of these processes as well. I like to give the eye round an overnight brine using Real Salt, peppercorns, bay leaves, onion and garlic. The beef will turn a pale color but don't worry, it won't affect the final product other than making it more tender and juicy. For a easy cheat recipe for pastrami check out this recipe.

Smoking vs Braising

Smoking the Eye Round then wrapping in foil gives you the best of both worlds. You get the beautiful smoke ring and flavor that you want with beef roasts. In addition wrapping the beef will help tenderize and hold in the juices to keep the roast a Moist. The addition of beef broth and butter in the foil acts as a flavor booster to really take the roast up a notch.

Smoke Ring

To achieve a perfect smoke ring start the beef roast at a lower temperature around 225 for the first 3-4 hrs. Once the eye round has reached an internal temperature of 160 degrees F. It's really taken on all the smoke that it can. Then you can wrap it up and raise the temperature after that. Once the eye round is wrapped I'll turn my smoker up to 300 degrees F and cook it until I hit 210 degrees F. Internally.

Resting

This is the key to your success or failure in this recipe. You've been cooking all day and you're hungry but don't let your impatience get the best of you. At 210 degrees the beef has pushed out a lot of juices but it can reabsorb those juices if you give it time. Plus if you cut it while it's that hot it will probably tear and crumble when slicing. Open the foil carefully on top so the beef can breath and cool. Make sure the beef still sit in its own au jus. Let the beef cool down for 30-45 minutes until it hits an internal temperature of 150 degrees. It will still be hot and ready to eat but it will be perfectly moist as well. Pour off that leftover au jus in a bowl to serve along side the eye round for even more beefy goodness.
Print Recipe
Smoked Eye Round w/ Au Jus
Equipment
Pellet Grill (Rec Tec 700)
Instructions
For Brine Instutions See Recipe Below

Pat Brined Beef dry and  season the Eye Round with Spiceology Salt Pepper Garlic seasoning. Smoke at 225 degrees for 3-4 hrs. Until beef reaches 160-170 degrees F.

Remove Eye Round from smoker and raise temperature to 300 degrees F.

Double Wrap the Eye Round in aluminum foil with a ½ cup of beef broth and ½ stick of butter added in. Re insert probe and return to the smoker.

Cool beef for 3-4 more hrs depending on size until beef reaches an internal temperature of about 210 degrees F.

Open the top of the foil to let the beef rest in the juices until it cools to about 150 degrees F. Before slicing into ¼ inch slices. Pour off the au jus and serve alongside the Eye of Round.
Nutrition
Calories:
275
kcal
|
Carbohydrates:
1
g
|
Protein:
42
g
|
Fat:
11
g
|
Saturated Fat:
5
g
|
Cholesterol:
123
mg
|
Sodium:
1596
mg
|
Potassium:
683
mg
|
Sugar:
1
g
|
Vitamin A:
141
IU
|
Calcium:
41
mg
|
Iron:
4
mg
Print Recipe
Beef Brine
Instructions
In a pot bring water, salt, peppercorns, bay leaves, onion and garlic to a simmer stirring occasionally then remove from heat. And ice cubes until completely chilled then add eye round and brine for 8-12 hrs.
This page contains affiliate links