Jump to Recipe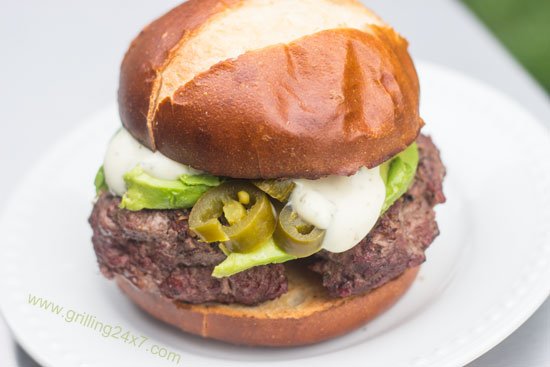 Sometimes we need a tasty recipe that requires minimal work. When I say minimal work I mean simply collect the ingredients, light the grill and go. There are only 6 ingredients total for this recipe: 80% ground beef, Montreal steak seasoning, pretzel rolls, avocados, jalapeno peppers and creamy ranch dressing. Avocado Ranch Burgers with Jalapeno Peppers! Check this out:
Preheat your grill for a medium high heat, typical for burgers. Carefully prepare your burger patty by lightly packing the meat together and heavily applying Montreal steak seasoning.
Toss those burgers over direct heat and grill.
When the burgers are done, put the avocados and jalapenos on top to let it warm up a bit.
Put the pretzel rolls over direct heat and toast them for a little bit. 30 seconds to 1 minute is good.
The whole point of this was to show that you don't need an elaborate recipe to make an over the top gourmet burger. I love the combination of the avocado, jalapenos and ranch. It works so well together. This is one of my favorite burgers.
Avocado Ranch Burgers with Jalapeno Peppers
A simple burger with minimal ingredients.
Ingredients
Pretzel Rolls

Ripe Avocados

Jalapeno Peppers

80

% Ground Beef

Any burger seasoning
Instructions
Grill burgers over medium heat. Assemble burger with sliced avocados, jalapeno peppers and pour ranch dressing over top.