Jump to Recipe
A classic Baltimore cookie in a creamy milkshake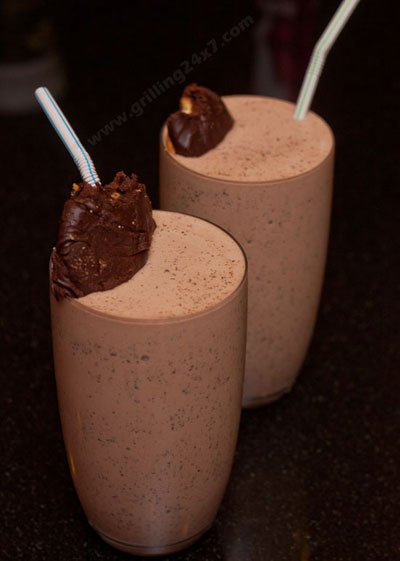 This blog isn't really a "local" Baltimore blog. My grilling recipes are viewed (according to webstats) all around the world. Knowing this, I didn't really want to do anything that would totally alienate 99% of the readers. However, this is so good and can be applied to any type of cookie or any type of donut that I wanted to share it anyway. This homemade Berger cookie milkshake recipe is based on the locally famous Berger cookies, which are a Baltimore dessert staple. They are cake like cookies with a huge dollop of fudge on top. These cookies are decadent and over the top and as such they deserve to be blended up in a decadent and over the top milkshake.
If you aren't from this area don't worry. This basic recipe can be applied to anything from chocolate chip cookies to Entenmanns chocolate glazed donuts. Yes, I have done both and been very happy with each. However, if you are in the Baltimore area and can find these cookies I strongly advise doing so.
My obsession with this started while I was sitting in a cool little burger pub in Baltimore city. On the menu is a "Berger Cookie Milkshake." I just had to order it and I was so excited for its arrival. The waitress brought it out and unfortunately it just contained an odd mix of liquor that didn't really taste like a Berger cookie. I don't know if a Berger cookie was even used. I was really bummed out. I said to Mrs. Grilling24x7, along with a bunch of expletives, "oh I could do this so much better and all I would need is a box of Berger cookies, a half gallon of vanilla ice cream and milk." And there we have it, at that moment I came up with the best recipe for the best milkshake I've ever had in my life.
The recipe is pretty simple: A whole box of Berger cookies. A half gallon of vanilla ice cream. 2% Milk. Add the entire half gallon of ice cream to a blender. Fit as many cookies as you can on top of the ice cream and pour in a little bit of milk. Blend. If it isn't blending enough, add some more milk. Put the rest of the cookies in and keep blending. Add milk a little at a time until you are happy with the thickness.
Oh wow, look at that. You can see the fudge specks all swirling around.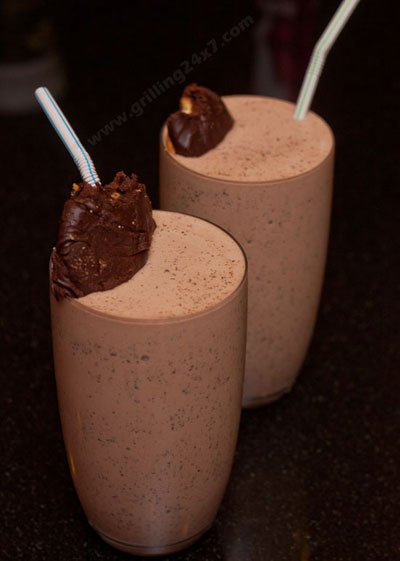 This is truly something special. I reserved two cookies and added them right on top of each milkshake. A+ fantastic. As I said, I'm fully aware that most of my readers won't have access to Berger cookies. However, use this same formula and experiment with anything you can find. Any type of cookie will work and donuts are great too!
Berger Cookie Milkshake Recipe
The famous Berger Cookie mixed into a milkshake.
Ingredients
• ½ gallon Vanilla Ice Cream

• 1 box Berger cookies

or any fudge based cookie

• ½ cup – 1 cup 2% Milk
Instructions
Add all ingredients to a blender and blend until smooth. Add milk until the milkshake is at your desired thickness.