One of my good buddies happens to be very into BBQ. He is so into BBQ that he has a competition BBQ team called "Godfather BBQ" and he invited me to come along for the BBQ competition being held this weekend. Maryland isn't the most well known for BBQ but the MD BBQ Bash is an annual event that is held in Bel Air, MD. Teams from across the country come to smoke meat and have a good time. I brought my camera along and took hundreds of photos.
Since the briskets and pork shoulders take so long to smoke they were on the smoker at around 3:00AM. I decided to show up around 7:00AM so I could actually sleep the night before. Right as I arrived the ribs were being put on the smoker. In typical self sufficient tailgate style – I rolled in with my portable folding chair, a rolling cooler full of beer, a dozen donuts, and a belly full of a McDonalds breakfast. I wasn't about to go into this with an empty stomach. That could spell trouble!
The first thing I had to check out was the Godfather BBQ smoker. The smoker has two access doors which when open allow access to the rotisserie shelving on the inside. The shelves rotate around via an electric motor. The shelving was fully loaded with ribs, brisket and pork shoulder.

Pork Shoulder

Ribs

Brisket
Oh man… how good does all that look!? It smelled pretty good too.
BBQ chicken was cooked on a Big Green Egg. Chicken thighs were deboned the night before and allowed to sit in a marinade. The skin was removed, a bbq dry rub was applied and the chicken was meticulously trimmed to remove any excess fat and meat. The skin was put back on and more rub was put on top. These thighs were allowed to soak in butter for a bit!
The big green egg was fired up and held a nice steady 250 degrees. I was surprised at how easy this grill held smoking temperatures. It looked pretty cool too! When I got to sample these chicken thighs you could really bite right through the meat and skin without pulling any of the skin off. I've always read about this but haven't pulled it off yet on my own.
What I was really interested to see was the turn in procedure. Specific meats had to be turned in at exact times. The guys from Godfather BBQ timed exactly how long it took to walk from the BBQ camp to the judging area. When a certain time came, the meat was prepped in the white styrofoam boxes with greens serving as the background. The boxes were then quickly walked to the judging table. This made for some complete craziness at the Godfather BBQ camp, especially with me poking my camera around all of the finished product!
The BBQ chicken looked exceptional for turn in. It tasted amazing!
The ribs also looked amazing when sent up for judging.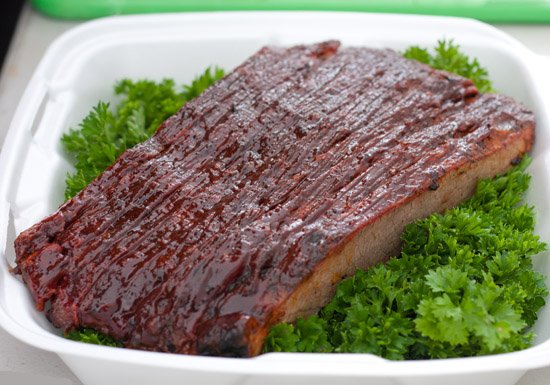 Nine slices of brisket were carefully sliced and laid out next to one another. The brisket was supposed to be about as thick as the size of a pencil. The sauce was lightly brushed on top. Oh man was it tender!
What really surprised me was that the pork shoulder wasn't pulled! WHAT?! No pulled pork at the BBQ competition? Well, what I learned was that the best way to do pork shoulder is to trim it down to what looks like little pork steaks. The consistency is that the meat could easily be pulled, but instead it is sliced into these ½ inch cuts of juiciness. When you bite into this it instantly falls apart. You taste the smokey bark first but rather than the normal pulled pork consistency that is supplemented with bbq sauce, this has a melt in your mouth smokey pork flavor that is quite different. It reminds you of the most tender steak you could ever eat.
The final turn in was around 1:30 pm. The results of the BBQ competition were scheduled to be given out at around 6pm. Wow! That's a lot of down time. These guys were up all night long, cooked all morning long and then had to chill out anxiously awaiting whether they will be considered the winners of the MD BBQ bash in Bel Air, MD. Well, if you guys watch BBQ Pitmasters on TLC you are surely familiar with Myron Mixon. He's the "Lord Of Q" as his twitter user name suggests. Yup, Myron won!
Myron and his group were nice enough to stop and chat with me for a bit. They are really nice down to earth guys. It was fun.
I really want to thank the guys from Godfather BBQ for letting me invade their space, talk their ears off about BBQ, and poke my camera all around their BBQ camp. I had a blast!
For a minute I thought I was taking a photo of a 90s rock band. Quite the serious pose.