Happy Memorial Day Weekend! If you are looking for Memorial Day Grilling Recipe ideas, here's the link.
Live Blog:
Smoking a 15 lb Packer Brisket on the Ugly Drum Smoker
Today, I thought it would be a fun exercise to live blog the smoking of this 15 pound packer brisket (The most recent updates are at the bottom of the page).
Not only does this keep me honest, but it will force me to pay even more attention to detail. I've smoked brisket flats in the past but this is my first full packer brisket.
If you aren't familiar, the packer brisket is BIG and includes both the brisket flat and the brisket point. They usually come in the 10-16 pound size and are mostly untrimmed.
This means they are covered with a lot of fat, which is a good thing when it comes to keeping the meat moist.
My general plan is based off of my friend's method. He nails his packer brisket so it seems like the logical starting place.
General Plan for Smoking a Packer Brisket on an Ugly Drum Smoker

I'm going to trim some of the fat down to about ¼ – ½ of an inch and remove all of the "hard fat."
The hard fat provides no benefit to the smoke so it might as well be removed. I'm going to rub the brisket with salt and pepper and smoke it for about 7 hours on the ugly drum smoker.
I'll mop it with a simple mop solution every few hours just in case it starts to dry out a bit.
After 7 or so hours I'm going to wrap it in foil and finish cooking it until about 200 degrees (internal temperature) or until a probe enters the meat "like butter."
Just like everything else in life, nothing tends to make sense. I order a packer brisket from Roseda Beef in Baltimore and I expect it to look like the typical packer that you see on BBQ forums and other BBQ websites.
Well, mine doesn't. Here I have this massive chunk of beef that looks like part of the flat was removed.
It looks like I have the point and a fraction of the flat. Oh well. I will work with it and see how it goes.
So take a look at this thing. I highlighted what I think is the flat in green. I highlighted what I think is the point in red.
I didn't want to remove all the fat, so I just lightly trimmed the areas that were seriously dense with fat, especially hard fat.
The plan tomorrow after smoking will be to somehow slide the knife in between the fat of the point and the flat and hopefully separate the two.
In true Texas brisket fashion I went with the simple 50:50 ratio of salt and pepper as a rub. I lightly sprinkled it all over the packer brisket.
I bought a big turkey bake aluminum foil tin and I put the rubbed brisket inside. I then wrapped it in foil and put in the fridge. Tomorrow morning when I wake up I'll put this on the smoker at about 250 degrees with apple wood smoke.
Here goes. It's 7:00AM and since no one sleeps in around here it seems like a fine time to light the smoker.
I filled the charcoal basket with coals and apple wood chunks and then lit a charcoal chimney that was about ¼ full of coals. After these lit I dumped it into the charcoal basket of the UDS. Shortly after, the temperature of the smoker was about 250 in the center so I put the packer on.
9:30 update: Not much happening here. The UDS is holding temperature well. There was a brief spike in temp to about 225 at 8:30 but I closed the ball valve air intake a bit and it dropped back down to about 215. No mopping yet; I'm going to open the lid in maybe an hour to take a look. I want to keep the temperature and humidity constant for now.
At 12:00 I decided to take a look at the brisket, insert the temperature probe and give it a mop. I eye-balled a quick mop solution made of ¾ cup apple cider vinegar, ¼ cup water, a tsp of salt, a tsp of pepper, a tsp of garlic powder and a quick shake of red pepper flakes. I microwaved this for about 45 seconds so it would be warm when I add it (no need to cool the exterior of the meat).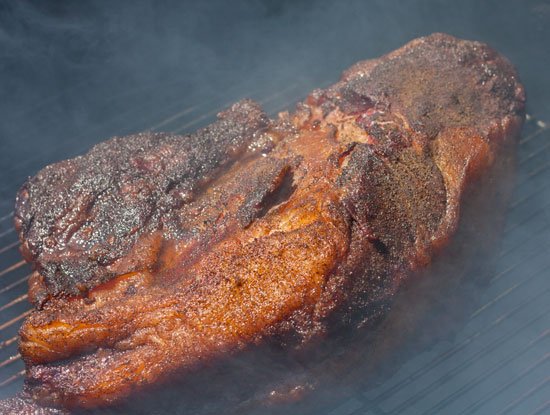 Wow, look at that. A huge chunk of meat. I really hope I can figure out what to do with this. It's going to be really hard to see the difference between point and flat. I'll give it a few more hours on the smoker since it looks so moist and then I'll wrap it and put it in the oven until its done. There's no harm in doing the oven/foil trick as it can tenderize the packer and also no more smoke will be absorbed into the meat anyway after 7 or so hours.
Of note, I am having a rather high heat of 275 (225 + 50) in the center of the UDS. I can't get it any lower. The fat is dripping onto the coals and getting the fire going a bit hotter than I would like. Also, my 2nd thermocouple has kicked it, so I can't take a 2nd temperature measurement. Oh well.
At 1:30 I realize that the neighbors really should be thanking me. My backyard smells like I'm cooking about 50 steaks. The pure beef and smoke smell is amazing. I think this is the result of the beef fat dripping directly down on the charcoal/wood. Whenever the lid is opened, the smoke just rolls out. I didn't plan for this much smoke and it hasn't been smoking too out of control, only when I open the lid. Cool photo, though.
After a few minutes of swatting smoke and blowing air as much as I could, I finally was able to get a sneak peek of the brisket. Nice color, very moist. I mopped it, but it was so wet on top I don't think I needed to. I see why most people on the BBQ forums say to not worry about mopping. Maybe another hour and then I'll wrap it in foil and finish it up.
Ok, so after 7 hours of smoking the internal brisket temperature was 170 degrees. It looked like the above photo. Very wet looking and certainly shrunk up a bit. Not much bark has formed.
At 2:30 I put the brisket into a turkey tin and covered it with foil. I put this into a 270 degree oven. I'm guessing a few more hours until it's done. I just had a detailed discussion with a friend and we decided that this brisket indeed is missing a major portion of the flat. It appears that I have about 80 percent point.
After 2 hours in the oven it's finished. The Thermapen registered anywhere from 198-203 at various spots around the brisket. A fork went in tender to most places. Tons of fat are everywhere. I mean tons. I'm going to let it rest for an hour (still foiled) and then try to split the point from whatever flat I have. All of a sudden it looks like I have bark. Looks great.
I let this thing rest for 2 hours. It was hot and I don't like to burn my fingers on hot meat. I took it from the tin and set it on a cutting board. The photo above shows what is left after I used my hands to remove the massive amounts of fat. It pulled right off. It left me with what looks like a brisket flat underneath and a point on top. The first thing I did was slide a knife between the two and move the point to another container. It wasn't a perfect knife cut. I had to cut through some meat as well as fat. It worked and I was able to split the two.
This is the flat that was on my brisket. Notice my faithful buddy Scooter in the background. Yes, he had some of the first samples. He loved it, for sure. I cut the flat into nice slices.
Looks pretty good to me. One small gripe. There is no bark on the slices. Well, this is because the flat was essentially sandwiched in between fat and point. I'm pretty sure that I only had about ⅓ as much brisket flat as a normal packer (who knows), so all of my flat was in the larger section of the packer where the point meat is.
The point was the softest, most tender meat I've ever eaten. There were two types of meat. Only one type was able to be pulled. So I pulled it into pulled brisket. The other didn't pull but was still really tender, so I cubed it. The above photo shows my "brisket cubes." If I sauced these and re-smoked them we could call them "burnt ends." Doesn't that sound like a good idea?
Last but not least we have the pulled brisket. This stuff is really tender. So tasty! I can't wait to make a sandwich out of this.
Overall, this was awesome! However, I have a major gripe. The packer brisket I bought clearly had some flat removed. This may be because the cows at the local black angus farm are HUGE compared to the average cow. When I asked for a 12 lb packer they may have cut the flat off to get it down to the size I asked for! My 15 lb packer brisket didn't have most of the brisket flat! C'mon!
Also, I weighed all of the meat after I processed it. 5 lbs of meat. Yes, 5 lbs of meat from a 15 lb packer brisket. Wow; I'm not sure if this is normal. Regardless, this was so flavorful and amazing. I'm very happy. Next time however, I will be going to a local butcher and asking for a full packer with a full flat and full point (in the 12-15 lb range).
That's how I spent my Sunday, I hope you enjoyed it.
Note: The UDS dial temp reads from a probe that is about 1.5 inches from the side of the drum. This is approximately 50 degrees cooler compared to the direct center of the drum.