Jump to Recipe
Print Recipe
Smoked Prime Rib is the crown jewel of a lot of families' holiday dinners. Make sure your Prime Rib is perfectly cooked and juicy every time with this foolproof method.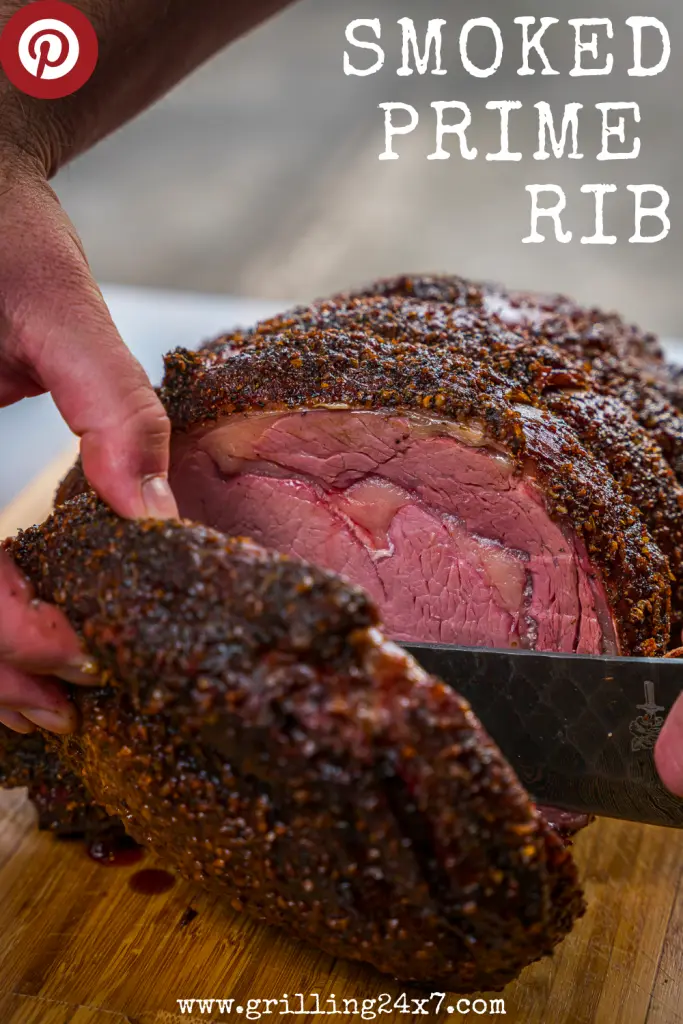 Also Checkout my Weber Kettle Rotisserie Prime Rib Recipe Or Deep Fried Prime Rib
Choosing a Prime Rib Roast
Picking out a prime rib roast can be a little confusing but if you know what to look for you'll be able to make an educated purchase and know you're getting a great piece of meat.
Around the holiday's Rib Roasts will start to pop up in the sale section of your local grocery store.
There can be a wide variety of different quality grades and a wide price range. "Prime" is most likely the highest grade of beef you will find at the grocery store followed by "Choice" and then "Select".
I've made amazing smoked prime rib with all three grades of beef so don't be afraid if you don't want to shell out the big bucks for Prime grade beef.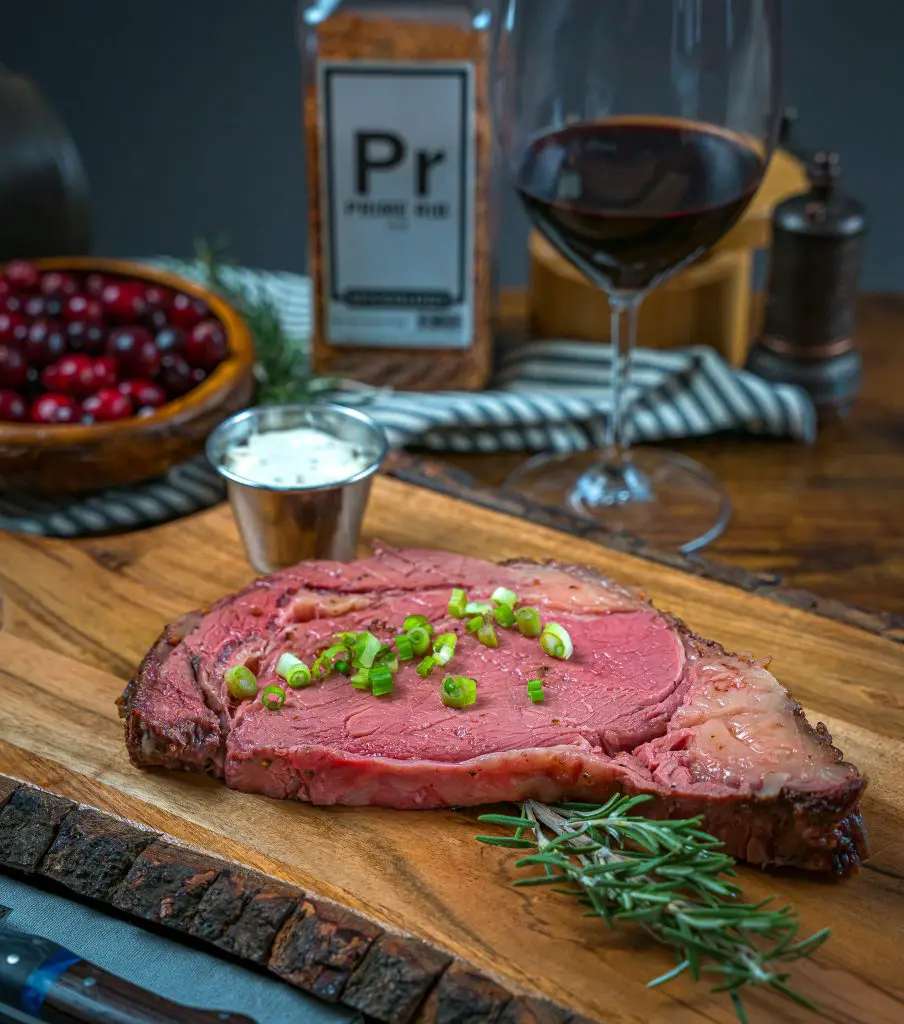 If you really want to live the high life and impress friends and family you might look into ordering a Wagyu Rib Roast online but be prepared to take out a small line of credit to pay for it.
Once you have decided what grade of beef you want and where to buy it you will most likely see a large display loaded with Rib roasts of all different sizes.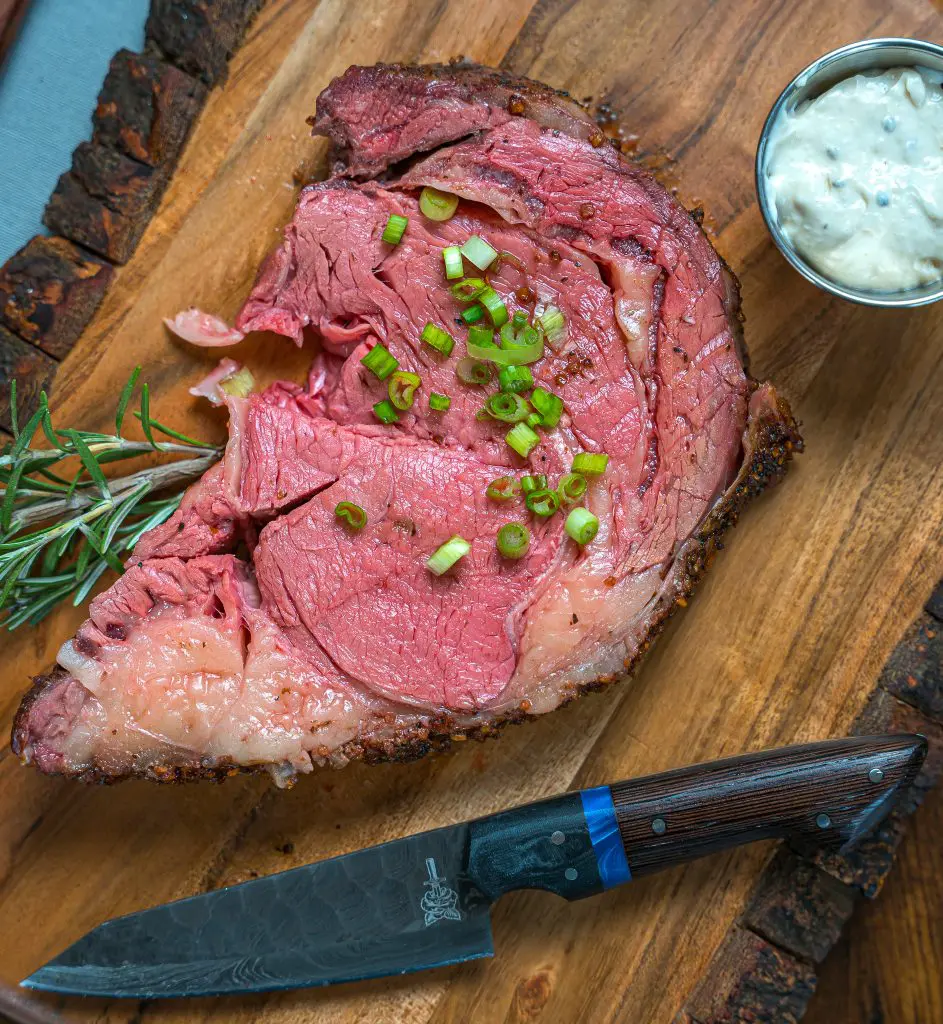 Be sure to look for a bone-in prime rib if possible, but boneless prime rib is also tasty. Look at the cross-section of the Roast and look for bright red color with nicely marbled meat.
If it looks gray or discolored, avoid those cuts. The roast should be even from one end to the other, so it cooks evenly.
Some Prime Rib Roasts will already be tied and the rib bones partially separated. If not, you can ask the butcher to tie off your roast.
How Big a Prime Rib Roast do I Need?
My general rule when deciding how large a roast you'll need is each bone will serve 2-3 adults. If you have eight adults, then a four-bone Rib Roast will give everyone a healthy portion.
Then you can let everyone fight over who gets the bones. Most full rib roasts have 11 bones, so unless you serve more than 23-25 people you should be fine with one roast.
If you are serving 3 guests per bone you will be fine but make sure you have a good sharp knife because you'll be making half to three-quarter-inch slices.
I'm using my brand new Folded Steel Damascus Chef Knife and had no problem.
Prepping Your Smoked Prime Rib Roast
The rib roast prep begins days before it's time to cook your roast. Alton Brown recommends pulling your roast out of the packaging one week ahead of cooking.
I think that's great, but 2-3 days seems fine for me. When you unwrap the rib make sure to pat it dry and place it on a sheet pan with a cooling rack.
Do not season the meat and place it uncovered in the fridge to dry out. This will slightly intensify the beef flavor but more importantly, it will firm up the roast for a better texture when smoked.
On the day of the cook, take the roast out about 60 minutes before you place it on the smoker. Ninety minutes on a more giant 8-11 bone roast.
Before seasoning the smoked prime rib, lightly rub a neutral-flavored oil ( I prefer Avocado Oil) all over the roast, including the bones and underneath.
For the seasoning, you can go with a spice rub or you can make your own. The flavors you want are pretty simple, including salt, pepper, onion, garlic, and rosemary.
I use the Prime Rib Rub from Spiceology. I'm a big fan of all of their spices and rubs and highly recommend their products (not sponsored…yet?)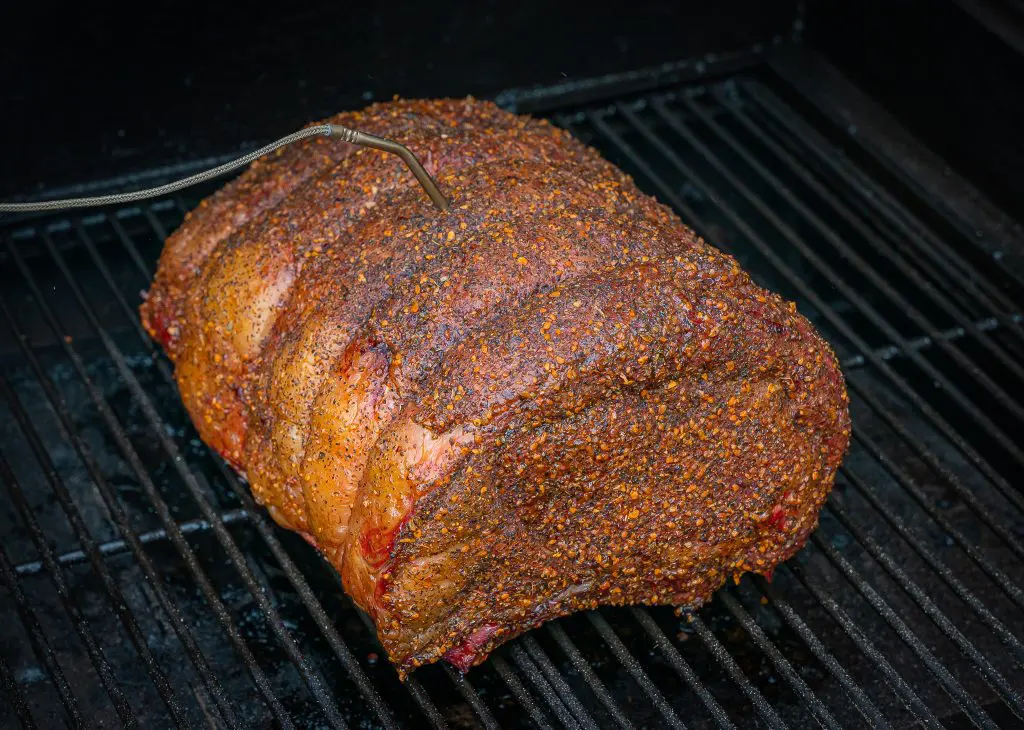 Basic Prime Rib Rub Recipe
3 Tbsp Kosher Salt
3 Tbsp Coase Black Pepper
1 Tbsp Granulated Onion
1 Tbsp Granulated Garlic
½ Tbsp Smoked Paprika
1 Tsp Chopped Rosemary
1 Tsp Chopped Thyme
As a general rule Alton brown and I tend to agree that 2 Tsp per bone is a good amount of seasoning. Don't worry a roast this size can handle that much seasoning.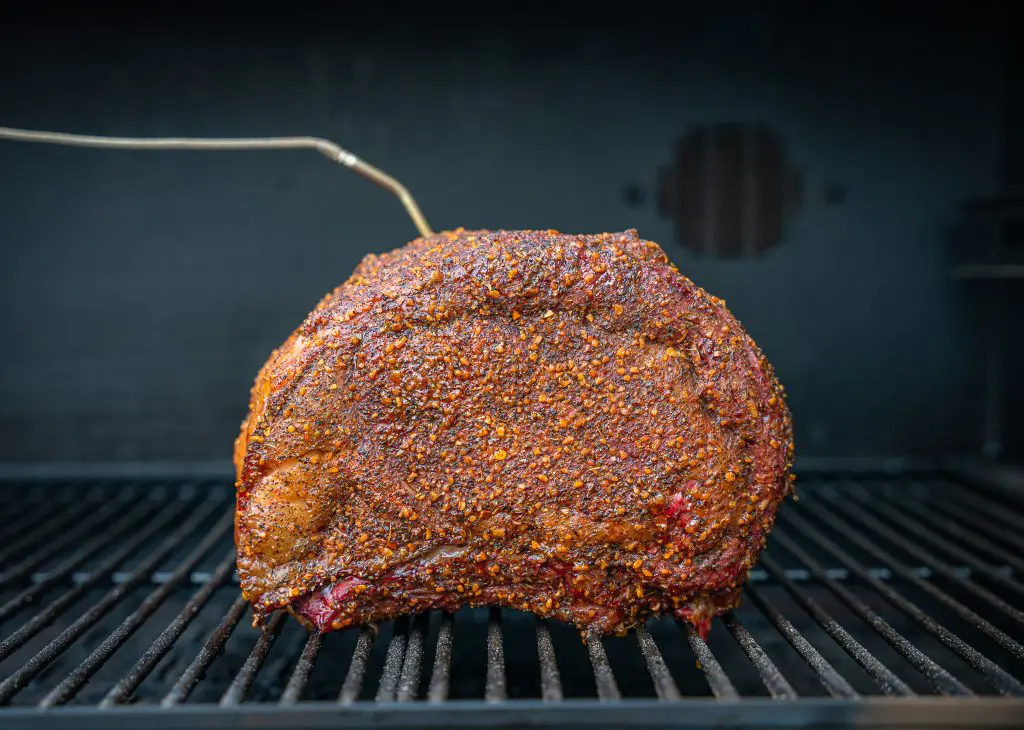 Smoking the Prime Rib Roast
Before you season your Roast go ahead and get your smoker Preheating. I smoke my roast at 225 degrees F.
I know that seems low but the key to an evenly cooked Prime Rib Roast is to bring the temperature of the roast up evenly.
This will help avoid having the outside overcooked and the center raw. Once the smoker has reached temp, place your rib roast on the pit, making sure it's not sitting directly above the heat source.
Place the roast bone side down with the narrow side of the roast facing the heat source.
This may sound counterintuitive, but the smaller end of the roast has a huge piece of fat that we want to render. This will help the roast cook evenly throughout.
It's VERY IMPORTANT to pace the probe into the center of the roast. You want to make sure the tip of the probe is the center of the roast, so you have a true internal temperature.
Place the probe into the roast at a 45-degree angle making sure the probe is in the thickest part of the roast.
My 4-bone roast took about 5 hours to reach 125 degrees F. just to give you an Idea but because we are going to rest and slice ahead of serving, it's ok to cook the prime rib ahead.
Steak Temperature Chart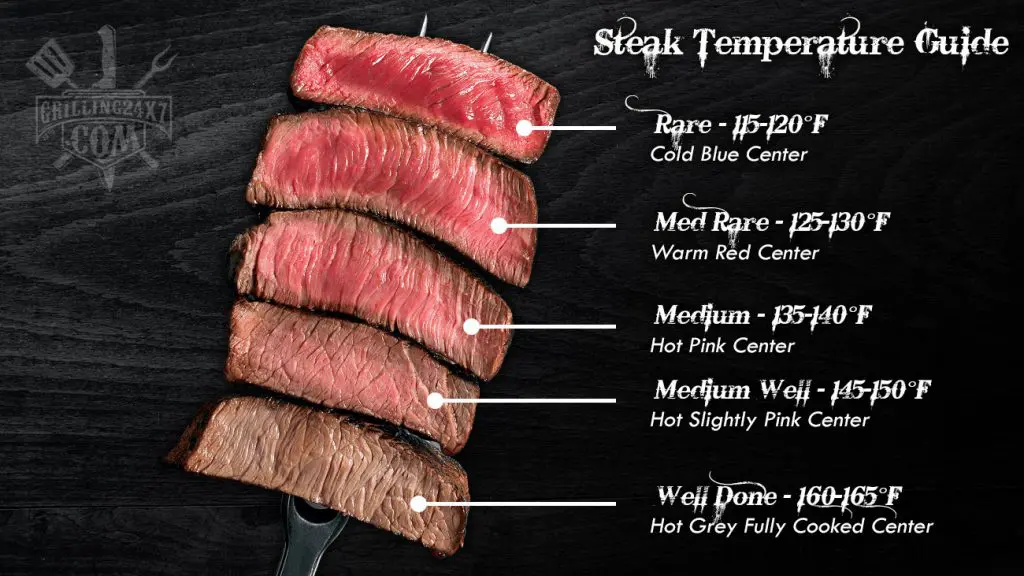 Serving the Prime Rib Roast
Once the roast Has reached 125 degrees F, it's time to pull it off the pit and let it rest for about 1 hour before slicing.
If you intend to serve immediately, you can simply remove the string, then place the roast on its side and slice along the bone to remove it.
Slice the bones individually and set them aside. Place the roast flat on a large cutting board and begin slicing enough slices for the number of guests you're serving.
You don't need to slice the whole roast if you have extra.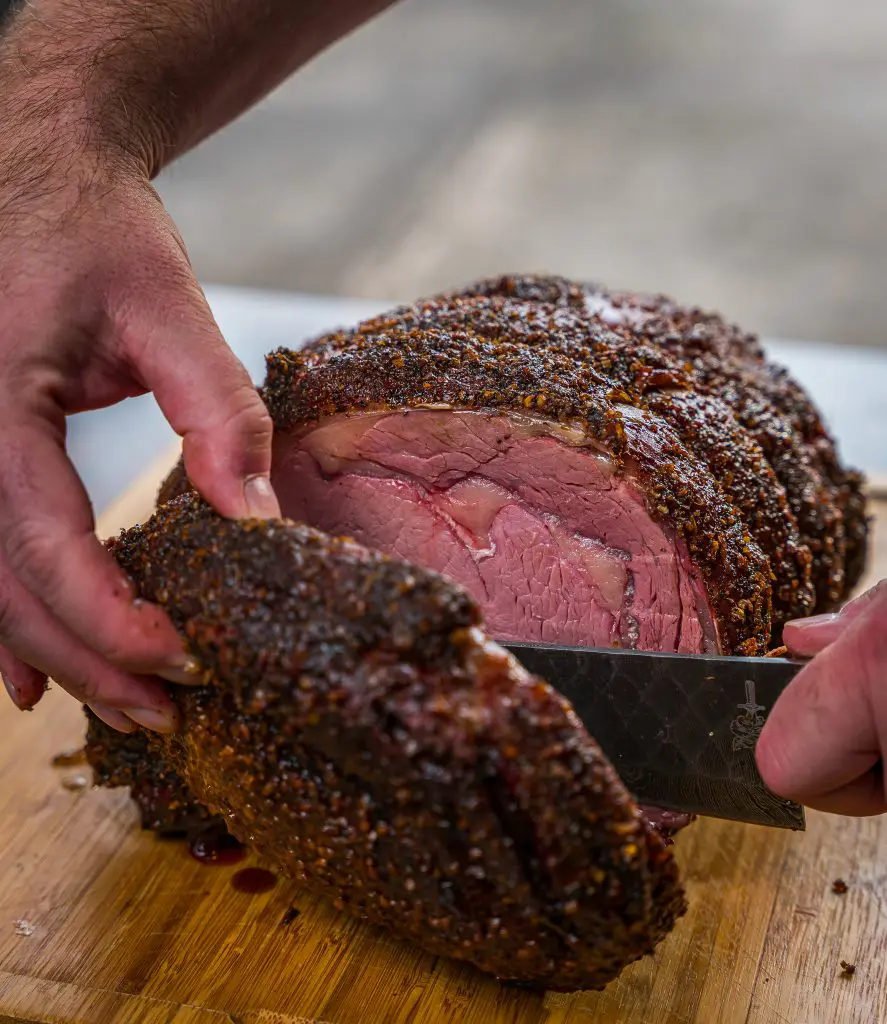 Now in my house, we have a few family members that need their prime rib served closer to well done…I know, I know, but it's my mother, and she gave birth to me.
So I'll burn her steak if she wants me to!! I always give her the end cut, which is normally my favorite because it has the most crust and seasoning, but it's also cooked a little further than the center cuts.
Place the well-done slices on a sheet pan and pour over a few ladles full of Au Jus and place in a 400-degree oven until they reach an internal temp of about 160 degrees F.
The rest of the sliced prime rib goes on a separate sheet pan with au jus and will only need about 4-5 minutes on the center rack just to warm it up before serving.
You will have hot, juicy prime rib for everyone and plenty of time to get all the sides on the table and gather the family to the table.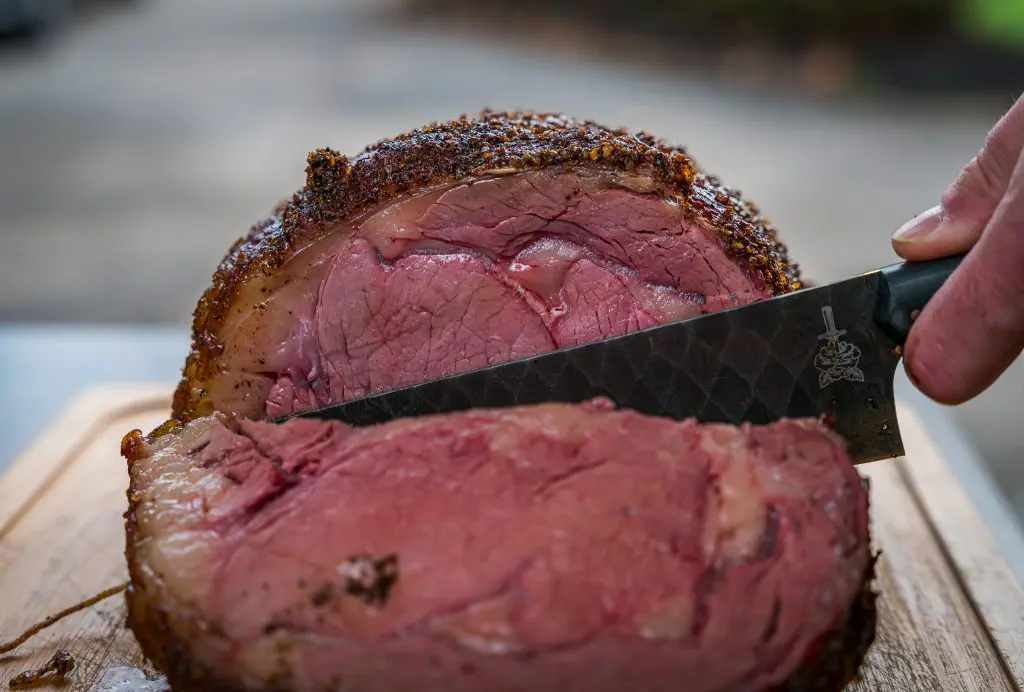 Horseradish Sauce and Au Jus
In my opinion, you can't serve a Prime Rib Roast without a side of creamy Horseradish sauce and Au Jus. The Au jus doesn't have to be anything too fancy.
I take some good-quality beef stock and jazz it up with some extra flavors. I'll give you the recipe for both the Au Jus and Horseradish Cream below the main recipe for the smoked prime rib.
Some Tasty Sides to go along with your Rib Roast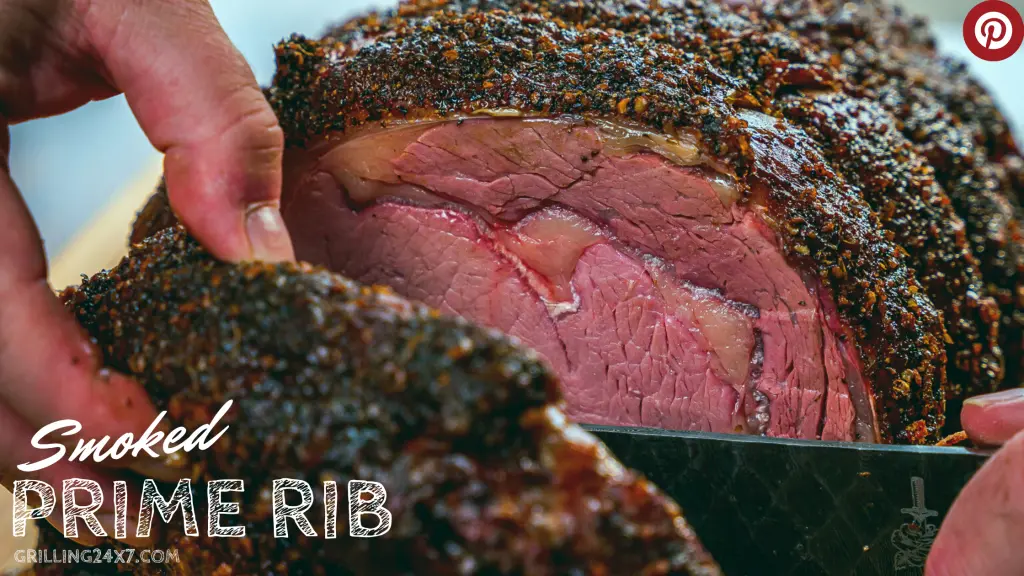 ---
Smoked Prime Rib
Smoked Prime Rib is the crown jewel of a lot of families holiday dinner. Make sure your Prime Rib is the is perfectly cooked every time.
Instructions
2-3 days before cooking unwrap the rib roast and pat completely dry and place on a sheet pan with a cooling rack in the fridge.

On Cook Day Preheat the Smoker to 225 Degrees F.

Rub the Rib Roast with avocado oil on all sides including the bones then liberally season the roast on all sides patting the seasoning into the roast.

Place the temperature probe in at a 45 degree angle so the point of the probe is in the center at the thickest part of the roast. Place roast on the smoker and cook for 4-5 hours until roast reaches an internal temperature of 125 degrees F.

Once roast has reached 125 degrees F. remove the roast from the pit and rest for 45 minutes to 1 hour before removing the bones and slicing.

If you plan to use the reheat method preheat your oven to 400 degrees F. and place sliced prime rib on a sheet pan with about ¾ cup of au jus and cook for 3-5 minutes just long enough to warm the meat. For well done you will need to cook sliced prime rib for about 18-22 minutes.
Nutrition
Calories:
651
kcal
|
Carbohydrates:
2
g
|
Protein:
76
g
|
Fat:
45
g
|
Saturated Fat:
9
g
|
Cholesterol:
217
mg
|
Sodium:
1955
mg
|
Potassium:
1293
mg
|
Fiber:
1
g
|
Sugar:
1
g
|
Vitamin A:
173
IU
|
Vitamin C:
1
mg
|
Calcium:
102
mg
|
Iron:
2
mg
Beef Au Jus
Ingredients
1

Quart

Beef Stock

1

tbsp

Worcestershire sauce

2

Garlic Cloves

1

Medium Carrot

1

Rib of Celery

¼

White Onion

½

tsp

Salt

Optional to taste
Instructions
in a meduim sauce pot simmer all ingredients on low for 30-45 minutes. Strain out vegetables and serve warm alongside prime rib.
Nutrition
Calories:
23
kcal
|
Carbohydrates:
3
g
|
Protein:
2
g
|
Fat:
1
g
|
Saturated Fat:
1
g
|
Sodium:
406
mg
|
Potassium:
265
mg
|
Fiber:
1
g
|
Sugar:
1
g
|
Vitamin A:
1274
IU
|
Vitamin C:
1
mg
|
Calcium:
16
mg
|
Iron:
1
mg
Creamy Horseradish Sauce
Instructions
Whisk together and Chill for 30 minutes before serving
Notes
serving size about 2 tbsp.
Nutrition
Calories:
133
kcal
|
Carbohydrates:
1
g
|
Protein:
1
g
|
Fat:
14
g
|
Saturated Fat:
3
g
|
Cholesterol:
11
mg
|
Sodium:
155
mg
|
Potassium:
30
mg
|
Fiber:
1
g
|
Sugar:
1
g
|
Vitamin A:
59
IU
|
Vitamin C:
2
mg
|
Calcium:
13
mg
|
Iron:
1
mg