Jump to Recipe
Grilling 24×7 Pub Burger
– Bacon, Cheddar, Caramelized Onions, Steak Sauce and "Pub Rub"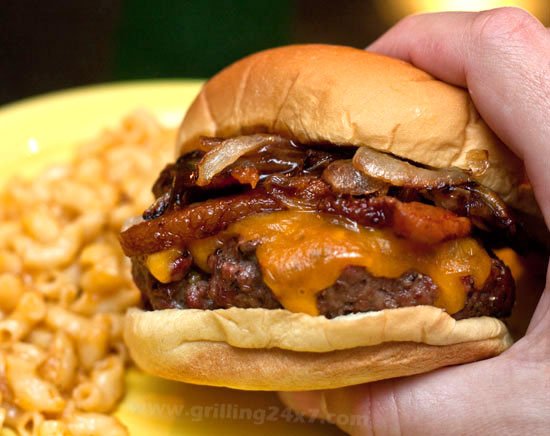 I saw this new McCormick Grill Mates Worcestershire pub burger seasoning and it really got me thinking about what is a pub burger? I took a smell of this seasoning and I was intrigued. I smelled Worcestershire sauce, dried onions, pepper and garlic. It smelled good and it got me thinking, "If I ran a pub, what would my basic burger be?" I asked a few friends what they though a pub burger should consist of and the general consensus was bacon, onions and cheddar cheese. I have to agree. Here's my attempt at making a pub burger. The grilling24x7 pub burger!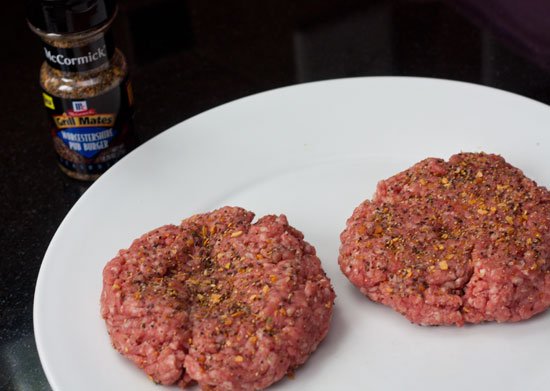 A burger needs to have some size to it. However, it can't be too big or it won't fit on a bun. I try to go just slightly larger than a ¼ pound. One key to making a burger is to form it lightly. Treat it like making a meatball, where you don't want to pack it too tight because a tight burger will be tough and not juicy. Make a few loose packed burger patties and use your thumb to put a slight indentation in the center of the burger. This will help it keep shape when grilling. Generously coat them with Grill Mates Pub Burger seasoning. I like to call this seasoning "pub rub."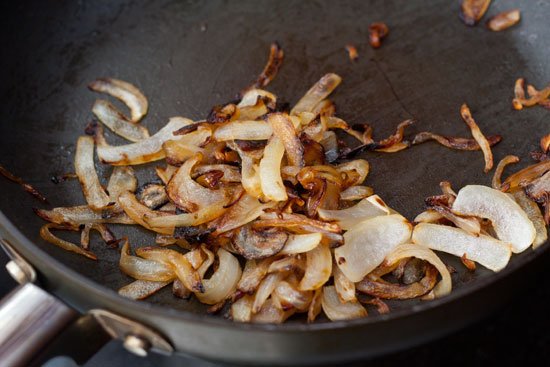 My pub burger needs a little more than just a regular onion. I wanted caramelized onions. Caramelized onions have much more flavor than regular onions. The caramelization brings out a nice sweetness and provides an amazing consistency. I sliced onions and put them on medium heat for about 30-35 minutes with olive oil. You want to stir these a lot so they don't burn. I don't mind a little bit of burn, it adds flavor!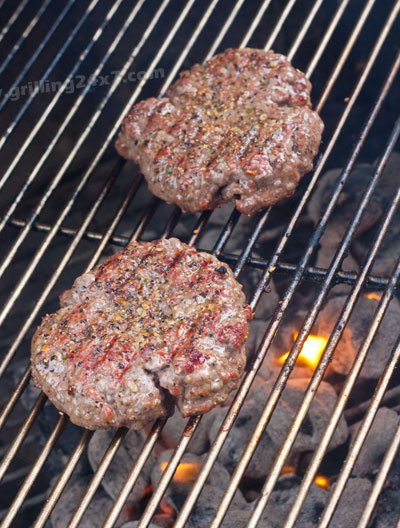 A nice medium heat is perfect for burgers. Look at these babies grilling nicely over the charcoal.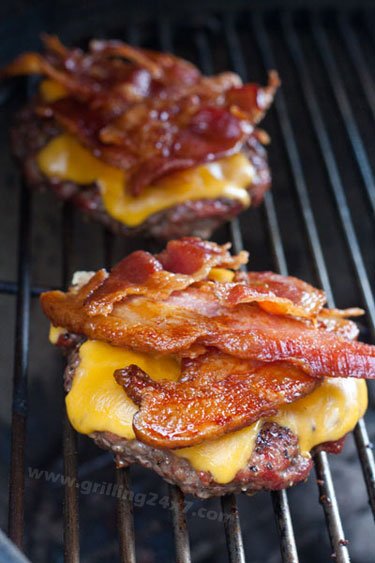 Once the burgers are almost done grab some cheddar cheese and cooked bacon and put it right on top of the burger. I like to do this on the grill over indirect heat (no flame underneath). This melts the cheese and warms up the bacon.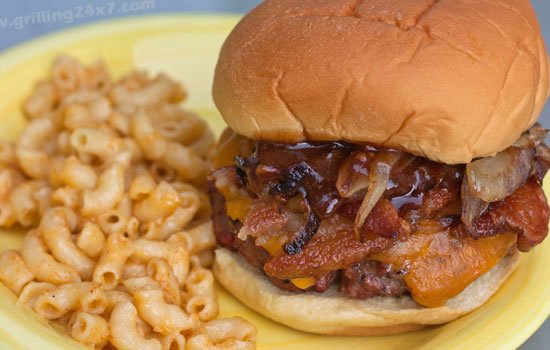 When I think of a pub burger I also think of a nice burger sauce. McCormick also sells a Grill Mates Montreal steak sauce. Since I like beefy steaky burgers I thought that a steak sauce would be the perfect sauce for this burger. Oh yes, it worked well. Once your bacon cheddar burger is topped with the caramelized onions generously pour the steak sauce over top. Yeah, that works.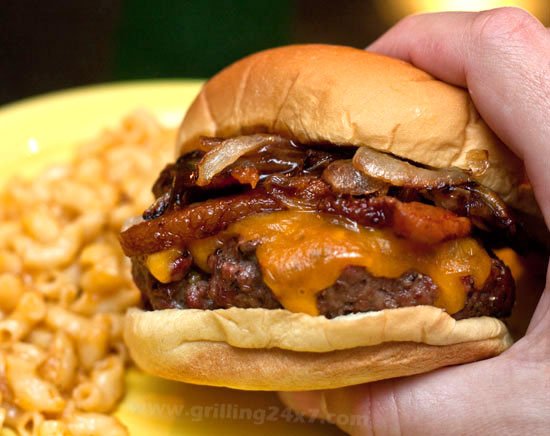 If you've ever used a camera before you'll know that the shutter release is on the right side. Well, I'm right handed. I grabbed this burger with my right hand and was ready to take a bite but it was so pretty I had to somehow grab the camera with my left hand, adjust the bounce flash and hit the shutter release button all with my left hand. There's just something about a photo of a burger in hand that is extra special.
Once I open up the grilling24x7 pub this burger will be a hit for sure. The steak sauce on top of this flavorful Worcestershire based rub is a real winner. The classic bacon, cheddar and onion flavor is nicely complemented by the unique flavors of the Grill Mates rub and steak sauce. This will be made again soon, for sure!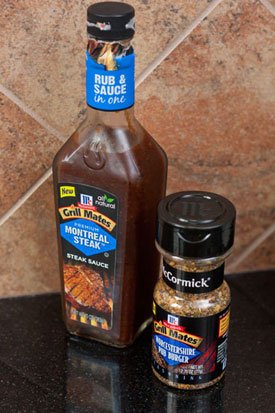 Grilling24x7 Pub Burger Recipe
What is a pub burger?! A burger that you think would work well in a pub. Saucy, tasty, with bacon and onions.
Ingredients
• 1 Grill Mates Pub Burger Seasoning

• 1 Grill Mates Montreal Steak Sauce

• 1+ lb 80/20 Ground Beef

• 4 slices Sharp Cheddar Cheese

• 8 slices Cooked Bacon

• 4 Hamburger buns

• 1 Sweet Onion

sliced

• 2 T Olive Oil
Instructions
Loosely form ¼ lb burger patties and generously apply Grill Mates Worcestershire Pub Burger seasoning

In a frying pan add sliced onions and cook until nicely caramelized (about 30 min)

Cook bacon

Grill burgers and when almost finished melt cheese over top and apply bacon

Add caramelized onions on top of bacon and cheese

Pour steak sauce over top of the burger and put it on a soft bun