Flavors similar to a whiskey sour cocktail in a BBQ Sauce
Don't get me wrong, I really enjoy local craft beer. However, sometimes I really crave a cocktail. One of the recent cocktail favorites that I've been enjoying is the whiskey sour. Most recipes are pretty simple as they include whiskey, lemon juice, a sugar syrup solution and a Maraschino cherry garnish. I wanted to take these flavors and add them to a BBQ sauce. Here's what I did:
Basic tomato based bbq sauces have a few things in common: a tomato base (ketchup), a sour acid, a sweet to balance the acid, then something to give depth like bourbon, garlic or onions. The plan here was to use this nice bourbon from Four Roses, lemon juice as the acid, brown sugar, cherry juice and a few whole cherries as the sweet.
Four Roses Bourbon is a straight bourbon whiskey distilled and aged in Lawrenceburg, Kentucky. It has a real nice flavor that works well with BBQ sauce.
Add all of the ingredients to a sauce pan and mix together well. Toss 3 whole cherries right into the sauce pan. Hey, this sauce needs a garnish!
Keep the sauce pan over medium heat, let the sauce come to a boil and then reduce heat to a simmer for about 20-25 minutes. Keep stirring the sauce. The sauce should thicken and develop flavor as time goes on.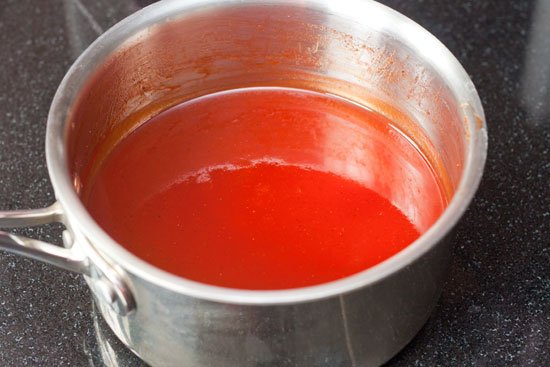 The above photo is after about 25 minutes. It develops a nice red color. Don't forget to remove the whole cherries after you cook the sauce.
This is a pretty unique sauce. The bourbon, lemon juice and cherries all give prominent flavor to the finished product. Mrs. Grilling24x7 is bluntly honest with me and is a tough cookie to please. Her first comment was, "wow, this is good and actually tastes like a whiskey sour!" Mission accomplished! Let me know what you think of this whiskey sour bbq sauce recipe!
Whiskey Sour BBQ Sauce Recipe
A tasty whiskey sour BBQ sauce recipe that will remind you of the whiskey sour cocktail. The alcohol will boil out so this is safe for everyone.
Ingredients
• 1 cup Bourbon

this recipe was made with Four Roses

• 1 and ¼ cup Ketchup

• 1 cup Lemon Juice

• ½ cup Brown Sugar

• ½ tsp garlic powder

• 3 T Maraschino Cherry Juice

right from the jar

• 3 Maraschino Cherries

• ½ tsp Salt

• ½ tsp Pepper
Instructions
Mix all ingredients into a sauce pan.

Bring to a boil.

Simmer for 20-25 minutes while stirring often.

Let cool and serve over pork, chicken or beef.
Disclaimer: Four Roses asked me to come up with a recipe using their bourbon. I received no other compensation.