Jump to Recipe
How to make baby back ribs on a charcoal grill
This has to be my favorite meal that I make on my grill. The low and slow cooking temperature used for the smoke makes the meat fall right off the bone and the sauce is one of the best barbecue sauces that I've ever stumbled upon. This recipe will take some patience and has a pretty steep learning curve. The key isn't the sauce or the dry rub, the key is learning how to maintain temperature. You want to aim for 250 degrees F and never more than 300 degrees F. Here's what I did: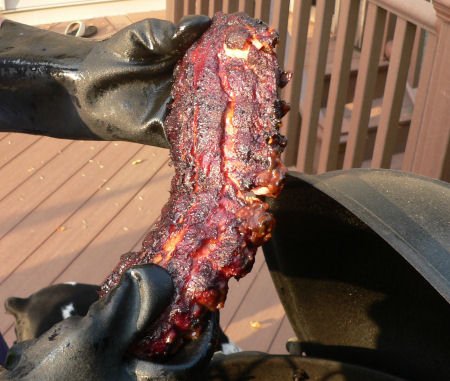 The first step in preparing your ribs is to remove the "membrane" from the back side of the rib rack. I've read many different techniques for doing this but I like the butter knife method. Take a butter knife and start to peal back the membrane. You can slide the knife along the meat parallel to the bones to loosen up the membrane. Then grab a dry paper towel to get a grip on the membrane and pull it in a perpendicular motion with respect to the length of the rib bones
The reason you want to remove this membrane is so the dry rub can penetrate into the meat a little better and because the tough membrane can lessen your experience when you bite into that rib. You want it to be really soft and tender and the membrane can toughen things a bit.
I've been using the following dry rub recipe:
¼ cup of paprika
3 T dark brown sugar
2 T ground black pepper
1 T chile powder
2 tsp garlic powder
2 tsp dry mustard powder
2 tsp celery salt
1 tsp kosher salt
1 tsp cayenne pepper
Lightly apply the dryrub to the ribs. You don't want to over do it here because brown sugar is in the dry rub mix. The brown sugar has the potential to burn if you over cook your ribs. So lightly apply and push it into the ribs a bit. Now leave your ribs in the fridge overnight to cure.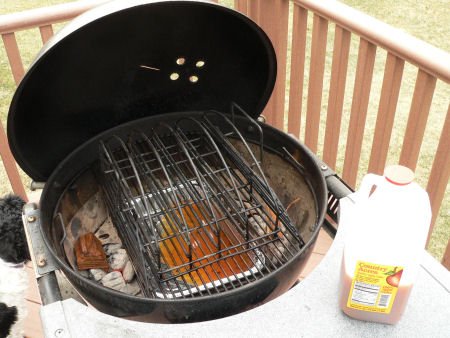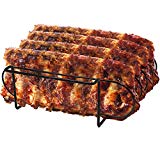 The next morning set up your grill for indirect cooking. BBQ ribs can be a bit messy, so not only do I use an aluminum drip pan, I also line the bottom of the grill with a sheet of aluminum foil. Things get really messy in there. Pour apple cider into the aluminum drip pan. This can help provide some moisture to the grill as things tend to dry out in long low and slow barbecue cooking. As I usually suggest – 6-8 coals on each side of your grill will give you 250 degrees F. Try to keep 6-8 coals (on each side – so 12-16 total) lit throughout the smoke and you will have a good chance of maintaining good temperature.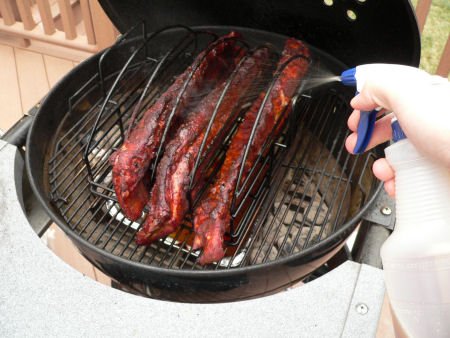 About once an hour you'll need to add more charcoal, add more wood chips, and give the rib rack a spray of apple cider. Never have more than 6-8 lit coals per side at a time or you will have high temperature problems. Sometimes the wood chips can flame up but don't worry this is only a brief flame up and it will die down. If you have a wood chip flame up and your temperature exceeds 300 degrees don't worry, a 5 minute high temperature flame up will not hurt your overall progress. I mean after all you'll be cooking these ribs for 6 plus hours at 250 degrees F!
How do you know when your ribs are done?
Pick them up with your BBQ gloves and give them a slight bend. When the ribs easily start to break you know you are about finished. This should take upwards of 5 or 6 hours. In fact, don't be surprised if this takes 10 plus hours. It all depends on your average temperature and when you smoke on a charcoal grill you will have violent temperature fluctuations. The dome temperatures can easily fluctuate from 225, 250, 300, 275, and 177 after 1, 2, 3, 4, and 5 hours of cooking respectively. So if you average in the lower 200s you will need extra time. If you average 250 or 275 you can finish your ribs in about 6-7 hours or maybe less. Just don't average over 300 degrees of you will lose the tender "fall off the bone" effect that makes this meal worth it!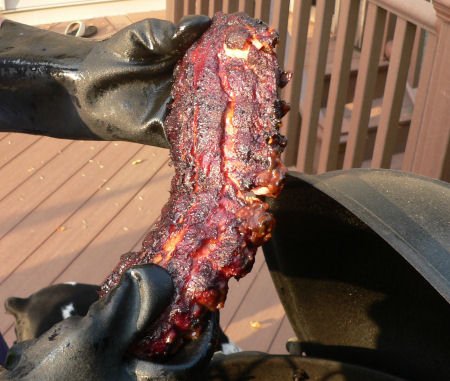 When you have almost 1 or 2 hours left, start making your barbecue sauce. You can use any sauce you like but I'll share this sauce because it is simply the best. The recipe comes from my "BBQ mentor" Joe.
Ingredients in Joe's barbecue sauce:
2 cups ketchup
¼ cup applesauce
¼ cup apple cider vinegar
¼ cup worcestershire sauce
2 T soy sauce
1 T brown sugar
1 tsp garlic powder
1 tsp ground white pepper
1 tsp ground ginger (not freshly ground)
1 golden delicious apple which has been peeled, cored and finely grated (on the finest grate of your grater)
1 small onion (again finely grated)
Mix all ingredients in a sauce pan and simmer over medium heat until your ribs are done cooking. Keep stirring your sauce!
When your ribs are finished, pull the rib rack off of the grill and put the ribs back on the grill laying flat against the grates. Don't worry about the indirect baskets and the really low heat you'll be having about now, this is just for saucing up the ribs. And don't be shy!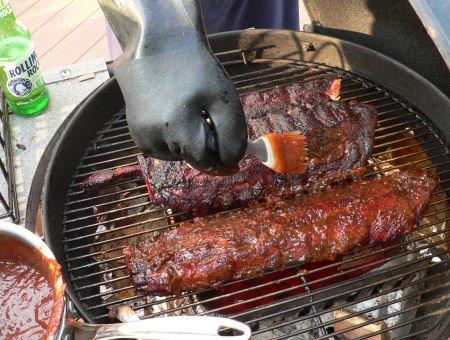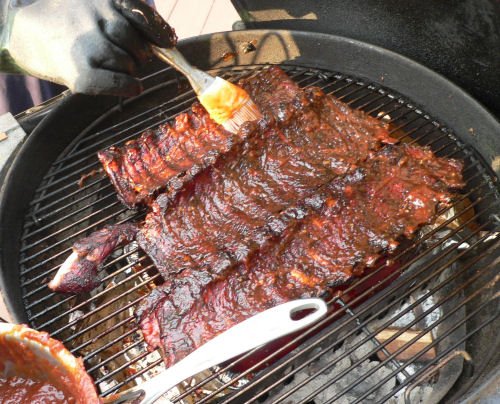 Cut them up and they are ready to serve! Perfect baby back ribs!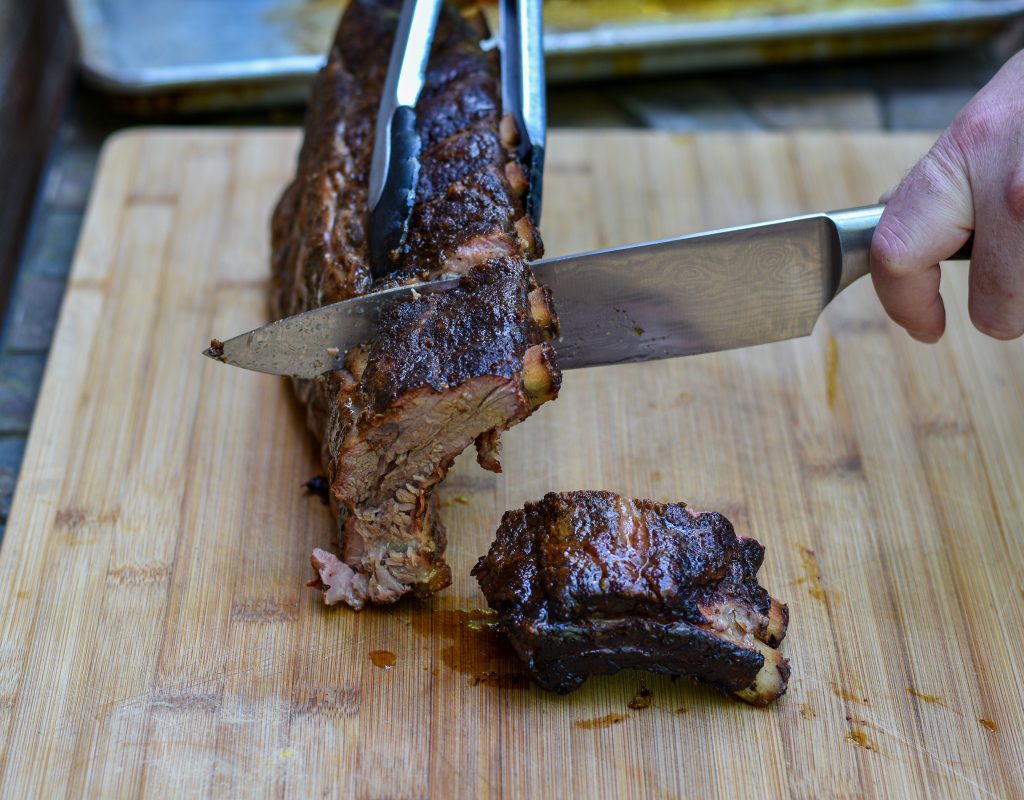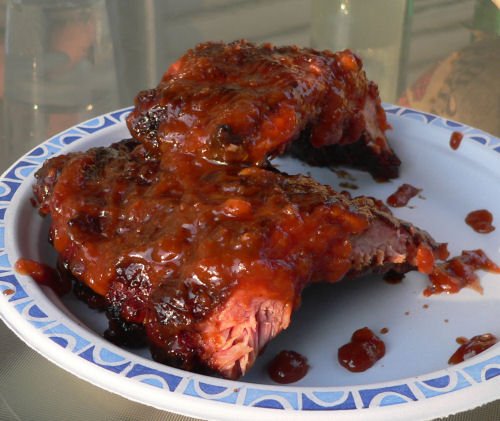 If you're looking for an easy side dish to make with your ribs check out these BBQ Grilled Spaghetti Squash Rings
Baby Back Rib Dry Rub and BBQ Sauce Recipe
A basic barbecue dry rub recipe for baby back ribs along with one of my friend's special BBQ sauce recipe.
Ingredients
Ingredients in Joe's barbecue sauce:
Instructions
For dry rub:

Mix all ingredients together and sprinkle all over ribs.

For Sauce:

Assemble ingredients and mix together in a sauce pan. Bring to a boil and then simmer for 15-20 min until sauce is thick.
"We are a participant in the Amazon Services LLC Associates Program, an affiliate advertising program designed to provide a means for us to earn fees by linking to Amazon.com and affiliated sites."