Smoked BBQ Chicken Recipe
Step by step instructions on how to prepare Smoked BBQ Chicken Drumstick Lollipops for your pellet grill. Take the extra time to impress your guests with these BBQ Chicken Lollipops.
Looking for more Chicken Recipes? Checkout Smoked Chicken Thighs w/ Blood Orange Glaze, Buffalo Chicken Sloppy Joe's on Martin's Potato Rolls, Smoked Honey Old Bay Wings
How to turn BBQ Chicken Drumsticks into Lollipops
Are you doing this for the gram? maybe? Is this extra work? Most Definitely but it does also make the drumstick eating experience much more enjoyable.
I find that kids love them and I get requests to make these for almost every family cookout. The first few times you do this you will suck at it and quickly become frustrated but after a few you'll get a rhythm and find yourself able to prep a dozen without losing you sanity.
Step 1:
Pat the drumstick dry so its easier to handle. you will need a pair of Shape Kitchen Shears and a few extra paper towels
Step 2:
About one inch from the top of the drumstick insert the bottom blade of the kitchen shears underneath the skin but above the bone as close as possible so you can cut as many of the tendons. work the shears all the way around the bone so you have completely separated the top half from the bottom.
Step 3:
push all of the meat down the drumstick to the bottom. There is one pin bone to lookout for as you push down. if any tendons are still attached use the shears to cut them.
Step 4:
using a paper towel to help you grip remove the cartilage and skin from the top of the drumstick exposing the joint.
Step 5:
press down on the meat to expose the pin bone. then run your finger underneath and separate it from the main bone and remove it. Sometimes it won't come off easily and I use tweezers or the shears to cut it off. this step is optional especially if only adults are eating but I always remove these if kids are eating because it can be a choking hazard.
Step 6:
look for any of the white tendons and trim them off. shape the drumstick and remove any pieces that may burn during cooking. finally push the skin down so its covering as much of the drumstick as possible.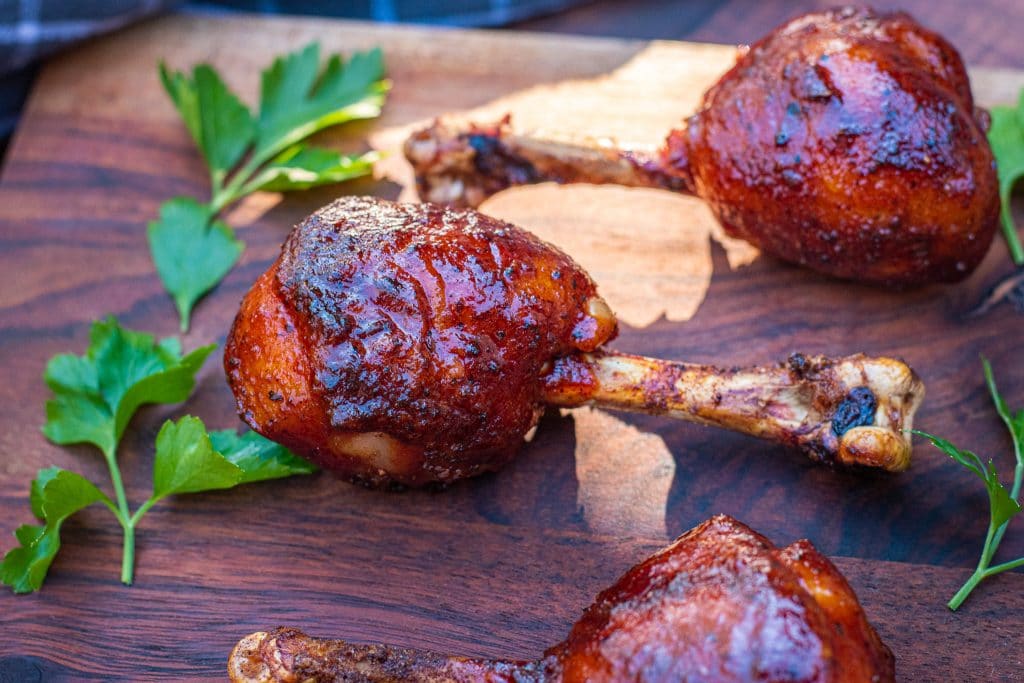 What temperature should I cook dark meat chicken to?
I mentioned in my Blood Orange Chicken Thigh recipe that I prefer to cook dark meat poultry to 185 degrees F.
Even though 160 degrees F. Is a safe temperature for chicken. Because dark meat has a higher fat content it won't dry out and will be much more tender when cooked to a higher temperature.
Chicken breast should only be cooked to 160 degrees F. because of how lean it is. I also cook chicken wings to around 185 degrees F. For fall off the bone birds.
Candied Barbecue Sauce
To get that glossy shine there are two things that will give you the best results. Butter and sugar. When preparing my sauce I take 4 tablespoons of butter and mix it with about a ¼ cup of brown sugar in a saucepan on low.
Once the brown sugar has dissolved add one cup of your favorite bbq sauce. The goal is to create a sticky sweet sauce that will coat the lollipops.
Once the chicken is fully cooked I dunk each BBQ chicken drumstick lollipop into the sauce then let it smoke another 10 minutes so the sauce can adhere. You can brush a second coat if you like them extra saucy.
How to Make BBQ Chicken Drumsticks in the Oven
If you don't have a smoker you can still make these chicken drumstick lollipops in the oven. They won't have that smoky flavor you get from a pellet grill but they'll still be tasty.
If I'm preparing this recipe in the oven I prefer to cook them using a drumstick holder so the chicken can cook evenly on all sides and not sit on a pan. If you don't have a drumstick holder a cooling rack will also work to elevate the chicken lollipops.
Set the oven to 375 degrees F. Oven temperatures vary so bake the drumsticks for about 1 hour until they reach an internal temperature of about 185 degrees F.
Then you can sauce them and bake for about 10 more minutes until the sauce sets up on the chicken. You can add a few drops of liquid smoke to the bbq sauce to mimic a wood fire flavor as well.
Top 5 Best Dry Rubs for BBQ Chicken Drumsticks
This is in no particular order. I love and use all of these rubs on a regular basis. Calypso Kick and Holly Voodoo are probably the most unique if you're looking for change of pace.
Yardbird and Sweet Money are the two that I use when I compete in KCBS competitions. The Nashville Hot has great flavor and I love it on wings especially. Leave me a comment below and tell me which rub you think Need to checkout!!
More Awesome Chicken Recipes
---
Candied Chicken Drumstick Lollipops
Step by step instructions on how to prepare Smoked BBQ Chicken Drumstick Lollipops for your pellet grill. Take the extra time to impress your guests with these BBQ Chicken Lollipops.
Equipment
Pellet Grill- I used Rec Tec RT-700
Instructions
Pre heat pellet grill to 350 degrees F.

Prepare Chicken Drumsticks following instructions in the blog post. Season generously with dry rub and let chiken come up to room temperature while pellet grill pre heats.

Smoke Drumsticks for about 90 minutes until they reach an internal temperature of 185 degrees F. Spray drumsticks with avocado oil every 30 minutes to help crisp the skin.

to prepare candy sauce heat butter and light brown sugar in a small saucepan over low heat until melted then add bbq sauce. bring the sauce to just below a simmer then remove from heat and let cool to room temperature.

Once drumsticks are fully cooked brush the drumsticks with candied bbq sauce. let sauce tack up on the drumsticks for about 10 minutes. Let rest for another 10 minutes befor serving.
Nutrition
Calories:
210
kcal
|
Carbohydrates:
15
g
|
Protein:
14
g
|
Fat:
11
g
|
Saturated Fat:
4
g
|
Cholesterol:
78
mg
|
Sodium:
351
mg
|
Potassium:
235
mg
|
Fiber:
1
g
|
Sugar:
12
g
|
Vitamin A:
195
IU
|
Vitamin C:
1
mg
|
Calcium:
27
mg
|
Iron:
1
mg
---
Nutrition Facts
Candied Chicken Drumstick Lollipops
Amount Per Serving
Calories 210
Calories from Fat 99
% Daily Value*
Fat 11g17%
Cholesterol 78mg26%
Sodium 351mg15%
Potassium 235mg7%
Carbohydrates 15g5%
Protein 14g28%
Vitamin A 195IU4%
Vitamin C 1mg1%
Calcium 27mg3%
Iron 1mg6%
* Percent Daily Values are based on a 2000 calorie diet.
---