Subscribe to our newsletter!
---
Jump to Recipe
French Onion Rice & Beans
Look in your pantry and you probably have everything you need to make this Beefy French Onion Rice & Beans. This is a fantastic way to feed the family on a budget costing less than $2 per portion. Home cookin on the cheap with beefy French onion goodness.
Rice & Beans Pantry RAID!!!

Lately I think we have all been cooking with what we have got on hand a lot more. Looking for inspiration with the ingredients we have on hand. Rice & Beans are two ingredients I have on hand at all times. I've always got a few different varieties of rice including white, brown and Aborio (for Risotto).
I also keep a variety of beans on hand, some dry and some canned. Dry beans are great to keep on hand because they last forever but if I have my choice I use canned because it's quick to make and I can control the consistency.
You can take these two simple ingredients and literally turn them into an endless possibility of dishes. I prefer brown rice because it fills me up and keeps me full longer. The down side is brown rice takes a lot longer to cook. If you make this recipe with white rice it will take about 20 minutes less time to prepare.
I use the Risotto method to cook the rice by adding the liquid gradually throughout the cooking process instead of just pouring it all in at once. This helps you monitor the rice and make sure it's not overcooked.

French Onion Rice & Beans: perfect way to feed a crowd

Since most of us are stuck at home it's nice to make simple one skillet dishes that are warming as well as satisfying. This is a recipe that I wouldn't make in late March but since it feels like i'm stuck home in a blizzard I've definitely been craving comfort food. Dishes like rice and beans are always great for meal prep.
I made a batch on Monday and we ate it throughout the week. I garnished the skillet with the crispy fried onions that we all love but if you plan on eating this over the course of a few days just garnish each portion when you eat it so the onions don't get soggy. 
Canned vs Dry Beans
I Always keep a bag of dry beans on hand in my Apocalypse box along with a few bags of pasta and rice. Truth be told I hate cooking dry beans. You have to soak them overnight and then when you cook them you have to keep a close eye so you don't turn the beans to mush.
I prefer using the canned beans for most recipes because of how convent they are. You can use any variety of beans you like or have on hand to make French Onion rice & Beans. It just so happens that I had Black and Kidney Beans on hand and I find them to be some of the most common varieties of Legumes.
Homemade French Onion Soup Mix
Ingredients
Instructions:
Pour all ingredients into a small Masson jar, shake to combine. Store in a cool dry place for up to 6 months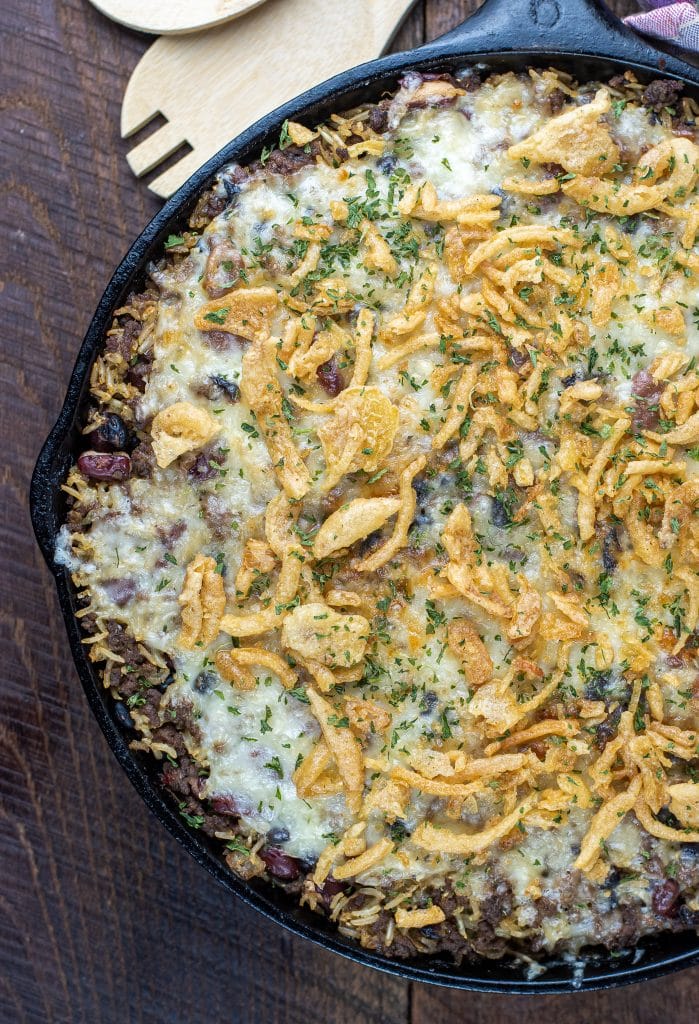 More Casserole Recipe Ideas
---
Additional Ingredients
1/2

cup

Canned Fried Onions

1

cup

Shredded Swiss

or Provolone

2

tbsp

Grated Parmesan

1/4

cup

Sliced Scallions
Brown off the ground beef and diced onions in butter until beef is almost fully cooked. Next ad in the brown rice and continure to saute until the rice has absorbed most of the liquid.

Add Worcestershire, French onion soup mix and 2 cups of water. Simmer over medium low heat for about 20 minutes stirring occasionally. Pre heat oven to 425 degrees F.

add Another 2 cups of water and continue to simmer over medium low heat. Once the water has almost fully absorbed stir in both cans of beans. make sure the beans are drained and rinsed before adding. Pour in the final cup of water and stir.

Place Skillet into oven to cook for about 15 minutes. Check to make sure the rice is cooked to you liking. Finally top withshredded swiss and grated parmesan. Bake for 10 more minutes until cheese is golden and fully melted.

Garnish with sliced scallions and Canned Fried Onions
Calories:
506
kcal
|
Carbohydrates:
44
g
|
Protein:
26
g
|
Fat:
22
g
|
Saturated Fat:
10
g
|
Cholesterol:
68
mg
|
Sodium:
463
mg
|
Potassium:
661
mg
|
Fiber:
7
g
|
Sugar:
1
g
|
Vitamin A:
162
IU
|
Vitamin C:
2
mg
|
Calcium:
137
mg
|
Iron:
4
mg
---
Nutrition Facts
French Onion Rice & Beans
Amount Per Serving
Calories 506
Calories from Fat 198
% Daily Value*
Fat 22g34%
Cholesterol 68mg23%
Sodium 463mg20%
Potassium 661mg19%
Carbohydrates 44g15%
Protein 26g52%
Vitamin A 162IU3%
Vitamin C 2mg2%
Calcium 137mg14%
Iron 4mg22%
* Percent Daily Values are based on a 2000 calorie diet.