Jump to Recipe
Spicy Butter Injected Grilled Turkey Breast

I always like to think of the turkey breast as the no fuss version of a full turkey. It's smaller, easier to clean, and you don't have too many leftovers. If you are remembering back to your youth when you probably ate dry turkey breast erase those memories from your mind. This breast is spicy and juicy. It's juicy because not only is there a butter injection but also because you won't cook it over 165 degrees. Today I also decided to test out a new product from Kingsford charcoal. While I was on a tour of the Kingsford manufacturing plant they let me take home a bag of one of their new products which will be released in early 2013: Smokehouse briquets! I made some really juicy and tasty turkey breast subs. Give it a try!
Ingredients:
Turkey breast
Your favorite cheese
Sub rolls
Spicy Dry Rub (recipe below)
Spicy Butter Injection (recipe below)
A few hours before it's time to eat, make up the butter injection and inject the breast. I try to do at least 5-6 vertical injections along each breast and then 1 or 2 horizontal injections in each breast. You want good coverage. Next mix up the spicy dry rub and apply it generously. If you can, reach under the skin with your finger and then pack as much in as you can.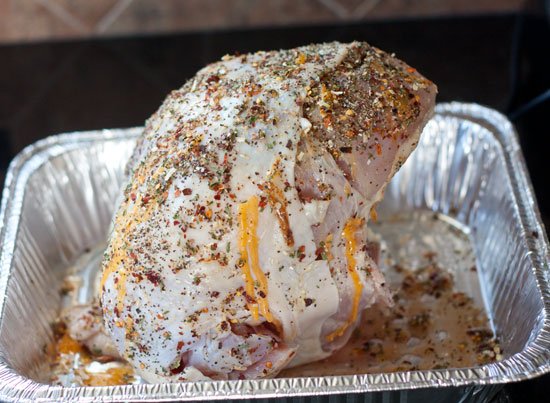 Wrap the breast in foil and put it in the refrigerator until you are ready to light the grill.
I fill about 3/4 of a charcoal chimney with coals and light it up. I then dumped equal parts on each side of the grill. Notice that I'm using the indirect charcoal baskets here. Place a foil pan underneath so you can catch the turkey drippings (Gravy!; I'll post about grilled gravy soon). The grill should be about 350-425 degrees before you put the turkey breast on.
Once the regular charcoal was lit I got out the Kingsford smokehouse style briquets.
These are pretty cool. It looks like a charcoal briquet but it's actually compressed wood which requires no water soaking. You add them straight on top of regular charcoal and they start smoking for about 15-20 minutes. A pretty cool way to add smoke flavor to your meal.
Once the turkey was placed directly on the grate, I added the smokehouse style briquets on top the already ashed over regular charcoal and closed the lid. The grill started smoking pretty quick and the temperature was about 425 degrees.
The key to cooking a turkey breast is to watch the internal temperature. You have to stick a thermometer in the thickest part of the breast and don't remove the turkey until it hits 160-165 degrees. If the skin starts to brown and the turkey is only in the 90-110 range, don't worry just grab some foil and cover the turkey. This will stop the browning of the skin. The turkey breast will take about 1.5-3 hours depending on how cold the turkey is to start. Sometimes a previously frozen turkey breast will be really cold in the direct center of the meat even though it appears completely thawed. This will cause your cook to take much much longer.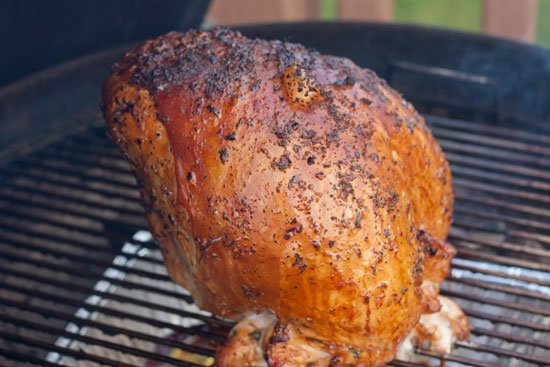 Oh man! Grilling a Turkey Breast might be my new thing.
After a 20 minute rest, I cut the entire breast off and then sliced it. It's crucial to keep the skin on while you are slicing. This allows the knife the bring down the flavors of the dry rub into the meat.
We were craving turkey breast subs so I toasted a Philly hoagie roll, lined the bottom with some mild cheese and layered the turkey breast on top. This was so juicy and flavorful that I didn't even add mayo! The smoke flavor was also nicely present from the Kingsford Smokehouse briquets.
For the Dry Rub
• 1 T salt

• 1 T pepper

• 1 T parsley

• 1 T onion flakes

• 1 T red pepper
1.Place butter, salt and chili powder in a microwave safe bowl.

2.Microwave 10 seconds on, 10 seconds off until the butter is melted.

3.Pour the melted butter mix into a turkey injector.

4.Inject the turkey in the breast at least 7-8 times. Try to go vertical and horizontal. Inject slowly so the butter doesn't squirt out.

1.Assemble dry rub ingredients.

2.Mix together.

3.Generously apply to a turkey on top of and under the skin (if possible).
The cook times above are dependent on a lot of things and might be different for you. The dry rub was created by Steven Raichlen.