Jump to Recipe
Print Recipe
If you're looking for an easy brine for smoked turkey breast, this smoke turkey breast brine is calling your name. It's flavorful, juicy, and perfect alone or on sandwiches.
With thanksgiving just around the corner you may be looking for new, creative ways to cook your turkey this year.
This smoked turkey breast brine will impress all of your friends and family and leave no leftovers!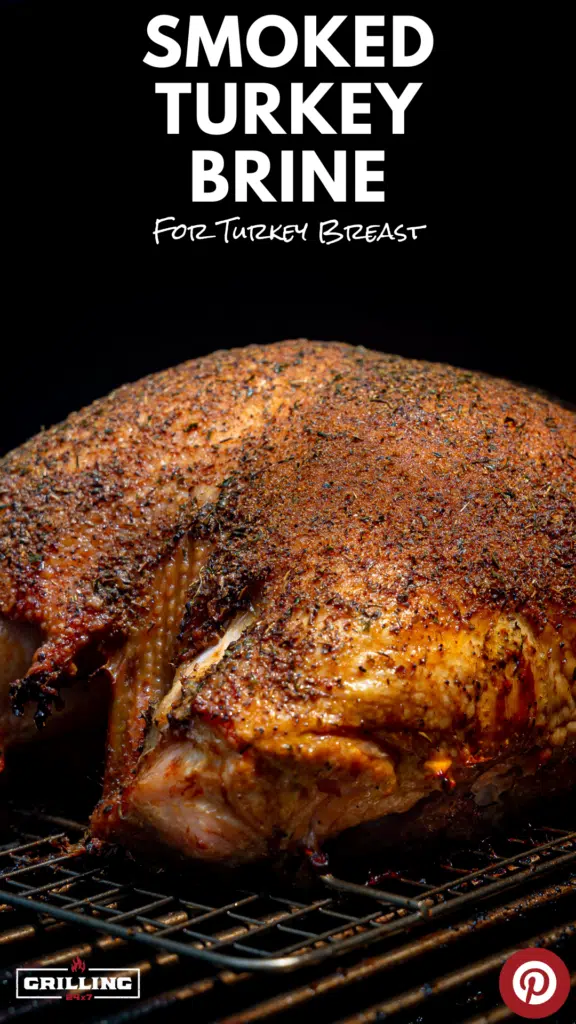 Looking for other creative ways to fix your turkey this year? Check out some of my favorite and the best turkey recipes like: Grilled turkey breast with a butter injection, Texas smoked turkey breast, Grilled chipotle turkey burgers, The best deep fried turkey, Spicy spatchcocked turkey.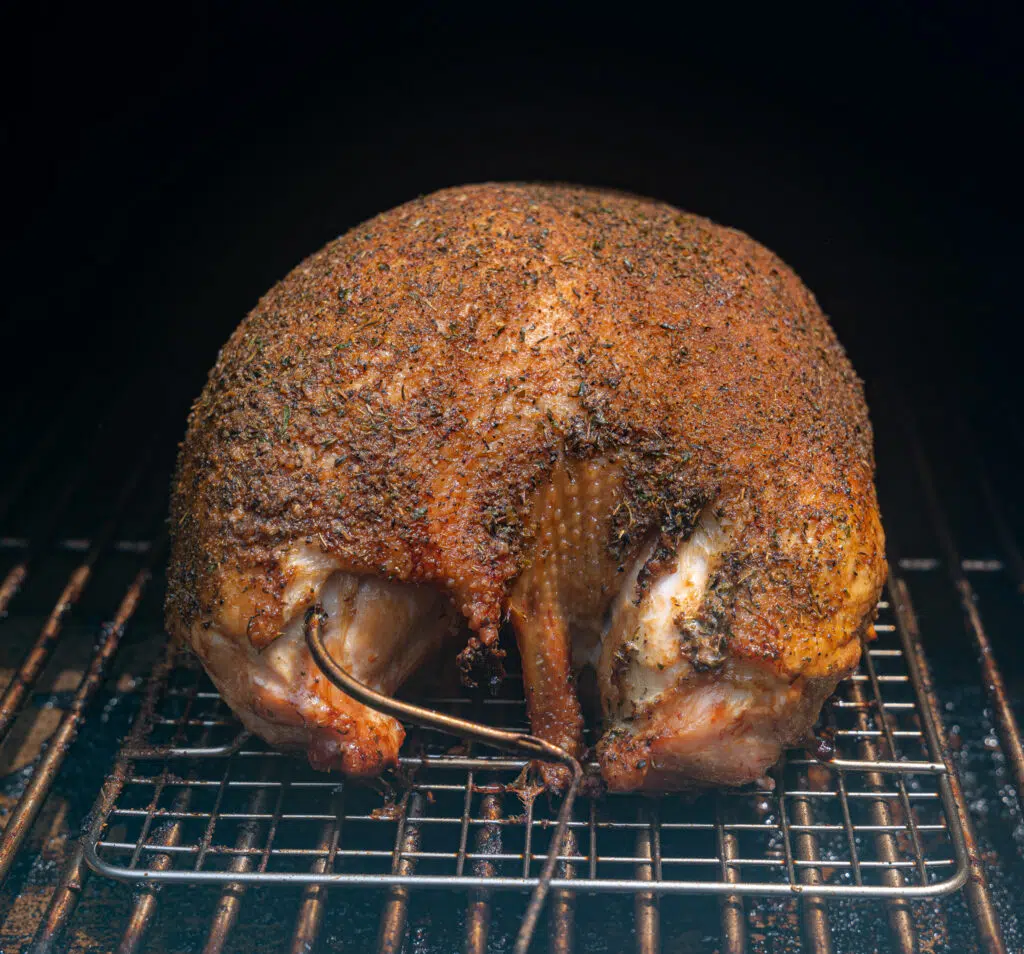 Smoked Turkey Breast Brine
After much trial and error, I have finally discovered the magic of a brine!
Whether you're looking for creative ways to make your Thanksgiving turkey, or are just looking to make the best turkey sandwich you've ever had, this recipe will not disappoint.
Let me say that again, this recipe will not disappoint … at all, ever.
We have all been there. It's Thanksgiving and someone made a turkey that either leaves you drowning it in gravy or chewing for 20 minutes and straining your jaw.
This year, we are putting an end to that. This year, you are making the turkey everyone has been waiting for.
Say goodbye to dry and dull turkey and say hello to a brine that will give you moisture and flavor that is bound to change opinions and turn heads.
Pro-Tip: Make sure to go around the table and ask everyone what they are thankful for this year, because you and your turkey are going to be top of the list!
Smoked Turkey Breast Brine Ingredients
For the turkey:
Meat: Turkey breast
Spice: Salt and pepper
For the brine:
Water: 1 gallon of water
Salt: 1 cup of salt
Sugar: ½ cup of granulated sugar
Additional Ingredients: Bay leaves, Fresh Thyme, Peppercorns, Granulated garlic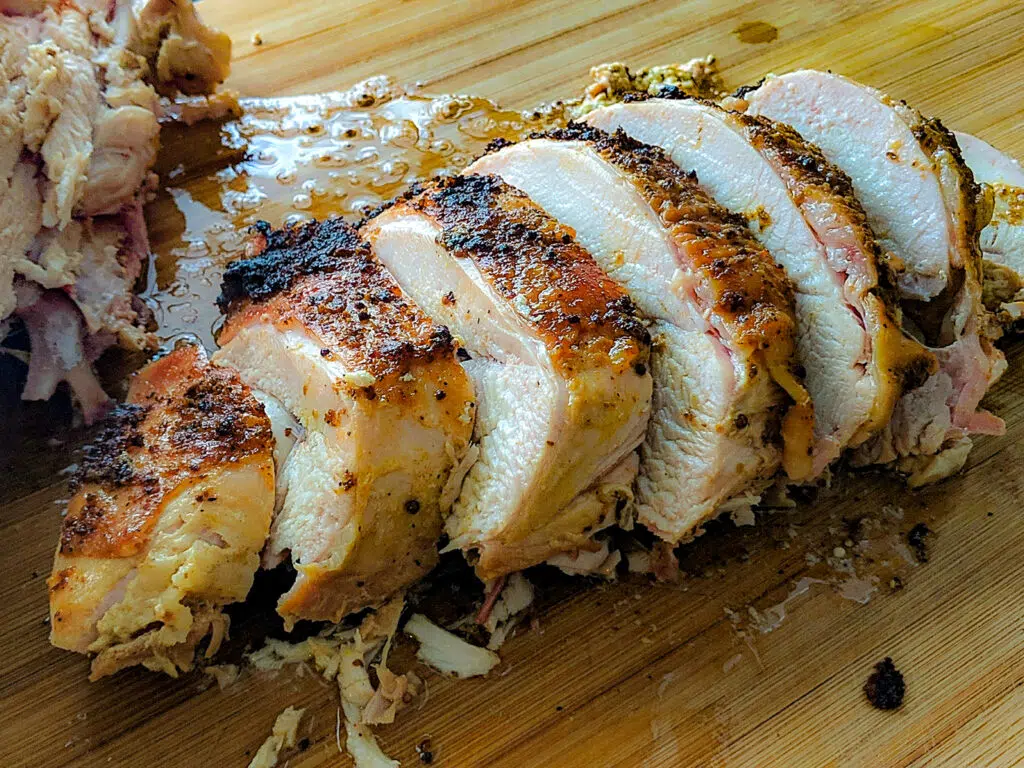 How To Make Smoked Turkey Breast Brine
Thaw. Thaw your turkey in the fridge following the thawing instructions on the label.
Prep the turkey. Pour salt, sugar and additional ingredients into the water and stir. Then add the turkey breast and let it sit in the fridge for approximately 2 hours or overnight.
Prep the grill. While your turkey is in the fridge, prepare your grill for 275 degree F smoking.
Pat Dry. After the two hour brine of the turkey, remove it from the fridge. Then pat it dry very well to dry off the skin. Then, season liberally with whatever seasoning you like.
Smoke. Smoke at an average temperature of 275 degrees F for about two and a half hours. After the two and a half hours, the turkey reached an internal temperature of 160 degrees F, which is what I was aiming for.
Rest. Remove the turkey from the grill and wrap it in aluminum foil. Let it rest for about 15-20 minutes.
Notes: My brine was for a 6 pound turkey. I prepared the brine in the morning and after the smoke was complete, it was ready for a late lunch!
I used hickory wood pellets for this smoke.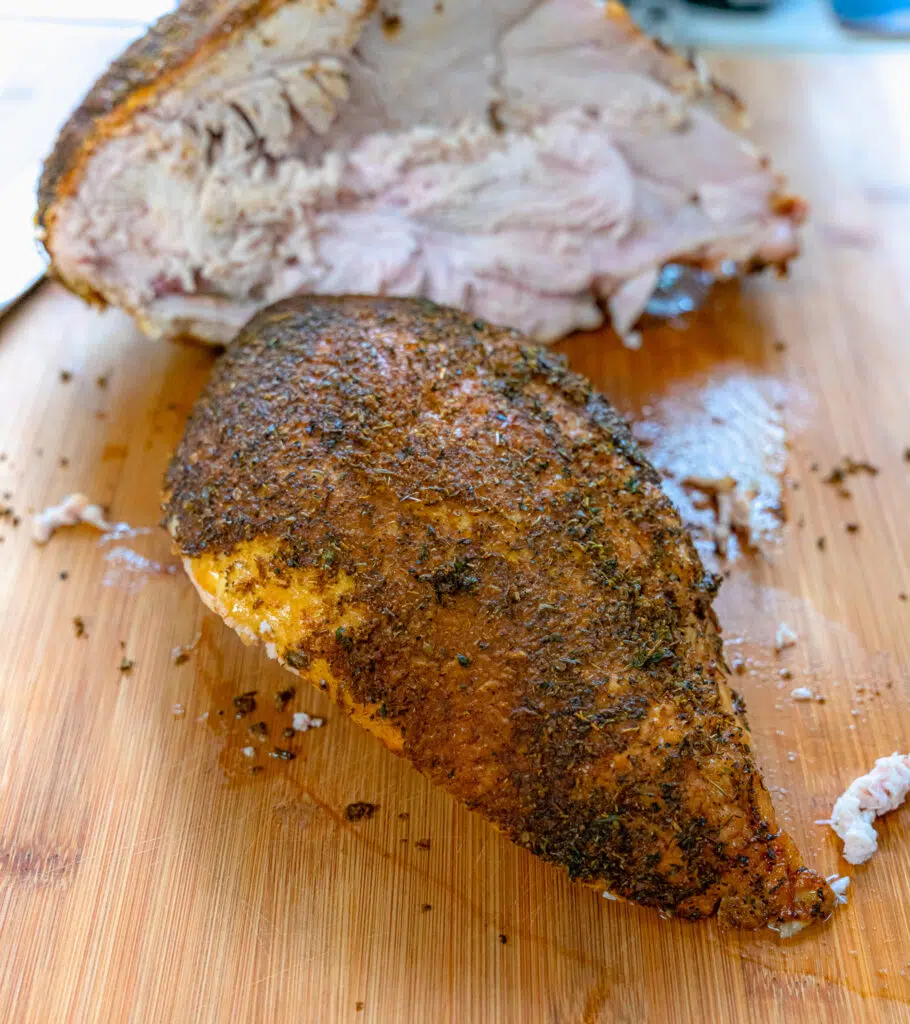 How To Serve Smoked Turkey Brine
There's really no correct or incorrect way to serve this turkey. Whatever your preferred method of consuming turkey is is the best way to eat this.
I had a large supply of Philly Amoroso Hoagie Rolls so I made the best smoked turkey breast sandwich I've ever had! If you're looking to do this, I simply toasted the hoagie rolls, added mayo, iceberg lettuce, and swiss cheese.
This smoked turkey brine is also great to eat stand alone. Especially if you're looking for new ways to make your Thanksgiving turkey, give this recipe a try!
You can use the leftovers to make my Turkey Pot Pie Stroganoff
How To Store Smoked Turkey Brine
Store your leftover turkey in the refrigerator, wrapped in plastic, for up to 3-4 days.
Be sure to wrap it thoroughly and tightly though. If you don't, it can go dry and also cause other items in your fridge to smell smoky.
Can You Freeze Smoked Turkey Brine
I doubt you will have leftovers after you bring a turkey to perfection. However, on the off chance you do and need to freeze the turkey it's simple.
Grab a large freezer bag or air tight container. Toss in all your leftovers – I like to separate mine in 2 containers: light meat and dark meat. This allows me to pull out only what I need. For example: for sandwiches I prefer light meat, but for soup the dark meat is best.
Be sure to thaw out your turkey in the fridge the night before you need it. You can freeze your turkey for up to 6 months.
Do You Have To Refrigerate A Turkey While Brining?
Yes, you should.
However, the amount of time will depend. Like I said earlier, when I did this, I used a 6 pound turkey.
Depending on the size of the turkey and the type of brine you use, the brine time will vary.
If you don't have room in the fridge you can fill a small cooler with Ice and the turkey and pour over the brine. As long as the temperature stays below 41 degrees F. you can keep the turkey in the cooler overnight.
Be sure to bleach out the cooler to sanitize for future use.
More Recipes You Will Love
---
Smoked Turkey Breast Brine Recipe
Perfect Turkey brine for smoked Turkey breast to keep your bird extra juicy
Instructions
Mix brine ingredients together in a large bowl or cooler. Whisk until sugar and salt are dissolved

Place turkey breast in a ziplock bag or cooler along with brine. Place in the fridge for overnight

Remove turkey breast from brine, pat dry and season the turkey liberally on all sides.

Smoke or grill (or bake) at 275-300 degree F. until breast reaches 160 degrees F. (about 2-3 hours)

Let Turkey Breast rest for 20 minutes before slicing