Jump to Recipe
Homemade Hot Sauce with Grilled Hot Peppers
I just love grilling peppers. If you haven't done this you really need to give it a try. Grilled peppers might just change your life.
Well, maybe not. Still, it's pretty fun. The general idea is to grill a bunch of peppers, remove the charred smoky skin, add some spices and cider vinegar, cook it down a bit and puree.
It's that easy and it's really tasty and spicy.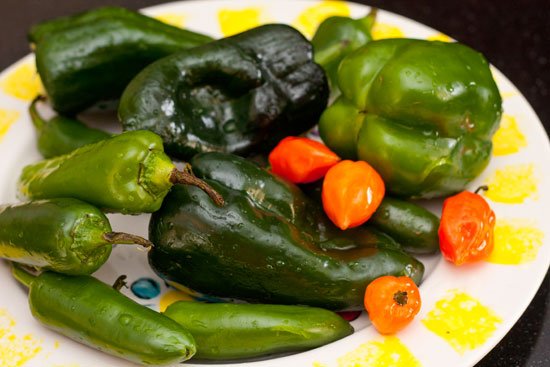 One of the cool things about making your own homemade hot sauce is that every time you make it the end result will be different.
So many factors come into play including what type of peppers you buy and how hot each one is at a particular time in the growing season.
I went with a mixture of green bell peppers, banana peppers, jalapeno peppers, poblano peppers and habanero peppers.
You can pick any mixture of peppers you want. To get the quantity right, make sure you have about 2 lbs of peppers.
Get your grill ready for medium or medium low heat. Drizzle some oil over the peppers and toss them all on the grill.
If you have a medium heat going you can close the dome for a good 5-6 minutes without checking. Then turn them over.
It's ok if you burn them a bit. The charred smoky pepper has a great flavor. After a few rotations to make sure all of the peppers are charred take them off the grill.
Put the peppers into a big sealable container and let them rest for about 10 minutes with the lid tightly sealed.
This helps the skin separate from the pepper and makes it easier to remove.
Using a sharp knife roughly chop a sweet onion and toss it into a skillet. Add about 4-5 chopped garlic cloves to the skillet as well.
Then after 10 minutes of pepper resting take each pepper and slide a knife perpendicularly down the side to remove the skin.
This doesn't have to be perfect. Just try to get the majority of it. Slit some of the peppers down the middle and get the seeds and membrane out.
For some of the other peppers you can keep the seeds and membranes in. It's your call. If you want over the top heat keep the seeds and membrane for the hotter peppers (jalapeno and habanero).
If you want a milder pepper flavor just add the peppers with no seeds or white membrane. I went with seeds and membrane of 2-3 jalapenos and 1 of the habanero peppers.
The rest of the peppers were totally seeded with inner membrane removed.
At this point you'll have a skillet full of grilled peppers, an onion and garlic. This will smell pretty darn good right about now!
To the skillet add 1 tsp of salt, ½ tsp ground coriander, 1 cup apple cider vinegar and 1.5 cups of water.
Simmer this mixture over medium high heat for about 45 minutes to an hour, stirring often.
After an hour of simmering transfer the mix to the food processor or a blender and pulse until totally smooth.
I found an old hot sauce bottle that I rinsed out. Right before the peppers were done simmering I poured boiling water into the hot sauce bottle and let it sit for about 2-3 minutes before emptying. This really cleans out the bottle.
I found a photo of me and the classic Orioles 1st baseman Boog Powell (played from 1961-1974).
I thought it would be funny to print out a quick photo and title this "Grilling24x7 Hot Sauce" with a nice picture of me and Boog Powell giving thumbs up! Yeah, I'm a nerd. So what?!
I grilled some chicken breasts at the same time and also grilled some sweet onions. I liberally poured hot sauce all over the top.
Oh man was this good. I was happy to see that the finished hot sauce product has no vinegar flavor at all; just a deep pepper flavor with a nice heat.
This is one way to add some serious flavor to chicken! I'll be handing out bottles of this stuff come holiday time!
Homemade Green Hot Sauce Recipe
An amazing homemade hot sauce recipe using fresh grilled hot peppers.
Ingredients
4

Habanero Peppers

1

Green Bell Peppers

6

Jalapeno Peppers

3

Poblano Peppers

1

Small Sweet Onion

6

Cloves of Garlic

1

tsp

Kosher Salt

½

tsp

Ground Coriander

⅕

cups

Water

1

cup

Apple Cider Vinegar

2

tbsp

Olive Oil
Instructions
Prepare grill to medium heat.

Drizzle olive oil over peppers and place peppers over direct heat on the grill.

After about 6 minutes turn the peppers over.

The peppers should be nicely charred. Grill for another 6-10 minutes.

Cover peppers in a container and let sit for 10 minutes.

Remove skin from charred peppers.

Remove membranes and seeds from some of the peppers and roughly chop.

Add peppers to a pan and add chopped garlic and onions.

Add water, vinegar, salt and coriander.

Simmer for 45 minutes over medium heat stirring occasionally.

Puree mixture until it is no longer chunky.
Nutrition
Calories:
563
kcal
|
Carbohydrates:
62
g
|
Protein:
11
g
|
Fat:
30
g
|
Saturated Fat:
4
g
|
Polyunsaturated Fat:
4
g
|
Monounsaturated Fat:
21
g
|
Sodium:
2381
mg
|
Potassium:
2042
mg
|
Fiber:
16
g
|
Sugar:
30
g
|
Vitamin A:
4384
IU
|
Vitamin C:
755
mg
|
Calcium:
168
mg
|
Iron:
5
mg