How to Grill the Perfect Burger
Summer means cookouts and cookouts mean burgers. Sounds easy enough, right? But the simple cheeseburger is so easy to ruin, isn't it? Overcooked, dry and small burger patties with iceberg lettuce and a tomato slice. No thanks. It is so easy to up your game and prepare one of the finest gourmet burgers you'll ever have. Let's leave the bad boring burgers in the past. Here are a few tips on how to grill the perfect burger. It's actually very easy to do.
The #1 Rule when Grilling Burgers: Fat
When grilling a burger only use 80% lean meat. I know… I know… everyone is dieting. But come on. It's the weekend and you're just having a burger. It might as well be tasty and what tastes good? Fat. 80% lean means 20% fat and fat keeps things juicy and very tasty. The fat is what makes a burger seem juicy and tender.
Burger Grilling Rule #2: The Bun
Use a high quality bun. Do not buy a pack of "hamburger rolls." Seems counter-intuitive, doesn't it? Here they are selling a pack of hamburger rolls so it makes sense to think that this roll would be appropriate for a hamburger. But no. That roll is inadequate. Keep your eye out for a pretzel roll, or some sort of fresh bakery roll. Look for something fresh and something that is soft with a lot of flavor. Pretzel rolls are one of my favorites because the flavor of a pretzel is simply amazing when combined with a burger. Recently, I've been finding these croissant like rolls that have a buttery flavor. Absolutely amazing. I'm not saying you have to find a homemade bakery because that is hard to find. But look for those grocery stores that have a bakery section and look around to see what gems might be awaiting. Say no to the regular bread aisle.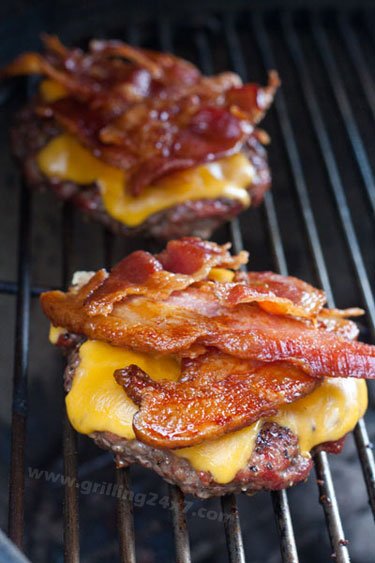 Burger Grilling Rule #3: Sharp Cheese
If you don't like sharp cheese your eyes are probably rolling. I get it. Sharp cheese is hard to eat on its own. I actually love it, but I can see how some people find it too biting. However, when you melt a very sharp cheese on a burger and apply some appropriate toppings the sharp flavor gets diluted out and provides a more mellow flavor as compared with eating the cheese alone. So go for a sharp white Vermont cheddar, or an extra sharp cheddar.
Burger Grilling Rule #4: Bacon
One of the biggest breakthroughs that I made in my life was figuring out that bacon is better when baked. I used to fry bacon but that results in curly bacon that tends to shrivel up. This doesn't work well for a burger. So preheat that oven to about 400 degrees F, line a baking sheet with heavy duty foil and line some thick cut bacon on the pan. Keep an eye on the bacon and your nose will tell you when it is done. I like to remove it before it gets too crispy. After about 10-15 minutes, I remove the bacon and set it on a paper towel lined plate and then go outside to light the grill. No need to have it hot because if you do things correctly you will take that bacon and put it on top of the sharp cheese while melting. This will warm up the bacon for sure.
Burger Grilling Rule #5: A Big Topping
Of course a cheddar bacon burger is an amazing burger. But if you want to take things up to a whole new level you need a really big topping. By "big," I mean something that is flavorful, unique and jaw dropping. Fried eggs, guacamole, sliced avocado, grilled onions, green chili sauce, now all of these are "big" toppings! I also consider a flavorful sauce a big topping. This spicy sriracha mayonnaise burger sauce will take your burger well over the top.
Grilling a Gourmet Burger is Easy!
Here we have discussed five easy tips to take your summer cookout to a whole new level. If you noticed, I didn't even mention the obvious tips like don't overcook the burger and make sure you give it a little bit of salt and pepper or some other burger seasoning prior to grilling. I'm focused on the additional features of the burger, the roll, the fatty meat, the cheese, the bacon and some sort of topping. If you follow these rules on how to grill the perfect burger, I guarantee that you will nail your next cookout and your friends will be begging you to make burgers from here on out.