Pit Barrel Cooker Grate Modification
Hang meat and cook flat at the same time!
I did a Pit Barrel Cooker Review a few weeks ago. I really like this cooker/smoker. The way the cooker is designed you can choose to either hang meat or cook on the flat grate. As I show in the review the PBC comes with two steel rods to hang meat from. However, it also comes with a flat cooking grate. I thought it would be cool to cut the grate in half so you can hang meat on one side and also cook other items on the flat side. My vision was to have 3 racks of ribs hanging in addition to about 20 smoked stuffed jalapeno peppers or a buffalo chicken fatty. Having this Pit Barrel Cooker modification is a really nice idea. Here's how to do it.
I simply used a pair of bolt cutters to cut the "bars" out of the grate. The only thing to keep in mind is that you want to keep the entire circumference piece together for support. I also wanted to keep some of the other bars in check for extra support.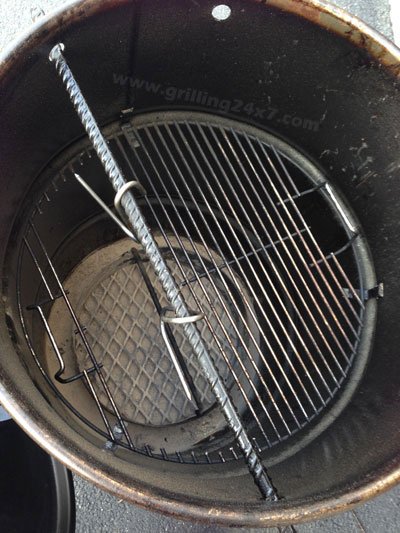 After about 5 minutes my new modified Pit Barrel Cooker grate was complete. As you can see in the above photo, you now have room to hang meat and cook flat! One really nice thing to note is that the PBC grate is the same size as the top grate for the 18.5 inch Weber Smokey Mountain Smoker. After I realized this, I was much more inclined to cut up my grate, knowing that if I screwed it up I could easily buy another one.
The first test of my new modification was at a tailgate on a chilly snowy day in Baltimore. I wanted to initially try hanging ribs on the PBC in this fashion but time wouldn't permit. Instead I hung Polish kielbasa and then cooked bacon wrapped chicken lollipops on the flat side of the grate. This was a blazing success. While it wasn't absolutely necessary to hang the sausage I think that it benefited me by giving me much more room. Vertical cooking is more space efficient. If you look close you can see that most of the sausage hung about 1 inch below the grate. I cooked a lot of sausage for this tailgate and my PBC would have been really crowded if I wasn't able to hang them. Ideally ribs would have been hanging there! Next time.
On a side note, my new favorite thing to smoke is Polish kielbasa brushed with a nice BBQ sauce. Man is that tasty! It cooks in about 1 hour so it's perfect for tailgating.
One nice thing to note is that I was chatting with the owner of the Pit Barrel Cooker Company and he said that a new type of grate is in the pipeline, one that has the ability to fold in half to allow you to hang and cook flat at the same time. Until that new grate comes out you'll have to get out the bolt cutters! This is great!
My Rating: ★★★★☆
2017 Update: They now sell a modified great on the Pit Barrel Cooker website. Save yourself the hassle and just grab one from them!
Disclaimer: I have been a friend of the Pit Barrel Cooker company for a few years now. Now they have an affiliate program where I can make a few bucks if you buy your Pit Barrel through this link: Buy a Pit Barrel Cooker here. Buying your PBC through this link is no extra cost to you but it gives me a few bucks for typing all this stuff up and running the blog. Also, the PBC company makes more profit if you buy directly through them, vs buying it through Amazon or another company. If you like what I have presented here, please buy through this link. And certainly I stand behind this product. If it was garbage I would not be discussing it so highly. It's a great product and a great company.