Jump to Recipe
This Easter dessert started as an April fools joke to get Chef Gordon Ramsey worked up and get his attention, But its actually pretty tasty. Not a regular occasion dessert but a fun treat for the kids
Peep Wellington the King of All Easter Desserts
Peep Wellington does have a nice ring to it and does follow a lot of the same culinary principles of the classic English Beef Wellington.
Layers of Rice Krispy Treats studded w/ Jelly Beans and Robin Eggs acting as the Dexelle Layer, Peeps as the beef tenderloin and the puff pasty holding it all together.
Speaking of Easter checkout my Bacon Wrapped Smoked Leg of Lamb since you'll need something savory to serve along with your peep Wellington.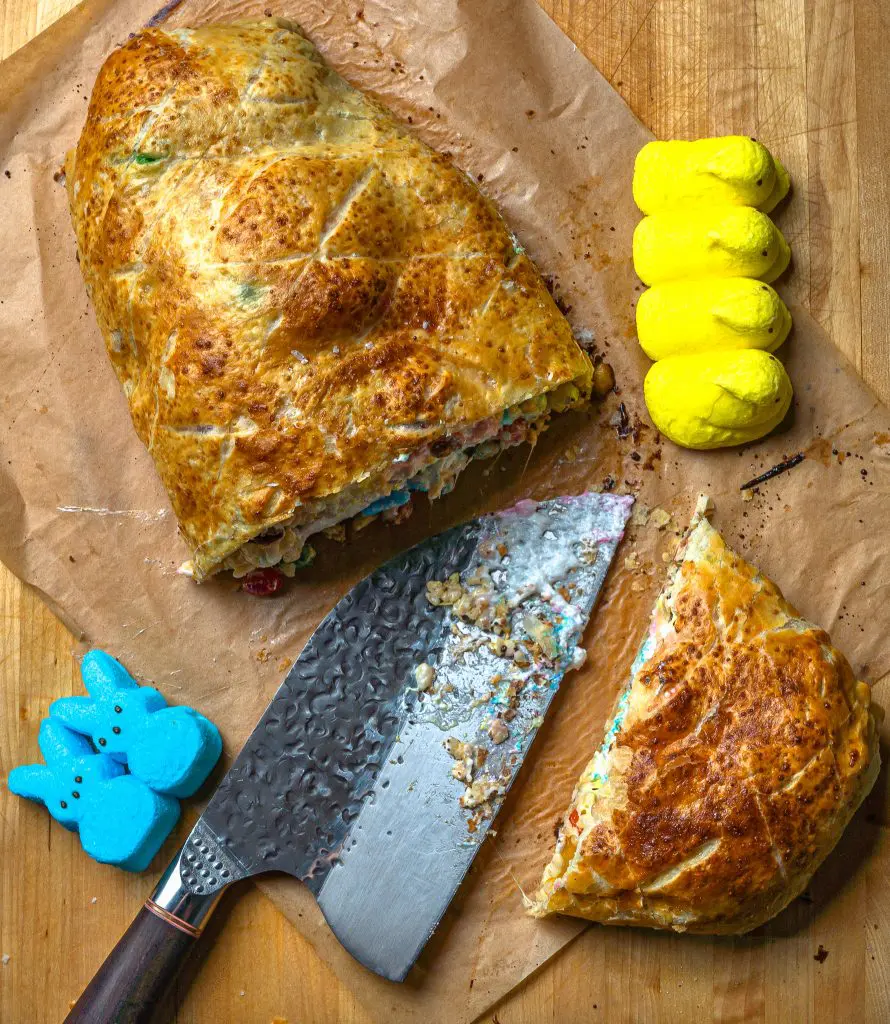 Its for the Children…Dont Take it too Seriously
After I posted this recipe on social medial it was followed by the predictable one word "Gross"or puke emoji responses.
This is not a recipe intended for adults with refined palates, it a fun project for kids and a great way to use up all that easter candy.
So if this Easter Dessert has you triggered to the point of yelling at a stranger on the internet I kindly ask that you take a deep breathe and know that you're taking things too seriously.
If after that you still feel the need to give your opinion you can find me at @grilling24x7 on instagram and I look forward to hearing from you.
Ingredient List for Making Peep Wellington Easter Dessert
More Recipes From Grilling24x7
---
Rice Crispy and Peep Wellington
Instructions
In a large bowl combine Rice Krispies, Jelly Beans and Robin Eggs, In a nonstick pan over low heat melt butter and mini marshmallows until smooth. Make sure to use a rubber spatula and stir constantly.

Pour Marshmallow mixture over the Rice Krispies and use the rubbeer spatuala to fold the ingredients together. Spray the spatula with cooking spray to prevent sticking.

Place a sheet of parchment paper sprayed with cooking spray on a sheet pan then pour out your Rice Krispie mixtuure onto the parchment paper. Spray your hands with the cooking spray then press out the Rice Krispies out into a ½ inch thick sheet. It should be about 12×12 area when youre finished.

Place 4 rows with 6 peeps in each row in the center of the Rice Krispie Sheet. Using the parchment paper roll the Rice Krispies over the peeps and mold into a log shape and press in the sides. Once the Log is formed wrap in a layer of foil and place in the fridge for 20 minutes to set up. the parchment paper should still be wrapped arould the Rice Krispie log to prevent sticking.

Roll out 2 sheets of puff pastry to a thin even layer using a pinch of flour on the rolling pin to prevent sticking. unwrap the Rice Krispie Log and place in the center of the puff patry sheets and roll it up tucking the sides underneath. Brush the Entire puff pasty with an egg wash containing 2 beaten eggs and 2 tbsp milk.

Using a paring knife score the puff pastry in a criss cross pattern making sure to not cut all the way through the puff pastry. Sprinkle a light layer of sugar in the raw over the puff pastry and bake in a 400 degree oven for 12-15 minutes until the puff pastry is golden brown. Let the Peep Wellington Rest for about 10 minutes befor slicing into 1 inch slices
Notes
Spray the knife with cooking spray to prevent sticking. Basically spray everything with cooking spray. The spatula, the sheet pan, the parchment paper. This is incredibly sticky stuff.
Move quickly once you pour the marshmallow mixture over the Rice Krispies. The marshmallow will begin to cool quickly making it harder to combine the ingredients and form  into a sheet.
Serving size is 1/12 of the Wellington. About a 1 inch slice.
Nutrition
Calories:
552
kcal
|
Carbohydrates:
87
g
|
Protein:
6
g
|
Fat:
22
g
|
Saturated Fat:
8
g
|
Trans Fat:
1
g
|
Cholesterol:
38
mg
|
Sodium:
252
mg
|
Potassium:
64
mg
|
Fiber:
1
g
|
Sugar:
40
g
|
Vitamin A:
1092
IU
|
Vitamin C:
9
mg
|
Calcium:
14
mg
|
Iron:
6
mg
---
Nutrition Facts
Rice Crispy and Peep Wellington
Amount Per Serving
Calories 552
Calories from Fat 198
% Daily Value*
Fat 22g34%
Cholesterol 38mg13%
Sodium 252mg11%
Potassium 64mg2%
Carbohydrates 87g29%
Protein 6g12%
Vitamin A 1092IU22%
Vitamin C 9mg11%
Calcium 14mg1%
Iron 6mg33%
* Percent Daily Values are based on a 2000 calorie diet.
---