Jump to Recipe
Tempura Cicada Recipe
Living in the epicenter of Brood X you know I had to put together a Cicada Recipe.
Since Im not a frequent eater of bugs I figured a tempura battered cicada would be a great introduction to eating cicadas.
Pair the Tempura Cicada with a spicy Sriracha Aioli and you got yourself a tasty appetizer that's so good you can probably only make it once every other decade.
How To Catch Cicadas
Theres no magic method. We went out in the woods and they were literally on every bush and tree around. Just pick them up by the back pinching together the wings so they can't fly away and toss them in a bag.
Dont worry, they don't bite. Cicadas are just big clumsy bugs so they are pretty easy to just grab with your fingers.
I assume a butterfly net would work as well if you don't want to handle them.
Are Cicadas Edible?
As far as I can tell they sure are. I did rinse them off in warm water then pat them dry before frying.
In other parts of the world eating bugs is fairly common and an outstanding source of protein.
To learn more about how to eat Cicada Recipes checkout this Article in Forbes from a Top Nutritionist.
Tempura Cicada Recipe Ingredient List
Ingredients:
36 Cicadas Wings Removed
¾ Cup Flour
¼ Cup Cornstarch
8 oz Sprite
2 Quarts Canola Oil (for Frying)
Sriracha Aioli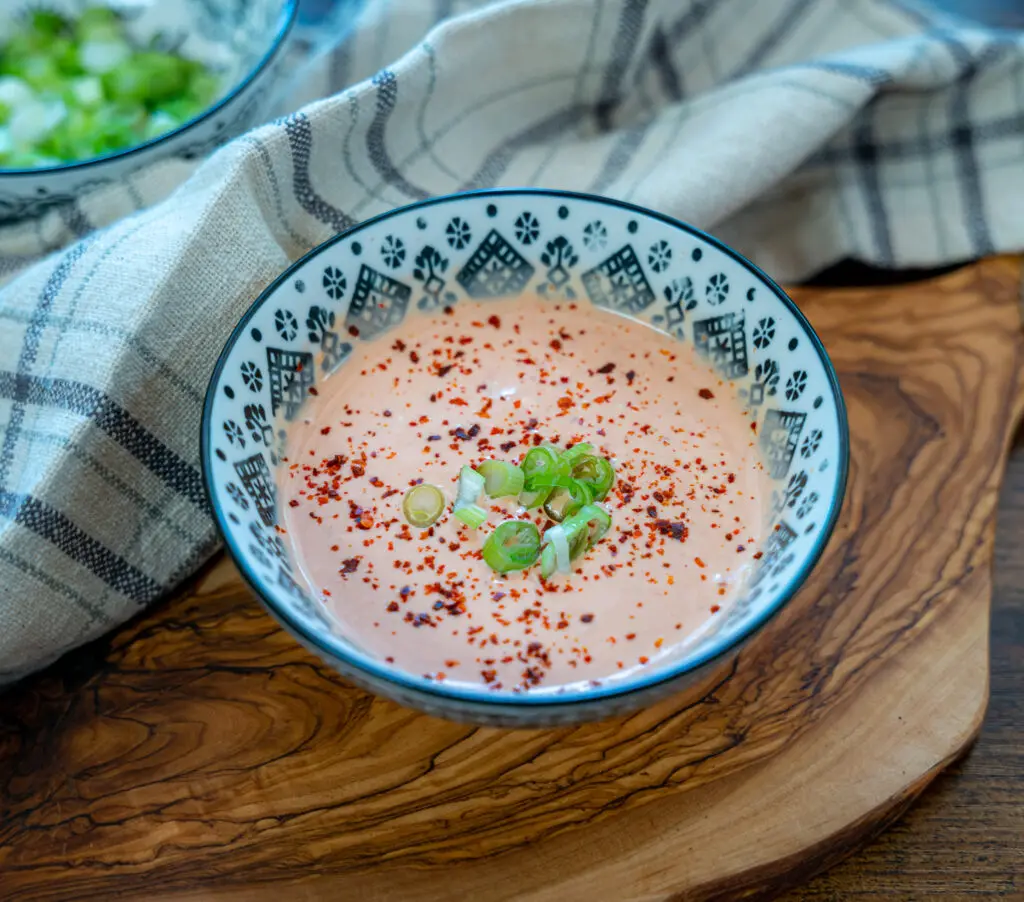 Instructions
Once you have caught a good number of large cicadas place them in a bag in the freezer for about 2 hours. this will put them to sleep in the most humaine way.
Heat up two quarts of frying oil in a pot to 350 Degrees F.
Prepare the Sriracha aioli by whisking together sriracha mayo and lime juice until smooth, Refrigerate until ready to serve.
Prepare the tempura batter by mixing together one egg, flour, cornstarch, sprite and thai lime seasoning or any spicy seasoning you have on hand.
Remove the cicadas wings then rinse under warm water, drain and pat dry with a paper towel.
Dip the cicadas one at a time in the tempura batter then gently place in the oil. Cook for 3-5 minutes until golden and crispy. Season with Krean chili flakes and kosher salt
Tips for Cooking Cicadas
Freeze the cicadas for a few hours so they they are easy to work with. You'll need to remove the wings and its easier if they're not moving around.
Rinse them off under warm water then pat dry.
Chill the tempura batter for at least 30 minutes. If the batter is too thin just add a little more flour. If too thick add a little more sprite.
Use a probe thermometer to keep an eye on the temperature of the oil. If it's too hot the batter will burn and if its too cold it will be greasy and not as crispy.
If you have extra cicadas they also make great bait for fishing so keep them in the freezer and catch yourself a big ole catfish next time you're fishing.
Other Awesome Recipe NOT Made With Cicadas
---
Tempura Cicada Recipe with Sriracha Aioli
Living in the epicenter of Brood X I had to put together a Cicada Recipe and I figured a tempura battered would be a great introduction
Equipment
Dutch oven or table top deep fryer
Instructions
Once you have caught a good number of large cicadas place them in a bag in the freezer for about 2 hours. this will put them to sleep in the most humaine way.

Heat up two quarts of frying oil in a pot to 350 Degrees F.

Prepare the Sriracha aioli by whisking together sriracha mayo and lime juice until smooth, Refrigerate until ready to serve.

Prepare the tempura batter by mixing together one egg, flour, cornstarch, sprite and thai lime seasoning or any spicy seasoning you have on hand.

Remove the cicadas wings then rinse under warm water, drain and pat dry with a paper towel.

Dip the cicadas one at a time in the tempura batter then gently place in the oil. Cook for 3-5 minutes until golden and crispy. Season with Krean chili flakes and kosher salt