Jump to Recipe

Maryland BBQ: Pit Beef Sandwiches!!
In the past I've made Maryland style pit beef, or Baltimore style pit beef out of an eye round on a charcoal grill. It works really well.
However, walking around carnivals or local fairs I've always noticed that the grills, or "pits," are loaded with a real big cut of meat. The cut they use is certainly bigger than the typical eye round.
Most pit beef stands use the full beef round which has the top, eye and the bottom pieces. This is a lot of beef!
Since I was only cooking for myself and my wife this weekend I picked up a 8 lb bottom round. Ha! I was also itching to use my newly built Ugly Drum Smoker (UDS) so I came up with this method for cooking pit beef on a UDS.
When I made pit beef before I would direct sear the eye round and then move the round to indirect heat to finish cooking (or vice versa using the reverse sear method).
It doesn't take long to cook pit beef (or roast beef) to the medium rare range of 135 degrees so grilling is really the preferred method. Pit beef isn't smoked.
There is no smoke ring and it's not cooked the typical low and slow way. In order to use my new UDS I had to "crank it" to about 300 degrees. Since the UDS works via direct heat cooking I essentially turned my UDS into my own "pit." Here's what I did: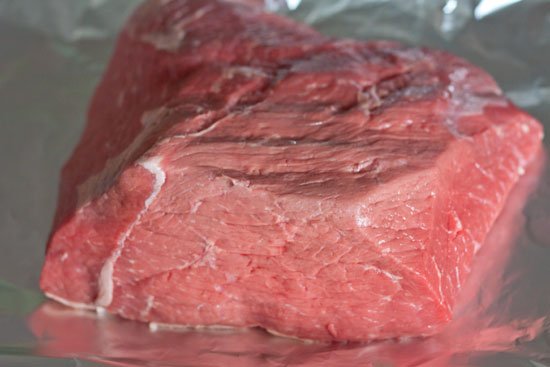 This 8 lb bottom round was on sale for about $17. Not bad considering I got a lot of meals out of it!
I went with a simple dry rub that I routinely use for cooking pit beef: 1 T garlic powder, 1 T kosher salt, 1 T black pepper, and about 1 tsp of chili powder.
I spread it all over the beef round and let it sit for a few hours in the fridge.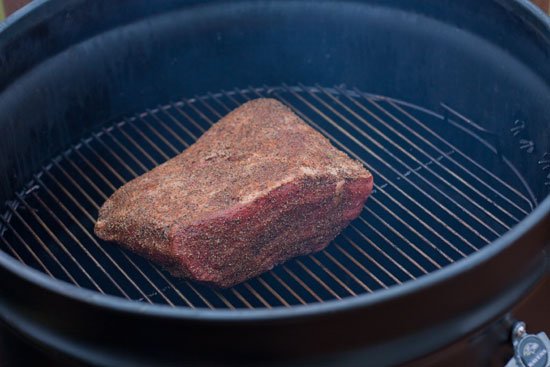 Firing up the Smoker
Start by filling the charcoal basket about halfway with unlit charcoal.
Then dumped about ½ a charcoal chimney of fully lit ashed over coals right on top. I added no smoke wood. I had all valves open to crank the heat.
When the smoker reached about 250-275 I closed 2 of the 3 air intakes and let it ride. The ugly drum smoker loves holding at 250.
In order to get it up over 275 I had to keep 2 of the 3 vents open the entire time. I was then able to keep a 300 degree cooking temperature.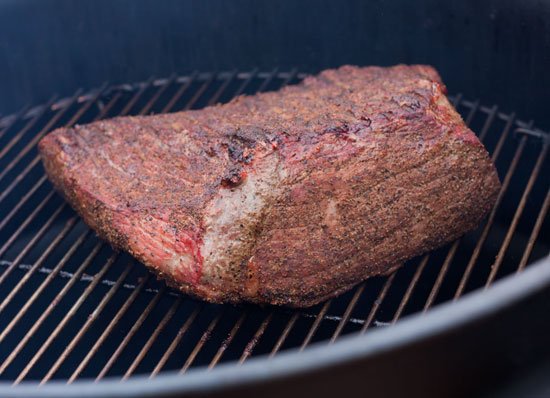 The above photo was taken 1 hour after putting the round on the smoker. I flipped it once at the 1 hour mark.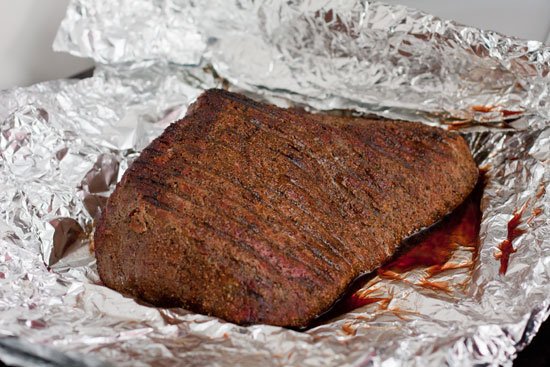 I can't Say it Enough...REST YOUR MEAT!!
After another hour the internal temperature of the bottom round was at an average of 135, which is right in the heart of the medium rare range.
If you are looking for roast beef cooking temperatures, check this out. I wrapped the round in foil and let it sit for about 30 minutes.
Afterwards I opened up the foil and made sure to save all those beef drippings!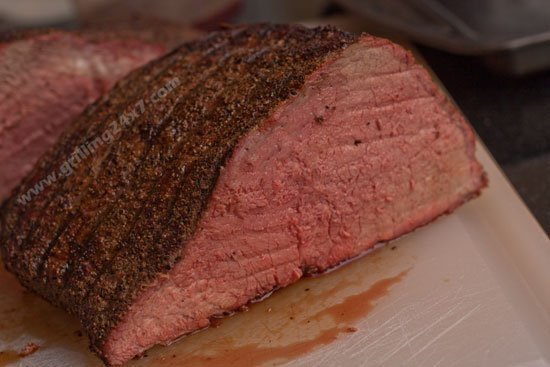 I cut the big bottom round in half so it was more manageable and sliced it thin on the meat slicer. I realize that most people don't have a meat slicer.
However, Costco does sell one for about $99 so having a meat slicer is accessible. If you don't have a meat slicer you should at least use an electric knife.
The electric knife requires some precision to make really thin slices.
It's actually quite hard to do. I'm not saying your pit beef or roast beef won't be tasty but it won't have that tender really easy to bite quality that a thinly sliced version from a meat slicer will.
Moral of the story: ask for a meat slicer for your birthday! But don't fret if you have to slice it with a regular knife. Even ¼ inch slices will be tasty.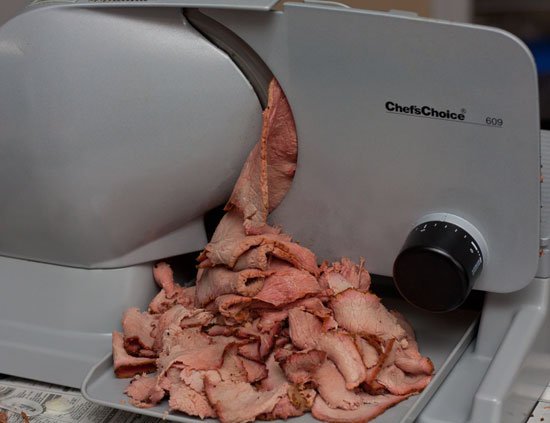 Thinly Sliced Beefy Goodness!
Oh Lord look at all this! I tell you, it was really hard not to ruin my entire appetite by eating and eating this nonstop as I was slicing.
It was so good. It is also a really good idea to take your onion and slice it thin on the meat slicer as well. Thin onions are the way to go!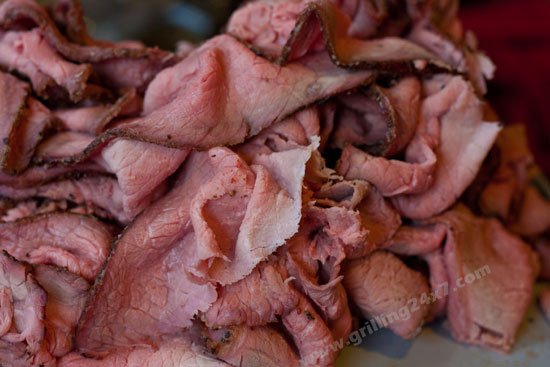 Please don't be discouraged if you do not have an Ugly Drum Smoker. This pit beef method can easily be applied to a Weber Smokey Mountain smoker.
You would just remove the water pan and cook directly over the coals.
The reason for this is that you want the meat to drip directly on the flame. This provides a unique "pit" taste. Remember, there is no smoke wood added here.
Baltimore style pit beef sandwiches aren't smokey tasting. However, there is a unique "char" taste from the direct heat pit method.
Of course if you don't have a smoker you can do this in a typical charcoal grill. Direct heat sear the sides and move it to indirect heat until medium rare.
Give it a try! If you Love Beefy Delicious Sandwiches Check out this Beef Short Rib Sandwich w/ Pimento Cheese
More Recipes You Will Love
---
Maryland (Baltimore) Style Pit Beef From a Bottom Round
Ingredients
• 5-10 lbs Beef bottom round

• 1 T Kosher Salt

• 1 T Black Pepper

• 1 T Garlic Powder

• 1 tsp Chili powder

• 1 or 2 Whole White Onions

• 1 bag Kaiser Rolls

• 1 bottle Horseradish
Instructions
1.Mix the dry rub ingredients together (salt, pepper, garlic powder and chili powder) and sprinkle all over the bottom round. Allow to sit in the fridge for about 30 min - overnight.

2.Grill the bottom round on a smoker over direct heat at 300 degrees until the internal temperature reaches about 135 degrees. If you do not have a smoker you can grill the round on a standard grill by searing it over direct heat and then moving it to indirect heat until medium rare.

3.Wrap the cooked bottom round in foil for about 30 minutes.

4.Slice the meat thin on a meat slicer or with an electric knife.

5.Slice the onions on the meat slicer or with an electric knife.

6.Serve thin sliced pit beef on rolls with sliced onions and horseradish sauce!