Jump to Recipe
Print Recipe
If you want to impress your guests this Smoked Beef Tenderloin recipe on the pellet grill is always a show stopper and great for your next special occasion.
Whether you want to make Smoked Filet Mignon or thinly sliced Beef Tenderloin sliders smoking the tenderloin on the pellet grill is a super easy method that everyone will love.
You only need a few hours and a good beef rub and before you know it you'll be cutting into the most tender piece of meat you've ever tasted.
Even though tenderloin can be an expensive cut of meat its rich flavor and a perfect smoke ring are the perfect centerpiece of your next holiday dinner.
Smoked Beef Tenderloin Shopping List
Beef Tenderloin– You can buy a beef tenderloin trimmed or you can trim it yourself. I recommend buying a tenderloin that is at least 5 lbs. because you'll lose some of the weight when trimming
Beef Rub– You can buy a store bought rub that you like or you can make your own at home in just a few minutes.
Oil- I Prefer avocado oil but any cooking oil will work just fine.
Garlic Cloves- Roasting the garlic in the butter infuses amazing garlic goodness into the beef
Rosemary- Give the steak an earthy flavor to the garlic herb butter
Thyme– Is a great herb to infuse with the garlic butter for adding even more flavor to the tenderloin
Butter- Basting with herb garlic butter really adds that richness that lean cuts like tenderloin need.
Step By Step Cooking Instructions
Trimming- I've added a video below if you're not familiar with trimming a whole tenderloin. Make sure you have a sharp filet knife and it shouldn't take more than a few minutes. I like to tuck the thin tailpiece underneath and tie off the tenderloin with butcher's twine about every 4 inches so the tenderloin cooks evenly. It's not a dealbreaker if you skip this step but it definitely helps
Seasoning– Once the Tenderloin is trimmed and all of the silver skin and excess fat is removed I lightly brush with a coat of olive oil then liberally season with my beef dry rub on all sides. This is sometimes known as a dry brine.
Smoking: Preheat the smoker to 225 Degrees F. Place a probe in the center of the thickest part of the tenderloin and smoke for about 90 minutes or until you reach an internal temp of 130 degrees F.
Searing: Once the tenderloin reaches an internal temperature of 130 degrees F. pull the meat off to rest and raise the temp of the pellet grill to 400 for direct grilling. If you have a gas grill or another grill that can get up to a higher temp go ahead and have that lit and ready to sear. Sear the tenderloin on all sides giving the meat a quarter turn each time just long enough to develop a nice crust on all sides.
Resting: Once the beef is seared you only need to let it rest for about 10 minutes before slicing on a cutting board.
Slicing: Remove all of the butcher's twine and start slicing. You can make thick slices for serving as Filet Mignon steaks or thin slices perfect for making sliders. It's all up to you on how thick you prefer to cut the beef tenderloin roast.
Serving: I always like to sprinkle a pinch of nice coarse finishing salt over the filet to bring out that savory flavor. Kosher salt is fine as well if you have that on hand.
Trimming Beef Tenderloin Video
What Kind of wood pellets are best for beef
I always go with one of the blends when I smoke beef I don't want anything with a lot of fruitwood but a little bit in a blend is fine.
If you prefer a milder smoke flavor I would avoid Mesquite because it can be a little intense.
There are no rules with what flavor pellets to use so try out different blends and see which ones you like best.
If you are using a charcoal grill I would recommend hickory or oak wood chips.
Smoked Beef Tenderloin Cooking Tips
Slicing: Because beef tenderloin is so tender it can be a little harder to slice especially when it's super rare. I like to smoke the tenderloin to about 135 internal temp whisk is closer to medium. It's still incredibly juicy but easier to slice thin. Also only slice what you intend to serve. Leave the rest of the tenderloin whole to slice as needed.
Seasoning: Filet Mignon doesn't have the fat content that a prime rib or a strip steak has so that's why I think a good amount of seasoning and smoking the meat is so important. Don't be shy with the beef rub, it can handle it. You can also add extra black pepper if you want to create an even spicier crust.
Resting: Because we smoked the beef at a low temp you don't need to rest the tenderloin as long as you would a chuck roast or a brisket. The higher the temp the longer the resting time. If you are worried about the steak cooling down you can tent it with aluminum foil and keep a digital thermometer in the meat to maintain the desired temperature
Sauces: I think that tenderloin is at its best when served with a good sauce. My Horseradish Aioli is Classic and my Chesapeake Crab Butter Sauce is what you make when you want to really impress the guests. My personal favorite is my classic Steak Madagascar Sauce
What sides should I serve with Smoked Beef Tenderloin
My Grilled French Fries are always a hit especially when you see them with my Mississippi Comeback Sauce.
Roasted New Potatoes, Crispy Zucchini Fries or even smoked Mac and Cheese are all great sides with beef tenderloin too.
If you want to keep things low carb please try my Ricotta Mashed Cauliflower or Ratatouille Caprese
If you are looking for a perfect sauce to serve with the tenderloin make sure to check out my creamy horseradish sauce.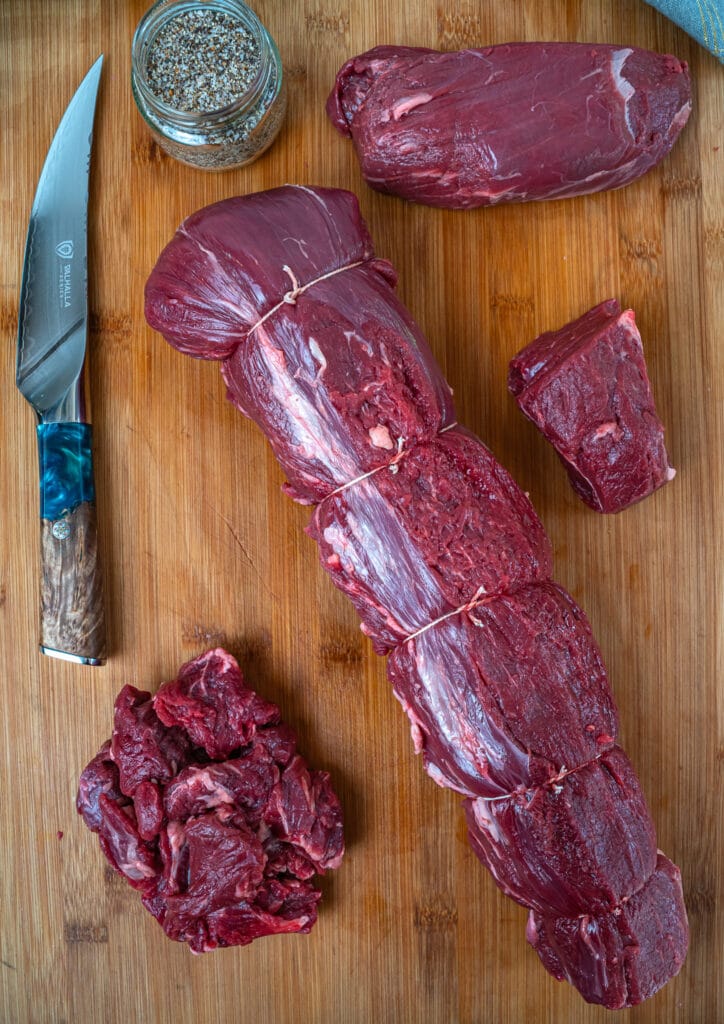 Frequently Asked Questions
Are beef tenderloin and filet mignon the same thing?
Beef tenderloin normally refers to the entire cut whereas Filet Mignon refers to an individual steak cut.
Why is beef tenderloin so expensive?
There are only 2 tenderloins on a whole cow so it is not as plentiful as a roast that can be portioned into many cuts. It's also the most tender making it highly valued by chefs and customers who enjoy that cut.
Is Smoked Filet Mignon The Same as Tenderloin
Filet Mignon is just the individual steak that is cut from a whole beef tenderloin. so yes it's the same cut of beef just portioned into individual steaks.
Should I let the tenderloin come to room temperature before Smoking?
No, Because we are using the reverse sear method and smoking at a low temperature we want to make sure the beef tenderloin roast is cold so it has time to absorb more smoke.
Do I need to put a water pan in the smoker while cooking?
Since this is such a short smoking process there is no need for a water pan. If you want you can fill the pan with beef stock, carrots onions, and celery along with any extra beef fat and make a smoked au jus.
Should I use multiple temperature probes during the cooking process?
If you have the ability it's never a bad idea to measure the meat temperature from multiple points. Place one at either end of the roast and a second one in the center
More Recipes You Will Love
---
Smoked Beef Tenderloin
If you want to impress your guests Smoked Beef Tenderloin on the pellet grill is always a show stopper and great for large groups.
Ingredients
5

lbs

Beef Tenderloin

Cleaned and Trimmed

2

tbsp

Beef Rub

1

tbsp

Avocado Oil

½

stick

Butter

2

cloves

Garlic

1

sprig

Fresh Rosemary

1

bunch

Fresh Thyme
Instructions
Preheat Pellet Grill to 200 Degrees F. place rosemary, thyme, garlic cloves and butter in a heat safe dish or cast iron. Place in the corner of smoker to melt along with beef.

Rub down tenderloin on all sides with avocado oil then season liberally with beef rub seasoning. Place Tenderloin on the pellet grill and smoke for about 1 hour.

Brush with garlic butter after an hour of cooking then continue to smoke until tenderloin reaches and internal temp of 125 degrees F.

Once tenderloin reaches internal temp let the beef rest for 10 minutes while you raise the smoker temp to 400 degrees F. Sear the tenderloin on all sides cooking for about 2 minutes per side.

Brush tenderloin a secind time with remaining garlic butter and let the beef rest for 10 minutes befor slicing.
Notes
Serving size about 4 ounces. 1 inch Slice
For tips on trimming see video above.
Only slice what you intend to serve immediately. Leave the rest of the tenderloin whole. 
Nutrition
Calories:
565
kcal
|
Carbohydrates:
1
g
|
Protein:
34
g
|
Fat:
46
g
|
Saturated Fat:
20
g
|
Polyunsaturated Fat:
2
g
|
Monounsaturated Fat:
19
g
|
Trans Fat:
1
g
|
Cholesterol:
142
mg
|
Sodium:
127
mg
|
Potassium:
584
mg
|
Fiber:
1
g
|
Sugar:
1
g
|
Vitamin A:
151
IU
|
Vitamin C:
1
mg
|
Calcium:
23
mg
|
Iron:
5
mg