Jump to Recipe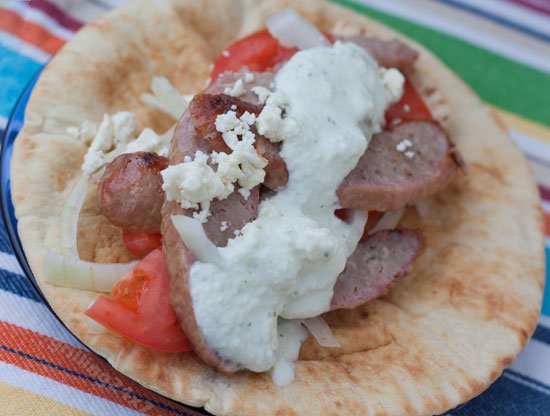 Making homemade gyros has been on my to-do list for a very long time. I've studied various online recipes such as the famous Alton Brown gyro recipe where he essentially makes a lamb loaf and rotates it on a rotisserie. I've been wanting to try this but I just can't imagine how this lamb loaf will not fall right off the rotisserie and make a total mess. I've also read modified versions of the recipe where you make the lamb loaf in a pan. This doesn't get too many great reviews. So, even though I was hungry for homemade gyros I let this idea dwindle for a few years. Then the guys at Johnsonville posted a photo on Twitter of a brat gyro hoagie. A light bulb instantly went off. Think about it: the flavors in a bratwurst are quite savory. While they are not identical to the Greek spices found in the various pork and lamb meat mixes used to make gyros the brat is very close. Well, I did it and it works. This is an easily accessible way to make homemade gyros. I guess we can call these "bryros!" No need to fuss with impossible to find ground lamb (at least where I live). The brat saves the day. Check this out!
The homemade tzatziki sauce is what takes this recipe over the top. If you don't want to fuss with making this yourself I suppose you can find tzatziki sauce in the grocery store? But this is rather easy and so tasty.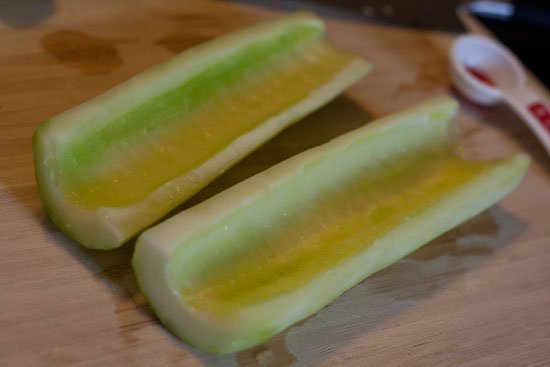 Remove the skin from the cucumber and use a tablespoon to scoop out the seeds.
Dice the cucumber and place it in a strainer. Add ½ T of salt over top. This step removes the water from the cucumber. Let the salted cucumber sit in the strainer for about 30 minutes.
In a food processor add the salted cucumber, peeled garlic, lemon juice and chopped dill. Process until smooth.
I tilted the food processor and then used an extra towel to dab up some of the excess water. You don't want a runny tzatziki sauce. Add the pureed cucumber mix to the Greek yogurt. Mix well and let the flavors combine in the fridge for about 1 hour or so.
Now the easy part. Preheat the grill to medium or medium low and grill the brats.
When the brats are finished remove them from the grill and let them cool until you can handle them without burning your fingers.
Slice onions and tomatoes to your desired thickness.
Using a very sharp knife carefully slice the brats as thin as you can get. I was able to get about 4 slices from one brat. If you look close it sort of resembles the authentic gyro meat! Pretty cool for a "cheater recipe!"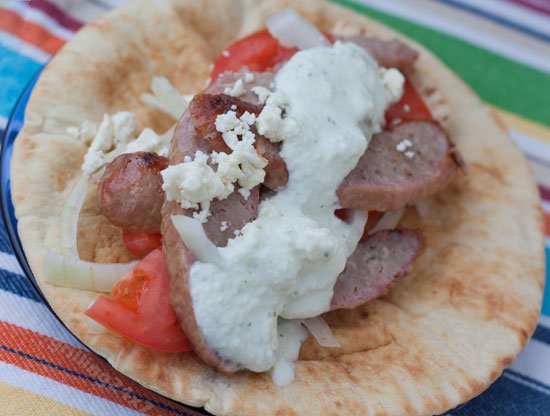 Assemble the gyro, or "bryro," by putting the onions, tomato and sliced brats on a flatbread. Then top with the glorious homemade tzatziki sauce and a bit of Feta cheese. This is fantastic! A truly easy way to have homemade gyros without too much fuss.
A big thanks to Kalyn's Kitchen for giving me the general idea of how to make a Tzatziki sauce and also the guys at Johnsonville for being brilliant enough to realize that brats can be used for gyros!
Brat Gyros; Using Bratwurst To Make Homemade Gyros with a homemade tzatziki sauce
A simple bratwurst gyro recipe with an amazing yogurt based tzatziki sauce.
Ingredients
• 1.5 cups Greek yogurt

• Juice of ½ of a lemon

• 3 garlic cloves

• 1 cucumber

• ½ T salt

• ½ T chopped dill

• 1 pack flat bread or pitas

at least 6

• 1-2 Tomatoes

• 1-2 Sweet Onions

• Feta Cheese

• 1 pack of bratwurst

I prefer Johnsonville
Instructions
For the Tzatziki Sauce: Peel the cucumber and scoop out the seeds. Dice the cucumber into small ½ inch sized pieces. Place diced cucumber into a strainer placed in the sink or in another bowl and add ½ T salt. Mix well. Let salted cucumber mix sit for about 30 min to remove excess water. Take a paper towel and additionally dry off the cucumber a bit more. Add cucumber, peeled garlic, lemon juice, dill and a bit of pepper to a food processor and process until smooth. If excess water is present try to dab it up with another paper towel. Mix in the Greek yogurt and let sit in the fridge for about 1 hour.

For the Brat Gyro: Preheat grill to medium or medium low heat. Grill bratwurst and let them cool. Prepare onions and tomatoes by slicing them into desired sizes. When the brats are cool slice them as thin as you can using a very sharp knife. Assemble the gyro by placing the onions, tomato and sliced brats on the flat bread. Top with homemade tzatziki sauce and feta cheese if desired.
Nutrition