Jump to Recipe
Estimated reading time: 6 minutes
Bacon Burnt Ends Recipe
Bacon burnt ends are tender morsels of smoky deliciousness. Fantastic recipe perfect for Bacon Lovers!
Smoked over charcoal and wood on my kettle these bacon burnt ends were bursting with sweet and smoky goodness!!
At my local butcher recently I picked up a beautiful hunk of Slab Bacon.
It weighed in just over 3 lbs. I wasn't sure what I was going to do with it but you can never have too much bacon.
I decided I would try out these pork belly Burnt Ends that I've seen others making. If pork belly is good then slab bacon is a whole new level.
This Bacon Burnt Ends Recipe is not only easy to make, it's only 2 ingredients!!

---
What's the difference between Pork Belly and Slab Bacon.

Pork Belly is basically the base model car and Slab Bacon is the Deluxe package. Slab Bacon is cured using a combination of salt and sugar and then smoked.
Pork Belly is the raw unprocessed product. Both come from the abdominal area of the pig and both can be prepared using similar methods.
Slab Bacon is convenient because you can control the thickness of the slices instead of relying on the butcher.
Most often the Pork Belly will have the outer skin still attached so that when cooked the skin will become crispy.
On Slab Bacon the outer skin is removed to allow the cure and smoke to penetrate better. To learn the difference between a pork butt and a pork shoulder Click Here

Can I turn my Weber Kettle Grill into a smoker??

A simple Weber Kettle Grill is one of the most versatile pieces of equipment you can find.
While I own many grills and smokers I always come back to my trusty Weber Kettle. Weber is also great because of the many accessories they carry.
From Cast Iron Grates to Rotisserie attachments. One fairly cheap accessory is the charcoal baskets to grill/smoke using indirect cooking.
You simply fill the basket with lump charcoal and some wood chips on one side of the grill then place your meat opposite the coals.
This method works great for everything from Ribs to brisket or today Bacon Burnt Ends. For more information on turning your Weber kettle into a smoker Click Here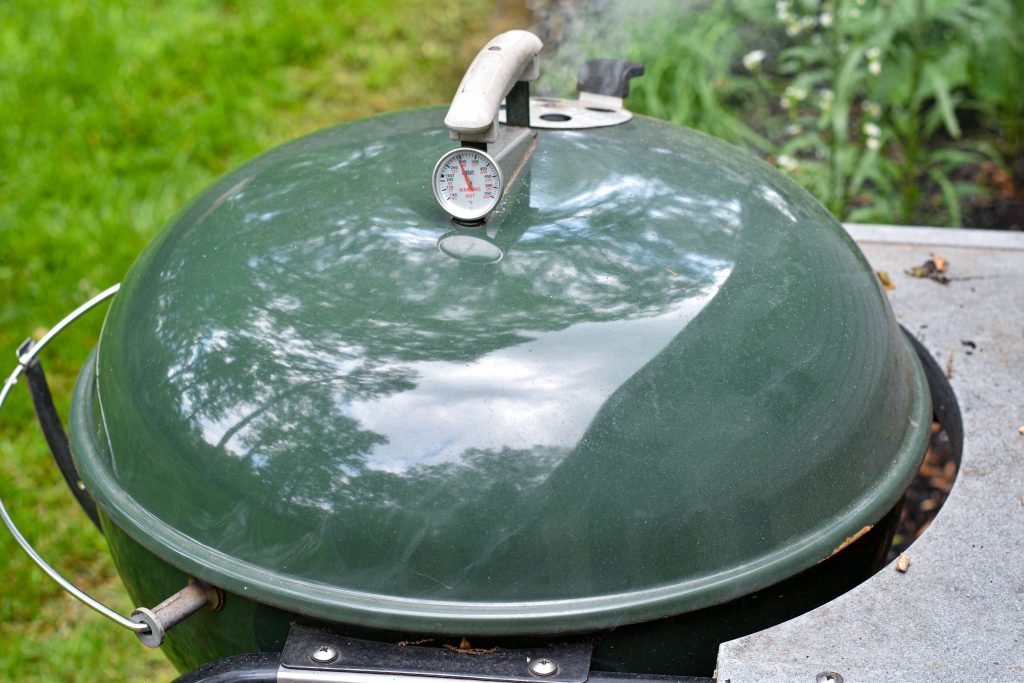 If you would like to get my secrets on the best way to clean your Weber Performer Click Here
How do you tell when the Bacon Burnt Ends are done?

Once the Bacon Burnt Ends have cooked for a few hours and that mahogany color has been reached its time to transfer to a disposable aluminum pan.
Some people like to add beer or butter or some kind of mop sauce. Because the bacon has already been cured and smoked I think that adding anything else is unnecessary.
If anything a few pats of butter but I will leave that to your discretion. Cover the Burnt Ends and continue to cook over indirect heat until tender.

How do you tell when the Bacon Burnt Ends are done? My favorite tried and true method is to poke with a toothpick or probe thermometer.
If the meat seems anything short of buttery soft continue cooking until it is.
You want a temperature of around 200-205 just like a Pork shoulder but the toothpick test is my favorite method.

To Sauce or not to Sauce.

I'm sure if we took a pole it would be a split decision on whether to sauce or leave them dry.
This particular time I left them dry but I did dip them in some bbq sauce that I served on the side.
If you choose to sauce do it at the very last minute and leave the Bacon Burnt Ends in the pan uncovered for just a minute. Once the sauce has set up its time to eat!!

Whats Rub got to do with it!
Obviously any rub will work great for this recipe but I wanted to share that I used Signature Series Pork Rub. I have a discount code that will get you 15% off your purchase.
They have a bunch of different blends and not a bad one in the bunch!!

More Great Recipes from Grilling 24×7
---
Bacon Burnt Ends
Bacon burnt ends are tender morsels of smoky deliciousness. Fantastic recipe perfect for Bacon Lovers!
Equipment
Weber Performer Grill

Charcoal Baskets

Disposable Aluminum Pans
Instructions
Set up your kettle so that the coals are lit on only one side and the vent opening of the dome is opposite the coals. Place the grill grate in and bring  the grill temperature to about 300 degrees F.

Cube the bacon into 2 inch chunks then season on all sides with dry rub.

Once your kettle has reached temperature add in a few handfuls of wood chips, I like apple, cherry or hickory for this recipe.

Place Burnt Ends in a wire cooling rack on the opposite side of the coals. Cook for 1 hour.

Check color and if your happy with the color transfer to an aluminum pan, cover with foil. Continue to cook over indirect heat for another 90 minutes to 2 hrs until Bacon Burnt Ends are tender. Use a toothpick or probe thermometer to test for tenderness
Nutrition
Calories:
477
kcal
|
Carbohydrates:
2
g
|
Protein:
14
g
|
Fat:
45
g
|
Saturated Fat:
15
g
|
Cholesterol:
75
mg
|
Sodium:
751
mg
|
Potassium:
234
mg
|
Fiber:
1
g
|
Sugar:
1
g
|
Vitamin A:
75
IU
|
Vitamin C:
0.2
mg
|
Calcium:
19
mg
|
Iron:
0.9
mg
---
Nutrition Facts
Bacon Burnt Ends
Amount Per Serving
Calories 477
Calories from Fat 405
% Daily Value*
Fat 45g69%
Cholesterol 75mg25%
Sodium 751mg33%
Potassium 234mg7%
Carbohydrates 2g1%
Protein 14g28%
Vitamin A 75IU2%
Vitamin C 0.2mg0%
Calcium 19mg2%
Iron 0.9mg5%
* Percent Daily Values are based on a 2000 calorie diet.