Jump to Recipe
If you love chicken Noodle Soup. You'll love Chicken & Spaetzle Soup.
These traditional German noodles are easy to make or you can cheat and buy the dry version.
It's a great way to use leftover chicken or turkey and tastes like it simmered all day. Why would you ever eat that red labeled soup in a can when you can make this in a snap.

Leftover chicken gets a second chance to be delicious!

I smoke chickens quite often. Sometimes I'll just spatchcock a bird, season it up and throw it on the smoker for about 90 minutes.
It's a quick smoke time and great for weeknight dinners. I also practice my competition chicken thighs about once a month, getting ready for kcbs season.
Generally, in spring and summer, leftovers are turned into a delicious chicken salad, but in the winter, it's definitely a great soup option.

If you don't want to smoke a chicken you can always grab yourself a $5 rotisserie chicken from Costco at your local grocery store.
Obviously, leftover turkey is will work in this recipe as well. I would avoid duck or other game birds in this recipe because it will come out greasy.
If you're not into dark meat, just roast or grill off some chicken breasts.

Making the stock.

If I have a whole chicken I typically pick as much of the meat off the bird before placing the carcass in the pot along with the stock to get all those little bits of meat along with the Collagen from the bones.
Adding a chicken carcass to store-bought stock is definitely a great way to fortify that homemade flavor.

The other essential part of a flavorful stock is the mirepoix. Always start your stock, even store-bought with carrots.
Onions and celery sautéed in butter or oil until the veggies are lightly caramelized.
You will see the bottom of the pot developing little brown bits known as the fond.

"Fond is French for "base" and commonly refers to the browned bits and caramelized drippings of meat and vegetables that are stuck to the bottom of a pan after sautéing or roasting". Source Wikipedia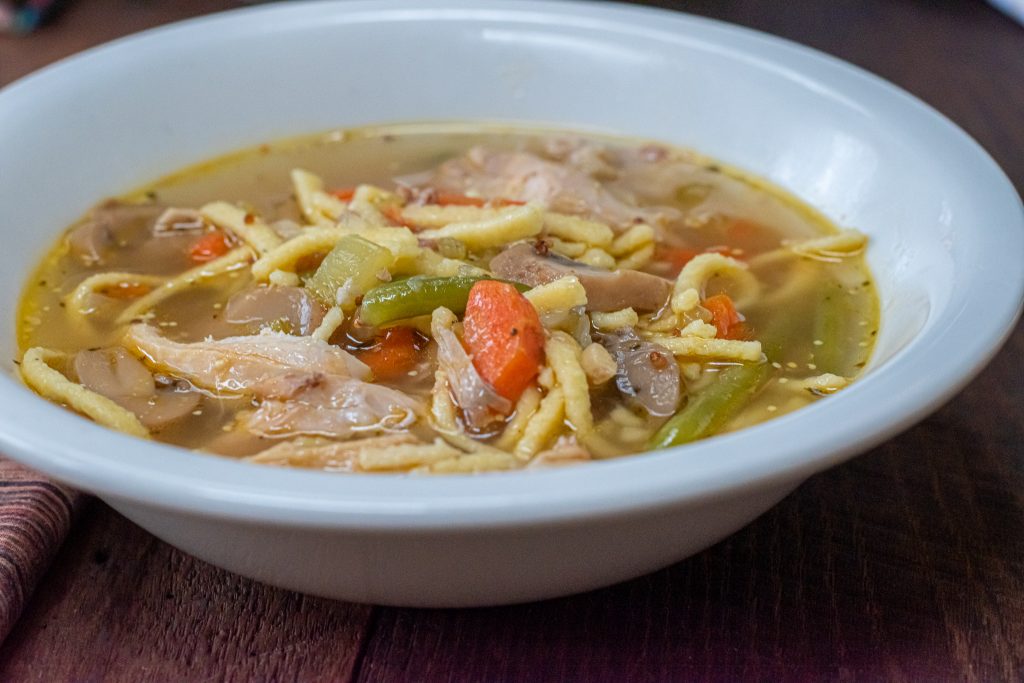 Those little bits of flavor will give your soup that cooked all day flavor even though you'll have this soup done in less than an hour.
Once the fond has formed on the bottom of the pan, it's time to deglaze with your stock.

"Deglaze: is a cooking technique for removing and dissolving browned food residue from a pan to flavor sauces, soups, and gravies". Source Wikipedia

Make sure to use a wooden spoon or spatula to scrape up all those little brown bits.
The bottom of the pot should be clean by the time you're done otherwise, the fond may burn to give your soup a bitter taste.
At this point, I like to drop the temperature of the stock to medium-low and add the spaetzle. This gives the noodles time to absorb all of the flavors of your stock.

Spaetzle: homemade, Dry or bagged mix

Spaetzle is a type of pasta made with fresh eggs, flour, and milk. Its literal meaning is "Little Sparrow".
Spaetzle can be found in all types of cuisine throughout Eastern Europe but I think is mainly thought of when talking about German recipes.
It's relatively easy to make as the ingredients are mixed together then, pushed through holes into hot salted water then stirred until the noodles float. You can use a gadget specifically made to make spaetzle (pictured below) or you can use a cheese grater or even a Potato Ricer (pictured Above) as I did.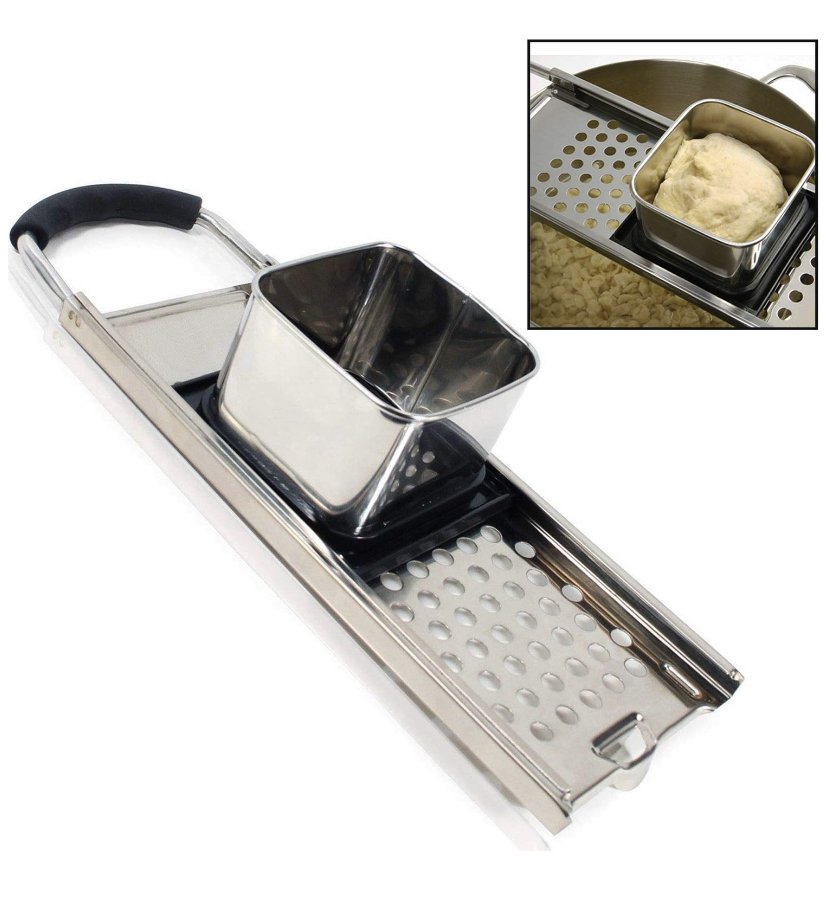 I'll admit the most challenging part is getting the consistency of the batter just right. Too runny, and it will just pour out. Too thick, and it will taste gummy and come out uneven. I'll leave a link of a recipe on how to make your own below.
There are also powdered mixes that you can just add water and stir.

On the other hand, you can cheat a little bit and buy Dry Spaetzle in a bag. I actually prefer the dry version because it can sit in the broth and absorb the stack as it cooks.
It's also a great side dish on its own, and kids love it for buttered noodles.
If you're going to make fresh spaetzle, you won't want to add the noodles to the soup until you add the chicken at the end. That way, it's not overcooked and only needs to be warmed up.
---
---
---
More Comfort Food Recipes
Chicken & Spätzle Soup
If you love chicken Noodle Soup. You'll love Chicken & Spaetzle Soup. These traditional German noodles are easy to make.
Instructions
Simmer your carrots, onions and celery over medium heat for 7-10 minutes until tender. Then add seasoning and spices. Continue to cook for 1 minute. *Look for a light brown fond forming on the bottom of the pan but don't burn

Pour in chicken broth and apple cider vinegar to deglaze the pot. Scrape all the brown bits off the bottom of the pot. Then add dry spaetzle to broth, turn burner to a simmer and let cook for about 20 minutes until noodles have reached desired doneness. Noodles will absorb broth and continue to cook so plan on them being softer once the soup is finished. * if using fresh Spaetzle add at the end along with the chicken.

Add pulled cooked chicken meat, canned mushrooms and green beans. Stir until soup reaches a light simmer and check for seasoning.
Nutrition
Calories:
239
kcal
|
Carbohydrates:
25
g
|
Protein:
18
g
|
Fat:
6
g
|
Saturated Fat:
1
g
|
Cholesterol:
54
mg
|
Sodium:
1701
mg
|
Potassium:
555
mg
|
Fiber:
1
g
|
Sugar:
2
g
|
Vitamin A:
1546
IU
|
Vitamin C:
29
mg
|
Calcium:
44
mg
|
Iron:
1
mg