Nothing better than big chunks of jumbo lump crab meat. Mostly this ends up in crab cakes or crab dip but here's a fun way to spice up a cheeseburger. This jumbo lump crab burger recipe provides a nice boost to the typical cheeseburger cookout and it is quite easy to do.
As usual, put a good rub on your burgers, I've been enjoying a simple Montreal steak rub. Then soak those burgers patties in Worcestershire sauce. I like to use 80% lean ground beef and when I'm forming the burgers I put a little indentation in top to help the burger keep a patty like shape during the grilling process.
Look at that glorious jumbo lump crab meat. Huge tender and flavorful chunks of crab. To be honest, I took a handful of this stuff and melted some cheddar cheese over top and ate it with a fork while I was getting these photos together. What an amazing snack.
Typical medium high grill heat is all you need for burgers. Grill them over direct heat and have an indirect, or cooler, area also available to place the burgers when it comes time to melt the cheese. Once the burgers are almost done cooking, generously apply your favorite cheese and immediately, and carefully, place the jumbo lump crab meat on top of the burgers. Bring out a can of Old Bay or any other seafood seasoning and generously apply it while the burgers are sitting on the grill.
Oh look at those beauties.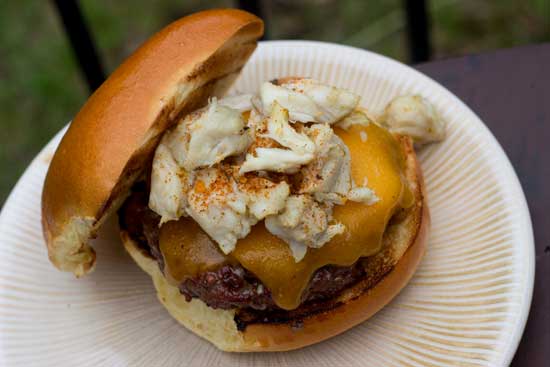 I had debated doing some sort of fancy burger spread such as an Old Bay or garlic mayo. However, after I was snacking on the lump crab meat and cheese combo, I knew that I wanted the simple and incredible flavors of cheese, Old Bay and crab to come through strong on my burger, so I ate these without anything else on top. Later, after I finished this round, I did enjoy some sliced red onion on top. It gave a nice crunch without taking away too much of the crab flavor.
If you see a sale on jumbo lump crab, give this jumbo lump crab burgers recipe and try and let me know what you think!