Pellet Grills a Pit Masters Best Friend
Now that I've had my Rec Tec 700 for most of the summer I've decided to start posting some of my favorite recipes. I really can't say enough about the quality and ease of use. Recently, I picked up a 2.5 pound Tomahawk Ribeye that I thought would be perfect for a reverse sear using the pellet grill.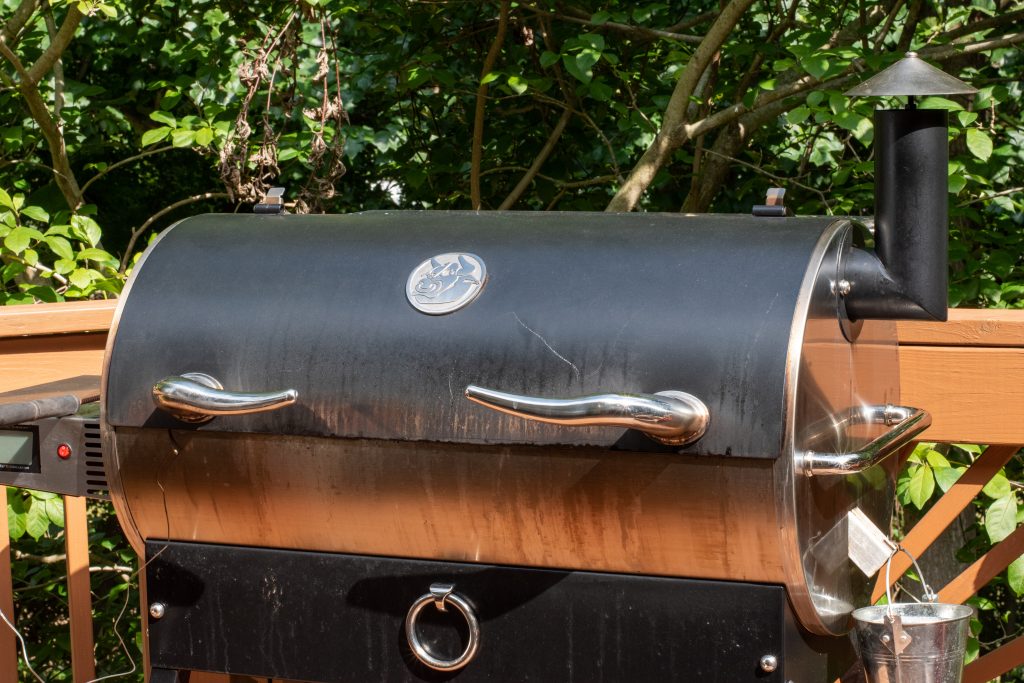 Always let steak warm up to room temp before cooking
As always you should pull your steak out of the fridge about 30-45 minutes before cooking. Meat tends to tighten up when it raises in temperature too quickly. I like to bring my steaks internal temperature up gradually then finish with a quick sear. In my opinion this will give your meat a more tender mouth feel.

Seasoning the steak is completely a personal preference. I like to season the steak no more then 5 minutes before cooking. I don't want the salt to pull out any more moisture. The goal is to keep as much moisture in the meat as possible. I always start with a drizzle of oil before seasoning my steaks. Don't go crazy with the oil, just enough to hold your seasoning to the steak.

Season your Steak just Before Grilling
I've got a variety of steak seasoning and fancy salts that I rotate between depending on my mood. One that I'm quite fond of is Oh Canada from Spiceology. It's obviously a play on the popular Montreal seasoning from Mcormick but the flavor is quite different. Oh Canada has hints of carraway and Red pepper along with a high quality coarse salt.

Now that the steak has come up to temperature and we have aggressively seasoned it's time to start cooking. Wrap the bone in aluminum foil before cooking. this will prevent it from burning as well as make the bone look perfect for presentation. I set my Smoker to 225 degrees F. And place the steak on the grates. The Ribeye was about 2 inches thick so there's plenty of room to place a probe in to monitor temperature. I place the probe into the steak at a 45 degree angle to make sure the tip of the probe is dead center. This will ensure a true reading so you know exactly when to pull off the steak.

How to Reverse Sear a Ribeye on a Pellet Smoker
For a medium rare steak you'll want to pull the steak off at around 115 degrees F. That gives you 15 more degrees to go when you sear to reach a final internal temperature of 130 degrees F. It will take anywhere from 30-60 minutes at 225 degrees F (grill temperature) to reach your ideal steak temperature depending on the size and thickness of the meat.

Once you reach the desired reverse sear temperature, pull the meat off the smoker then let it rest while you raise the temperature of the pellet smoker to max temperature (450 degrees F.) which only takes a few minutes. Another option is to finish the steak on a second grill. I have a Weber Genesis Gas Grill Right next to my Pellet Smoker so I just fire up the propane a few minutes before my Steak comes up to temperature. I don't normally like to grill steaks on propane but since the Ribeye already has smoked and absorbed all the wood flavor it's ok to finish it off with gas.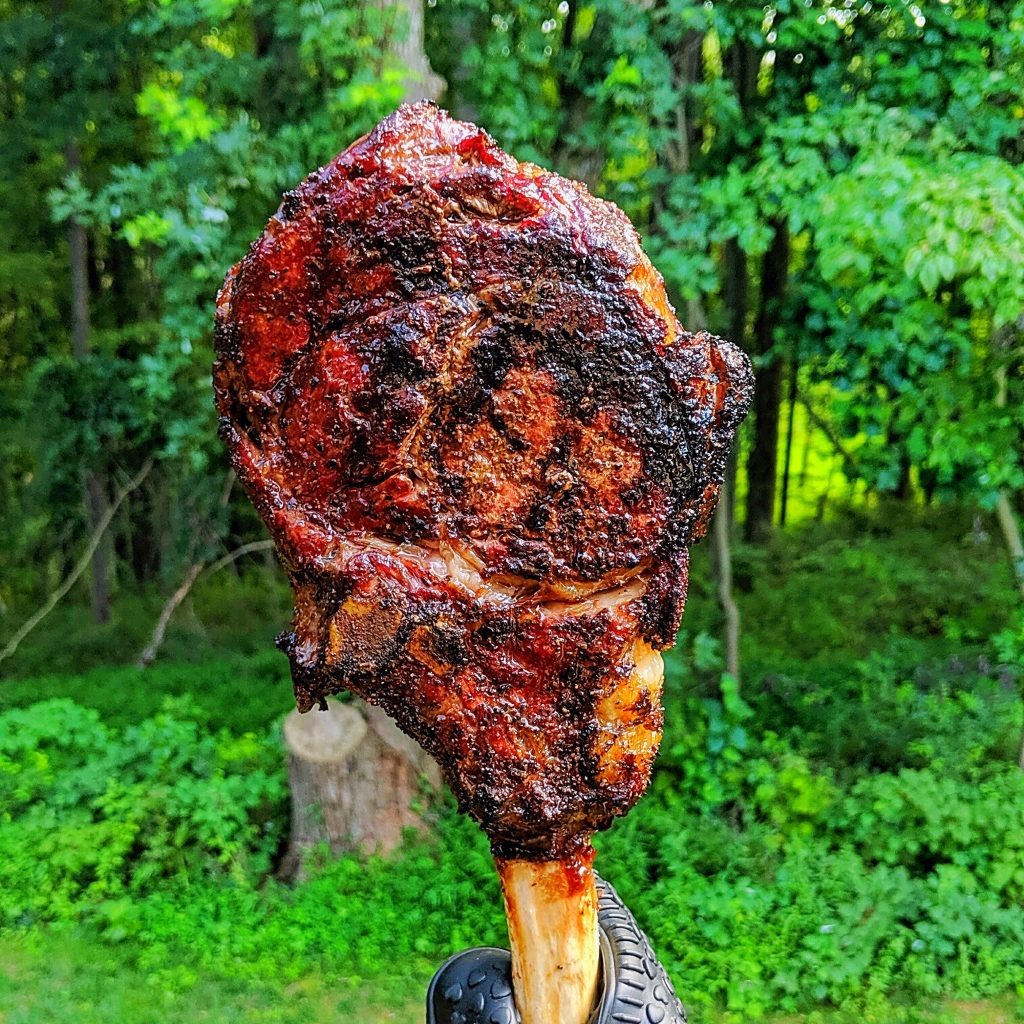 Searing your steak should only take a few minutes on each side just long enough to develop a crust. Keep a close eye on the temperature of the steak as it can over cook quickly. As soon as you've hit your goal internal temperature pull the steak off and let it rest for about 5-10 minutes before slicing.

Need A simple Quick and Easy Method? Check out my Bone in Ribeye Tutorial Post
Chanterelle Mushroom Cream Sauce
Now this is 100% optional but I am a huge fan of mushroom sauces. I was lucky enough to run into a friend who had some beautiful Chanterelle Mushrooms. If you haven't tried Chanterelles they are a beautiful meaty mushroom with a robust earthy flavor. They can be very hard to find and expensive, so feel free to substitute portobello or regular button mushrooms for this recipe.

I cleaned the Chanterelle Mushrooms by running under cold water then brushing off any dirt with a paper towel. Next I pat them dry and tear the mushrooms into bite size pieces before sautéing in an obscene amount of butter. Make sure the pan isn't too hot. You want to soften the mushrooms and allow them to absorb the butter. Chanterelle Mushrooms can be chewy, so make sure to cook them long enough so that they are tender. This process may take up to 30 minutes over medium low heat but it's worth it.

Once the Chanterelles are tender you can finish the sauce by reducing the cream and adding the remaining ingredients. This is not meant to be a thin watery sauce. The cream is just enough to bring the mushrooms together with the horseradish and other flavors.

I Put this sauce on Everything
The sauce is perfect for toppings any steaks as well as chicken or pork chops. Once the sauce is finished you can remove from the heat and cover until your steaks are rested and ready to serve. You can enjoy the sauce at room temperature or reheat over low heat just long enough to warm the mushrooms. Be careful not to break the sauce by heating too quickly. This recipe will take your steak to a whole new level and I would recommend you try it out as soon as possible.
Print Recipe
Chanterelle Mushroom Cream Sauce
Ingredients
1/2

lb

Chanterelle Mushrooms

3/4

cup

Heavy Cream

6

tbsp

Butter

2

tbsp

diced Shallot

or Red Onion

2

tbsp

Prepared Horseradish

2

tbsp

Parsley

1

tbsp

Minced Garlic

1/2

tsp

Real Salt

1/2

tsp

Black Pepper
Instructions
Clean and gently rince mushrooms, pat dry and tear into bite size pieces

saute mushrooms over medium heat with butter for 20-30 munutes until tender

add shallots and garlic, continue to saute until softened

add seasoning, Parsley and horseradish. Add heavy cream and simmer until sauce has reduced

remove from heat and cover until time to serve
Nutrition
Calories:
171
kcal
|
Carbohydrates:
4
g
|
Protein:
1
g
|
Fat:
17
g
|
Saturated Fat:
11
g
|
Cholesterol:
53
mg
|
Sodium:
249
mg
|
Potassium:
185
mg
|
Fiber:
1
g
|
Sugar:
1
g
|
Vitamin A:
594
IU
|
Vitamin C:
2
mg
|
Calcium:
27
mg
|
Iron:
1
mg
Nutrition Facts
Chanterelle Mushroom Cream Sauce
Amount Per Serving
Calories 171
Calories from Fat 153
% Daily Value*
Fat 17g26%
Cholesterol 53mg18%
Sodium 249mg11%
Potassium 185mg5%
Carbohydrates 4g1%
Protein 1g2%
Vitamin A 594IU12%
Vitamin C 2mg2%
Calcium 27mg3%
Iron 1mg6%
* Percent Daily Values are based on a 2000 calorie diet.