Jump to Recipe
Print Recipe
You can Make Authentic Texas Style Beef Plate Ribs Just as good as the BBQ Joints in Texas using your Pellet Smoker and a little bit of culinary know-how.
This Recipe will give you all the secrets to Making Real Deal Texas Beef Plate Ribs.
Looking for More Smoked Beef Recipes Checkout Pulled Smoked Chuck Roast – BBQ Chuckies, Smoked Eye Round w/ Beef Au Jus, Smoked Beef Brisket
Texas Style Beef Ribs Made Right in Your Backyard!!
Over the summer I had the opportunity to taste some of the world's best bbq joints in Austin Texas. The beef plate ribs at Terry Blacks were especially amazing.
A single bone weighing in at just under a pound looked like something of prehistoric folklore. The meat was fatty but melted in your mouth barely needing to chew.
The post oak commonly used in central Texas gives the meat a subtle yet complex smoky flavor while preserving the natural flavor of the beef. The fact that the only seasoning used is salt & pepper blows my mind.
Since I live 1500 miles from Austin I had to figure out how to recreate these ribs using my pellet smoker at home.
To be honest the method for smoking beef ribs is very similar to smoked brisket. I jokingly refer to Beef Ribs as "Brisket on a Stick".

Whats the difference between beef plate ribs and beef back ribs?
In Texas, I'm sure you can find beautiful racks of Beef Ribs at your local H-E-B (local grocery chain) but here in Maryland, the only beef ribs I've ever found are either cross-cut short ribs or beef back bibs.
Cross-cut short ribs are what are commonly served at Korean bbq restaurants, very tasty but much less impressive.
Beef Back Ribs are actually cut higher up on the spine and cut away from the Prime Rib. Butchers don't leave much meat on beef back ribs because they would rather sell that meat as the much pricier prime rib.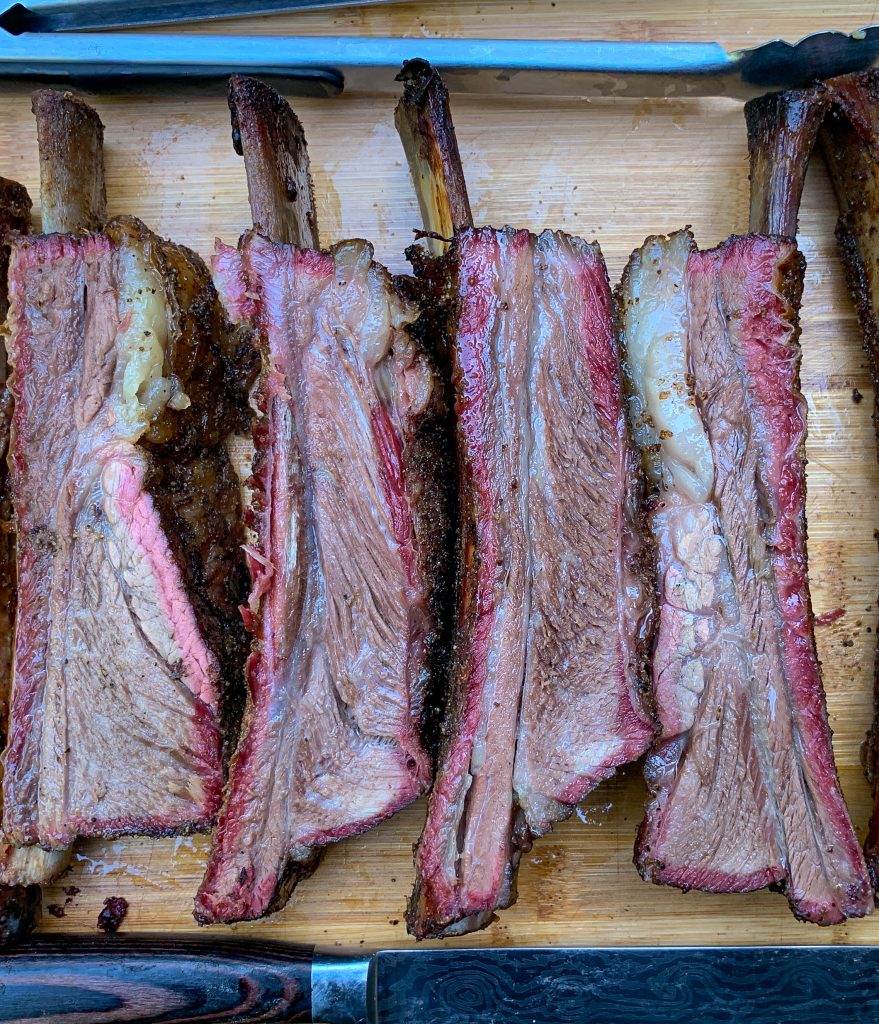 Where to Find Beef Plate Ribs and What to Ask For
When shopping for beef ribs ask your butcher for "beef plate ribs" or "Texas-style beef ribs" ideally they will trim any excess fat off the back along with removing the membrane similar to how you would treat a pork spare rib.
The bones will range anywhere from 8-12 inches in length. If all you can find are single bone short ribs you can still follow this recipe but will need to adjust the time according to the size of the short ribs.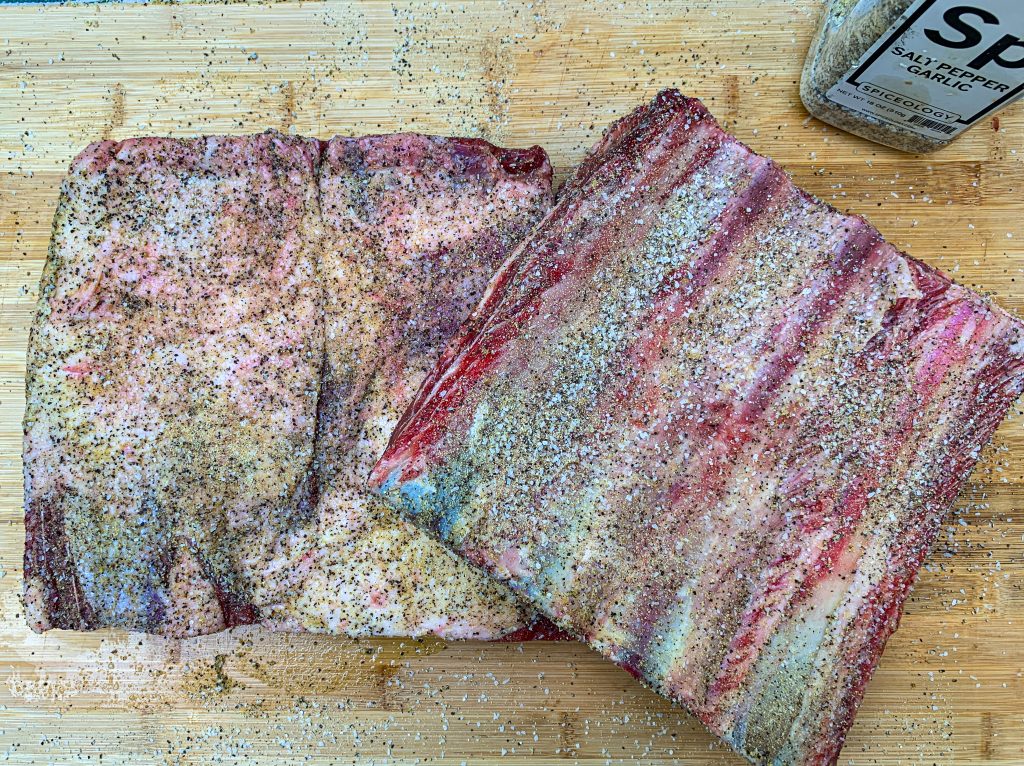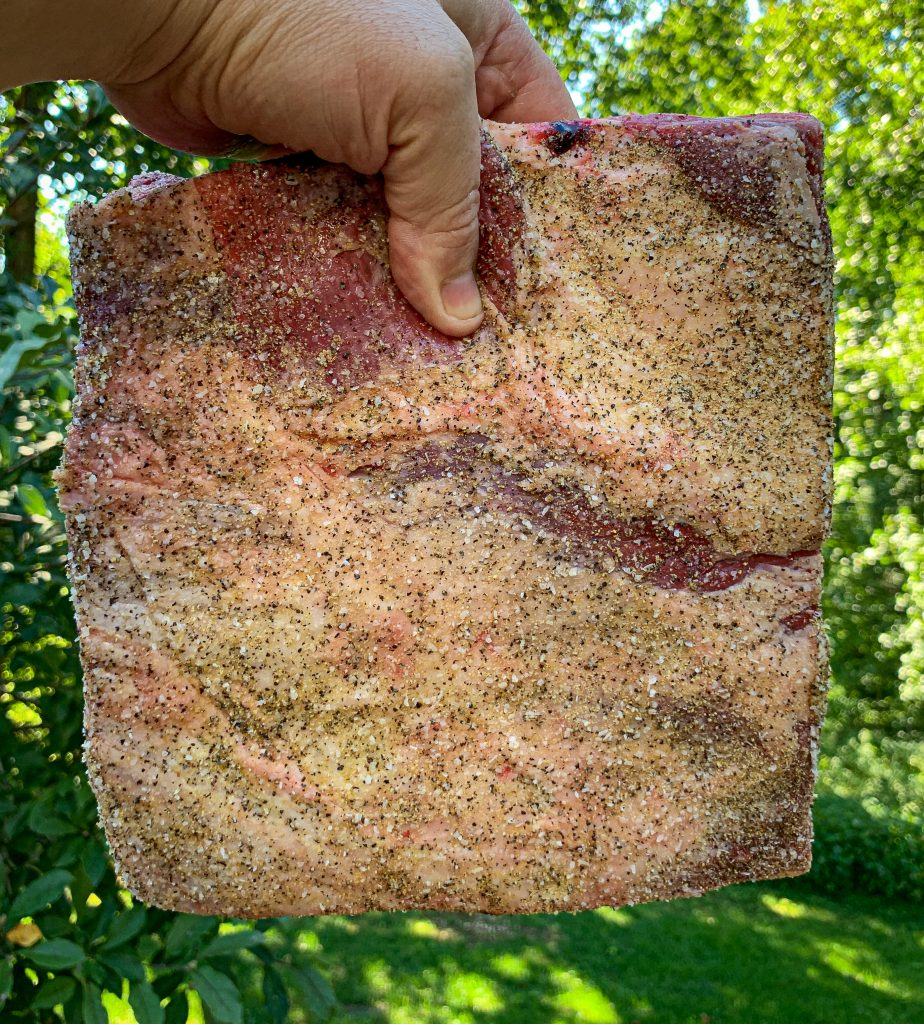 How to Season Beef Plate Ribs?
Seasoning Texas Beef Ribs is quite simple. I use a spice blend from Spiceology that contains just 3 ingredients: Kosher salt, pepper, and garlic.
If you're feeling adventurous I would recommend a pinch of granulated onion but other than that let's keep things simple.
Before seasoning, I like to rub the ribs down with a few tablespoons of oil just to help the seasoning stick to the meat.
Don't be shy with the seasoning, beef ribs can handle a good amount of salt so make sure you hit both fronts, back and don't forget the sides.

Just like a steak, I like my beef plate ribs to be as close to room temperature as possible before going on the pit.
Speaking of the pit, I find that smoking at about 250 degrees F is my preferred temperature to give the meat time to absorb the perfect amount of smoke.
You could go as low as 225 degrees if you really want to take it slow or as high as 275 if you're impatient.

Pellet Grill Plate Ribs…Set it and Forget it…Almost!
Part of the advantage of pellet grills (especially the Rec Tec 700) is the precise temperature control.
Once your pit has reached temperature place the ribs on, place the probe in between the bones aiming for the thickness part of the rack. Then walk away for about 3 hrs. As they say "if you're lookin' it ain't cookin' "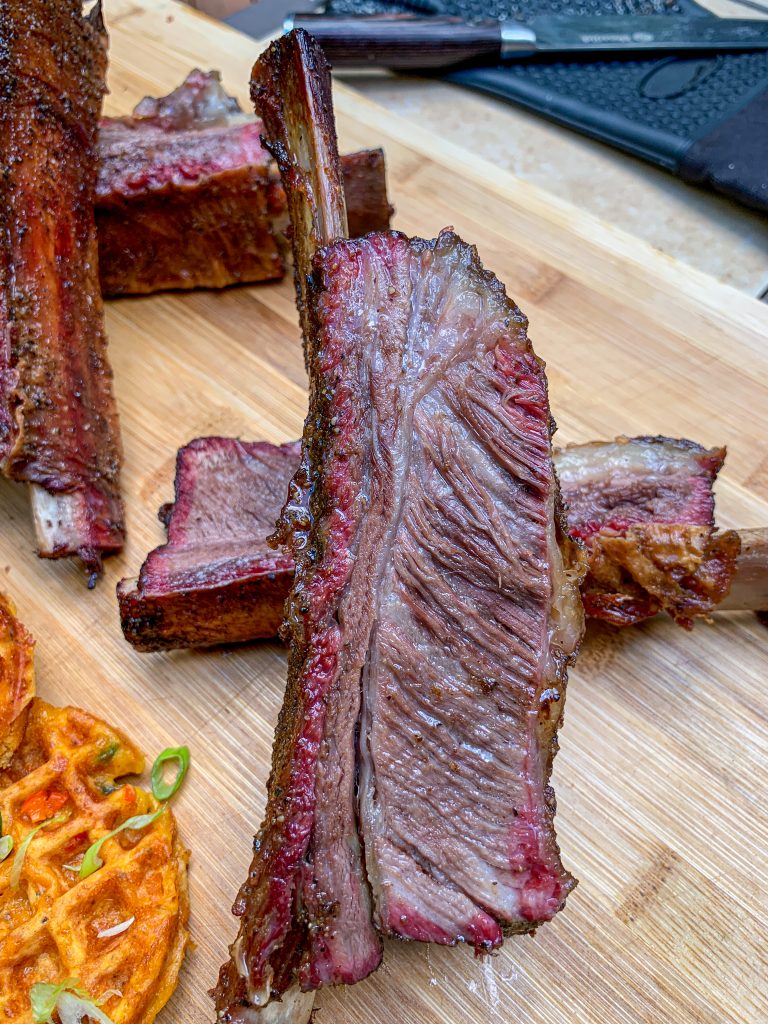 After about 3 hours the meat should start to tighten up on the bone. The end rib always seems to pull away a bit more and may even separate completely by the end of the cook.
Don't worry, it will be just as delicious as the two presentation ribs in the center. After taking a quick peek at the 3 hr mark if all is well and you're happy with the color you can shut the lid and go for about 2 more hours before checking.

To Mop or Not to Mop…
I didn't mop or spray these ribs but if you feel they're looking dry a spray bottle with some Worcestershire and diluted beef broth is really all you need.
Once the rack has reached an internal temperature of around 170 it may stall similar to brisket as it begins to break down the connective muscle fibers in the meat.
That's when I like to wrap the beef ribs in peach food-grade butcher paper.
Ever since visiting Texas and using butcher paper instead of aluminum foil I've never looked back.

The butcher paper seals in the moisture while simultaneously letting the meat breathe and not steam. The final product is much more tender and juicy.
I do recommend a double layer of butcher paper and no parchment paper won't work. The butcher paper is much stronger and won't tear on the corners.

Texans Dont use Foil and Neither Should YOU!!!
Once the ribs are double wrapped in butcher paper you can plunge the probe back into the rack aiming for the center as best you can.
Place the ribs back on the smoker and continue cooking until you hit an internal temperature of about 205 degrees F. At this point, you need to poke the ribs with a toothpick or probe to test for tenderness.
The probe should go into the meat without any tension almost like butter. If it fights back or requires effort to puncture then continue cooking.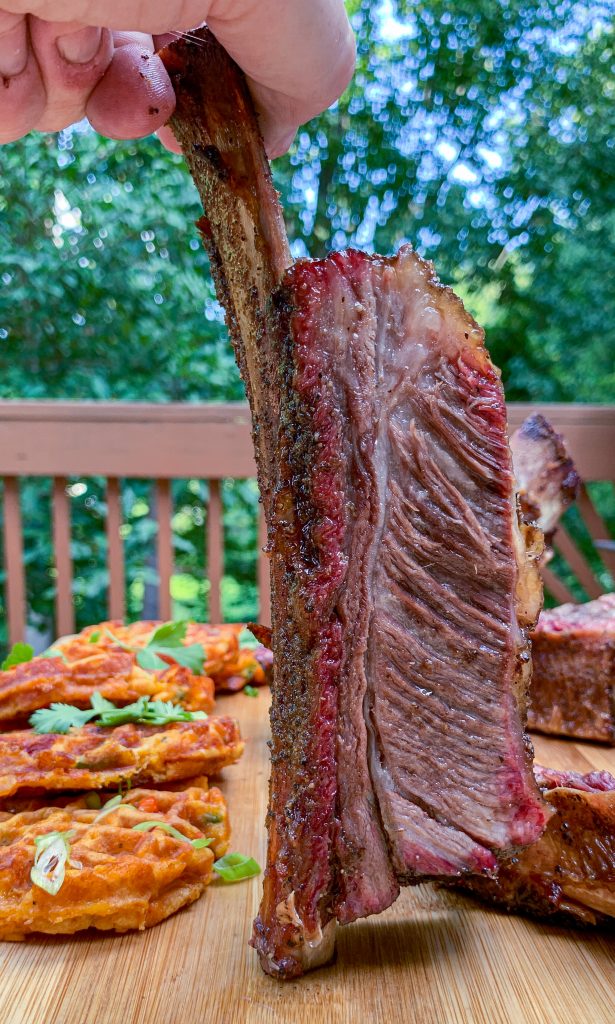 Patience…Let the Texas Beef Ribs Rest!!!
Now I know you've got a beautiful rack of beef ribs that are tender smoky and delicious but we're not ready to eat just yet.
Resting beef ribs is paramount much like brisket due to the high-fat content and needs time to reabsorb the juices. As a rule, I like the meat to rest for at least an hour.
I keep the probe thermometer in the meat as it rests and look for the temperature to drop to around 160-170 degrees before slicing.

The ribs should not completely fall off the bone but should be so tender that they need to be treated gingerly to keep them together.
Using a sharp sliver knife cut in between the bones revealing that beautiful smoke ring and juicy tender interior.
All of your patience will be rewarded with that first bite. Whether you are a true Texan or an east coaster like me these Beef Plate Ribs will be legit.
You See those Crispy Jalapeno Cheddar Cornbread Chaffles??? Click Here for the Recipe!!!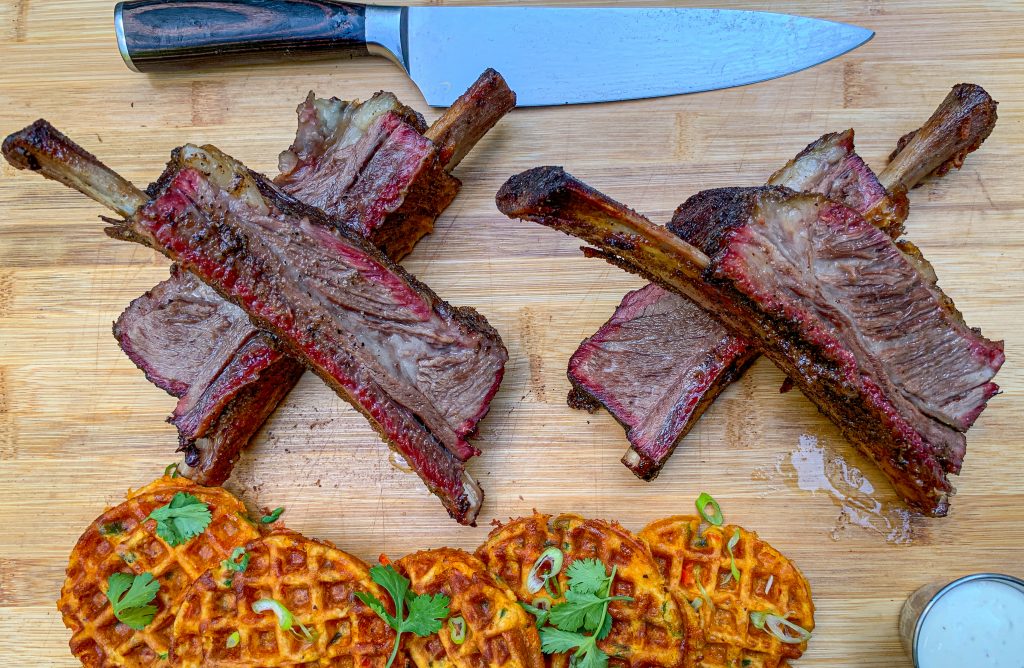 More Beefy Recipes for the Pellet Smoker
---
Texas Style Beef Plate Ribs
You can Make Authentic Texas Style Beef Plate Ribs Just as good as the BBQ Joints in Texas using your Pellet Smoker and a Little bit of Culinary Know-how.
Instructions
Pre heat Pellet smoker to 250 Degrees F.

pour two tbsp of olive oil on each rack of ribs and rub into meat on all sides

season the ribs on all sides using the salt, pepper, garlic seasoning

set ribs in the smoker and cook for 3 hours befor checking for color. Place probe in between the thickest part of the ribs.

continue cooking until you reach an internal tempurature around 170 degrees F.

Wrap ribs tightly with two layers of Peach Butcher Paper. Replace probe back into the ribs

Continue Cooking until you reach a tenperature of 205 degrees F. (about 2 hours) unwrap ribs and poke with toothpick or the probe to check fr doneness. Meat should be tender like butter. if meat is still tough continue to cook until tender

once meat is tender leave ribs wrapped and rest until temperature lowers to around 160-170 degrees (about 1 hour) slice and serve.
Notes
Serving size will vary, One Rib Per Serving
Nutrition
Calories:
635
kcal
|
Protein:
63
g
|
Fat:
41
g
|
Saturated Fat:
15
g
|
Cholesterol:
195
mg
|
Sodium:
1400
mg
|
Potassium:
1182
mg
|
Calcium:
31
mg
|
Iron:
7
mg
Nutrition Facts
Texas Style Beef Plate Ribs
Amount Per Serving
Calories 635
Calories from Fat 369
% Daily Value*
Fat 41g63%
Cholesterol 195mg65%
Sodium 1400mg61%
Potassium 1182mg34%
Protein 63g126%
Calcium 31mg3%
Iron 7mg39%
* Percent Daily Values are based on a 2000 calorie diet.