Jump to Recipe
Print Recipe
This St. Patrick's day step up your game with this smoked Corned Beef Brisket recipe. Follow these steps for perfect corned beef every time.
Using a pellet grill to smoke Corned Beef is the best way to guarantee perfectly cooked corned beef every time.
After making this corned beef you'll want to serve it with some Roasted Potatoes and Everything Cabbage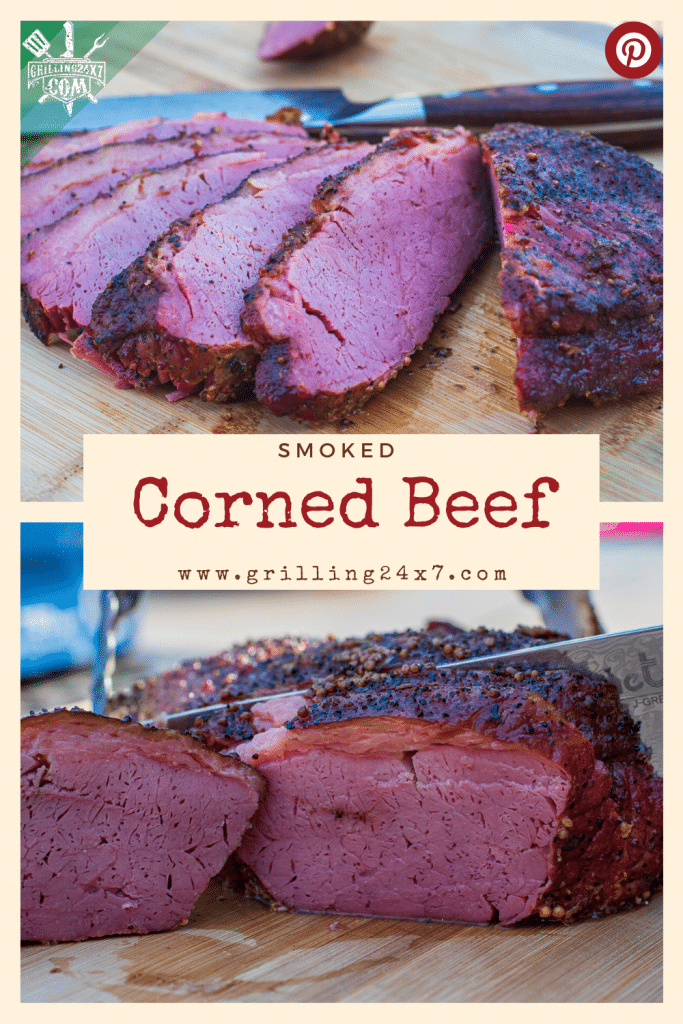 Why Smoked Corned Beef?

If you're like me then you would agree everything tastes better with a kiss of smoke. Corned beef is no different.
Smoked corned beef has all the familiar flavors of traditional corned beef but with a little extra flavor that only comes from using a pellet grill or smoker.

 Using a pellet grill to make smoked corned beef is so easy because you can put it in your temperature probe and go about your day.
No worrying about adding logs to the fire or constantly opening the smoker to check temps.
The old saying is definitely true "If you're lookin' it ain't Cookin". I personally own the Rec Tec 700. In my opinion, there is not a better pellet grill on the market. Any pellet grill will work but this is the one I recommend if you're in the market.

Ingredients to make Smoked Corned Beef
Corned Beef: if you want to make slices look for a flat section, if you like fatty shredded corned beef look for a point section.
Coase Black Pepper: I always season my brisket with 16 mesh Black Pepper because it's a perfect size and that's what Arron Franklin uses.
Beer: Depending on my mood and the time of year I will use a variety of different beers. Stouts have more body and flavor but any beer will do just fine.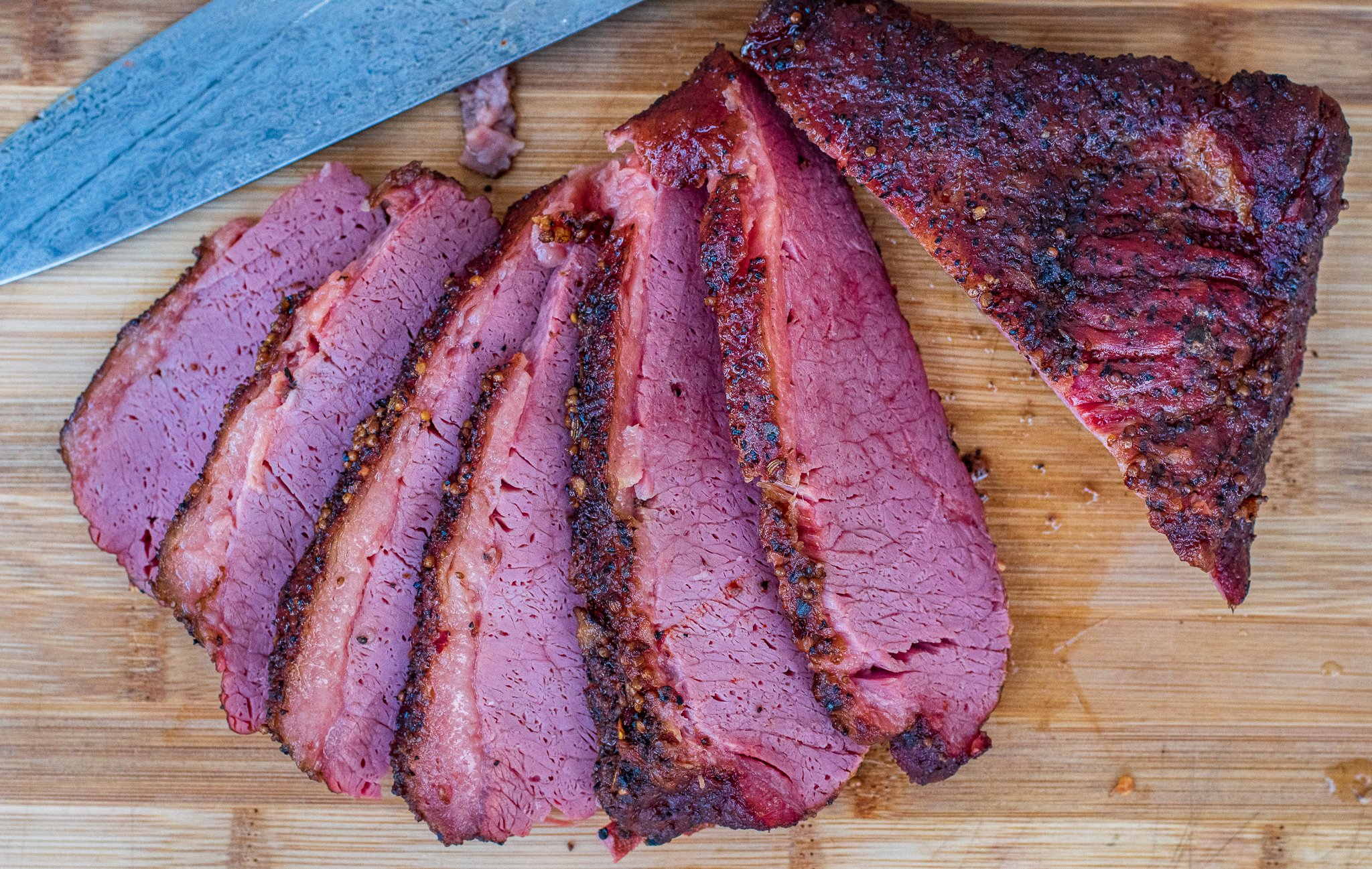 Is Smoked Corned Beef Just Pastrami?
Corned beef is traditionally boiled whereas Pastrami is normally encrusted with black pepper and coriander then smoked and then steamed. Both start off as cured beef and have similar flavors.
My Top 5 Favorite Pellet Blends
What to look for when buying Corned Beef.

Most people prefer a corned beef brisket that is fairly lean and slices into uniform cuts. At most grocery stores you will find 3-6 pound brisket portions that have been trimmed down from a much larger piece.
This makes it a lot easier to cook because it requires almost zero trimming ahead of time. The only trimming I recommend is if you see any oddly shaped pieces hanging off or a hunk of fat that wasn't removed.

When looking for a brisket at the store look at the bottom of the brisket in the packaging. It should look lean with a thin fat cap.
It should be flat and squared off. If the corned beef looks like a rounded misshaped hunk of meat it will cook and slice unevenly.
Depending on how many portions you will need will determine how large a section to buy.
If buying and smoking multiple pieces try to buy similar-sized pieces so they cook in roughly the same amount of time. Also, remember that you will lose about 40% I total weight after the corned beef is fully cooked.
My 3 lb hunk of brisket ended up weighing in at 1 pound 10 ounces when I pulled it off the smoker.
I recommend a least 6-8oz of cooked brisket per person so factor that in when figuring out how much to buy.
Keep in mind leftover smoked corned beef is never a bad thing because there are so many things you can make with the leftovers.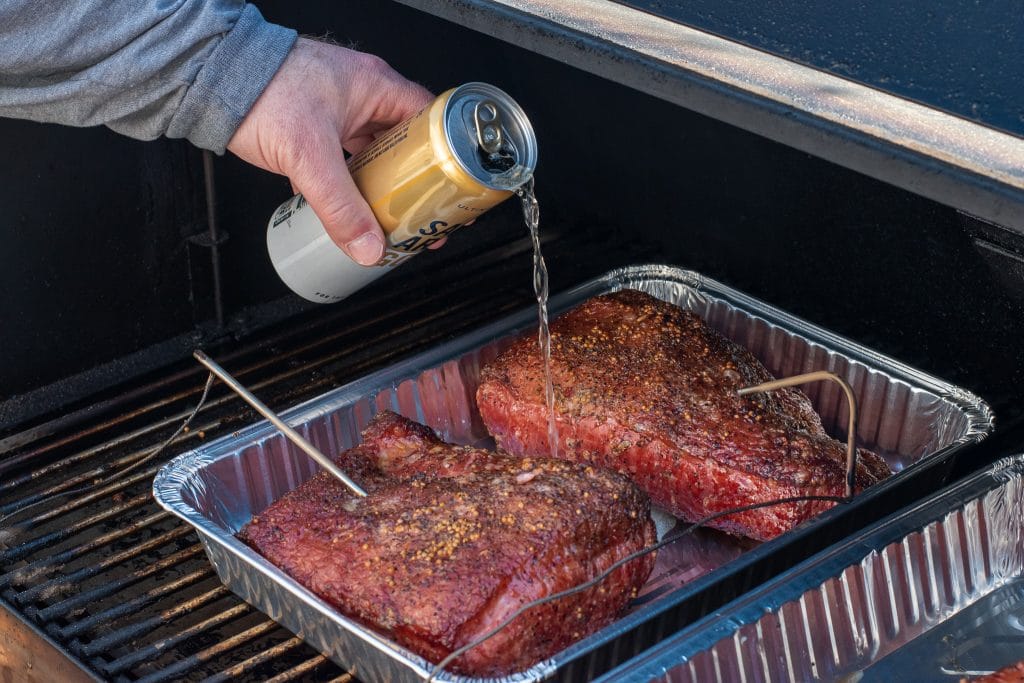 What to serve with Smoked Corned Beef??

Obviously cabbage is the first thing people think of to serve along with corned beef. I have a great recipe for butter-roasted Everything but the bagel cabbage wedges that are one of my favorite cabbage recipes.
Potatoes are not your friend if you're keto but you can always substitute my Cauliflower Colcannon.
I would also recommend my Jameson Mustard Glaze that I serve over pork chops normally but are a fantastic sweet contrast to the smoky salty corned beef.

How to slice Corned Beef

When using small sections of a whole brisket it can be a little tricky on what direction to slice the corned beef. You want to slice across the grains of the beef others you will have stringy slices of meat.
The best way is to turn the corned beef upside down on the lean side to see which direction the grains are heading on the brisket. Then flip it back over and make ⅛ inch thick slices.
Feel free to cut them thicker if you feel the brisket crumbling or thinner if you feel like the smoked corned beef isn't as tender as you would like.
Make sure to have a sharp knife and always let the brisket rest for at least 30 minutes before slicing.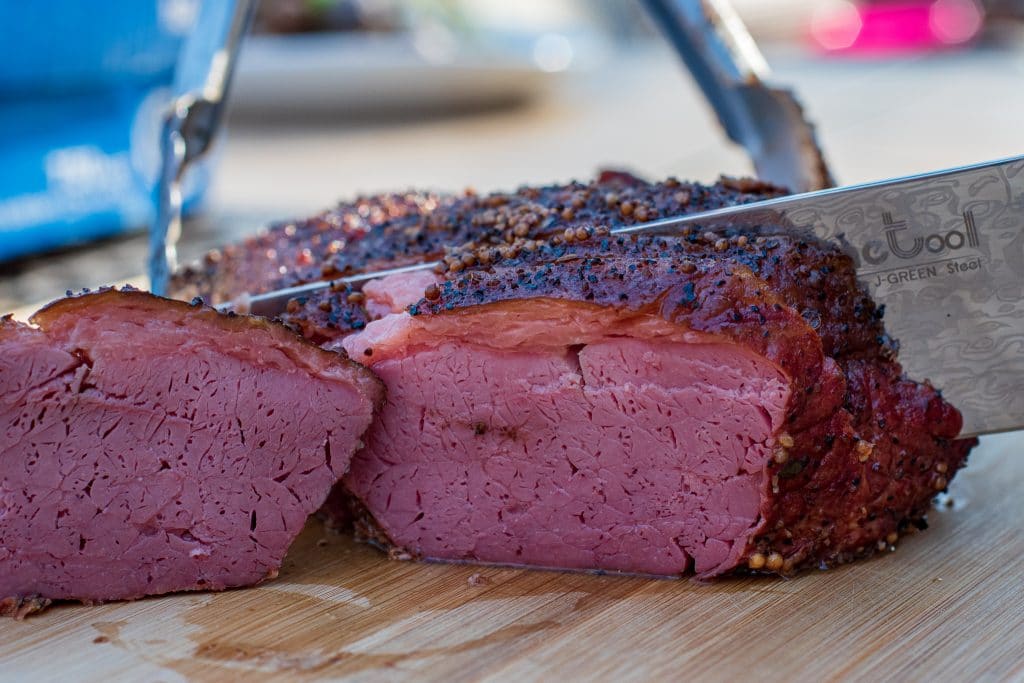 A few last tips for smoked corned beef

Once the smoked corned beef has reached about 170 degrees F you may hit a stall. The beef temperature seems to get stuck and stays the same temperature for a while.
This is the temperature where the connective fibers in the meat start breaking down. To help push through this phase
I place the corned beef into aluminum pans and pour about ½ a beer…The rest you'll have to dispose of on your own…wink wink!
Cover the aluminum pan with foil but it doesn't need to be sealed tightly. This will help the meat push through the stall and finish cooking.
Plus the beer along with the natural juices from the brisket will collect to make a great au jus. This will keep the sliced corned beef moist after it's fully cooked.

There is no magic time or temperature when smoking corned beef. It's all about the feel. You should always have an instant-read thermometer that will not only let you know the internal temperature of the brisket but will also act as a probe to check the tenderness of the meat. Once the brisket has reached about 200-205 degrees F.
It's time to start checking for tenderness. Poke the brisket with the probe in different places to see how tender the meat is.
If the brisket feels tough then you need to keep cooking but if the probe slides in with very little effort you know it's done. Make sure to let the corned beef rest in the aluminum pan covered with foil for at least 30 minutes.
Open one corner of the pan just a little to let the steam out so the brisket doesn't overcook.
More Pellet Grill Recipes
---
Smoked Corned Beef
This St. Patrick's day step up your game with this smoked Corned Beef Brisket recipe. Follow these steps for perfect corned beef every time.
Ingredients
6

lb

Corned Beef Brisket

Raw

2

tbsp

Black Pepper

8

oz

Light Beer
Instructions
Set your Pellet Grill to 275 Degrees F.

Cut open packaging of corned beef and drain off liquid. be sure to grab the spice packet included with the brisket. gently rinse off corned beef and then pat dry with a paper towel.

Open the spice packet included with your corned beef and sprinkle contents over the brisket. then sprinkle a light dusting of black pepper. you can use as little or as much black pepper as you like.

Once Pellet grill has reached temperature insert probes into corned beef brisket pieces. if you only have a single probe place that probe in the center of the smallest piece because it will cook the fastest.

Smoke for 3-4 hrs until corned beef reaches an internal temperature of 175 degrees f. Next transfer briskets to a aluminum pan and pour just enough beer in to cover the bottom of the pan. Cover with foil leaving one corner open to let out steam.

continue cooking for another 2-3 hours until internal temperature reaches about 205 degrees F. Use an instant read thermometer and poke different parts of the brisket checking for tenderness. If probe goes into the meat with vwry little tension than it is done. If not continue cooking until tender.

Once meat is tender and fully cooked remove pan from pellet grill and let the corned beef rest for about 30 minutes still covered with one corner open to prevent overcooking.

Slice corned beef into ⅛ inch slices cutting against the grains of the brisket. if brisket crumbles make slices a little thicker. if meat seems tough then cut thinner slices.
Nutrition
Serving:
7
oz
|
Calories:
410
kcal
|
Carbohydrates:
2
g
|
Protein:
40
g
|
Fat:
41
g
|
Saturated Fat:
13
g
|
Cholesterol:
147
mg
|
Sodium:
3313
mg
|
Potassium:
829
mg
|
Fiber:
1
g
|
Sugar:
1
g
|
Vitamin A:
7
IU
|
Vitamin C:
73
mg
|
Calcium:
24
mg
|
Iron:
5
mg
---
Nutrition Facts
Smoked Corned Beef
Amount Per Serving (7 oz)
Calories 410
Calories from Fat 369
% Daily Value*
Fat 41g63%
Cholesterol 147mg49%
Sodium 3313mg144%
Potassium 829mg24%
Carbohydrates 2g1%
Protein 40g80%
Vitamin A 7IU0%
Vitamin C 73mg88%
Calcium 24mg2%
Iron 5mg28%
* Percent Daily Values are based on a 2000 calorie diet.