My friends at Stok sent me a little Stok Tourist portable gas grill to review so I thought I'd make something that you normally wouldn't think of on a small portable grill: Stuffed Avocados. This grill did a great job at heating up and getting these avocados tender.
Stok Tourist Portable Gas Grill Review
This compact grill is perfect for taking to a tailgate, or for your camp out. Of note, these legs fold up allowing this grill to be stored in a rather small location. A small propane tank fits right in the bottom of this grill so it is nicely out of the way in between the folding legs. The heat control is on one side and an ignition switch is on the other.
A very compact grill.
For the stuffed avocados, I cut the avocados in half and popped out the seed. These are some nice looking avocados. The goal here was to place them face down on the grill and then flip them after about 5 minutes and then top them with anything. The dome was then closed and the stuffed avocados were grilled until the toppings were hot. Grilling stuffed avocados is an amazing way to eat avocados as they get a warm and soft consistency that is easily scooped out with a spoon.
Place the avocados face down for about 5 minutes and close the lid.
After 5 or so minutes flip them over and add the toppings. We did two types of toppings for this one.
Pulled pork and spicy Monterey Jack cheese
Black beans, salsa, Monterey Jack and crushed tortilla chips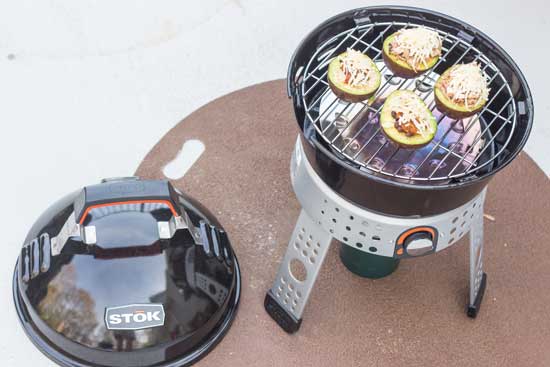 Close the lid and let these grilled stuffed avocados cook until the cheese is nicely melted.
Wow! Check out those bad boys! Clearly the pulled pork stuffed avocados with cheese were fantastic. I was surprised, however, at how good the other ones were with the beans, salsa and crushed tortilla chips. The crushed chips gave a nice crunchy finish to the smooth and creamy avocado. The little Stok Tourist did a nice job at grilling this meal. This grill has earned a spot on the tailgate as being a solid little side grill that can handle appetizers or side dishes with ease. The grill is also very configurable, meaning that the grilling area can be removed and it can be easily turned into a camp stove. That's pretty cool for being able to heat up coffee or water for hot chocolate while at the tailgate.