Jump to Recipe
Taylor Pork Roll Deviled Eggs Recipe
No Backyard BBQ is complete without Deviled Eggs. These Taylor Roll Deviled Eggs will have your friends and family popping these delicious bites of awesomeness until every last one is gone.
With the addition of the jersey dinner staple Taylor Pork Roll these Deviled eggs are a must make recipe this summer!!
What is Taylor Pork Roll??
For those unfamiliar with Taylor Pork Roll you are missing out This New Jersey based Pork product is a diner staple all over the northern east coast specifically in eastern Pennsylvania,New Jersey, Delaware, New York and Maryland.
Most often it's fried on a griddle and served on breakfast sandwiches or as a side with other breakfast items.

Originally known as "Taylor's Prepared Ham" the company was forced to change its name in 1906 to "Pork Roll" after the Pure Food Act was passed and the product did not meet the definition of ham.
The devotion for this processed Pork product is so great that their is a Pork Roll Festival in Trenton New Jersey. Every year they showcase lots of different recipes using Pork Roll in various creative ways.

In the spirit of the festival I decided a Taylor Pork Roll Deviled Egg would be a perfect recipe for summer. Deviled Eggs are always a hit and there are so many tasty variations.
I diced up some Pork Roll and cooked it in a cast iron skillet until it was lightly crisp.

This $20 Gadget Makes Deviled Eggs Easy To Peel
When it comes to boiling eggs the internet is full of all sorts of methods and hacks including instant pots, adding pickle juice, egg timers. All sorts of kitchen voodoo to have the perfectly hard boiled egg.
My answer is a super simple egg cooker that takes all the guess work out of cooking eggs. It has truly changed my life as far as the world of preparing hard boiled eggs.
You simply prick a hole in the top of each egg so they don't explode using the water measuring cup with a point on the bottom, add water and hit start.
As soon as the eggs are done the timer goes off and you remove the eggs and place in an ice bath to stop the cooking process.
You will be amazed at how easily the eggs peel with almost no effort. You can also set the water level to cook soft boiled eggs, poached or even make omelettes. I highly recommend this gadget if you're like me and enjoy making deviled eggs on a regular basis.

Deviled Egg Piping Hack
My other life hack is once you have blended up your deviled egg filling scoop it into a piping bag so you can fill the eggs easily. It's also a great way to make the deviled eggs ahead of time.
Fill them right when you're ready to serve them so the eggs are fresh and delicious. I make deviled eggs so often that I have a nifty Egg carrier that holds 24 deviled eggs.
You can take them on the road without damaging or smashing the eggs in transit. The egg carrier is also very helpful in holding the deviled eggs in place while your piping.
As I mentioned earlier there are so many different recipes for deviled eggs and I've definitely made my fair share. One commonality in my recipes is using Duke's mayonnaise.
This might be sacrilegious to all you a Hellman's fans but Duke's Mayo is my only Mayo in my recipes. It's actually cheaper most of the time and I even see it at Aldi grocery stores from time to time. Another ingredient that I've recently discovered is Yellowbird Jalapeño sauce.
It's a small company based in Austin Texas that has a few different condiments. They have the spicy kick of a hot sauce but with a thicker sriracha like consistency.

Ingredients List for Taylor Pork Roll Deviled Eggs
Large Eggs
Shredded Cheddar Cheese
Taylor Pork Roll
Chives for garnish
Questions About Making Taylor Pork Roll Deviled Eggs
More Tasty Appetizers and Side Dishes
---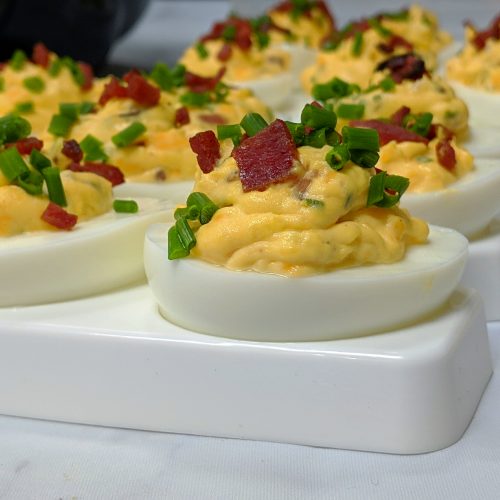 Taylor Pork Roll Deviled Eggs
These Taylor Roll Deviled Eggs will have your friends and family popping these delicious bites of awesomeness until every last one is gone.
Using your Dash 12 egg cooker poke a hole in the top of each egg and place in the cooker. Fill the water to the hard boiled line on the measuring cup that comes with the cooker.



While the eggs are cooking dice up your Taylor Pork Roll and sauté in a skillet. As the Pork Roll begins to crisp remove the pork roll and allow to cool on a paper towel.



Once the eggs are finished cooking transfer the eggs to an ice bath and chill for 15 minutes until completely cooled. Next peel the eggs and slice in half  separating the egg yolks from the whites.



In a food processor add your yolks, mayo, mustard, cheese, hot sauce and relish. Blend until smooth. You may need to take a spatula and push down the sides and pulse again. Add in half of your crispy pork roll and pulse once or twice to combine but not blend.



Remove your deviled egg yolk mixture and using a pint glass scoop the mixture into a piping bag. Chill mixture for 15 minutes to let the yolks tighten up.



Using the Deviled egg carrier layout your egg whites then cut the top of the piping bag and fill up your egg whites. Sprinkle on your remaining diced pork roll and chives.


Calories:
253
kcal
Carbohydrates:
2
g
Protein:
16
g
Fat:
13
g
Saturated Fat:
4
g
Cholesterol:
173
mg
Sodium:
391
mg
Potassium:
65
mg
Fiber:
1
g
Sugar:
1
g
Vitamin A:
315
IU
Vitamin C:
1.1
mg
Calcium:
59
mg
Iron:
0.9
mg
---
Nutrition Facts
Taylor Pork Roll Deviled Eggs
Amount Per Serving
Calories 253
Calories from Fat 117
% Daily Value*
Fat 13g20%
Cholesterol 173mg58%
Sodium 391mg17%
Potassium 65mg2%
Carbohydrates 2g1%
Protein 16g32%
Vitamin A 315IU6%
Vitamin C 1.1mg1%
Calcium 59mg6%
Iron 0.9mg5%
* Percent Daily Values are based on a 2000 calorie diet.
---