Subscribe to our newsletter!
---
Jump to Recipe
This one skillet recipe is a side dish that eats like a meal. Once you try this Cast Iron Corn Casserole you'll never go back to the recipe on the back of the Jiffy Box.
Step up your Corn Casserole Game
I recently discovered that there is a recipe for Corn Casserole on the back of the jiffy corn muffin mix package. Just like most back of the box recipes it's a fairly simple recipe thats easy to make. I decided that this simple recipe needed a makeover with a few extra ingredients to take it to the next level. Adding Bacon and Smoked Gouda give this simple unassuming corn pudding the push it needs to go from good to great. The recipe is still a one skillet dish and still easy to prepare so don't be afraid to veer off the classic recipe to create something special.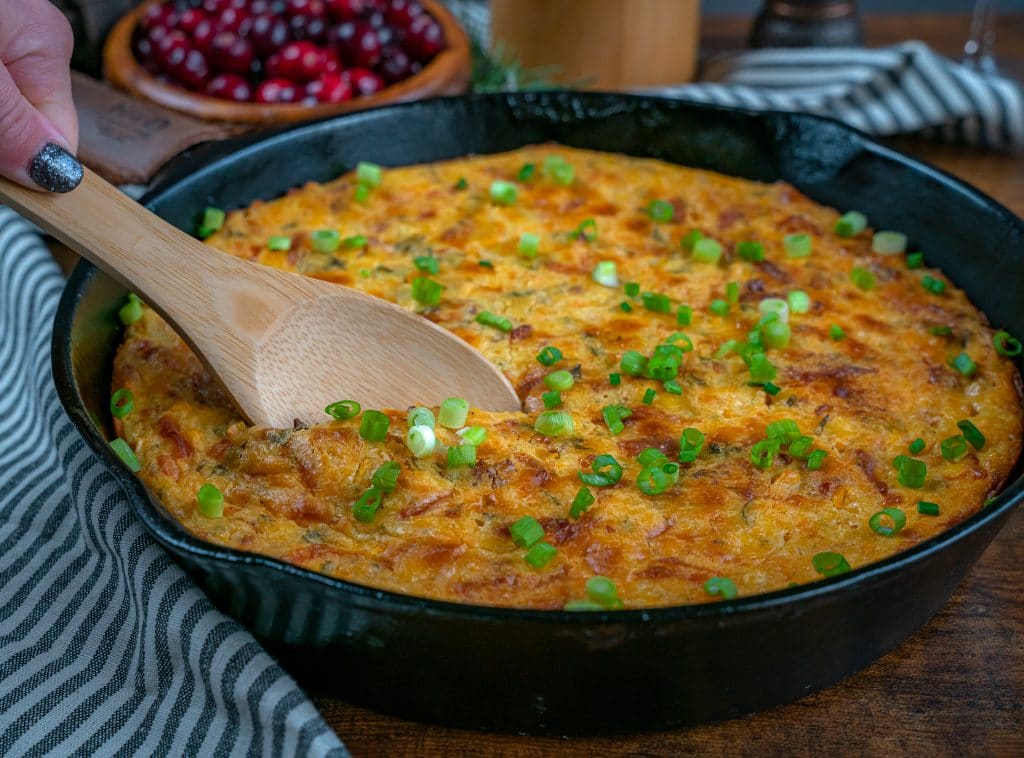 Canned Corn, Frozen Corn or Fresh Corn What's Best?
Purrests will say that only fresh corn shaved straight from the cobb should be used in recipes. They'll say that frozen and canned corn are inferior to their fresh counterparts. Well I feel that every kernel of corn has a pace in the culinary spectrum. Fresh corn really shines in recipes where the corn is grilled or roasted to add depth or raw in salsas and salads where the natural sugars of the corn can be showcased. Frozen corn is great for soups and stews for its convenience and ease of preparation.
For this Corn Pudding Recipe I actually prefer the canned corn for a few reasons. First off corn pudding is more commonly served in the fall and winter when fresh corn is out of season and harder to find, not to mention more expensive. Second, the texture of canned corn is perfect for casseroles because it has a firm texture that holds up well when baked for long periods of time. If you are making this recipe in spring or summer please by all means use some fresh corn for this recipe and leave a comment below telling me how amazing it was.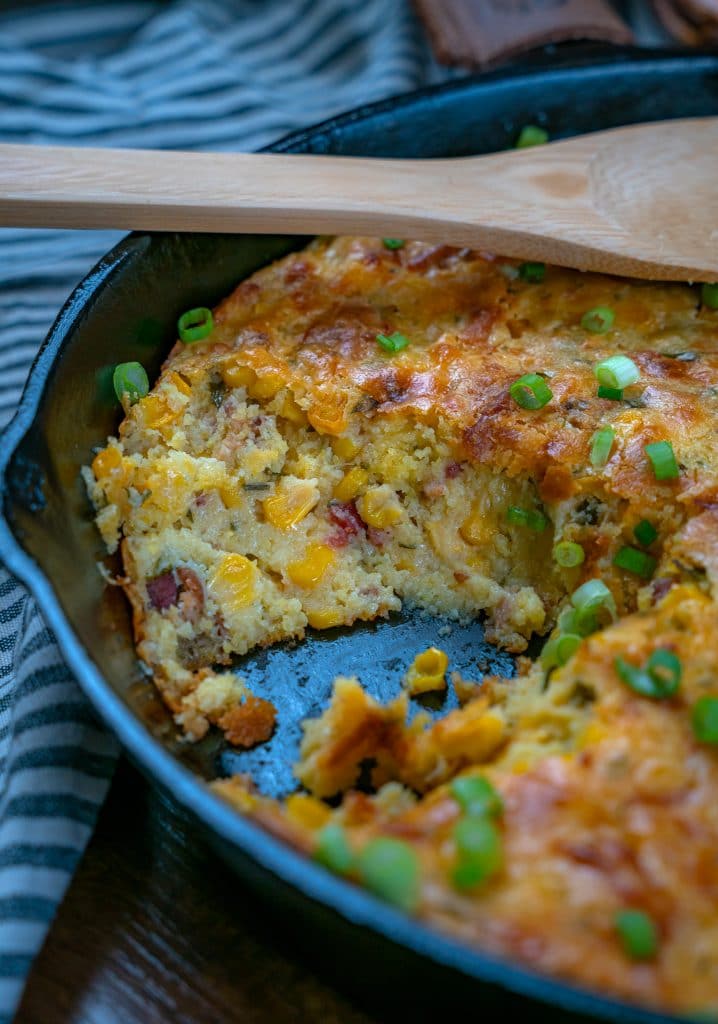 What's the difference between Corn Pudding, Corn Casserole and Cornbread
Let's start with what's the same… They are all corn based recipes using corn as the main ingredient. Cornbread is made with ground cornmeal and has a dry texture that is served alongside any soup, stew or greens in the south. It is very absorbent and usually served with something that has liquid that needs to be sopped up. Corn Pudding is similar to the casserole but is a little more loose and contains some sort of gelatin to hold it together as a thickener. Corn Casserole is a hybrid because it contains cornmeal, whole and creamed corn to give the casserole a firm yet moist texture. The corn casserole is the perfect balance of corn in all forms.
What Ingredients You'll Need to Make Smoked Gouda & Bacon Corn Pudding
1 Can Corn Whole Kernels (15oz Drained)
8 sliced cooked bacon chopped
¾ cup Smoked Gouda
2 tbsp fresh chopped parsley
¼ sliced scallions
4oz sour cream
2 Large Eggs
How to Tell When Corn Pudding is Done
When Baking the Corn Casserole you want to make sure that your casserole still has a slight giggle to it. This will make sure that your casserole doesn't end up dry. I test the casserole for doneness by gently tapping the side of the skillet. See how much movement the skillet has. The Outside of the skillet will cook first and the center will follow soon after. If you pull the skillet out just before the center is fully cooked it will continue cooking on the countertop. Resting it giving you the perfect texture in your final product. Take the time to let the corn casserole rest for 10 minutes after you remove it from the oven to finish cooking and set. You'll be glad you did.
More Cast Iron Skillet Recipes
---
Pre heat oven to 400 Degrees F.

In a 10 inch skillet cook bacon until crispy then set aside to cool. Pour out and save bacon fat leaving enough to coat the entire skillet including the sides.

In a mixing bowl combine all remaning ingredients including the remaining bacon fat and chopped bacon. Whisk so that all ingredients are fully combined

Pour corn pudding mixture into the greased skillet in the center and let it settle covering the entire pan. Bake for 45-60 minutes. Tap the side of the skillet, it should have a slight giggle in the center then remove and let the corn casserole rest for 10 minutes before serving. garnish with extra scallions
Calories:
404
kcal
|
Carbohydrates:
30
g
|
Protein:
11
g
|
Fat:
27
g
|
Saturated Fat:
9
g
|
Cholesterol:
76
mg
|
Sodium:
733
mg
|
Potassium:
219
mg
|
Fiber:
2
g
|
Sugar:
7
g
|
Vitamin A:
389
IU
|
Vitamin C:
4
mg
|
Calcium:
160
mg
|
Iron:
1
mg
---
Nutrition Facts
Bacon and Smoked Gouda Corn Casserole
Amount Per Serving
Calories 404
Calories from Fat 243
% Daily Value*
Fat 27g42%
Cholesterol 76mg25%
Sodium 733mg32%
Potassium 219mg6%
Carbohydrates 30g10%
Protein 11g22%
Vitamin A 389IU8%
Vitamin C 4mg5%
Calcium 160mg16%
Iron 1mg6%
* Percent Daily Values are based on a 2000 calorie diet.