Crab Mac And Cheese Hotdogs
What's better than watching a baseball game? I'll tell you. Watching a baseball game in a stadium where they really serve good food! That's what seems to be going on here in Baltimore. Camden Yards has revamped their menu with some high quality offerings. Perhaps my newest favorite thing to get is the crab macaroni and cheese hot dog. It's just fantastic. Crabs are the thing here in Baltimore, so why not put crab meat on top of a hot dog and make a crab mac and cheese hotdog? Here's my attempt to recreate this wondrous hot dog. It's just fantastic and it will take your cookout to a whole new level.
The first thing you need to do is make a quick macaroni and cheese. Don't let this scare you off. Mac and cheese is really easy to make and this version is even easier than the average. No baking is required here as this is a total stove top version. Cook elbow macaroni in a separate pot. In another pot follow these steps: 1. add oil and butter to a pot over medium heat. 2. Wisk in flour and keep stirring for about 3 minutes. You want the mixture to turn brown but you don't want to burn it. 3. Whisk, whisk and whisk again. 4. Slowly drizzle in milk and keep whisking. It will initially clump. 5. You should have a nice smooth mixture with no clumps after all of the milk is added. 6. Handful by handful add cheddar cheese and keep stirring.
Add the salt, pepper, dry mustard, and chili powder to the cheese mixture and mix it in well. Take your cooked elbow macaroni and dump it into the cheese mixture. I use a wooden spoon here to mix the macaroni and cheese. There you have it. You just nailed a macaroni and cheese. The best part of this is that there is no baking required. It's ready to roll!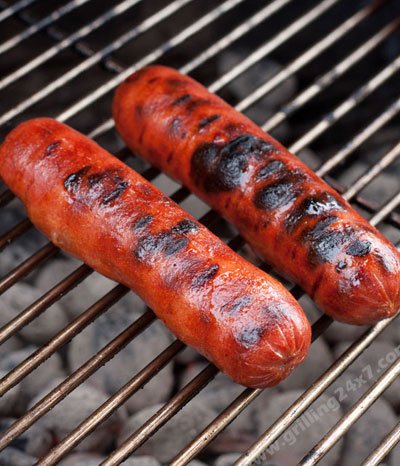 Once your macaroni and cheese is finished light the grill and toss on some hot dogs. Look at these bad boys! These are nice all beef hot dogs from the local black angus farm. You can't beat these.
I buy lump crab meat. It's a little more expensive but it's so worth it.
This hot dog has a lot of toppings. Here's a little trick you can use to make your hot dog bun handle a lot more toppings. Use your thumb and press the inside of the bun. This makes an indentation in the bun, where the hot dog can settle in to. Essentially this gives you more room for toppings!
Put the hot dog on the bottom, pile on some macaroni and cheese and then add the lump crab meat on top. I like to sprinkle some Old Bay seasoning (shrimp boil seasoning) on top to give it that classic Maryland crab flavor.
This is a really cool way to make a unique hot dog. I really love this. The first thing I buy when I go to an Orioles game is a crab mac n cheese hot dog. Now I can fire them up at home!!! You gotta give this a try!