Print Recipe
Jump to Recipe
If you love mac and cheese and hot dogs, then you must try these Crab Mac & Cheese Hot Dogs inspired by Camden Yards and the Baltimore Orioles.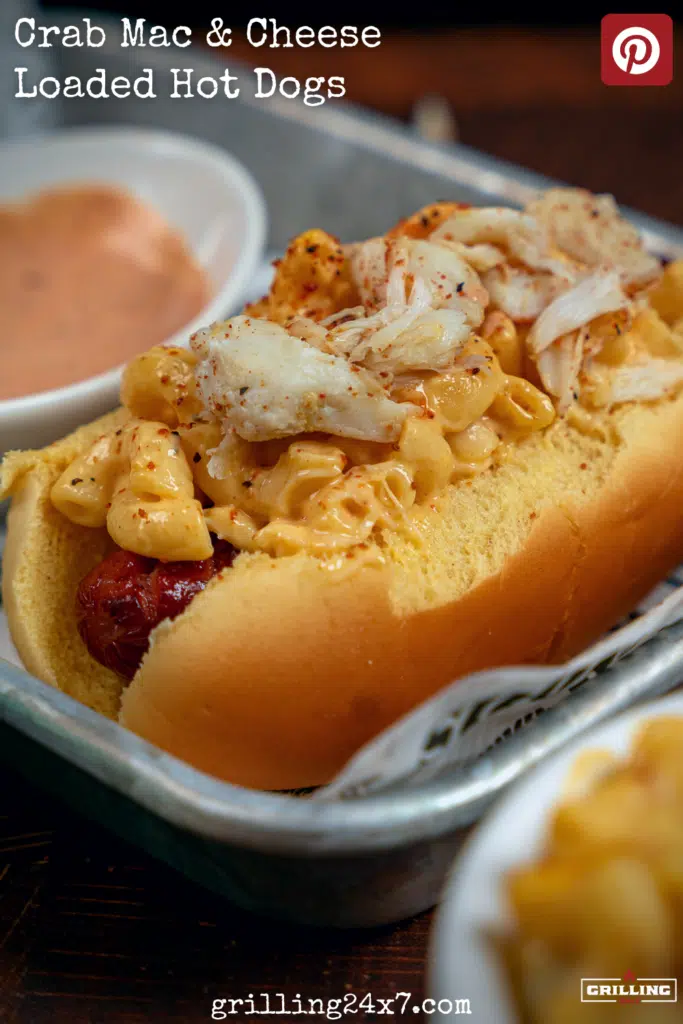 What's better than watching a baseball game? I'll tell you. Watching a baseball game live in a stadium where they serve really great food! That is what's happening up here in Baltimore.
Camden Yards, home of the Orioles, has revamped its menu with some high-quality menu offerings.
My newest favorite menu offering is the macaroni and cheese hot dog with crab meat.
It's delicious and undoubtedly unique when you think about toppings for a hot dog!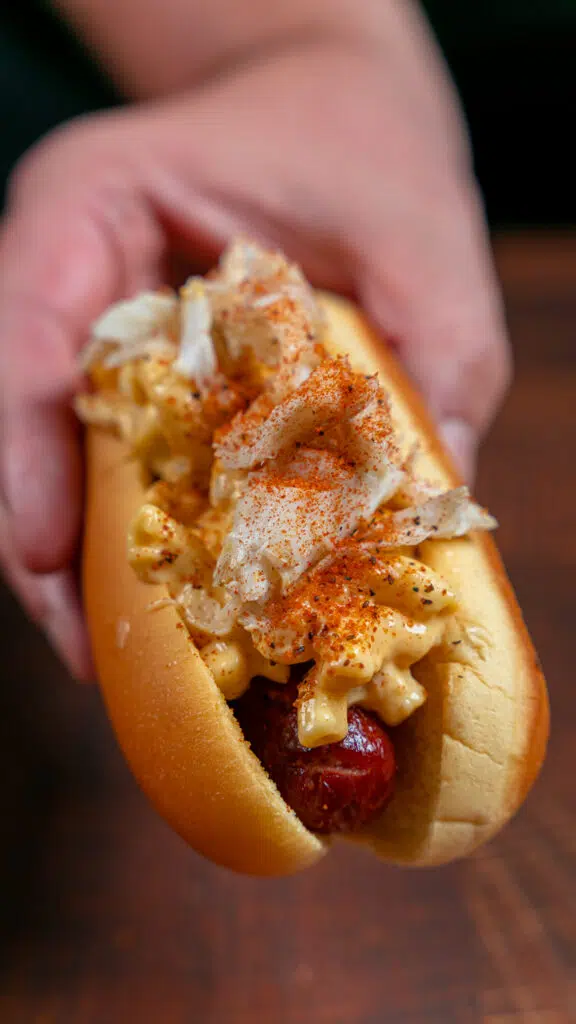 Crab Mac and Cheese Hot Dogs
Crabs are a big deal here in Baltimore, so why not put crab meat on top of a hot dog and make a crab mac and cheese hotdog?
Here's my attempt to recreate this wondrous hot dog at home. It's just fantastic and it will take your next cookout to a whole new level.
The first thing you need to do is make a quick macaroni and cheese. Don't let this scare you off. Mac and cheese is straightforward to make, and this version is even easier than the average. No baking is required here as this is a full stovetop version.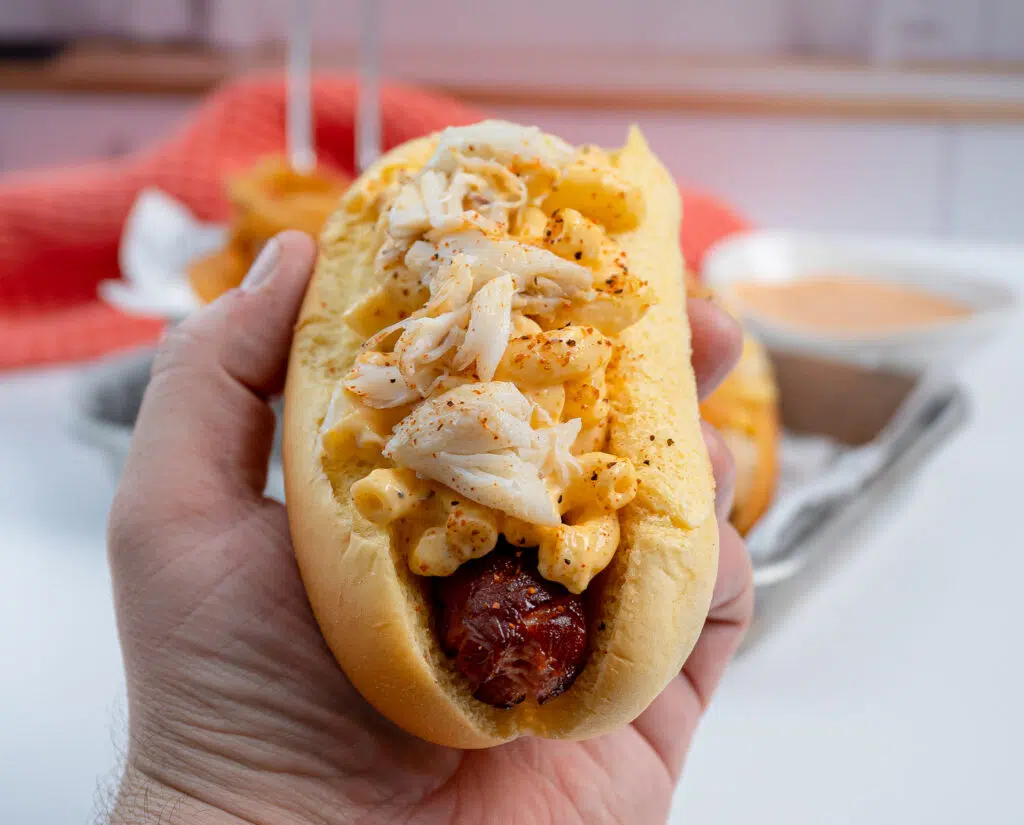 Making your own Mac & Cheese
I have a fantastic Smoked Mac and cheese and Seafood Mac and cheese that you can use or follow this basic recipe below.
Cook your elbow macaroni in a large pot of water. Get another large saucepan to make your homemade cheese sauce.
1. Add oil and butter to a pot over medium heat.
2. Whisk in the flour and keep stirring for about 3 minutes. You want the mixture to turn brown, but you don't want to burn it. When your mixture is the color and consistency of peanut butter, you are ready for the next step.
3. Keep your whisk and the mixture moving, letting it sit is what will cause it to burn.
4. Slowly drizzle in the milk and keep on whisking. It may initially clump up, just keep whisking.
5. You should have a nice smooth mixture with no clumps after all of the milk is added.
6. Add your cheddar cheese in by the handfuls and keep stirring until it is all melted.
7. Add the salt, pepper, dry mustard, and chili powder to the cheese sauce and mix it in well.
Mac & Cheese Tips
Take your cooked and drained elbow macaroni and pour it into your homemade cheese sauce.
I use a wooden spoon here to mix the macaroni and cheese, just fold it in together until all of the elbow macaroni is coated in the cheese sauce. There you have it.
You just made homemade macaroni and cheese from scratch. The best part of this is that there is no baking required. It's ready to use on your mac and cheese hot dogs.
Once your macaroni and cheese is finished, light up the grill and toss on some hot dogs. Look at these bad boys! I used the Slotdog to help caramelize the outside of the dogs.
These are nice all-beef hot dogs from the local Black Angus farm. You can't beat these, but if you don't have something similar locally, there are some nice options at your local grocery store, just grab your favorite brand.
If you don't have a grill don't worry, you can still make this delicious hot dog recipe at home. 
Just put a large skillet over medium heat, slice your hot dogs lengthwise and cook them in the pan.
Assembling Your Crab Mac & Cheese Hot Dogs
After your hot dogs are cooked just the way you want them, continue making your mac and cheese hot dogs just like you would have if you had grilled them.
I buy jumbo lump or crab meat.
It's more expensive than imitation crab meat, but the end result is so worth it. Besides, you probably aren't making these gourmet hot dogs at home every day so splurge a little!
If you aren't from Maryland and can't find lump crab meat, or it is simply not in your budget, the imitation crab meat will work but it does have a very different flavor and texture. You should be able to find both in the seafood section of most grocery stores.
This hot dog recipe is loaded with toppings. Here's a little trick you can use so that your hot dog bun can handle more toppings. The first tip is to use a martin's potato roll if possible. They are soft but hold up to all these delicious toppings.
Use your thumb and press the inside of the bun. This makes an indentation in the bun that the hot dog can settle into. Essentially, this gives you more room for toppings.
Put the hot dog on the bottom of the bun, put some macaroni and cheese on top of the hot dog, and then add the lump crab meat on top.
Topping Your Hot Dogs
I like to sprinkle some Old Bay seasoning (shrimp boil seasoning) on the crab meat to give it that classic Maryland crab flavor. I also love to add a drizzle of my homemade onion ring sauce to give it an extra level of flavor.
If you would like some additional toppings for this amazing hot dog consider bread crumbs and diced green onions.
This is a really cool way to make a unique hot dog. I really love this delicious meal and I think you will too!
The Full Ballgame hot dog experience at Home
The first thing I buy when I go to an Orioles game is a beer and a crab mac n cheese hot dog, and now I can make them right at home!
You gotta give this a try, and just for a baseball game either; this hot dog recipe would be perfect for dinner or during a football game too!
More Hot Dog and Mac and cheese Recipes
---
Crab Mac and Cheese Hot Dogs Recipe – Camden Yards
Ingredients
2

Beef Hot Dogs

2

Hot Dog Buns

Potato Rolls

1

cup

Mac and Cheese

8

oz

Jumbo Lump Crabmeat

½

tsp

Old Bay
Instructions
Score the hot dogs with a slot dog or a paring knife or Slotdog (optional step) Grill the hot dogs for 3-5 minutes per side until cooked to your liking, then place on a soft room temperature potato bun.

Heat up mac & Cheese just until warm and add in crab meat top the hot dogs with mac & cheese, then add a few extra lumps of crab and garnish with old bay.
Notes
Mac and cheese can be prepped ahead of time and reheated, add the crabmeat after reheating just before serving.
Nutrition
Calories:
758
kcal
|
Carbohydrates:
78
g
|
Protein:
45
g
|
Fat:
29
g
|
Saturated Fat:
6
g
|
Polyunsaturated Fat:
2
g
|
Monounsaturated Fat:
7
g
|
Cholesterol:
73
mg
|
Sodium:
2525
mg
|
Potassium:
578
mg
|
Fiber:
1
g
|
Sugar:
4
g
|
Vitamin A:
41
IU
|
Vitamin C:
9
mg
|
Calcium:
294
mg
|
Iron:
5
mg