Jump to Recipe
Print Recipe
A leftover cranberry sauce remix. This delicious cranberry mayonnaise is the perfect condiment for all those leftover turkey sandwiches
This Cranberry Mayonnaise using leftover cranberry sauce is tangy, light, and delicious.
It makes for the perfect spread on a loaded-up turkey sandwich, wrap, or taco. Don't love turkey? Don't sweat, it pairs great with other proteins like chicken, pork, or if your vegan, air-fried or crispy tofu.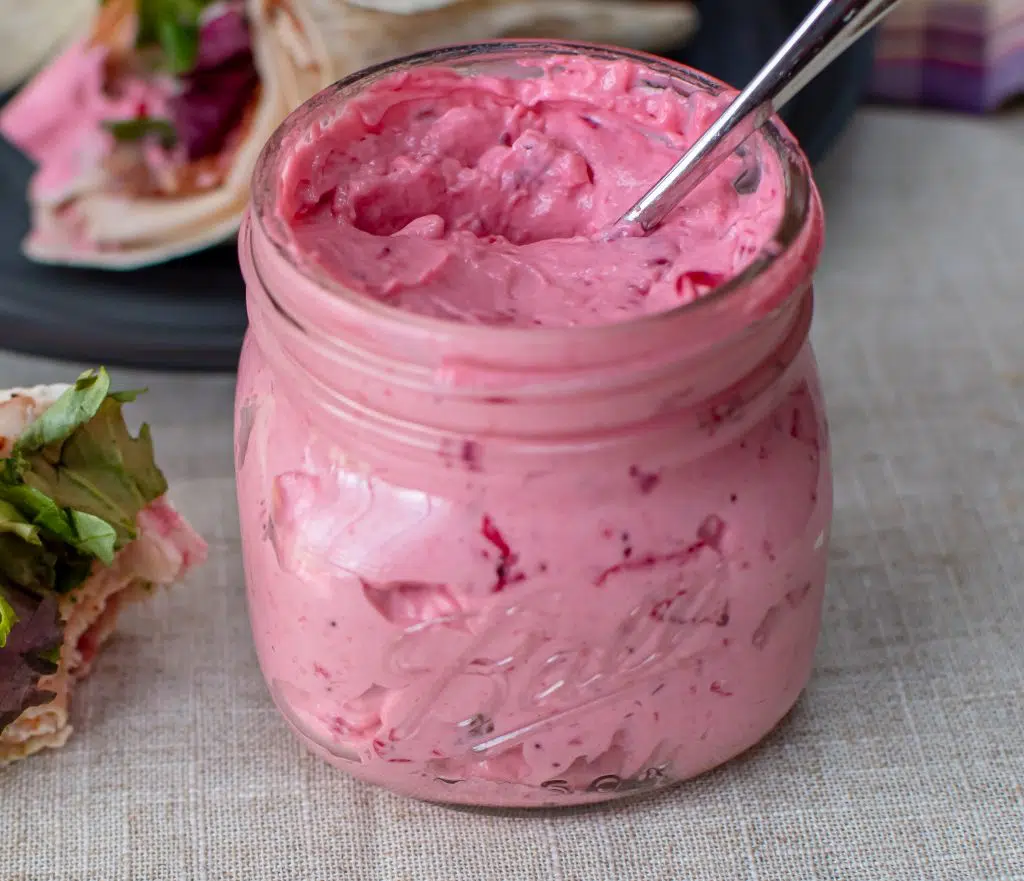 Cranberry Mayonnaise Recipe
When it comes to condiments, you've got popular staples that always sit in your fridge like ketchup, mustard, mayo, relish, etc.
When you use them every sandwich, hotdog, or hamburger tastes the same.
Kick up up a notch with this light, yet sweet, and loaded with flavor cranberry mayonnaise.
If you don't know this about me, I love leftovers, but I hate eating the same thing over and over. Leftovers are a great way to develop something new or try something out.
I for one love repurposing my Thanksgiving leftovers, there are always so many leftovers, and this cranberry mayonnaise recipe is the BEST way to use that leftover cranberry sauce you have from the holidays.
What you need to make Cranberry Mayonnaise
Mayonnaise: Make the base of your mayonnaise with 1 cup of Dukes Mayonaise.
Cranberry: Put that leftover homemade cranberry sauce to use by using ½ cup cranberry sauce. Don't have homemade or leftover sauce? You can make this with the canned sauce too.
Acid: Add flavor to your mayo with 1 tbsp Apple Cider Vinegar or lemon juice Not only does it add flavor, but it will also stabilize your mayonnaise.
How to Make Cranberry Mayonnaise
Stick with me, this mayonnaise recipe comes together in 1 to 2 whole steps!
Whisk. Whisk together the Mayonnaise, Cranberry Sauce, and Apple Cider Vinegar.
Blend. For smoother mayo use a blender and puree until smooth.
What to Make with Cranberry Mayonnaise
Now that you have this delicious condiment, you have to pair it with something equally as incredible!
First and foremost, I recommend making an out-of-this-world-perfect turkey sandwich. This is the perfect option if you have leftover turkey from Thanksgiving.
Check out my Turkey Sliders on Hawaiian rolls with green apple and brie. Thi cranberry mayo was the perfect spread and went great with the tart apples and rich brie.
However, if you don't have any leftover turkey, consider trying my favorite recipe like The Best Deep Fried Turkey.
Not feeling a sandwich? Grab a flour tortilla, spread it on there, and grab some turkey or chicken; you can even add some microgreens!
How to Store Cranberry Mayonnaise
Grab a mason jar or other air-tight container and fill it up! Make sure the cap is on nice and tight and store your cranberry mayo in the fridge for about 2 weeks.
Whatever you do, do NOT freeze your leftover cranberry mayonnaise. When you freeze mayo, although it will look fine in the freezer, when it comes time to defrost it, the emulsion will break leaving you will a gross oily mess.
Eating it won't kill you, but it won't taste as good and won't behave the same way when you go to spread it on a sandwich.
More Delicious Condiment Recipes
Looking for more homemade condiments to pair with other meals? Check out some of my all-time favorites like:
---
Cranberry Mayonnaise Using Leftover Cranberry Sauce
A leftover cranberry sauce remix. This delicious cranberry mayonnaise is the perfect condiment for all those leftover turkey sandwiches
Instructions
Whisk together Mayonnaise, Cranberry Sauce and Apple Cider Vinegar.

For smoother mayo use a blender and puree until smooth
Notes
Serving Size 2 tablespoons
Store in air tight container for up to 2 weeks in the fridge
Nutrition
Calories:
145
kcal
|
Carbohydrates:
5
g
|
Protein:
1
g
|
Fat:
14
g
|
Saturated Fat:
2
g
|
Polyunsaturated Fat:
8
g
|
Monounsaturated Fat:
3
g
|
Trans Fat:
1
g
|
Cholesterol:
8
mg
|
Sodium:
122
mg
|
Potassium:
8
mg
|
Fiber:
1
g
|
Sugar:
5
g
|
Vitamin A:
17
IU
|
Vitamin C:
1
mg
|
Calcium:
2
mg
|
Iron:
1
mg