Jump to Recipe
Crispy Skin Pan Seared Chilean Sea Bass Recipe
Pan Seared Chilean Sea Bass is a beautiful buttery fish that has a delicate flaky texture. the Skin when cooked properly gives a perfect textural contrast to the soft meat of the fish.
Because Chilean Sea Bass can be quite expensive some people are afraid to prepare it at home. If you follow these simple tips toy will have perfectly cooked crispy skin Chilean Sea Bass every time.
need a tasty sauce to serve alongside your Chilean Sea Bass? Checkout My Chesapeake Crab Butter Sauce and Spicy Hoisin Vinaigrette
Is Chilean Sea Bass Safe to Eat?
Chilean Sea Bass is Low in fat and calories but can contain high levels of mercury. According to the Environmental Defense Fund Adults should only consume 2 portions of Chilean Sea Bass a month a children should only consume one portion per month. Pregnant women should avoid consuming chilean sea bass without consulting their physician.
Spicy Hoisin Vinaigrette Recipe Video
---
What type of Pan is Best for Searing Chilean Sea Bass?
I am a big fan or using Carbon Steel Pans for searing anything from chicken and fish to beef and pork. Carbon Steel heats up fast and provides an evenly heated cooking surface. Its not a coincidence that most Michelin star restaurants use them exclusively.
If you don't have carbon steel and my subtle sales pitch hasn't led you to purchase one a trusty cast iron skillet will do just fine.
If you can avoid it try not to use Nonstick pans. they are great for pancakes and omelettes but are not recommended for use at higher temperatures.
Does Chilean Sea Bass have any other Names?
Patagonian Toothfish is the actual name of Chilean Sea Bass but creative marketing decided that nobody was going to order something called a Toothfish.
Chilean Sea Bass sounded much more appetizing and he's been referred to by that name ever since
How to Cook Chilean Sea Bass
Chilean Sea Bass is most commonly either pan seared or steamed. If steaming Chilean Sea Bass I recommend removing the skin because it will end up chewy.
Pan seared Chilean Sea Bass is my favorite method because of that crispy skin. To achieve crispy skin its important to make sure its as dry as possible before cooking.
unwrap the fish and pat it dry with a paper towel. I also like to lightly salt the skin and leave it uncovered in the fridge for a few hours to draw out even more moisture.
Just before cooking pat the sea bass dry one more time and then dust with Potato starch. Potato starch is finger than flour or cornstarch and creates an ultra thin coating on the skin to make it even crispier.
How to get Crispy Skin when Cooking Fish
There are a few easy steps to make sure your skin super crispy. follow these tips:
Pat the fish Dry with a paper towel
lightly season the skin with kosher salt
let the fish sit in the fridge uncovered skin side up for a few hours
Dust the skin with Potato starch
Heat up pan to medium high using a neutral flavor high heat oil like avocado or grape-seed oil
Place the fish in the pan skin side down then do not touch until its time to flip
Cook the fish skin side down for 70 percent of the cooking process.
Flip the fish to skin side up and finish roasting in the oven
Cook fish to an internal temperature of 135-140 degrees F.
Serve fish skin side up
What to Serve with Pan Seared Chilean Sea Bass
Chilean Sea Bass can be prepare with any type of cuisine from French to Italian or Asian inspired recipes. Serve alongside a side dish that matches your cuisine preparation. If you are serving with my Spicy Hoisin Vinaigrette then steamed vegetables and rice would be a solid pairing.
If serving with a Italian or French preparation then risotto or quinoa might be a better choice. Play with these pairing and create a new dish every time.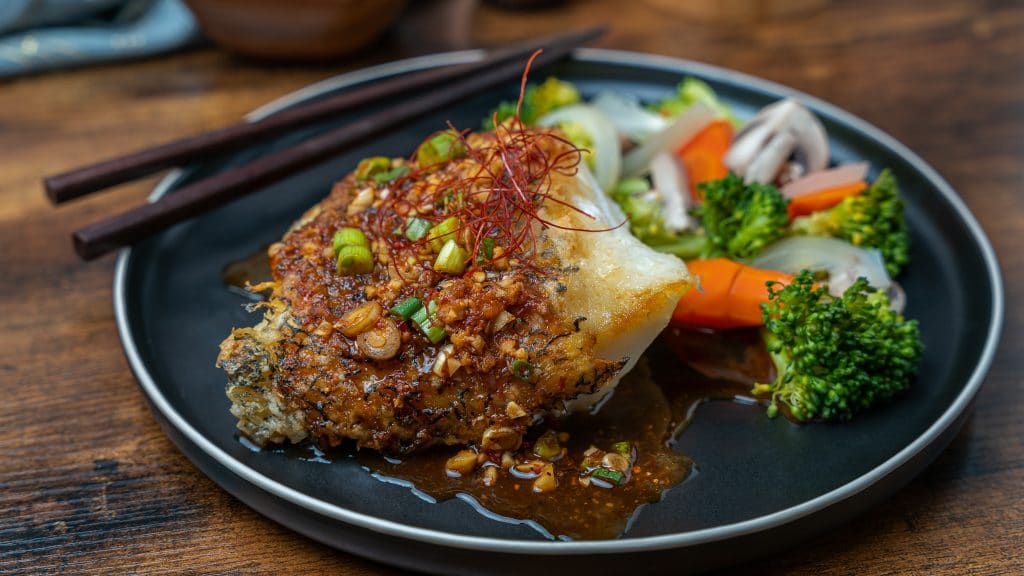 More Delicious Seafood Recipes
Follow Me on Tiktok
---
Preheat oven to 400 Degrees F.

Pat the sea bass dry then lightly season both sides of the sea bass with kosher salt. Let the filets sit uncovered skin side up in the fridge for at least 1 hour. Pat the fish dry once again then dust with potato starch on the skin side only.

Heat a pan to medium high with avocado oil. Place filets in the pan skin side down and cook for 5-7 minutes until the sides start to turn white in color and the skin becomes a deep gold color. Dont Touch the fish until its time to filp.

After 5-7 minutes flip the fish and move the pan to the oven to finish cooking for about 5 more minutes until the internal temperature of the fish is 135-140 degrees F.

Serve Chilean Sea Bass skin side up.
Calories:
408
kcal
|
Carbohydrates:
3
g
|
Protein:
20
g
|
Fat:
35
g
|
Saturated Fat:
6
g
|
Cholesterol:
75
mg
|
Sodium:
1248
mg
|
Potassium:
40
mg
|
Fiber:
1
g
|
Sugar:
1
g
|
Vitamin A:
340
IU
|
Vitamin C:
1
mg
|
Calcium:
3
mg
|
Iron:
1
mg
---
Nutrition Facts
Pan Seared Chilean Sea Bass
Amount Per Serving
Calories 408
Calories from Fat 315
% Daily Value*
Fat 35g54%
Cholesterol 75mg25%
Sodium 1248mg54%
Potassium 40mg1%
Carbohydrates 3g1%
Protein 20g40%
Vitamin A 340IU7%
Vitamin C 1mg1%
Calcium 3mg0%
Iron 1mg6%
* Percent Daily Values are based on a 2000 calorie diet.
---