Stok Grill Review - Stok Gridiron Grill
Even though the football season in Baltimore was horrendous, that doesn't mean that the tailgates outside of the stadium were. Despite a dismal season, we had some fantastic pregame meals. Towards the end of the last season the old grill started to die and we were debating over what grill to replace it with. One of my friends at Stok Grills reached out to me just in time and offered to send a sweet little tailgate grill our way to save the 2015 tailgate season. I was excited to do this Stok Grill Review. Prior to this I didn't have any experience with Stok Grills so I wasn't sure what to expect. After an entire season of tailgating I can say that I'm thrilled with it. It's a quality grill with a surprisingly high heat and a convenient mechanism of folding to allow it fit into most cars. It also has a pretty cool insert system where you can swap out the center grill grate piece and add in something different. Originally it comes with a grill grate center piece, but we liked using the griddle attachment in the center. It was handy with frying eggs and also just reheating something like meatballs.
Check out some of these photos from the 2015 tailgate season. We had a great time and most importantly we ate well thanks to the guys at Stok Grills. I wrapped up some of these photos into a Stok Grill Review so show what I was able to do with this easy to set up Gridiron Grill.
We started off with white cheddar burgers topped with bacon and a fried egg. The griddle attachment was pretty cool to use for the eggs. This has potential for tailgating with breakfast foods.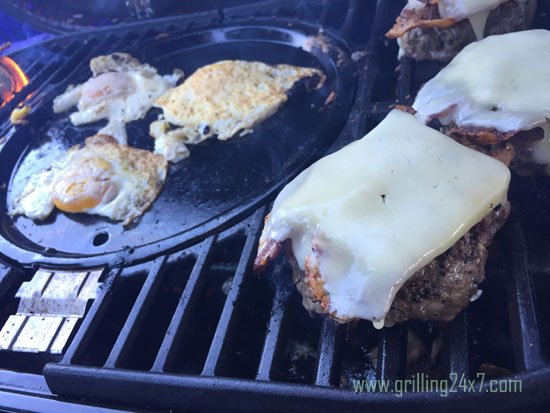 A pretty good sandwich! I absolutely love white cheddar cheese.
We also grilled beef tenderloin that was cut into small steaks.The tender steaks work great for sandwiches. You want to smell a good tailgate? Nothing smells better than a grill full of steaks.
At the end of this tailgate I was taking slices of tender steak, topping it with a piece of cheese and adding a few drops of hot sauce to it. Talk about good!
Next up was meatball subs. We had a huge tin of homemade meatballs that were bubbling hot on the grill. It made some fantastic subs.
We also had a Pepperoni Roll Tailgate Appetizer. Sliced Italian meats and cheeses with some banana peppers on a rolled up pizza dough. So good to start off the morning.
As an appetizer one week we had a friend bring jumbo lump crab dip. What a treat! Most importantly, what a good friend!
Certainly Big Macs (copy cat McDonald's Recipe) were on the tailgate menu this year. I grilled all of the burgers patties on the grill, then assembled the Big Macs and put them back on the grill to melt the cheese and make sure the sandwich was warm. prior to serving.
Well I hope this made you hungry! I know I'm ready for a good meal after writing this up. Big thanks to Stok Grills for sending me the grill for this season. It worked out really well. Stay tuned for some new Stok Grill Reviews. They sent me a few more grills that I'm in the process of reviewing. Check out the Stok Drum Charcoal Grill. This thing is pretty cool.