Superbowl Party Recipe Ideas
Well here we are. Football season is almost over. It's going to be hard to get back to normal "low calorie" Sunday afternoons. However, it's only 7 short months until preseason tailgating resumes! Hmmmm. That's pretty far away.
Anyway, let's go out with a bang and make up some great food for the final game of the season. I decided to take some of my most popular posts and create a little photo gallery of recipes that will work really well for a Superbowl tailgate party. Click on the photos below to see the entire recipe. Enjoy the last game!
Easy Super Bowl Party Food
Super Bowl party food is a big part of the excitement leading up to the big game. From classic chicken wings and pizza to some healthier alternatives, there are plenty of delicious meal options to keep everyone satisfied during the broadcast.
Whether you're a die-hard fan or just looking for an excuse to eat with friends, it can be a lot of fun experimenting with recipes and flavors! There's even something for everyone when it comes to the super bowl food! With creative culinary ideas, your Super Bowl party food is sure to be a hit!
How to Choose the Perfect Super Bowl Party Food to Make
Are you in charge of the Super Bowl party this year? Here are a few tips on how to choose the perfect Super Bowl party food to make. You'll love how simple a party can be to throw, once you have the right ideas! Check out these tips on choosing the best super bowl party food.
Plan out your menu in advance.
Decide on a mix of classic favorites and new recipes, depending on the tastes and preferences of your guests.
Consider specialty dishes.
Consider incorporating regional flavors or local specialties into your dishes. This can add a fun element of variety to the party!
Ensure you have enough party supplies.
Make sure you have plenty of serving platters and utensils, as well as any other equipment you might need to prepare your dishes.
Enjoy the process!
Have fun coming up with creative flavor combinations that will make your food stand out! Try mixing different sauces, types of cheese or ethnic seasonings to create unique Superbowl Tailgate party food recipes. From what I've seen, the food served at a super bowl party is always a big hit.
Make sure to enjoy the party! Whether you're a die-hard football fan or just looking for an excuse to get together with friends, a Super Bowl party is a great way to celebrate. This is the time to have fun experimenting with new recipes and flavors, and savor all the delicious food as you cheer on your favorite team!
Super Bowl Appetizer Recipes
The famous Bacon Wrapped Onion Ring Recipe

Moink Balls – smoked meatballs wrapped in bacon and brushed with BBQ sauce
Savory Brat Roll – crumbled bratwurst, melted cheese with sauteed onions
and garlic, wrapped in a pizza dough
Sriracha Honey Wing Sauce – a simple two ingredient wing sauce that is sweet and spicy
Smoked Bacon Explosion – a standard "BBQ fatty" that consists of sausage rolled around in onions and peppers, neatly tucked away in a weave of bacon
Sriracha Lime Crunch Mix – a popcorn, nut and pretzel based crunch mix that is coated with a sriracha lime glaze
Smoked Stuffed Jalapeño Peppers – jalapeño peppers stuffed with cheese and wrapped with bacon
Main Courses for Super Bowl Party
Chili Dogs – a unique chili dog recipe where the chili has pureed flank steak
Big Macs – homemade Big Macs can take any super bowl party up a few notches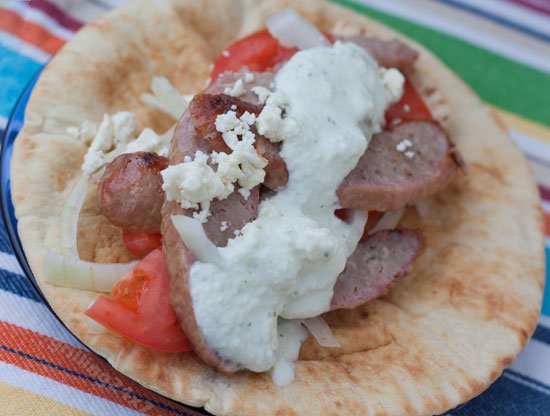 Brat Gyros – homemade gyros with a flavorful tzatziki sauce
Bacon Cheeseburgers Topped With A Runny Egg – burgers are simple to make; add a runny egg and you have a unique main course for your super bowl party
Smoked Turkey Breast Subs – Juicy flavorful smoked turkey breast on a sub with mayo, swiss cheese and lettuce