Superbowl Party Recipe Ideas
Well here we are. Football season is almost over. It's going to be hard to get back to normal "low calorie" Sunday afternoons. However, it's only 7 short months until preseason tailgating resumes! Hmmmm. That's pretty far away. Anyway, let's go out with a bang and make up some great food for the final game of the season. I decided to take some of my most popular posts and create a little photo gallery of recipes that will work really well for a Superbowl tailgate party. Click on the photos below to see the entire recipe. Enjoy the last game!
Appetizers
The famous Bacon Wrapped Onion Ring Recipe

Moink Balls - smoked meatballs wrapped in bacon and brushed with BBQ sauce
Savory Brat Roll - crumbled bratwurst, melted cheese with sauteed onions
and garlic, wrapped in a pizza dough
Sriracha Honey Wing Sauce - a simple two ingredient wing sauce that is spicy and sweet
Smoked Bacon Explosion - a standard "BBQ fatty" that consists of
sausage rolled around onions and peppers, all neatly tucked away
in a weave of bacon
Sriracha Lime Crunch Mix - a popcorn, nut and pretzel based crunch mix
that is coated with a sriracha and lime glaze
Smoked Stuffed Jalapeno Peppers - this is the classic appetizer:
jalapeno peppers stuffed with cheese and wrapped with bacon
Chili Dogs - A unique chili dog recipe where the chili
has pureed flank steak
Big Macs - Homemade Big Macs can take any superbowl party
up a few notches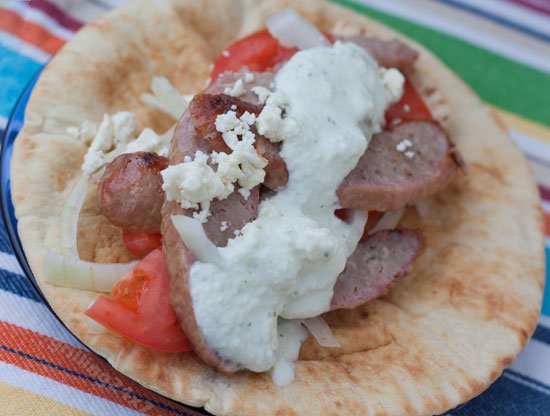 Brat Gyros - Homemade gyros with a flavorful tzatziki sauce
Bacon Cheeseburgers Topped With A Runny Egg - Burgers are simple to make;
add a runny egg and you have a unique main course for your superbowl party
Smoked Turkey Breast Subs - Juicy flavorful smoked turkey breast on a sub with mayo, swiss cheese and lettuce
Did you make this recipe?

I love hearing how you liked it! Tag me on Instagram @grilling24x7 or leave me a comment & rating below!