Forget those store-bought packets! The best homemade chicken taco seasoning can be made in under 5 minutes and tastes amazing!
Made with pantry staple herbs and spices like paprika, chili powder, onion, garlic, cayenne, and more, once you taste this, you will never buy a seasoning packet ever again.
Taco Seasoning Recipe
Whether you are making chicken tacos, chicken nachos, or chicken burritos, season your recipe with the best.
Throw out those store-bought seasoning packets that are packed with who knows what.
It is time to use what you have! I guarantee you, if you go spin your spice racks, you probably have everything you need already.
Say "hello" to the best homemade taco Tuesday night you've ever had.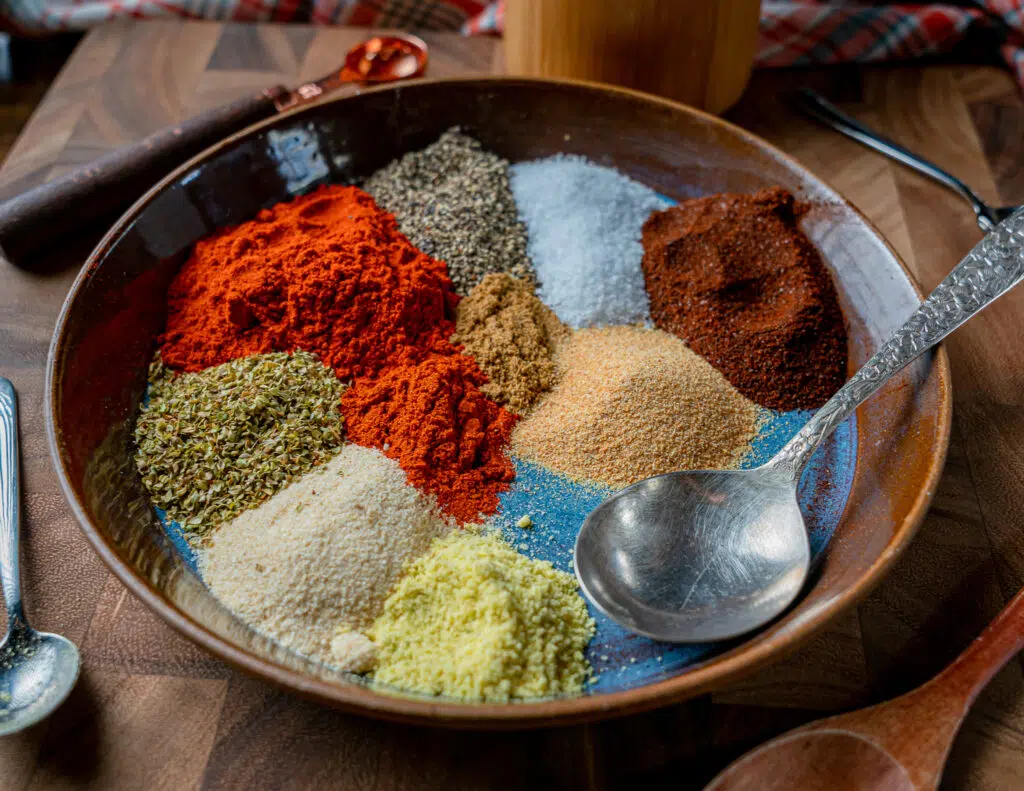 Taco Seasoning Ingredients
Mexican is one of my all-time favorites. Why? Because it is full of delicious flavors that make an impact and taste incredible.
You probably don't even realize you have all the ingredients at home to achieve that on your own! All you need to make taco seasoning is:
Herbs and Spices: smoked paprika, light chili powder, kosher salt, coarse ground black pepper, granulated onion, granulated garlic, chicken bullion powder, ground cayenne, oregano, and ground cumin.
For a detailed look at the ingredients needed, check out the recipe card down below!
How to Make Homemade Taco Seasoning
Now, I'm going to try not to overwhelm you here with the steps, but you can get this done in just 2 easy steps!
Whisk. Whisk together all ingredients to break up any clumps and pour into a mason jar or airtight container.
Store. Store in a cool dark place away from direct sunlight for up to 6 months.
How to Season Chicken for Tacos
Looking to make tacos right away? Follow these easy steps to season your chicken for taco night!
Make your seasoning. Prepare your seasoning as mentioned above.
Rub. Rub your boneless skinless chicken thighs or breasts with a touch of olive oil and the seasoning mix.
Refrigerate. Let your chicken sit in the refrigerator for about 1-2 hours.
Cook. It's your choice how you want to cook your chicken. I recommend grilling. However, you can pan fry or bake as well.
Shred. When your chicken is done cooking, grab 2 forks and pull apart or shred the chicken. Shredding the chicken makes it easier to enjoy in a taco.
Plate. Prepare your tacos, top them with your favorite toppings and enjoy!
What can I do with my leftovers?
Have leftover chicken? Repurpose it and make:
Quesadilla's for lunch the next day
Enchiladas for dinner
Meal prep some taco salads
Use the chicken in a taco bake casserole
Make chicken nachos as the perfect game night appetizer
Make homemade chipotle burritos bowls for lunch or dinner.
Can I use this Seasoning on Beef?
Absolutely! This seasoning pairs perfectly with beef, chicken, and even turkey.
Don't be afraid to experiment with different ways to use this seasoning to flavor your meals!
Other Favorite Mexican Recipes
Looking for more Mexican recipes to pair with these incredible flavors? Don't forget to check out:
---
Homemade Chicken Taco Seasoning
Let's stop treating all taco seasoning the same and make a chicken taco seasoning just for poultry, easy to make, and will add tons of flavor to your favorite bird.
Instructions
Whisk together all ingredients to break up any clumps and pour into a mason jar or airtight container

Store in a cool dark place away from direct sunlight for up to 6 months
Nutrition
Calories:
12
kcal
|
Carbohydrates:
2
g
|
Protein:
1
g
|
Fat:
1
g
|
Saturated Fat:
1
g
|
Polyunsaturated Fat:
1
g
|
Monounsaturated Fat:
1
g
|
Cholesterol:
1
mg
|
Sodium:
950
mg
|
Potassium:
66
mg
|
Fiber:
1
g
|
Sugar:
1
g
|
Vitamin A:
839
IU
|
Vitamin C:
1
mg
|
Calcium:
16
mg
|
Iron:
1
mg