Can you grill a steak on a small tailgate grill?
Stok Gridiron Tailgate Grill Review
Last tailgate season my tailgate group reviewed the Stok Gridiron Tailgate Grill. What a solid grill. It was easy to transport, had a very high heat capability, and also had the cool insert system to allow for multiple grilling options. One of the topics that came up routinely while grilling on the Gridiron was "wow, this thing has a high heat, I'd love to grill a steak on it! Can you grill a steak on a small tailgate grill?" Obviously you can grill a steak on any grill, but will it turn out? Will there be that intense sear? I decided to test some nice ribeye steaks on it. What a success! I used a southwest steak dry rub and wow was it amazing. Check this out.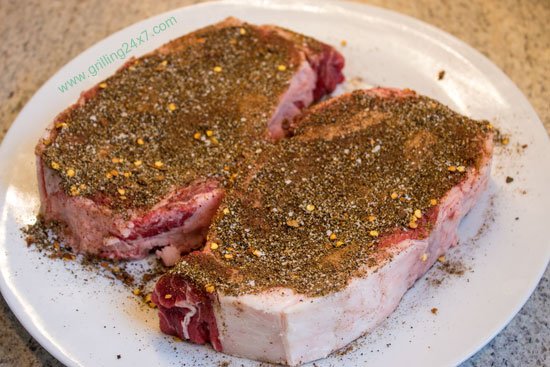 Such a simple dry rub recipe for a steak. Spicy and flavorful.
You can see the features of the Gridiron tailgate grill. It has the insert system in the center. I kept the grill grate to give some extra space to grill these steaks and the onions.
To preheat this baby appropriately I let it run on high heat for about 15 min. It got nice and hot.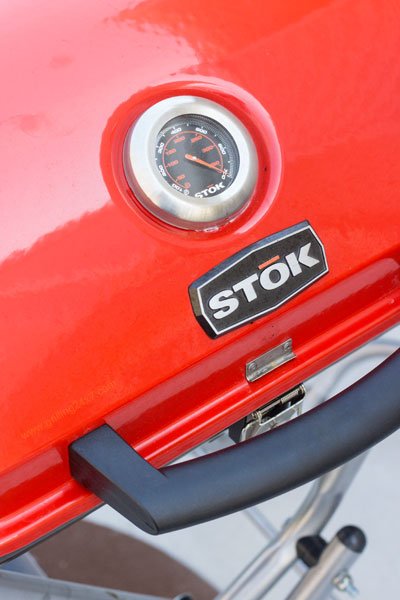 The dome thermometer registered about 700 degrees F. Not bad for a small propane grill!
Nothing better than a nice thick ribeye!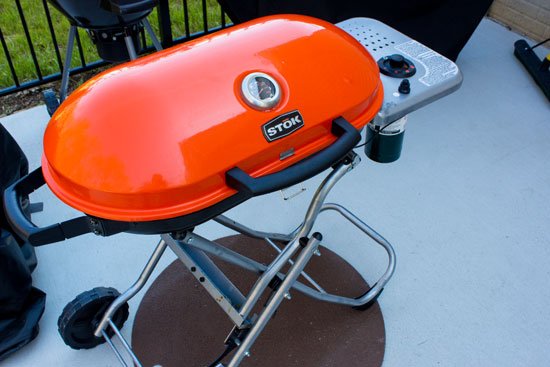 It's a pretty cool grill in that it has a small "table" on the side. I don't believe it is supposed to be used as a prep table but it is great for holding a beer and a Thermapen.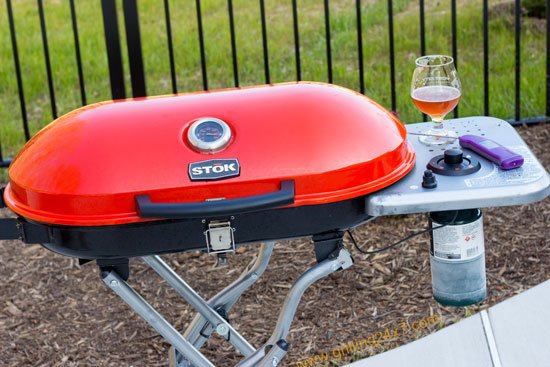 When the steaks went on I also tossed on a sliced sweet onion. I just brushed it with a little olive oil and let it sit right on the hot grates while the steak cooked.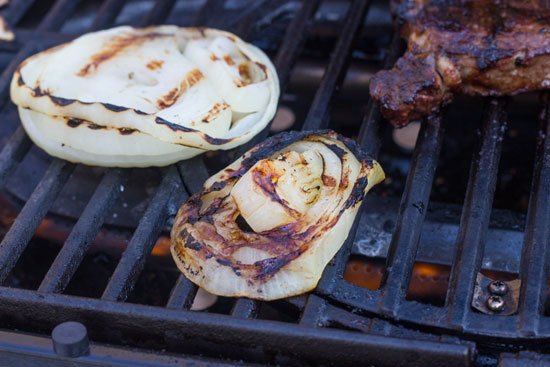 The smells were amazing. This little tailgate grill puts off some serious heat. The steaks were searing wonderfully! You could hear it and smell it.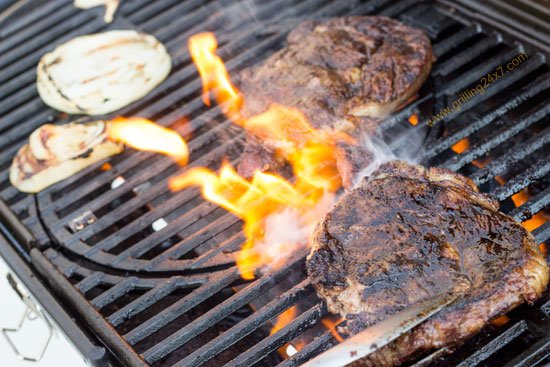 These steaks were so juicy and delicious. How can you go wrong with a ribeye? Well, I was just thrilled that this cool little tailgate grill could put off enough heat to grill some amazing steaks. To answer the question, YES, you can grill a thick ribeye steak on a small tailgate grill such as the Stok Gridiron Tailgate grill. To get the steaks to medium rare I grilled them about 5 minutes on each side and kept flipping after 5 minutes. After about 4 flips the steaks were finished.
Here's a sweet idea – grill some ribeyes at the tailgate and then use the Stok Griddle Insert to fry some eggs. Steak and eggs!
Note: Stok sent me this grill to test out and I really like it.