Jump to Recipe
Step up your crab cakes with a kiss of smoke. These cedar plank smoked crab cakes are as good as you will find in any restaurant…actually better.
Easy to prepare and packed with jumbo lump Crab and just enough filler to hold them together.
Speaking of Crab be sure to checkout my Chesapeake Crab Butter Sauce, Creamy White Crab Chili, Air Fried Crab Cake Egg Rolls
Smoked Crab Cakes Recipe
This recipe was born out of necessity but turned out so good that I've been making crab cakes this way for years.
I was on vacation at the beach with the family and unfortunately the oven at the house we rented broke. We had all this fresh crab meat but no way to cook it.
Then I looked on the deck and saw an old beat up gas grill. It wasn't ideal but I knew I could make it work.

I ran out and pick up some Cedar Planks that you can normally find in the grilling supplies area of any grocery store.
Cedar Planks are perfect for grilling Fish but can also make a great surface for cooking crab cakes on your grill or smoker. Just make sure you soak the planks in water for at least 30 minutes so they don't burn.
As the planks heat they will start to bow and release a mild wood flavor into the smoked crab cake.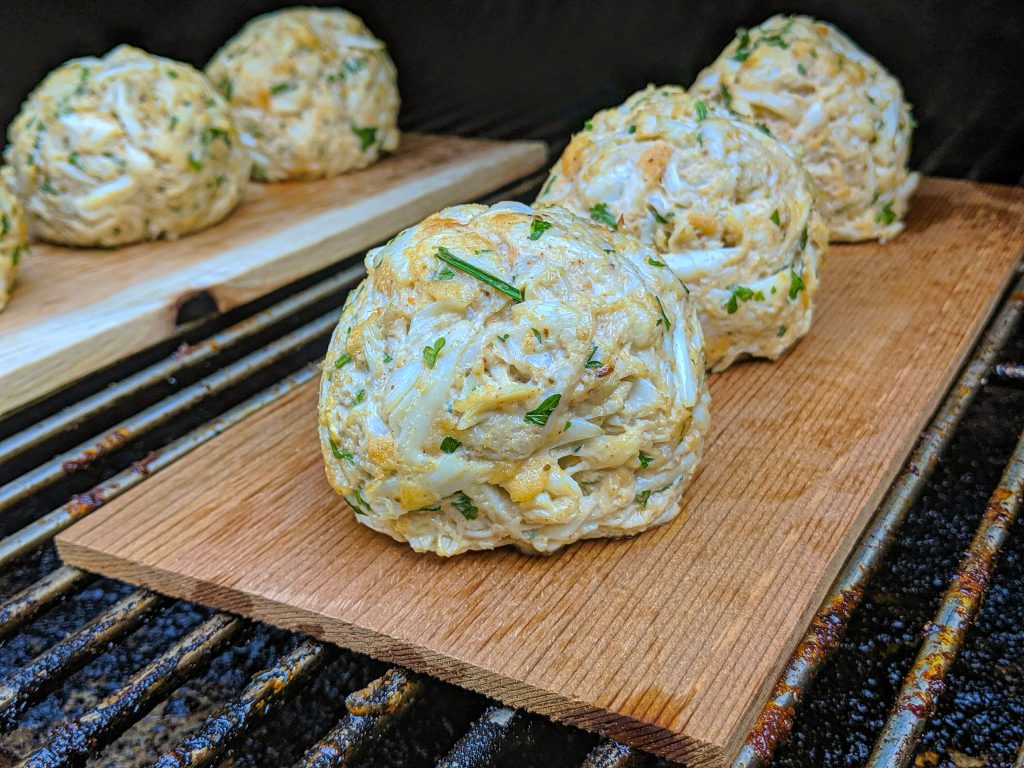 Let's Talk Smoked Crab Cakes

Since I'm home and I've got my favorite piece of grilling equipment my Rectec 700. I figured that would be my cooker of choice for this recipe.
Whether your smoking fish or crab cakes I recommend higher heat and shorter time when smoking seafood. The goal is to just add a subtle kiss of smoke to the delicate meat.
Unlike large thick cuts like brisket and butts, seafood won't benefit from a long smoky cook.
There's no connective tissue to break down so the goal is just to impart a little flavor during the cooking process.

Ritz Crackers are the best Binder for Smoked Crab Cakes. Prove me Wrong!

I've worked in a lot of restaurants in my career and seen plenty of crab cake recipes. Let me first say that if you put bell peppers or cheese in your smoked crab cakes then you need to stop immediately.
That's an abomination and disrespectful to the crab. Sorry but I have a strong opinion about that.

Now another area of heated debate is what fillers to use to bind your smoked crab cake. Some folks say cubed white bread or saltines are best. Others use cornmeal or breadcrumbs.
Those all do a fine job but just don't bring any flavor to the game. Ritz Crackers not only have that buttery flavor but they also absorb other flavors of the crab cake.
I also love to use ritz crackers because one sleeve is the perfect amount for this recipe. You just crush them up while still in the sleeve then pour into the mixing bowl.
If you are gluten free or low carb I've got a great keto crab cake recipe from culinary lion that's you can check out as well.

Whats the Best Crabmeat to Buy?

Crabmeat is expensive, it doesn't matter where you live or who you know. At the date of writing this blog the going price for jumbo lump crab was about $36 and backfin was $24.
There's no shame in using all backfin crab especially if you're using fresh crabmeat.
I like to use a combination so that I can get those big beautiful lumps from the jumbo and fill in the blanks with the backfin.

Depending on the time of year or the region you live in fresh crab meat may not be an option. Your next best bet is to use pasteurized crab meat.
Though pasteurized crab tends to be a little more bland you can compensate with the other ingredients in your crab cakes. Most pasteurized crab meat is going to come from the Far East.
Regulations can vary a lot but I try to look for crab meat that is cooked on board and pasteurized immediately. Crab meat from the Philippines and Vietnam tend to be the best. I try to avoid any crab meat from China if possible

Ingredient List for Smoked Crab Cakes
For exact amounts see printable recipe card below
Jumbo Lump Crab Meat
Backfin Crab Meat
Eggs
Lemon
Fresh Chopped Parsley
Size Matters…Well Kinda
I portioned these crab cakes and got ten 6 oz. crab cakes, depending on how many people your serving you can adjust the portion size. I think 5-6 oz is perfect because it's a generous portion and will cook evenly.
If you want to serve these as an appetizer portion then into 2 oz portions for a fantastic tailgate snack that everyone will be talking about.
If you really just want to show off you can portion out a few 10 oz crab cakes, they will take longer to cook so be sure to reach an internal temperature of 150 degrees F. before serving.
Questions about Smoked Crab Cakes?
Cocktail or Tartar Sauce… can't we have both??

I have to admit I'm a dipper. I'm sure purists will say that if you need cocktail or tartar sauce then your crab cakes aren't good. That's just nonsense.
Just as a French fry can be enhanced by ketchup so to can a dab of sauce compliment the flavor of your crab cake.
I'll even cross the streams sometimes and have a cocktail and tartar sauce in the same bite…cause that's what kinda guy I am.
Either way I've got you covered with recipes for both cocktail and tartar below. If you need a quick side to serve along side the crab cakes I would recommend these BBQ Spaghetti Squash Rings
More Amazing Crab Recipes!!
---
Cedar Plank Smoked Crab Cakes
Step up your crab cakes with a kiss of smoke. These cedar plank smoked crab cakes are as good as you will find in any restaurant…actually better.
Instructions
Soak cedar planks for 30 minutes

In a mixing bowl combine mayo, eggs, Dijon, Worcestershire, Tabasco, and lemon. Whisk until smooth

While still in the sleeve crush up Ritz crackers and pour into a separate bowl along with parsley and old bay

Gently pick through the crab meat looking for bits of shell. Make sure not to break up the lumps too much. Then add to the cracker mixture.

Gently fold the crab meat with the cracker mixture until combined then pour half of the wet mixture. Fold gently and then add just enough of the mixture so that you can form a ball that holds together. Let mixture sit for about 15-20 minutes in the fridge to set up.

Portion crab cakes and place on cedar planks, brush with butter and sprinkle with a dusting of old bay.

Smoke at 350 degrees F for about 20-25 minutes until golden brown. Look for an internal temperature of about 150 degrees F.
Nutrition
Calories:
231
kcal
|
Carbohydrates:
4
g
|
Protein:
28
g
|
Fat:
11
g
|
Saturated Fat:
2
g
|
Cholesterol:
95
mg
|
Sodium:
1269
mg
|
Potassium:
299
mg
|
Fiber:
1
g
|
Sugar:
1
g
|
Vitamin A:
159
IU
|
Vitamin C:
12
mg
|
Calcium:
72
mg
|
Iron:
1
mg
Tartar Sauce
Instructions
Whisk all ingredients to combine
Nutrition
Calories:
132
kcal
|
Carbohydrates:
1
g
|
Protein:
1
g
|
Fat:
14
g
|
Saturated Fat:
2
g
|
Cholesterol:
8
mg
|
Sodium:
183
mg
|
Potassium:
6
mg
|
Fiber:
1
g
|
Sugar:
1
g
|
Vitamin A:
27
IU
|
Vitamin C:
1
mg
|
Calcium:
1
mg
|
Iron:
1
mg
Cocktail Sauce
Instructions
Whisk ingredients to combine.
Nutrition
Calories:
37
kcal
|
Carbohydrates:
9
g
|
Protein:
1
g
|
Fat:
1
g
|
Saturated Fat:
1
g
|
Sodium:
263
mg
|
Potassium:
89
mg
|
Fiber:
1
g
|
Sugar:
8
g
|
Vitamin A:
115
IU
|
Vitamin C:
3
mg
|
Calcium:
8
mg
|
Iron:
1
mg
---