This is the complete guide on everything you need to know about cooking and eating Maryland Steamed Blue Crab from start to finish.
Made with live blue crabs, beer, Old Bay Seasoning, melted butter, and more, your mouth is going to be watering before you even get cooking.
Don't forget to grab some cold ones before you get started. Crab boils aren't complete without a cold beer.
Crab season got you hungry? Check out some other fan favorites like Air Fried Crab Cake Egg Rolls w/ Old Bay Aioli, Maryland Style Smoked Crab Cakes, and Jumbo Lump Crab Burgers!
Steamed Blue Crab Recipe
Steamed Crabs are a Maryland staple of Summer. The smell of those Chesapeake spices and fresh blue crab is unmistakable.
Most people just call up their local crab house and place an order but why not step up your game and steam your own.
Ingredients needed for Steamed Blue Crab
Crab. Alright, seafood lover, you are going to need ½ bushel of live blue crabs. This equates to about 3-4 dozen average size crabs.
Seasoning. Every Marylander knows seasoning matters. So, the only seasoning you are allowed to throw in your stock pot is16 oz of J.O. #2 Crab Seasoning and 1 can of Old Bay seasoning. There are no substitutions. If you substitute, don't tell me about it.
Wet Ingredients: Aside from having enough water … scratch that, forget the water, make sure you have enough beer. You are going to need 6 light beers for the steamer pot (yes, we are cooking with these), 2 sticks of melted butter, and 1 bottle of Apple Cider Vinegar.
Beer. This is for the king (or queen) of the stock pot while cooking. I recommend 1 bucket of cold beverages, however, you can up that to two as long as you don't plan on driving.
How to Make Steamed Blue Crab
Ice. Keep your blue crabs cold and on ice until it is time to steam. Make sure you have plenty of ice.
Add Beer. Fill your crab pot (stock pot) with beer just below the bottom of the insert. This will take about 6 beers.
Stack and Layer. Stack the crabs using tongs in circular layers, season each layer as you stack until the pot is almost full. Leave room for ears of corn and still be able to firmly shut the lid.
Steam the crab. Steam crabs for just about 25 minutes until crabs take on bright orange red color.
Serve. Pour crabs on the table or serve on a tray. Enjoy!!!
Hot to Prepare Steamed Crabs at Home
With just a few ingredients and equipment you'll be able to steam crabs like a pro and save a ton of money at the same time.
Craving Crab? I've got more recipes for you! Checkout my Cedar Plank Smoked Crab Cakes, Creamy White Crab Chili, and Chesapeake Crab Butter Sauce
Save your Money: Buy Live Crabs and Steam them Yourself
Crabs can cost up to $400 dollars a bushel depending on the size and the availability in my area (central Maryland) most of the time we get a group together and everyone chips in and brings a side dish.
Recently, my brother and I decided to dust off the old crab steamer pot and try our hand at steaming live crabs ourselves. Honestly, it was really quite simple and I think it's safe to say we will be doing this more often.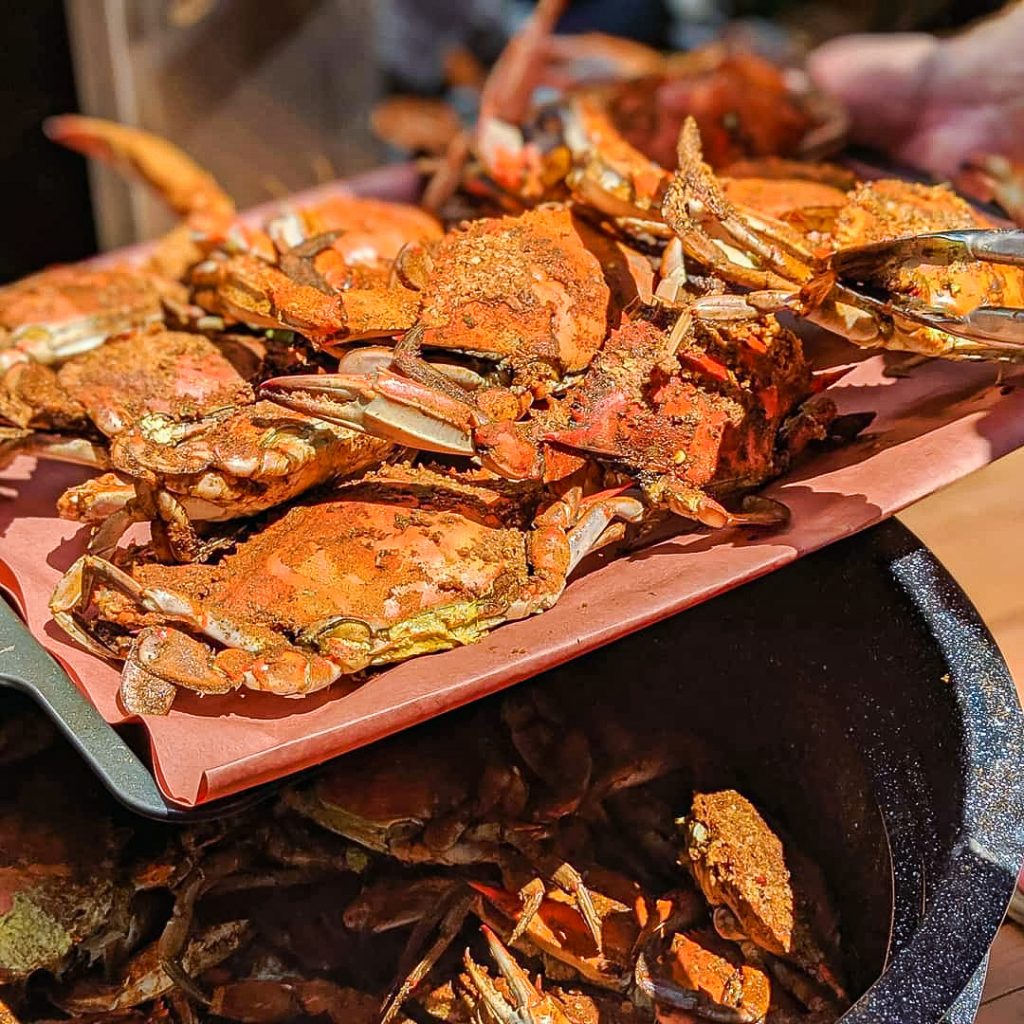 How Many Crabs in a Bushel
A bushel is a measurement of volume as opposed to a specific number or weight.
That said on average you'll get somewhere in the range of 7 dozen small to medium crabs in a bushel or about 5 dozen medium to large crabs.
I normally tell people that a ½ bushel will feed 6-8 people and a full bushel will feed 10-12 people.
That also depends on how experienced and serious the crab eaters are because I've seen 4 people plow through a bushel of crabs and a case of beer in 2 hours … In case you are wondering, yes, I was one of those people!!
Find Your Friendly Neighborhood Crab Lady
If you are a Marylander, just down the road there is more than likely a lady that sells live crabs; at least, there is by me.
For $20 a dozen or $110 per half bushel. We've appropriately named her "the crab lady". Every weekend she's outside selling beautiful crabs to the experienced crab steamers of the area. I brought a cooler with a bag of ice and picked up a half bushel of medium/large male crabs.
When purchasing live crabs make sure that the crabs are…you guessed it, ALIVE!! It was impressive to see the woman grabbing the crabs with tongs and knowing if they were alive just by the feel.
Almost how a skilled fisherman can tell by the most subtle movement whether they have a fish on the line. Any dead crabs were immediately discarded.

How to Keep your Crabs Alive until its Time to Cook
The crabs should be kicking and putting up a fight to get into your cooler. The key to keeping crabs alive is minimizing stress. Don't toss them around or mess with them any more than needed.
When transferring to a cooler place them in using tongs and try to lay them right side up.
Since we wouldn't be steaming the crabs until later in the day we left the cooler slightly propped open with the drain plug unscrewed to let any melted water drain out.
The carbs will not be as rowdy once on ice and be easier to handle when it's time to cook.

How to Tell a Male Crab from a Female
Male crabs are known as "jimmies" have a Marrow T-shaped apron on the underside. In contrast, female blue crabs aka "sooks" have a rounded dome-shaped apron. An easy way to remember is that the male apron looks like the Washington Monument and the female's apron resembles the Capitol Buildings dome.
Because of fishing restrictions, you will almost always see males keep the crab population at a sustainable level. Some crab connoisseurs will claim that female crabs are a bit sweeter but I don't notice any discernible difference.

Before we steam the crabs let's talk about table setup.
I always use a long folding table covered in newspaper or what's affectionately known as crab paper. Use a few layers so you can just roll up the paper after the meal and dispose of all the shells and trash.
After the table is covered with the newspaper I like to put a big bucket of cold beverages in the center of the table. A cooler is fine but I don't want to get up once I've begun picking crabs.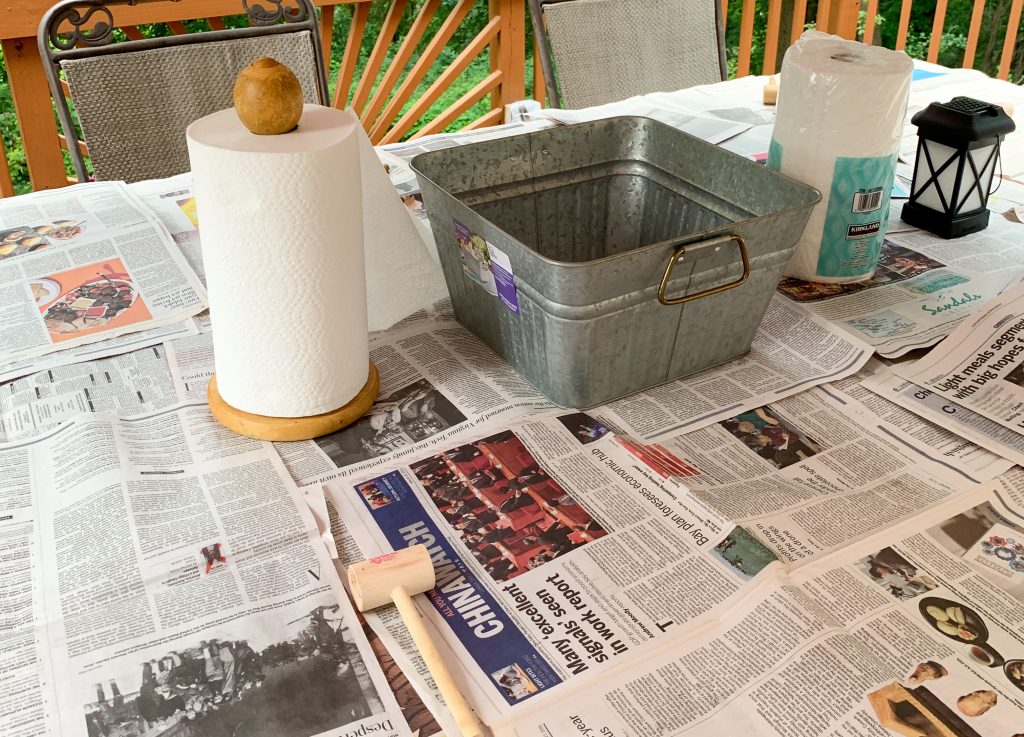 Each guest should have a slender knife, a crab mallet and multiple rolls of paper towels should be on the table, preferably with a vertical paper towel holder.
Condiments like melted butter, old bay, and cider vinegar can be served alongside ramekin dishes for dipping.
Once the crabs are cooked they can be piled around the bucket in the center of the table or served on sheet pans if space allows. Have everything set up just before you start steaming the crabs.
Pro tip: Have a few of these Thermacell Outdoor Mosquito Repeller on hand, you'll thank me later!!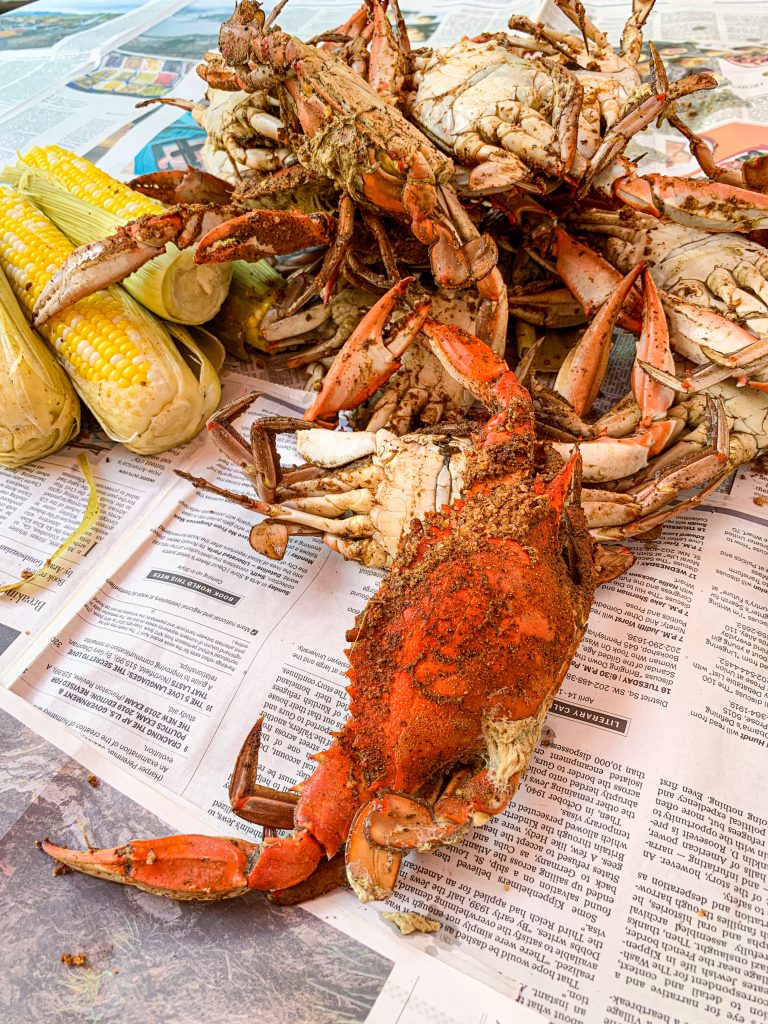 Steaming Crabs with Beer or Water
I'm a big fan of steaming crabs with beer. You don't need to use anything fancy and you can even use a 50/50 beer to water ratio if you like.
I normally go with a light lager that I'll be drinking while I eat the crabs. I'm not going to say one brand over another because I know folks take their brand of beer seriously.
Set up for Steamed Crabs
You will need a large pot with a steamer basket. We actually used a basket that's been in the family for years.
You'll also need a propane burner to steam the crabs so again I'll leave a link to one that I recommend.
I also recommend a pare of these Oven Safe BBQ Gloves for picking up the crab pot and even protecting your hands from the crab's claws.
I know this seems like a lot of stuff to buy but the money you'll save steaming your own crabs will pay for all this in just a few uses.

Once you have your steamer pot filled with beer and the propane lit it's time to start layerings in the crabs. Use long tongs and a pair of gloves to protect your hands from the crabs.
Layer the crabs covering the bottom of the basket then sprinkle a generous amount of crab seasoning.

What to season Maryland Steamed Crabs with.
I'm a big fan of J.O. #2 Crab Seasoning because it's a little spicer or you can use J.O. #1.
I don't recommend old bay for seasoning the crab because it's ground too fine and honestly it's too expensive to use in that kind of quantity.
After each layer of crabs are seasoned leave a few inches of space at the top of the pot for a few ears of corn.
This is obviously an optional step but it goes great with crabs and is always a big hit. You should be able to steam a ½ bushel at a time in the size pot I recommend.
How Long to Steam Crabs
The crabs should steam with the lid on for about 25 minutes. Once they're done cooking they will have a vibrant reddish-orange color and it's time to eat.
The crabs will be super hot so you'll have time to gather everyone around the table so don't worry about them getting cold. I actually prefer to let my crabs cool down closer to room temperature.
I find the crabs are easier to handle and the meat is much easier to harvest.
You'll know you cooked crabs perfectly if the newspaper stays fairly dry during eating. Waterlogged crabs are a sign you used too much liquid or cooked the crabs too long.
How to Pick and Eat Steamed Crabs.
I wish I could just skip this topic because I'm sure whatever I write will be wrong. I've been eating blue crabs for over 30 years and I've probably seen a dozen different ways.
Some people eat the claws first then remove the shell and pick the back-fin and lump meat out of the blue crabs.
Some keep the legs on the crab to help remove the meat. Others use Special Crab Picking Knives and split the body in half and pick the meat.

I'm going to post a few videos of methods I approve of but there is no wrong way to pick steamed crabs as long as you remove the lungs and don't waste any meat.

Can I Eat the Mustard from Steamed Blue Crabs?
Another area of contention is whether or not you eat the "mustard" which is actually the "hepatopancreas," an organ that only crabs and lobsters possess. …
In fact, a survey of Chesapeake Bay crabs, including ones caught in the Baltimore Harbor, found them safe to eat by Food and Drug Administration standards. Jun 21, 1992, * credit Baltimore Sun.
I personally eat the mustard and it's my favorite part. I recommend making friends and sitting next to people who don't like it's so you get extra.
Great Ideas for Leftover Crabmeat.
With any leftovers you have, you can chill and then pick the next day to make delicious Crab Cakes, Crab Guacamole, or Chesapeake Crab Burgers.
Steaming your own crabs doesn't have to be intimidating. I hope this post has given you all the info to try steaming them yourself.
The Aftermath!
More Recipes You Will Love
---
How To Prepare Maryland Steamed Crabs
This is the complete guide on everything you need to know about cooking and eating Maryland Steamed Crabs from start to finish.
Ingredients
½

Bushel

Live Blue Crabs

3-4 Dozen Average Size Crabs

16

oz

J.O. #2 Crab Seasoning

6

Light Beers

For Steamer Pot

2

Sticks

Melted Butter

Condiment

1

Bottle

Apple Cider Vinegar

Condiment

1

Can

Old Bay

Condiment

1

Bucket

Cold Beverages

Optional…not Really, Must Have
Instructions
Keep crabs cold on ice until time to steam

Fill Crab pot with beer just below the bottom of the insert. About 6 Beers.

Stack the crabs using tongs in a circular layers, season each layer as you stack until pot is almost full. Leave room for ears of corn and still be able to firmly shut lid.

Steam Crabs for just about 25 Minutes until crabs take on bright orange red color.

Pour crabs on table or serve on a tray. Enjoy!!!
Notes
serving size is very hard to calculate. Serving based on 6oz portion
Nutrition
Serving:
6
oz
|
Calories:
250
kcal
|
Carbohydrates:
4
g
|
Protein:
25
g
|
Fat:
21
g
|
Saturated Fat:
16
g
|
Cholesterol:
245
mg
|
Sodium:
1741
mg
|
Potassium:
3167
mg
|
Sugar:
2
g
|
Vitamin A:
17613
IU
|
Vitamin C:
55
mg
|
Calcium:
24
mg
|
Iron:
35
mg
---
"We are a participant in the Amazon Services LLC Associates Program, an affiliate advertising program designed to provide a means for us to earn fees by linking to Amazon.com and affiliated sites."