Jump to Recipe
The Reverse Sear Method is by far my favor method for cooking the Perfect Ribeye Steak. A smoky ribeye steak with an amazing seared crust, what could be better
Cooking the steak at a low temperature using the reverse sear method will give you the best results when cooking a ribeye steak or any cut of beef.
After the steak has been on the pellet grill (or conventional oven) for about an hour, maybe longer for thicker cuts you can sear the steak in a cast iron skillet or on a charcoal grill.
If you don't have a pellet smoker you can still use this method by cooking the steak over indirect heat on the cooler side of a charcoal grill or big green egg then moving it directly over the coals to finish.
Why this Method Works
The reverse sear method allows the steak to come up to temp slowly without forcing the juices out of the steak by cooking it over high heat at the beginning.
You will also notice that the meat is the perfect internal temperature edge to edge without having gray bands of overcooked steak on the outside.
In my humble opining reverse searing a steak is the best way to cook a thick steak while making sure to get the perfect sear.
What is the Reverse Sear Method?
Reverse sear is a method of preparing meat of any kind by first cooking at a low heat then bringing the meat up to temp slowly.
Once the meat has reached a desired temperature it is then seared over high heat just long enough to create a crust.
This crust is also referred to as the Maillard reaction. This is when a chemical reaction takes place between the amino acids and reducing sugar to create a browning affect.
This is not only common with steaks and other meats but it is the same reaction that takes place when baking bread.
Bonus fun fact if you ever go on jeopardy the Maillard reaction was named after L.C. Maillard.
Different Cuts of Ribeye
When shopping for your steak you'll see terms like bone in, Tomahawk or Cowboy cut. These are just terms used to explain the different styles of ribeye.
There is no official terms and these are more for marketing and just sounding cool.
Bone In Ribeye: Comes from the prime rib with the bone attached but no handle.
Boneless Ribeye: The rib bone has been removed. easier for cooking in a pan but if the steak is thin cut will curl up sometimes when searing.
Cowboy Ribeye: Bone in Ribeye with a 2-4 inch handle. The Bone will normally be drenched meaning all of the meat has been removed and makes for a nice presentation.
Tomahawk Ribeye: Bone In steak with a 8-12 inch drenched bone attached. Extremely impressive cut normally share between 2-3 people.
How Should I Season The Ribeye Steak?
Im a purist when it comes to steak but I do like to add some flavors as well. When I season the steak I only use kosher salt.
Let the steak come up to room temperature then season the steak on all sides. This is kind a quick dry brine to help you get a great sear.
For thick cut steaks don't be shy and make sure to season well on all sides.
Black pepper tends to burn and fall off when searing. You can finish the steak with fresh cracked pepper after you have cooked the steak.
Adding Herbs and Butter when searing the steak
You will see a lot of restaurants searing the steak and then adding herbs like rosemary and thyme to the pan along with a few cloves of garlic and butter.
If you want to add them make sure you do it at the end so the herbs don't burn.
Also turn of the heat when you add the butter and herbs, there is enough residual heat to keep melt the butter but not enough to burn it.
If you dint want to add the ingredients to the pan and risk burning them you can just make my garlic herb compound butter and place it on the steak while its resting.
If you really want to go all out then my Chesapeake Crab Butter will make you thick you've gone to heaven.
How Long should I rest the Steak after searing?
After you have seared the steak either on the grill or on the stove top in a cast iron pan you want to place the steak on a wire rack tor east for about 5-10 minutes.
Make sure you have a cookie sheet (half pan) to catch any of the juices as the steak rests.
If you have any leftover butter in the pan you can pour the melted butter over the top side of the steak.
Frequently Asked Questions
What Oil Should I use for searing?
When searing the steak in a hot cast iron pan I prefer using a high smoke point oil like avocado or canola instead of olive oil. Then if you want you can add some melted butter and baste for the perfect steak.
What is the target Temperature for a ribeye steak?
I think a prefect medium rare ribeye should be served at a target temperature between 125-130 degrees F. after letting the steak rest for about 5 minutes.
Can I use a Sous vide to reverse sear a ribeye steak?
Definitely, You would just vacuum seal the steak and cook for a few hours or longer for thicker steaks at about 120 degrees F. Then pat the steak dry with a paper towel and sear in a pan at a high temperature until you
Can you use the reverse sear method on any cut of meat?
Yes this method works great for any cut of steak as well as pork, fish or poultry. Just make sure to cook the protein to the proper internal temperature. You can use this same method for new york strip steak, Filet Mignon or any steak cut you like,
Steak Temperature Chart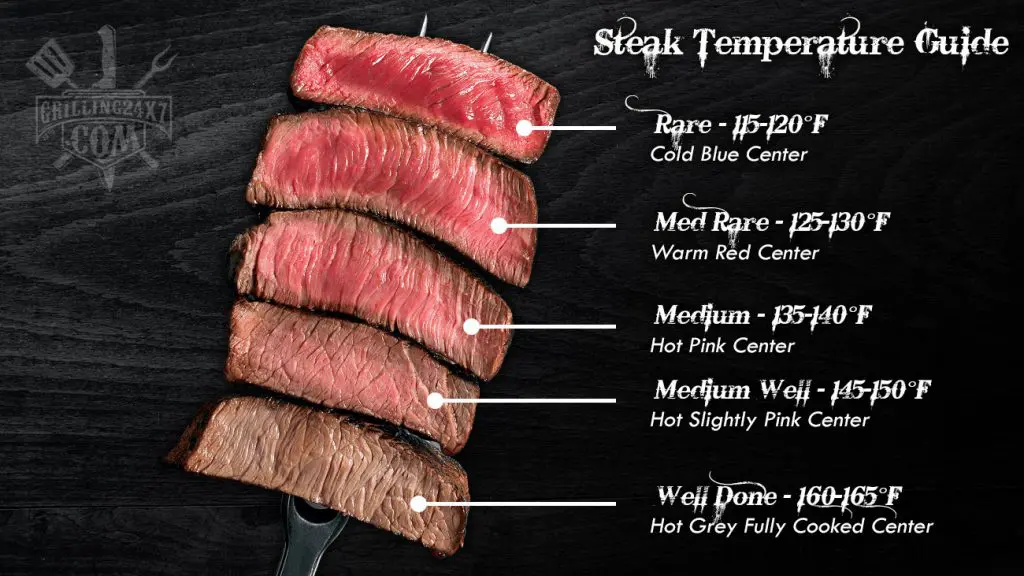 What To Serve With the Perfect Ribeye Steak
You really can't go wrong with potatoes of any kind that said here are a few of my favorite potato recipes to serve with steak.
More Recipes You Will Love
---
How to Reverse Sear the Perfect Ribeye Steak
The Reverse Sear Method is by far my favor method for Cooking the perfect Ribeye Steak using a pellet grill. The perfect ribeye awaits.
Equipment
Pellet Grill or Oven

Probe Thermometer

Cast Iron Skillet (optional)
Instructions
Season the steak on all sides liberally with kosher salt then let it sit out on the counter while your pellet grill comes up to a temperature of 200 degrees F. You can also do this in a convensional oven at the same temperature.

Once the grill has reached temp place a meat probe in the ribeye making sure the tip of the probe is in the thickest part of the steak.

Cook the steak until you reach an internal temperature about 10 degrees less than your target temperature. For example if you want a medium rare steak then you would cook the steak to about 120 degrees F.

Next you will sear the steak over high heat in a cast iron skillet. This can be done outside right on the grill or inside on the stove. Make sure to turn on the exhaust fans and crack a window if cooking indoors.

Place a tablespoon of avocado oil in the hot pan and then sear the steak for about 90 seconds to 2 minutes per side until until you have a nice deep brown crust on the steak. Take an internal temperature and then cut the heat as soon as you have reached desired doneness.

If you like you can add in the garlic, thyme, rosemary and butter to the pan, once the butter melts it will begin to foam. You can start basting the steak with the infused butter. Rest the steak on a wire rack for about 5 minutes before slicing.

If you are not going to baste the steak then you can remove the steak from the pan and let it rest for about 5 minutes. Place a slice of compound butter on the steak while resting to add flavor (optional)
Nutrition
Calories:
875
kcal
|
Carbohydrates:
2
g
|
Protein:
69
g
|
Fat:
63
g
|
Saturated Fat:
28
g
|
Polyunsaturated Fat:
5
g
|
Monounsaturated Fat:
37
g
|
Trans Fat:
1
g
|
Cholesterol:
253
mg
|
Sodium:
3816
mg
|
Potassium:
952
mg
|
Fiber:
1
g
|
Sugar:
1
g
|
Vitamin A:
676
IU
|
Vitamin C:
5
mg
|
Calcium:
50
mg
|
Iron:
6
mg