This Spicy Tomato Jam Recipe is easy to prepare and delicious on just about anything. The Calabrian Chilis simmered with fresh tomatoes create a condiment that everyone will love.
---
What Kind of Tomatoes to Use to Make Tomato Jam
The best part about a recipe like this is that you can use any type of tomatoes you have. I had a few cherry tomatoes along with some Romas and some globe tomatoes. I sliced them up removed the stems and added them all to the pot. At the end of the day it's going to be hard to tell the difference between the tomatoes once they've been cooked down for hours. Like anything you want to use a tomato that you enjoy and would eat raw. I find this to be a great recipe to make when your garden is in full swing and you have more tomatoes then you can handle. if you're tired of making Marinara this Tomato jam is a great alternative.
Do you need to Peel the Skin of the Tomatoes to make Tomato Jam?
I don't peel or steam the tomatoes before adding to the pot. I think that the skin adds texture and when you blend the jam the skin breaks down and you won't even notice its there. Plus there is Pectin in the skin that will help the jam solidify and set up better.
What Are Calabrian Chilis and What can you substitute if you don't have them?
Calabrian Chilis are a spicy fruity chili from... Yup, Calabria!! This region located at the boot of Italy is known for this bright red chili that's rated between 25,000 to 40, 000 on the Scoville Heat Unit Scale. For reference a Poblano Chile is around 1,000 to 2,000 and Cayenne Pepper Ranges around 30,000 to 50,000. Dont let that heat scare you away as you only need a small amount to flavor this tomato jam recipe. Calabrian Chili peppers are sold whole or as a paste and are combined with oil and salt normally.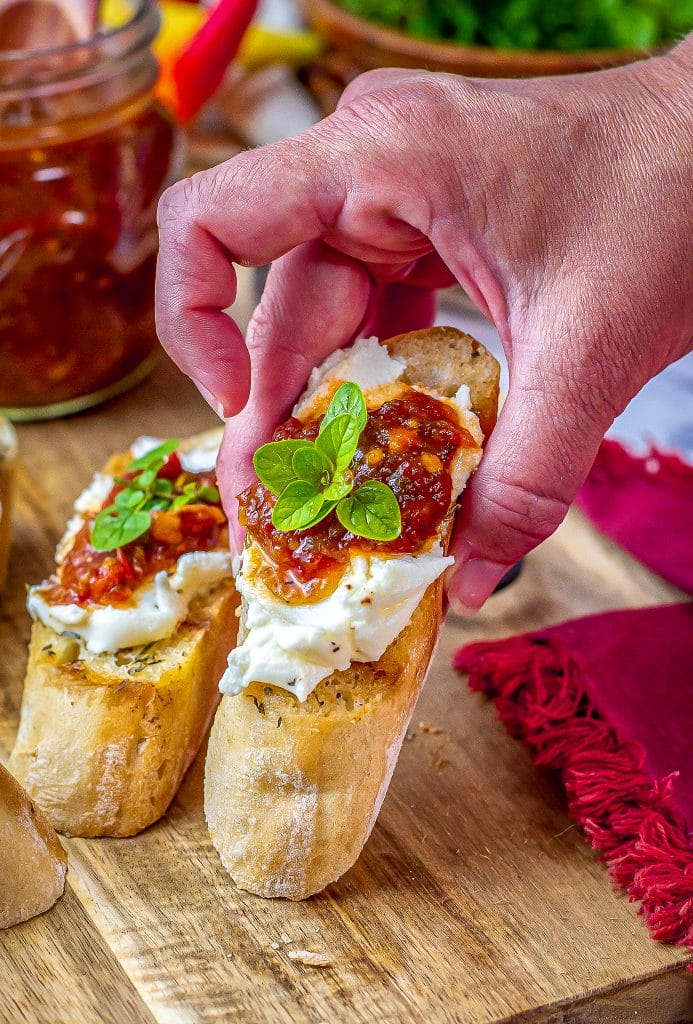 Where to Buy Calabrian Chilis
You can find Calabrian Chilis in some higher end grocery stores or Italian markets. Trader Joe's has a paste that is very affordable as well. I order mine from amazon and get them in chopped form. It's easy to use because you only need a few spoon fulls at most and I don't have to make a mess on my cutting board every time I want to use them in a recipe.
What Type of Vinegar can I substitute if I don't have Balsamic Vinegar?
Red Wine Vinegar is a great substitute for Balsamic Vinegar as well as Aged Sherry Vinegar. In a pinch I would say that you could use Apple Cider Vinegar but that would be my least recommended substitution. Balsamic Vinegar is available at pretty much any grocery store or online and for this recipe is definitely my favorite choice.
What Should you Serve with Tomato Jam?
I love to serve Tomato Jam on toasted Crostini's with whipped ricotta. The balance of flavors between the creamy ricotta and the spicy tangy tomato jam play perfectly off each other. This jam is also great on burgers and sandwiches of any kind especially as a substitute for sliced tomatoes on a BLT. The options for this tomato jam are endless and only limited by the extent of your imagination. Please let me know what you serve this jam with in the comment section below!!!
What You'll Need to make Calabrian Chile Tomato Jam
Calabrian Chiles
Fresh Tomatoes
Brown Sugar
Yellow Onion
Garlic Cloves
Capers
Italian Seasoning
Balsamic Vinegar
Lemon Juice
Salt
Pepper
Fresh Basil
More Dips and Appetizers Ideas
---
Remove any steam and core from the tomatoes, rough chop the tomatoes, onions and garlic and add to a dutch oven or large pot.

Add remaining ingredients except the Fresh Basil and cook over low heat stirring occationally for about 2-3 hours until the jam has reduced and thickened.

Use a stick blender and pulse the jam to blend and chop any small pieces until youre happy with the consistancy. You can puree the jam smooth or leave it chunky and rustic. its up to you.

Pour into a food safe container and chill. Serve cold or at room temperature
Serving Size About 1/4 Cup
Calories:
147
kcal
|
Carbohydrates:
35
g
|
Protein:
2
g
|
Fat:
1
g
|
Saturated Fat:
1
g
|
Sodium:
367
mg
|
Potassium:
536
mg
|
Fiber:
3
g
|
Sugar:
29
g
|
Vitamin A:
1480
IU
|
Vitamin C:
30
mg
|
Calcium:
64
mg
|
Iron:
1
mg
---
Nutrition Facts
Spicy Calabrian Chili Tomato Jam
Amount Per Serving
Calories 147
Calories from Fat 9
% Daily Value*
Fat 1g2%
Sodium 367mg16%
Potassium 536mg15%
Carbohydrates 35g12%
Protein 2g4%
Vitamin A 1480IU30%
Vitamin C 30mg36%
Calcium 64mg6%
Iron 1mg6%
* Percent Daily Values are based on a 2000 calorie diet.
Subscribe to our newsletter!