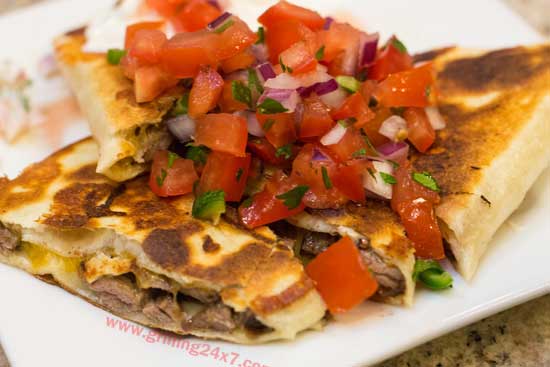 Simple and flavorful is what this steak quesadilla recipe is all about. Simple because we only have a handful of easy to obtain ingredients and flavorful because we have spicy grilled ribeye steak topped with fresh tomatoes, cilantro and red onion. Woah! This is the best steak quesadilla recipe I've seen.
There are three parts to this steak quesadilla recipe. First you'll make the fresh pico de gallo, which can be stored in the fridge all day. Second, grill the steak. Third, slice the steak, butter some tortillas and pan fry the quesadilla to melt the cheeses.
Fresh Pico de Gallo Recipe
Start with the pico. Might as well learn something while we are at it. I had no idea that pico de gallo translated to "beak of the rooster" or "rooster's beak." It's unclear exactly how this dip got its name but it is speculated that perhaps the way you have to peck into the dip with a chip over and over to get a good scoop might have been involved, or possibly the sharp flavors and color. Who knows? Still, a fun tip.
For average sized bowl (about the size of what I have pictured above), use about 6 Roma tomatoes, a half of a red onion, about ½ cup of fresh chopped cilantro, a ½ teaspoon of sea salt or kosher salt, a seeded serrano pepper and the juice of a lime. If you want it really hot, keep the seeds of the serrano pepper in. If you want it a bit mild, scrape out the seeds of the pepper. Speaking of seeds, you'll want to use a tablespoon measure as a scoop to get the seeds out of the Roma tomatoes. This lets the pico de gallo have a less liquid and more sturdy consistency. Just scoop out the tomato seeds and dice everything up.
So fresh!
Scooping and then dicing will save some time! Dice everything up and mix it together into a bowl. Top with some cling wrap and put it in the fridge.
Spicy Southwest Steak Dry Rub
I've used this dry rub for a while now as it is so simple and packs quite a bit of punch, especially if you are heavy handed with the red pepper flakes.
The original post where i wrote about this easy southwest style steak dry rub is here. Measure all the ingredients and mix together.
We found a nice sale on two gorgeous ribeye steaks. I think ribeye is the best for this as the extra fat is simply amazing when added with the melted cheese, buttery tortilla and fresh pico. Don't skip, go for the ribeye. Rub it well and grill it.
Sadly it got dark on me, so the only grill photo I could get was with my iPhone. Regardless, the Fogo Charcoal was rocking.
Once the steaks are grilled to your liking, head in and let them rest. Slice them thin.
Making the Quesadillas
The hardest part about this step is controlling yourself to not eat all the sliced steak before you've even assembled a quesadilla.
Grab some tortillas and butter one side. I used two different types of cheeses: white cheddar and mild cheddar. I cut the steaks into even smaller slices to make the quesadilla a bit easier to eat. Add the shredded cheese and sliced steak, lots of it.
Head to the skillet and carefully lay the buttered quesadilla down and cook until the cheese has melted. Flip when one side is nicely colored.
Cut that beauty into sections, top with fresh pico de gallo and some sour cream and you are set.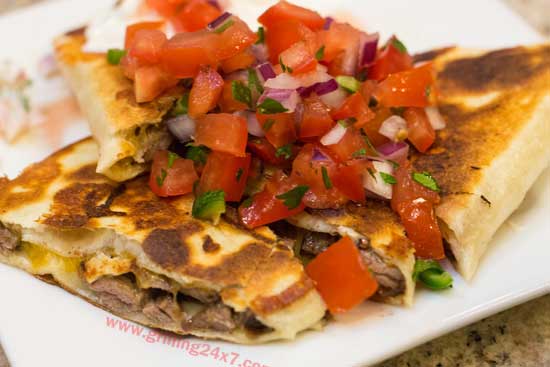 Try this recipe out and let me know what you think!