Jump to Recipe
The weather is getting warmer. The days are getting longer and the smell of barbecue grills lighting is in the air. It's officially bbq season. It's time to have your "go to" side dishes ready so when you get invited to a cookout you'll be sure to get you invited back. This Broccoli Salad is your ticket to endless invites to every cookout this summer!!

Big Bob Gibson's Alabama BBQ Royalty!!!
This white bbq broccoli salad is a tribute to the famous Alabama white sauce made famous by Big Bob Gibson's in Decatur Alabama. Last fall I had the opportunity to taste their famous white sauce and bring home a few bottles for myself. Normally the tangy mayonnaise based sauce is used to dunk whole smoked chickens in. I've found it makes quite a tasty salad dressing and it's perfect for this broccoli salad. Unfortunately I use up all my sauce and was forced to make my own version. I've made a few changes but I think it's a very good representation of the iconic sauce. (Click here to order a bottle)

Best $15 I've ever Spent!!!
First let's get our ingredients ready to go. I recently picked up a little egg cooker gadget based on the recommendation of a friend. Within minutes I knew my life would never be the same. If you're like me you struggle with making the perfect hard boiled eggs. I've tried egg timers, instant pots and everything else the internet has ever suggested. Turns out this $15 egg cooker makes the perfect easy to peel eggs every time.
All you do is place the eggs in the holders, prick a hole in the top of each egg so they don't explode and fill it up with water. The egg cooker comes with a measuring cup that has the point to puncture the eggs so you've got everything you need. Then just hit the button and let them cook.
Once the light goes off you remove the eggs and run under cold water. The eggs will peel with ease and are perfect for deviled eggs and egg salad. I also have my trusty egg slicer to chop the eggs making a once tedious process quite simple. Check out this fantastic Taylor Roll Deviled Egg Recipe to really have fun with the egg cooker

While the eggs are cooking I get a pot of salted water heating up on the stove. Even though we are only cooking the broccoli for about 2 minutes and running them in cold water afterwards I feel that the salt water permanents the broccoli giving it a much better flavor.

Don't Waist Those Broccoli Stems!! Grate Them!!!
The broccoli I got was more stem then florets but that's actually perfect for this recipe. I always cut off the tips of the stems and grate them with a box grater. The stem has a sweeter flavor and is packed with fiber and vitamins so it would be a shame to waste that. If you're in a rush you can definitely buy the pre-cut florets but the whole heads of broccoli definitely make a better dish in my opinion. You're not looking to cook the broccoli fully. You just want to get that raw flavor out and bring out that bright green color. Because the florets are small and the stems are grated you'll only cook the broccoli a max of 2 minutes before quickly shocking the broccoli in cold water to stop the cooking process and preserve the color of the broccoli.

Broccoli Salad, you make my mouth happy!!!
Now that you have the broccoli and the hard boiled eggs ready to go it's time to make the dressing. Simply add all of the ingredients to a mixing bowl and whisk until smooth. Then I add the cheddar cheese and cooked chopped bacon along with the eggs and broccoli, toss everything together and chill the salad for a few hours before serving. You're friends and family will love this super simple recipe and won't even notice that it's actually low carb and Keto friendly. It's just a tasty side dish that you'll be proud to serve at any backyard bbq.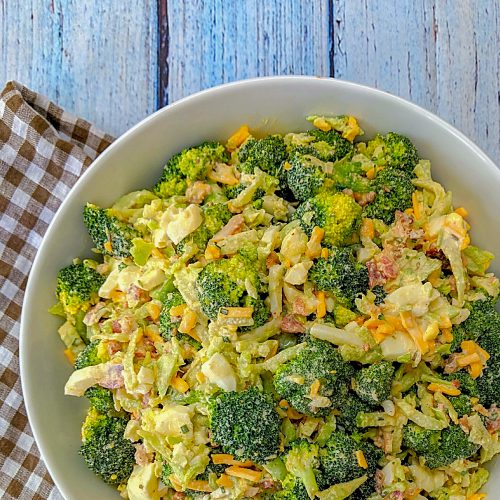 Boil eggs in Egg Cooker then run under cold water, peel and chop eggs. Set aside

Cut Broccoli into bite size florets, Grate the stems and add to a pot of salted boiling water for 90 seconds. Immediately drain broccoli and shock in cold water to stop the cooking process. Set aside

Combine all ingredients in a large mixing bowl so that the broccoli is fully coated. Chill for at least 1 hour before serving.
Calories:
217
kcal
|
Carbohydrates:
7
g
|
Protein:
7
g
|
Fat:
18
g
|
Saturated Fat:
4
g
|
Cholesterol:
112
mg
|
Sodium:
951
mg
|
Potassium:
348
mg
|
Fiber:
2
g
|
Sugar:
2
g
|
Vitamin A:
1125
IU
|
Vitamin C:
81.1
mg
|
Calcium:
106
mg
|
Iron:
1.5
mg
"We are a participant in the Amazon Services LLC Associates Program. Affiliate advertising program designed to provide a means for us to earn fees by linking to Amazon.com and affiliated sites."