This Pork Tenderloin Burrito Bowl recipe is full of flavor and topped with all of your favorites; great for lunch and for meal prepping!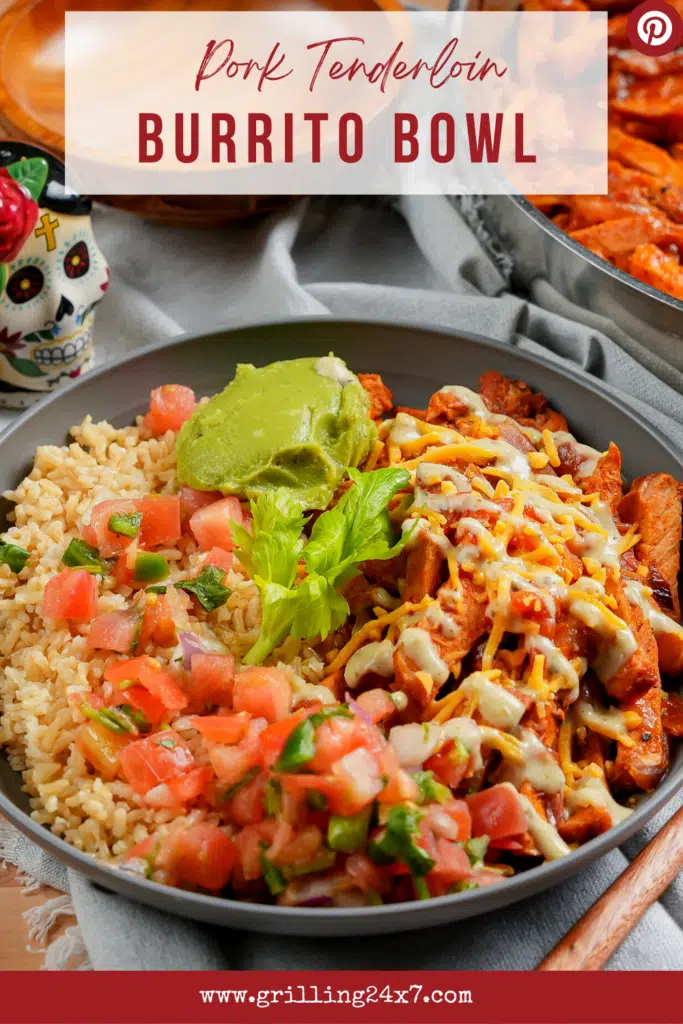 Made with juicy pork, rice, creamy avocado, melty cheese, and so much more, you will forget all about Chipotle and stick to making burrito bowls at home!
Whether you are making it for lunch, dinner, or prepping containers for meals throughout the week, this is a great way to refresh any leftover pork tenderloin you have sitting in the fridge.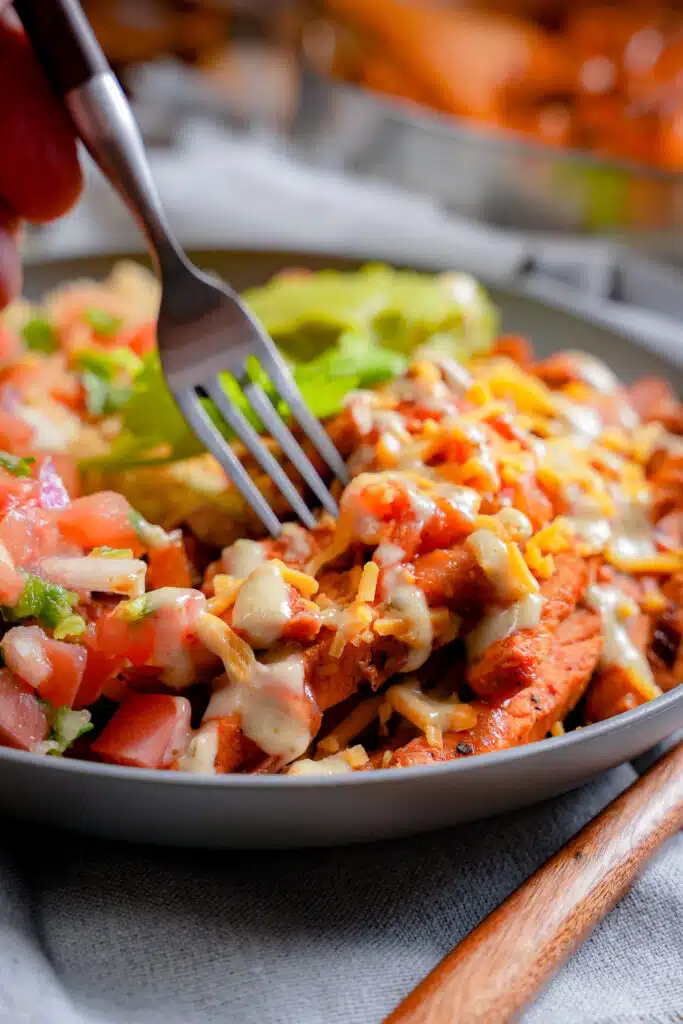 Looking for more incredible pork recipes to try? Bookmark, pin, save or print out recipes like Pellet Grill Pork Chops with Korean Style Marinade, Grilled Pork Chops with Caramelized Apples, Easy Overnight Smoked Pork Shoulder, and Smoked Pork Loin cut into Pork Chops!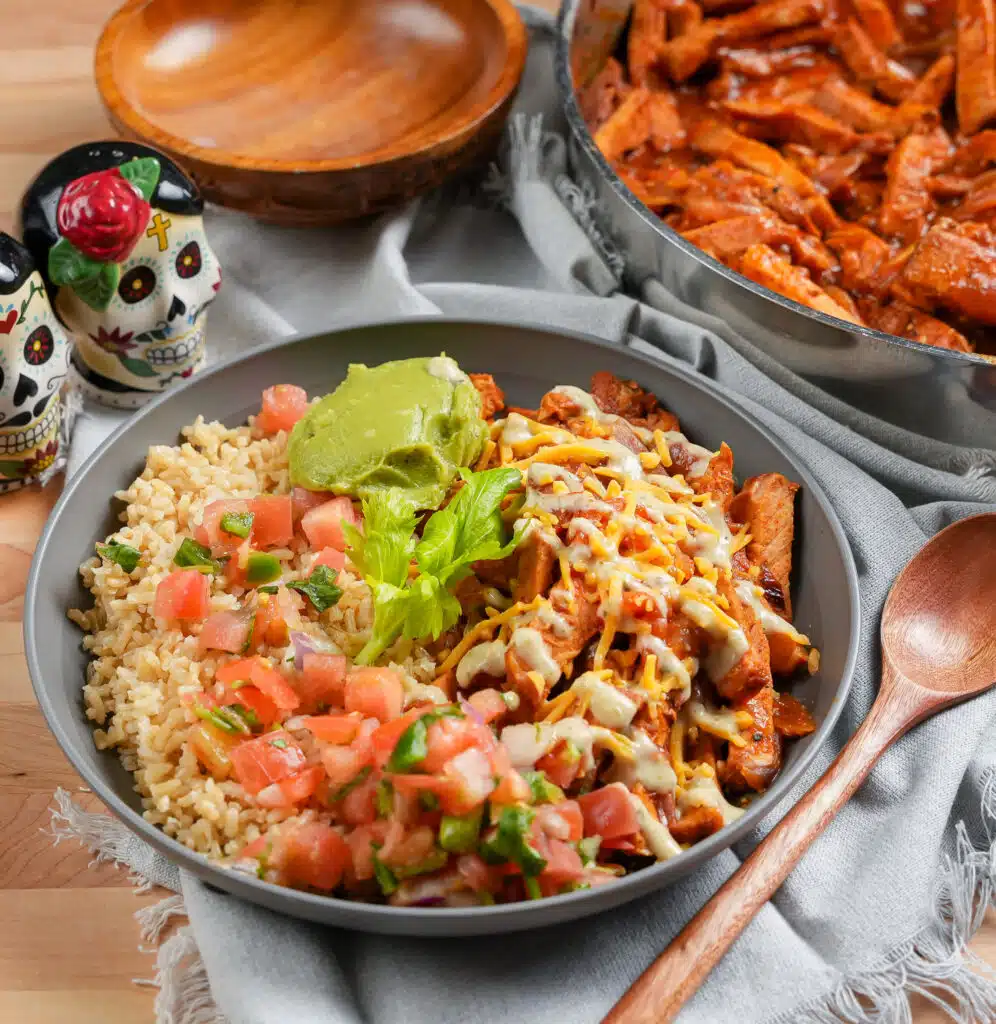 Pork Burrito Bowl Recipe
Everyone loves a burrito bowl! Whether you are grabbing one from Chipotle or making one at home, you really can't go wrong.
… or can you?
Once you make these leftover pork tenderloin burrito bowls, I promise you; you will never go back to Chipotle again.
These bowls are loaded with flavor, topped with all your favorite ingredients, and can be made with the leftover meat you have in the fridge or made fresh!
Now, how do I know you are going to love this recipe? It's simple!
These bowls have all the same great flavors of a classic burrito, without all of the unnecessary rolling, AND we are cutting carbs. They are loaded with healthy ingredients and my personal favorite – they are great and easy to prep ahead of time for grab-and-go meals. To cut the carbs, even more, substitute riced cauliflower.
Burrito Bowl Ingredients
Pork: For this recipe, I used 1 lb of cooked pork tenderloin. This will make you approximately four bowls. I say approximately because it really depends on how high you pile on the meat in each bowl.
Flavor: Bring on the flavor when you refresh your leftover pork with 2 tbsp of taco seasoning, 1 tbsp of avocado oil, ¼ cup of BBQ sauce, 1 cup of chicken stock, and ½ cup of onion.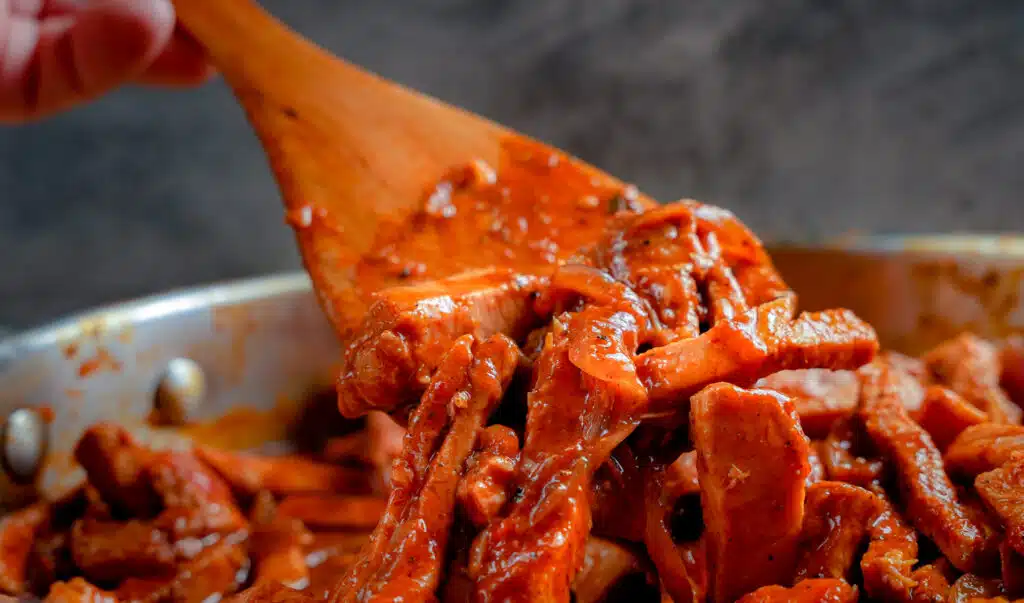 Rice: Use 2 cups of cooked rice. You can use plain rice / white rice, brown rice … or really any rice you like or have handy!
Cheese: I like to keep things simple so I used 1 cup of shredded cheddar cheese. However, get creative; you can use mozzarella, Monterey jack, pepper jack, Cojita cheese, or whatever you'd like!
Toppings: Top off your burrito bowl with the good stuff like 1 avocado (mashed) and ½ cup of cilantro crema.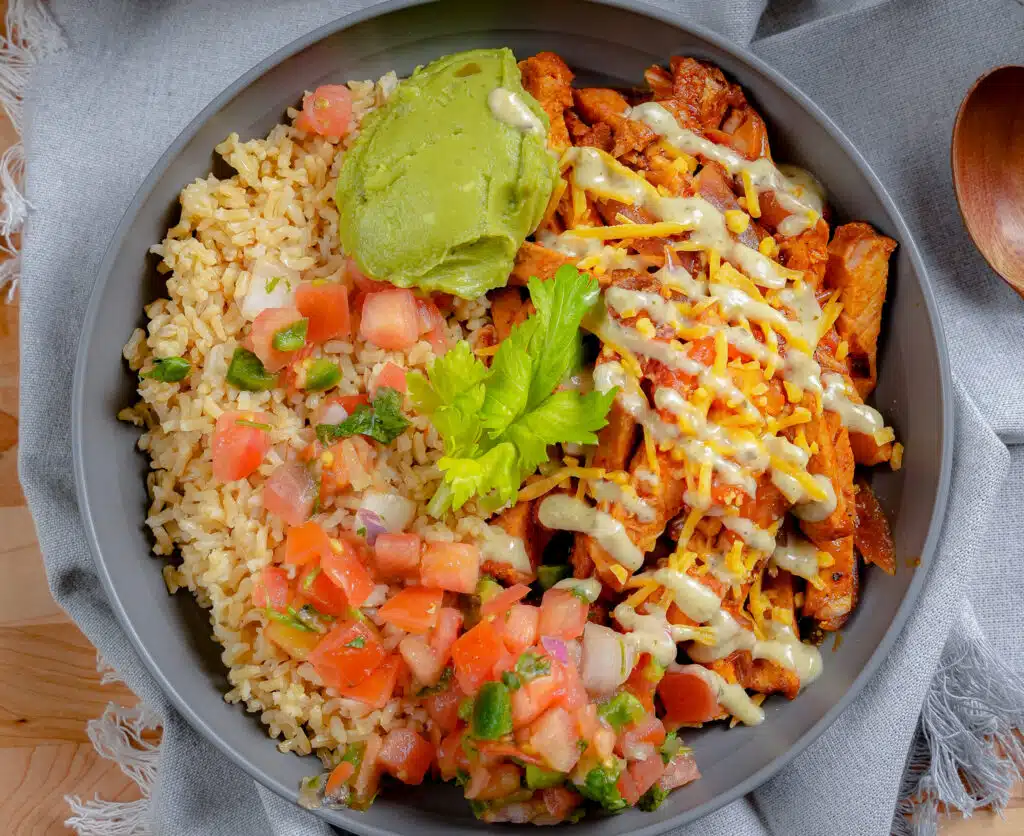 Ingredients for Homemade Pico de Gallo
This easy homemade pico de gallo to top off your bowls comes together in a matter of minutes. All you need is 2 cups of diced tomatoes, 1 diced jalapeno, ¼ cup of fresh cilantro, 2 tbsp of lime juice, ½ cup of diced red onion, 2 tsp of honey (optional), and salt to taste.
I promise you; this is the best 10 minutes you'll spend in the kitchen because you will never buy store-bought pico de gallo ever again after you take one bite of this!
Ingredients for Cilantro Lime Crema
Cilantro lime crema is easy to make, full of bright, fresh flavors, and it will act as a kind of "dressing" for your leftover pork tenderloin burrito bowls. In a blender or a food processor, combine a cup of sour cream with two tablespoons of mayonnaise, with the juice of one lime, cilantro, and salt to taste. Blend until smooth and adjust it to your taste.
If you would like your cilantro lime crema to have a little kick, add a little bit of sliced jalapeno, or serrano peppers to it. Put the crema in a squeeze bottle in the refrigerator to allow the flavors to meld together and intensify.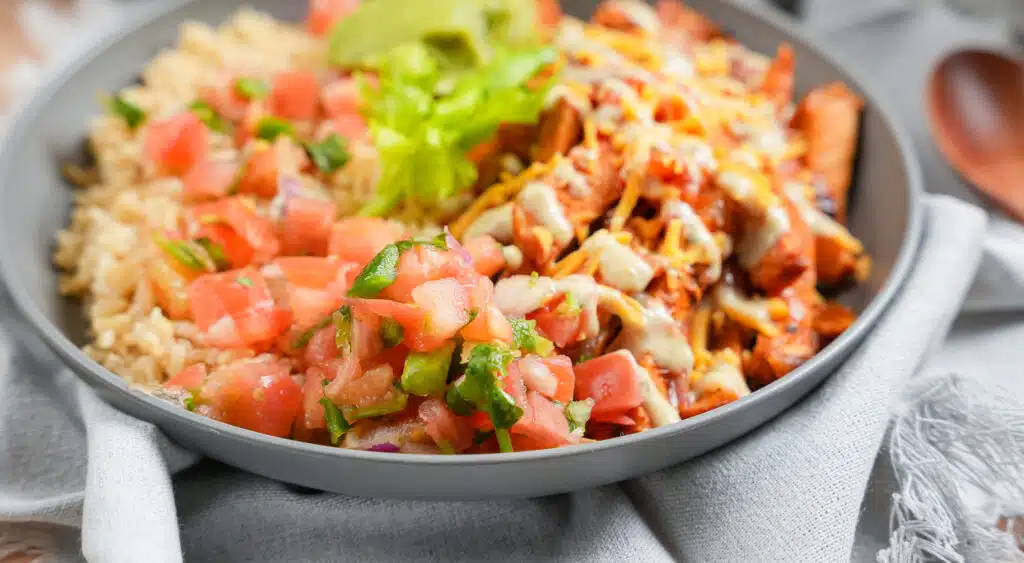 How to Make Leftover Pork Tenderloin Burrito Bowls
Chop meat and reheat. Chop leftover cooked pork tenderloin into strips and add to a pan with sliced onions, taco seasoning, bbq sauce, and chicken stock. Simmer for about 15-20 minutes until the sauce thickens.
Make the pico de gallo. Prepare the pico de gallo by combining diced tomatoes, jalapenos, cilantro, red onions, lime juice, honey, and salt to taste.
Make your own burrito bowl. Assemble the burrito bowl with the leftover pork tenderloin, rice cheese, avocado, and pico de Gallo. Drizzle with cilantro crema or sour cream, and enjoy!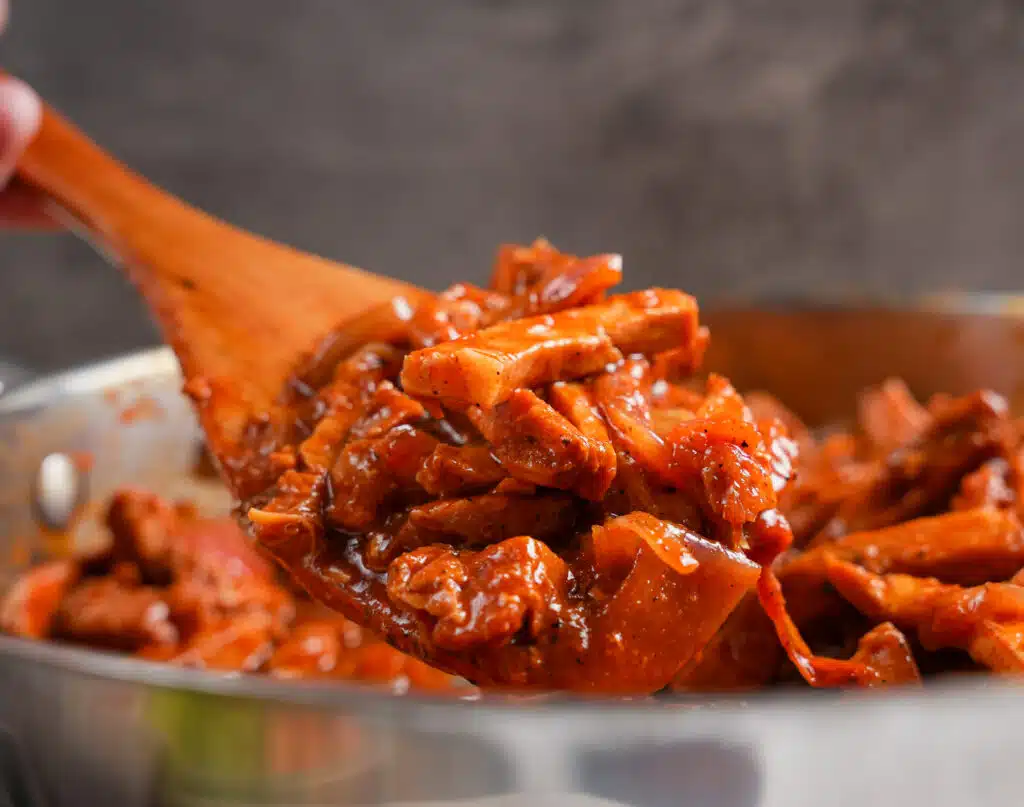 Recipe Tips, Tricks, and Variations
Meat: I know this recipe calls for leftover pork tenderloin, but if you don't have any or want to make it fresh – go for it! However, I will say, leftover meat that has marinated and sat typically turns out best.
You could make these burrito bowls with leftover grilled or smoked chicken, steak, shredded pork, or even leftover taco meat.
Leftover Pork Juices: If you know you are going to make this recipe after you make a pork tenderloin, save the pork juices to help add flavor to the burrito bowls when you are refreshing the pork.
Prepping: You can prep all the other ingredients of this recipe ahead of time if you are looking to save time. Cook the rice and store it in a container in the fridge, shred cheese, chop or dice tomatoes; do it all to save time so you can assemble these bowls in seconds.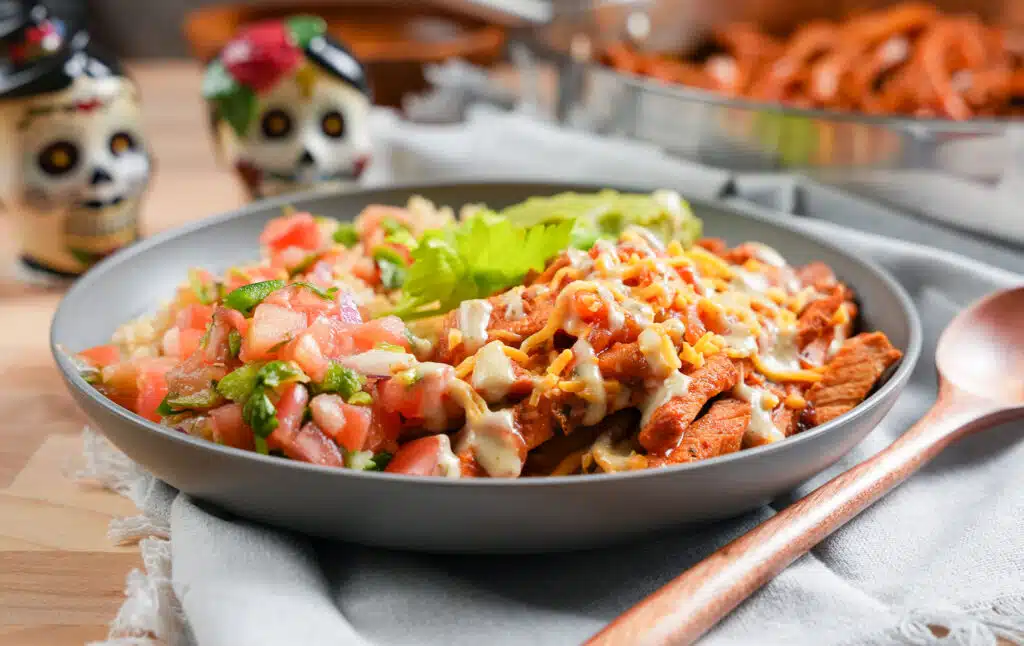 Lettuce: Make it the salad or just add lettuce to these bowls by chopping romaine lettuce and tossing it in. This is also a great way to add to this recipe to stretch it out and get more from your leftovers.
Toppings: Looking to top off your bowls with more?! Add fresh cilantro, sour cream, jalapenos, corn, black beans, pinto beans, pickled onions, and more!
Enjoy hot or cold. In a pinch or not near a microwave? You can enjoy these leftover burrito bowls hot or cold!
What to Serve with a Pork Burrito Bowl
Serve your bowls with a side of tortilla chips, nachos, or warm tortillas to wrap parts of your bowl into mini burritos. If you are trying to keep it low carb, but still want a burrito, check out some low carb tortillas.
Burrito Bowls and Beverages
Enjoy your burrito bowls with a classic cold can of coke, a cold beer, or Cerveza like Sol, Modelo, or Dos Equis. Looking for a wine to pair with your pork bowl? Consider a Malbec, a chilled Chardonnay, or a chilled Riesling.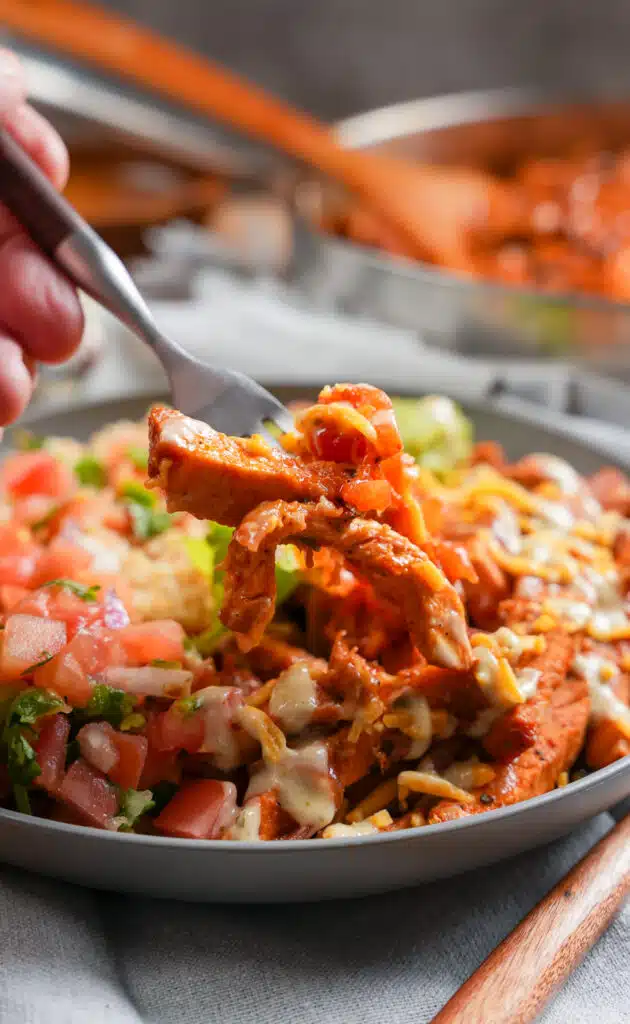 Is there Dressing for Burrito Bowls?
No! This burrito bowl is … naked? … Because we topped the bowls with pico de gallo, creamy avocado, and cilantro crema this recipe has no need for dressing!
If you are looking to add to this, I would recommend adding a dollop of sour cream to the top. You could also add a squeeze of fresh lime juice to the top of your burrito bowl to brighten up the flavor.
Do I have to use rice in my burrito bowl?
If you want to save on carbs or calories, you can skip on the rice and use cauliflower, cauliflower rice, quinoa, barley, riced broccoli, shredded cabbage, couscous, or shredded lettuce.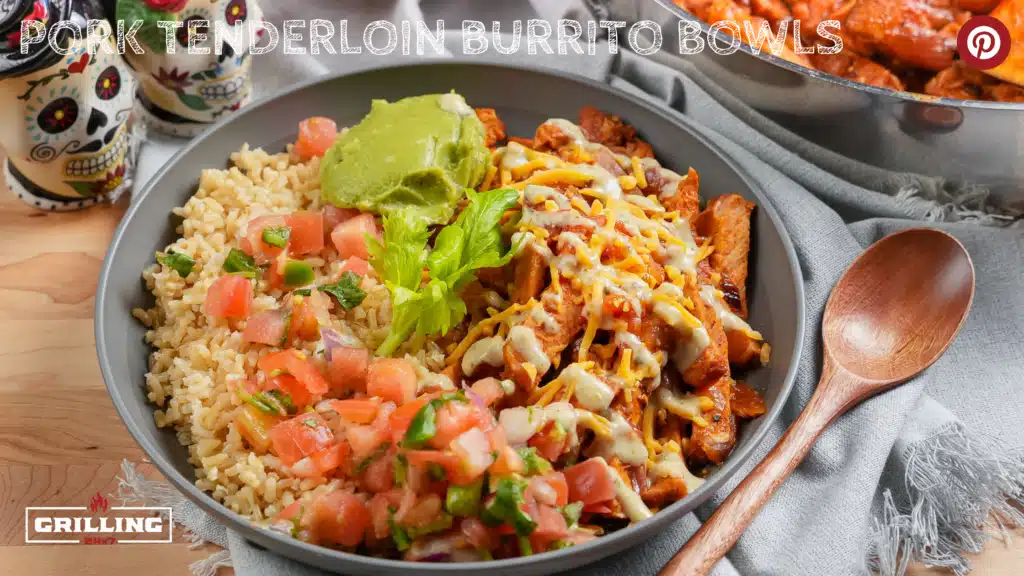 How long can I store these burrito bowls?
You can store these burrito bowls in the refrigerator for up to five days. So if you make a batch of them on Sunday, you can have lunches or dinners ready for the whole week!
If you are worried about your rice, riced cauliflower, or lettuce becoming soggy through the week, just keep the ingredients in airtight containers in the fridge and make them fresh in the mornings before you head out for work.
Other Recipes You'll Love
---
Leftover Pork Tenderloin Burrito Bowls
Turn that leftover pork tenderloin into an amazing burrito bowl that is budget friendly and delicious.
Ingredients
Pico de Gallo
2

cups

Tomatoes

Diced

1

Jalapeno

diced

¼

cup

Cilantro

Chopped

2

tbsp

Lime Juice

½

cup

Red Onion

Diced

2

tsp

Honey

optional

salt

to taste
Instructions
Chop leftover cooked pork tenderloin into strips and add to a pan with sliced onions, taco seasoning, bbq sauce, and chicken stock. Simmer for about 15-20 minutes until the sauce thickens.

Prepare the pico de gallo by combining diced tomatoes, jalapenos, cilantro, red onions, lime juice, honey, and salt to taste.

Assemble the burrito bowl with the leftover pork tenderloin, rice cheese, avocado, and pico de Gallo. Drizzle with cilantro crema or sour cream, and enjoy
Nutrition
Calories:
851
kcal
|
Carbohydrates:
101
g
|
Protein:
41
g
|
Fat:
31
g
|
Saturated Fat:
9
g
|
Polyunsaturated Fat:
3
g
|
Monounsaturated Fat:
12
g
|
Trans Fat:
0.04
g
|
Cholesterol:
119
mg
|
Sodium:
751
mg
|
Potassium:
1181
mg
|
Fiber:
7
g
|
Sugar:
15
g
|
Vitamin A:
1381
IU
|
Vitamin C:
26
mg
|
Calcium:
312
mg
|
Iron:
3
mg