If you want delicious Smoked Pork Shoulder but don't want to stay up all night tending to a fire this is the pulled pork recipe for you!
Using a pellet grill to smoke pork shoulder is as easy as it gets with tender juicy smoky goodness everytime time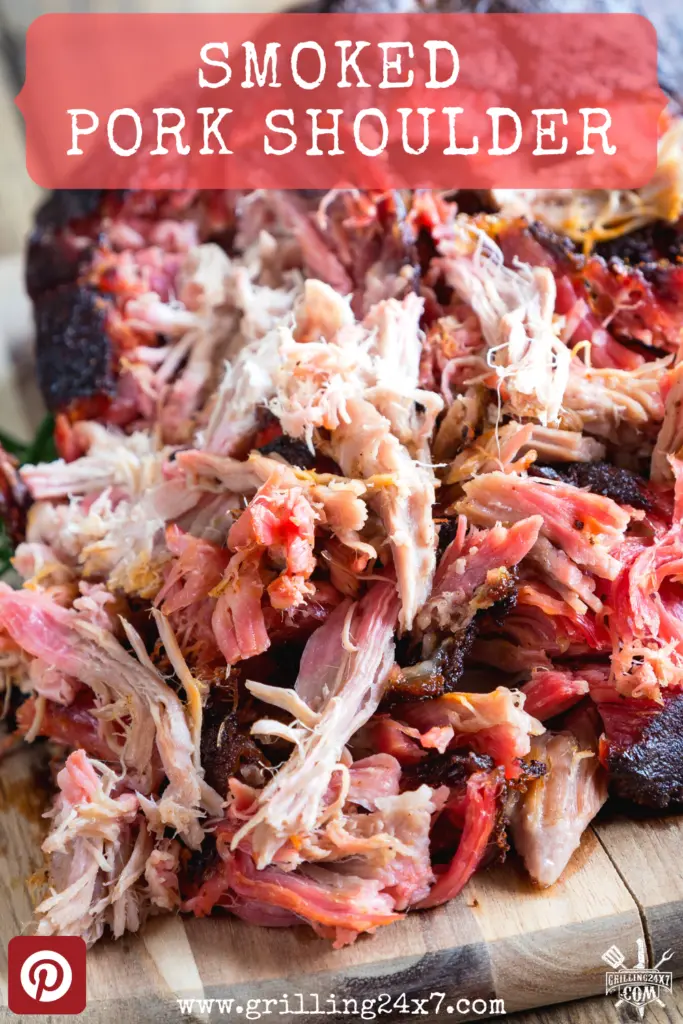 If you do have any leftover smoked pork shoulder be sure to make my Cuban Casserole using the extra pulled pork.
Low and Slow Smoked Pork Shoulder
When Im cooking a pork shoulder Im in zero rush. Id actually like it to take longer so I can get maximum smoke flavor.
Smoking a pork shoulder low and slow overnight takes all the stress out of smoking pork and lets you get a good nights sleep if you have a wifi probe on your pellet smoker like I do.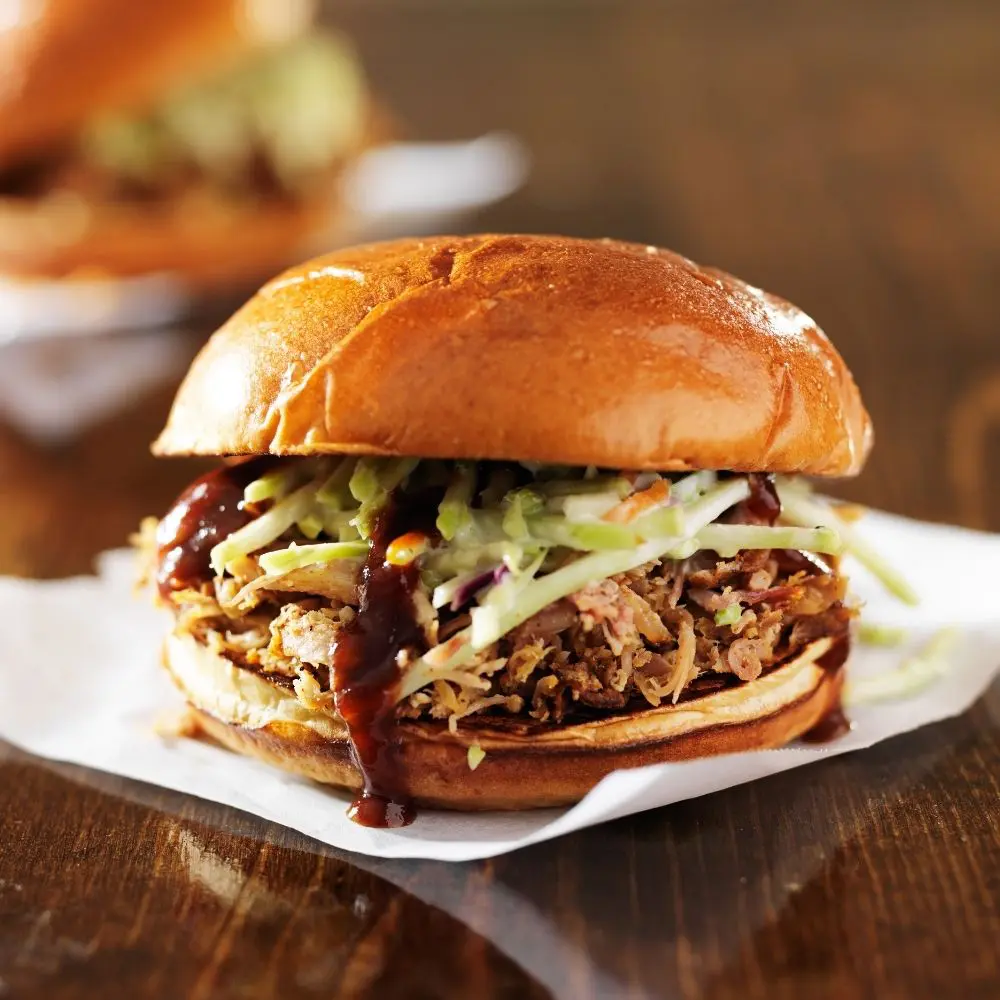 Smoked Pork Shoulder Timeline
Season the pork shoulder aggressively on all sides a few hours before you want to smoke the pork. Keep the pork in the fridge until its time to cook.
Light the smoker to 200 degrees F. and place the pork on the pit on the opposite side of the heat source. Start cooking just before bed. Place a probe in so you can keep an eye on it but there's no need for mopping or basting it will be fine.
After the pork has smoked at 200 degrees for 6-8 hours it will most likely have an internal temp of about 155-175 degrees F. Now its time to wrap the pork. I use multiple layer of heavy duty aluminum foil. Place the probe back in and raise the smoker temp to 225 degrees F.
Once the pork shoulder has reached and internal temp of 200 degrees F open up the foil and use the probe to test for tenderness. If the probe slides in like butter it's done. If it's tight, keep smoking until it's tender.
once the pork shoulder s tender open up the foil to let it breath for 5-1- minutes. after that wrap it back up and store in a dry cooler and cover with a towel for at least an hour (up to 5 hours)
After the pork has rested you can remove it form the cooler and begin shredding the pork.
Cook time
The total cook time will vary but I would say it will be about 14-16 hours total including rest time.
If you had planned on serving the pork for dinner the next night you should be all set.
If you need it ready for lunch time you can smoke at 225 overnight and it should be closer to done by morning and ready to wrap and rest within a few hours of lunchtime.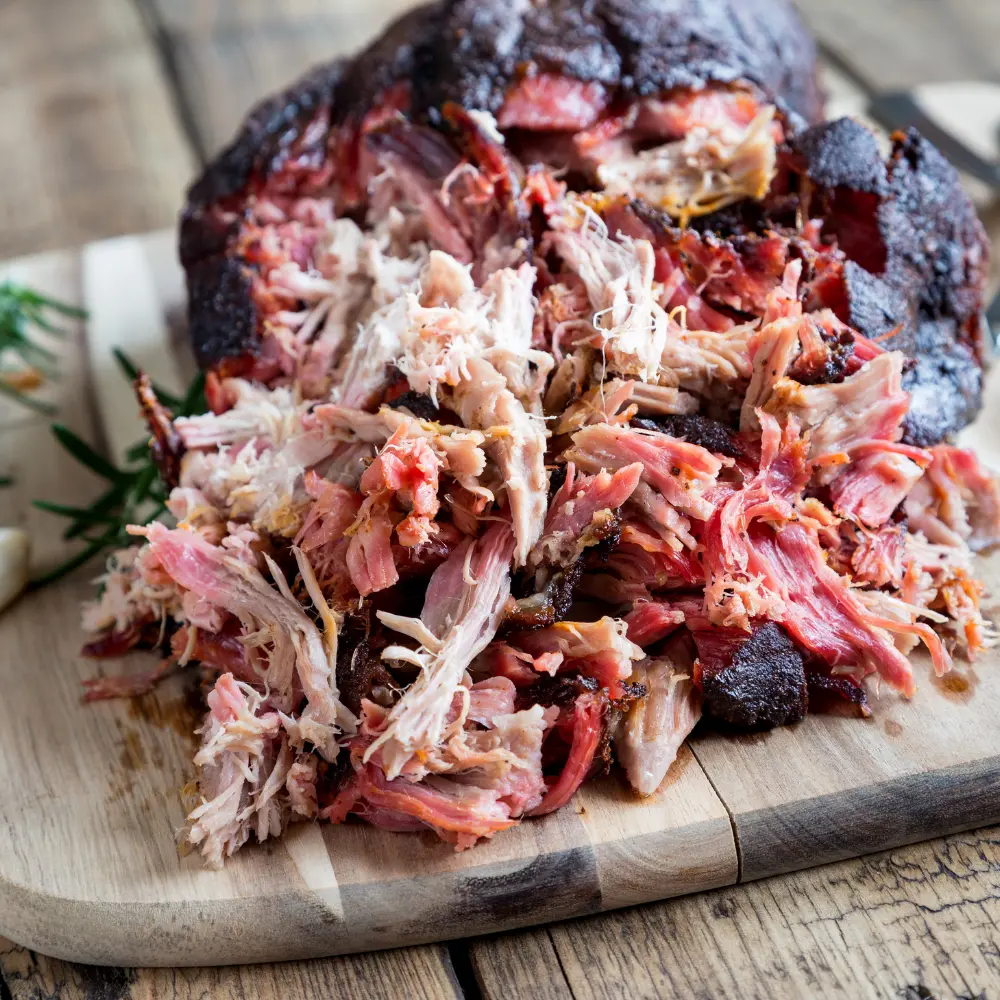 What to serve with Smoked Pork Shoulder
The first thing that comes to mind when making smoked pork shoulder is a creamy Southern Coleslaw.
Other BBQ Sides I recommend are my Cat Iron BBQ Beans, Smoked Mac & Cheese and Squash Casserole.
You serve any of these sides with some crispy potato chips and soft buns and you have everything for a proper pulled pork feast.
Should you buy Bone in or Boneless Pork Shoulders?
Ive used both and at the end of the day I've noticed very little difference in flavor or moisture. Boneless pork shoulder does seem to finish cooking a little faster.
Im sure bbq purists will tell you that bone in is the only way to go but I doubt they would ever know the difference in a blind taste test so don't let them try to tell you boneless pork buts are a lesser cut of meat.
If you do have a bone in shoulder you can use the bone to determine when its fully tender by pulling a clean blade bone out of the shoulder easily.
That said I prefer using a digital thermometer to give me a true indication of how tender the meat is.
Pro Tips and Variations
Brine/Inject: Most commercial pork shoulders contain a salt water solution that they use for flavor, add weight and extend shelf life. I don't inject these pork shoulders because they are already brined. Fresh pork shoulders do require injection to help them stay moist and add flavor.
Shelf Life: Smoked pork will last 5-7 days if stored in a sealed container in the fridge. You can freeze pork for 4-6 months in a sealed plastic bag or container.
Reheating: to reheat pulled pork I add a few tablespoons of water or bbq sauce and simmer in a pan over low heat until warm. You can also microwave in 45 second intervals until hot.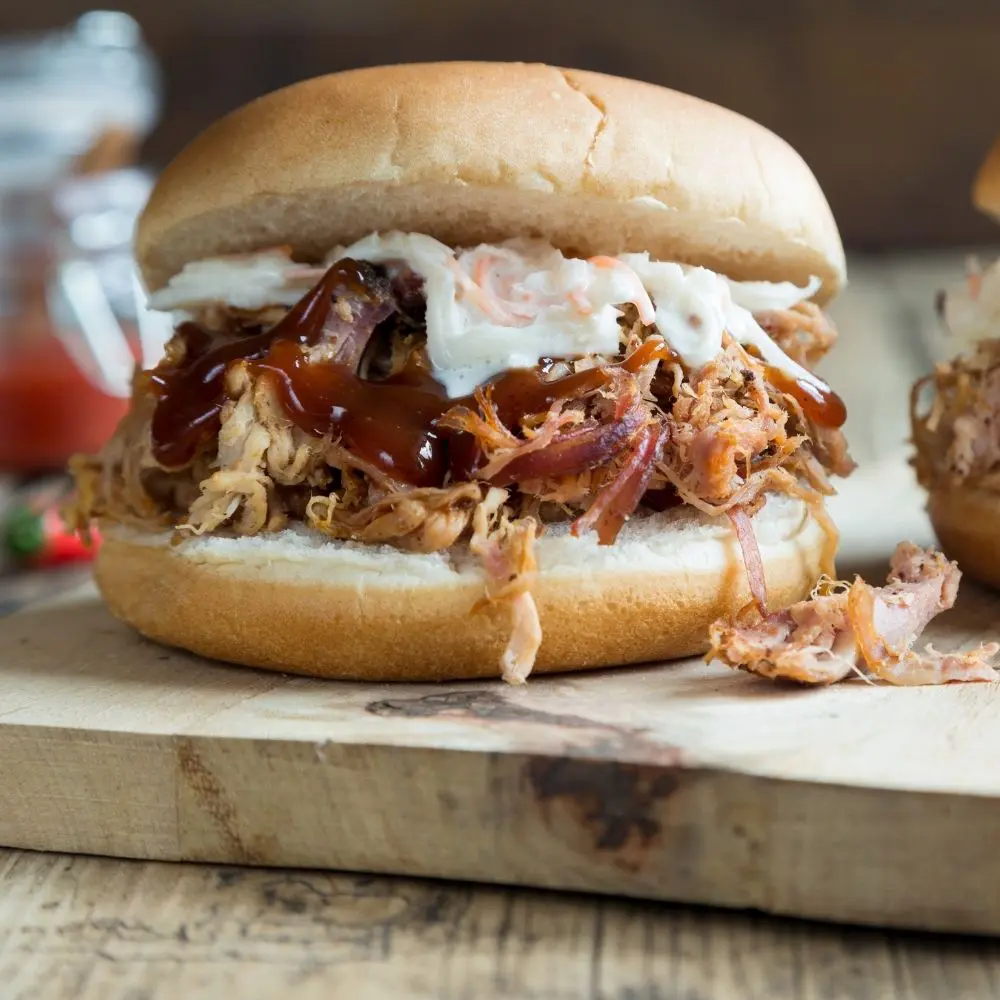 Frequently Asked Questions
What is pork shoulder used for?
pork shoulder is fantastic for everything from sandwiches and tacos to casseroles and dips.
Is Pork Shoulder Expensive?
Pork Shoulder is one of the more affordable cuts of pork and is a great value per portion.
Is pork shoulder a good cut of meat?
Yes, Pork shoulder is a very versatile cut thats fairly inexpensive. You can smoke a pork shoulder and use the meat for multiple recipes.
Can I make Pulled Pork In the Oven?
Sure, even though you won't get that wood fired flavor you can make pulled pork in the oven. I recommend Roasting the pork shoulder at 300 degrees F. for about 3-4 hours until the pork has reached an internal temp of about 205 degrees f.
how do you get the rub to stick to the pork shoulder?
Brush a light coat of yellow mustard over the entire pork shoulder before seasoning and the rub will stick much better. In find that you won't east the mustard but if you're not a fan use a few tablespoons of a neutral flavored oil instead.
More Recipes You Will Love
---
Smoked Pork Shoulder
If you want delicious Smoked Pork Shoulder but don't want to stay up all night tending to a fire this is the pulled pork recipe for you!
Instructions
Preheat Smoker to 200 Degrees F.

Brush a light coating of mustard on the pork shoulder then season liberally on all sides. then refridgerate until youre ready to smoke.

Places the pork shoulder on the smoker on the opposite side from the heat source of the smoker. Let the pork shoulder smoke over night for 6-8 hours. You can monitor the pork temp using a wifi thermeter probe or just check every 4 hours until morning.

Once the pork reaches and internal temp of 155-175 degrees F. you can wrap the pork shoulder in 2 layers of heavy duty aluminum foil.

Raise the temp of the pellet smoker to 225 degrees F. and continue cooking until you reach an internal temperature of around 200 degrees F.

Use the probe to check for tenddrness of the pork. It should goi in with almost no resistance. If it feels tight keep cooking.

Once tender open the foil up and let the pork breath for 10 minutes then wrap it back up and place in a dry cooler covered with a towel to rest for at least 1 hour (up to 5 hours)

After rested remove the pork from the cooler and shred
Notes
serving size 6oz cooked pork
amount of seasonings will vary depending on the size of the pork and personal preference of how much seasoning you prefer.
Low and slow takes time so relax and let the pork smoke.
Nutrition
Calories:
279
kcal
|
Carbohydrates:
1
g
|
Protein:
36
g
|
Fat:
13
g
|
Saturated Fat:
5
g
|
Polyunsaturated Fat:
1
g
|
Monounsaturated Fat:
6
g
|
Cholesterol:
124
mg
|
Sodium:
169
mg
|
Potassium:
642
mg
|
Fiber:
1
g
|
Sugar:
1
g
|
Vitamin A:
51
IU
|
Vitamin C:
2
mg
|
Calcium:
42
mg
|
Iron:
3
mg