Whether you like baby backs or spare ribs, I got all of my best Pellet Grill Ribs in one place. Complete with helpful tips and step-by-step instructions.
If you are new to smoking ribs, I recommend you check out my post. Smoking Ribs for Beginners gives you a ton of great information.
Different Types of Ribs
Pork Ribs
Baby Back Ribs: Also known as loin back ribs, these pork ribs are cut from the upper part of the rib cage near the spine. They tend to have smaller bones but are very meaty and tender. A rack of baby back ribs is the most forgiving and best for beginners.
Spare Ribs: these pork ribs are cut from the lower ribcage closer to the belly and are the largest pork ribs cut. the bones tend to be straighter and longer than baby backs. Spare ribs are often meatier but have more connective tissue and excess fat, requiring hours of smoking to become tender.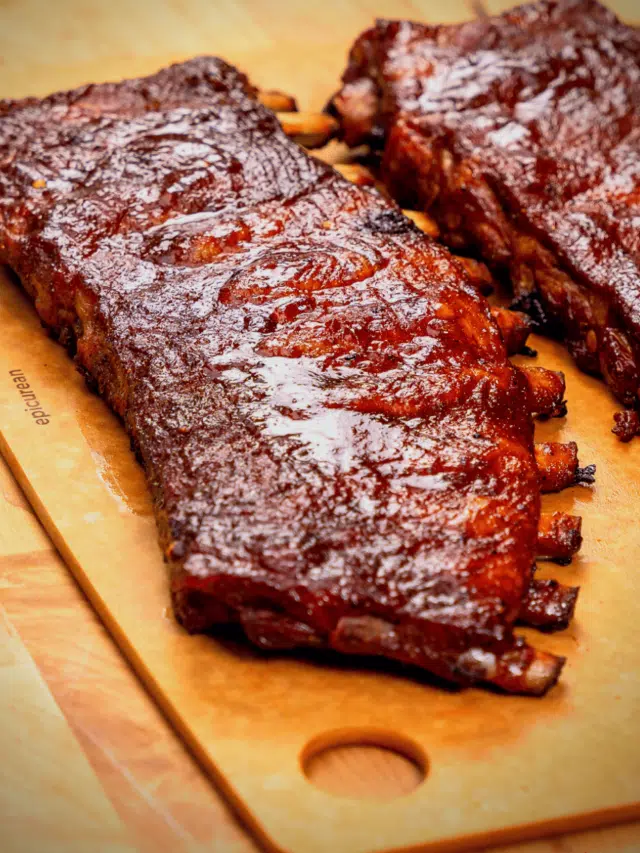 St Louis Spare Ribs: These are trimmed down to remove the rib tips giving the rack a more uniform shape. These Ribs are most often used in professional bbq competitions because they have the most meat and present well.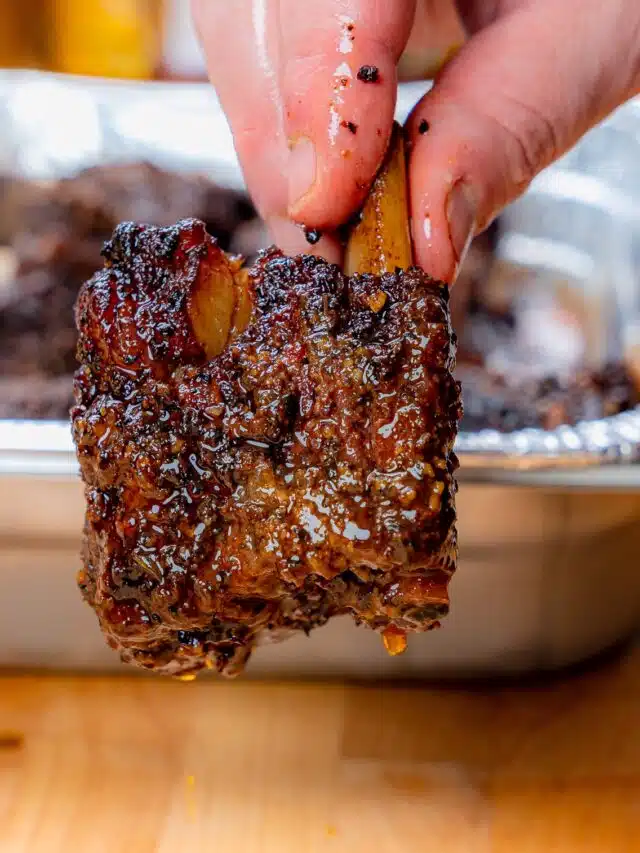 Beef Ribs
Beef Short Ribs: These beef ribs are cut from the top side of the bovine near the spine and are shorter than beef back ribs but have more meat. They have a lot of connective tissue, so they are best prepared low and slow.
Plate Ribs/ Texas Ribs: these massive beef ribs are often sold in 3 bone potions and are the meatiest of the beef ribs. Also called "Dino Ribs" or "Brisket on a stick," they are very fatty but have lots of flavor and stay juicy when cooked for long periods.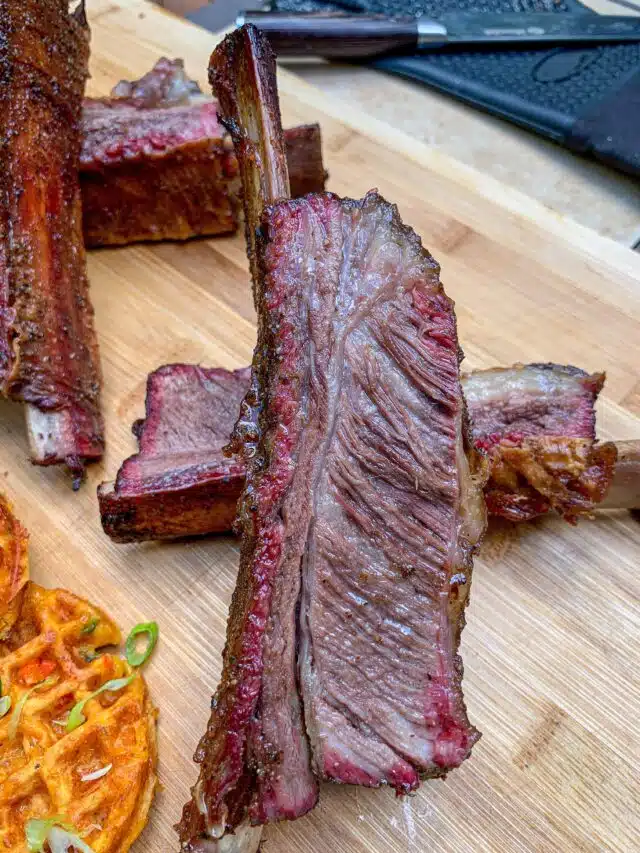 Beef Back Ribs: These beef ribs tend to be the most affordable beef ribs. Beef back ribs have less meat because they are trimmed so close to other, more prized cuts. These cuts are best cooked low and slow to become tender.
Crosscut Beef Short Ribs: these beef ribs are short ribs that have been cut across the rack into long strips. they are often marinated and grilled over high heat like a steak instead of low and slow.
Game Ribs: There are many different Game ribs, like Bison, Elk, Lamb, and venison, that can be prepared using the same cooking methods as beef and pork. a lot of game tends to be leaner, so you will need to be careful not to overcook and keep the meat moist.
What to look for when buying Ribs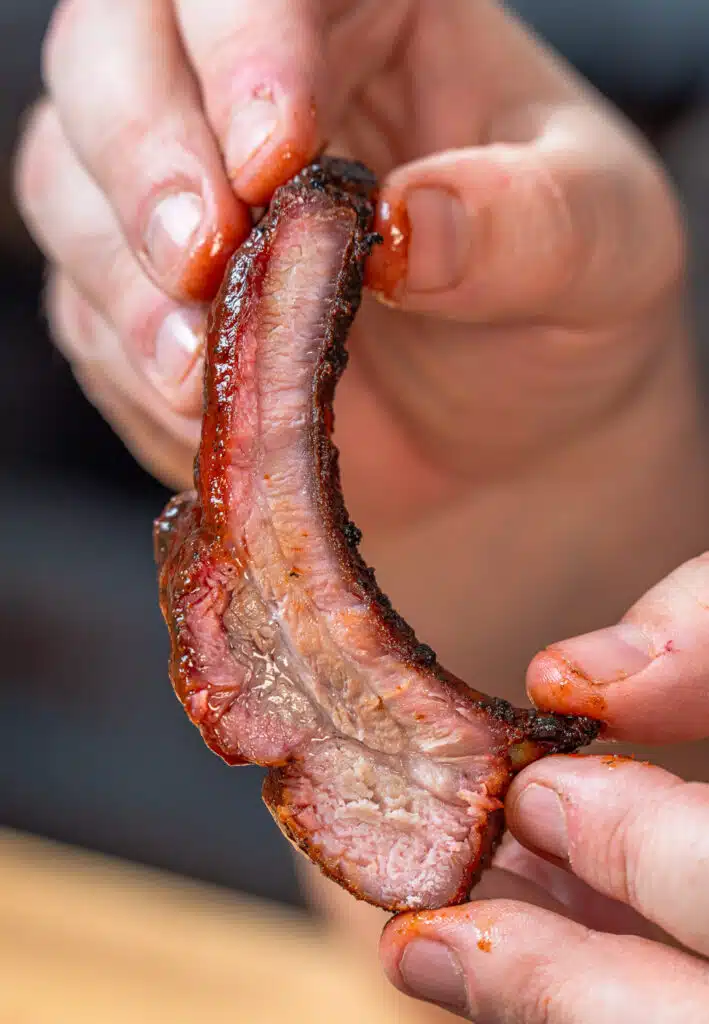 Equipment Checklist:
Wood Pellets: You are going to have a really hard time making pellet grill ribs without wood pellets. Sadly, we have all had that moment when we realize we want ribs but are out of fuel, and off to the store we go!!
Basting Brush: How on earth are you going to look sexy slathering that bbq sauce on some ribs without a basting brush?? you can go with the classic brush or silicone style. Either way, it's essential unless you intend on using a spoon and looking like a rookie.
Meat Thermometer: Other than the pellet grill itself, this is the most important piece of equipment in bbq. I use the meat probe to test for tenderness as much as I actually take the temperature of the meat. There are a million different brands and styles, but I've had good luck with this one (click here)
Paper Towels: Smoking Ribs is a messy endeavor. Paper towels clean up messes. just get some. They are also fantastic for helping you grip the thin membrane when removing it from the back of the ribs. you can also use a butter knife to help you get a grip.
Nitrile Gloves: Are you even grilling if you don't have a pair of black nitrile gloves on? You could use a different color, but you're not changing bedpans at the senior center. You are grilling meats, so get yourself a box that fits those bear claws you call hands and get over it.
Aluminum Foil: Don't get the dollar store garbage. Get the heavy-duty good stuff!! Pick up a Food Service Foil roll from Costco or Sams Club, and you will have it for years.
Butcher Paper: Im still torn on whether I like foil or butcher paper best for wrapping ribs, but I always have both on hand, and you should too.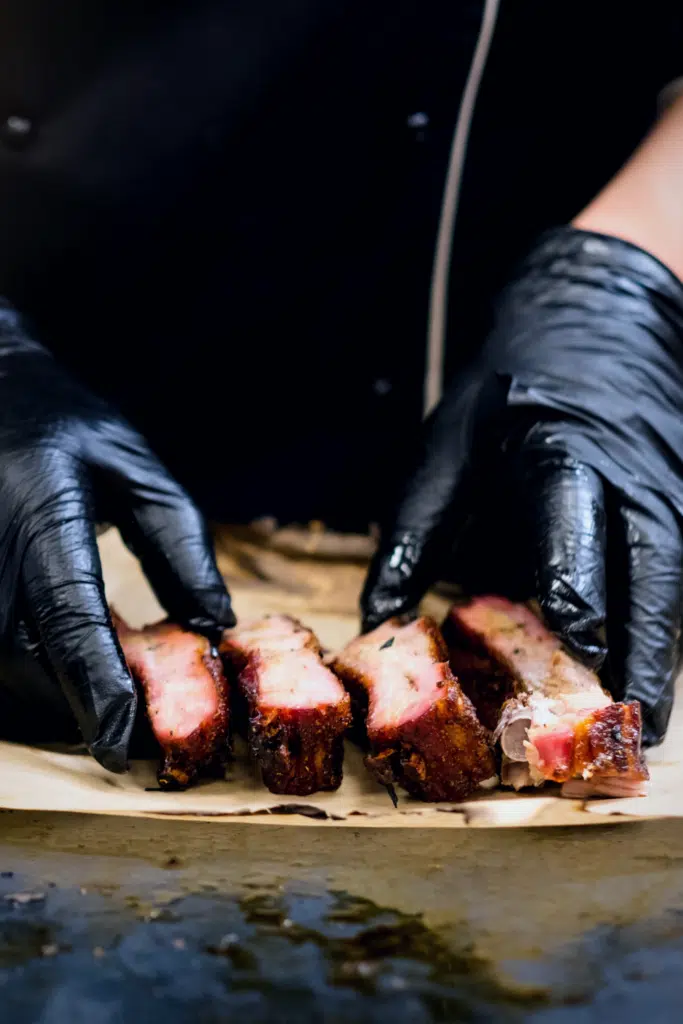 Optional Equipment
Cotton Gloves: these are a low-key lifesaver. you put these cotton gloves on below your nitrile gloves, and you can pick up a hot rack of pellet grill ribs without making a high-pitched yelp that's sure to garnish some looks from friends and family. the cotton gloves also make the nitrile gloves easy to put on when it's hot out, and your hands are sweaty.
Rib Rack: If you need to smoke a bunch of ribs at a time these rib racks can be a game changer. I've fit over a dozen racks on a 36-inch pellet grill before using these racks.
Water Pan: Some people like to add a foil pan to the smoker with liquids like apple juice and Worcestershire sauce to keep the racks of ribs moist
Spray Bottle: another good item to have. Spritzing your ribs with apple cider vinegar or apple juice can add moisture and flavor to your pellet grill ribs. (pro tip to avoid clogging only use thin liquids without herbs or anything that can get stuck in the spray bottle) like a dry rub.
Which Pellet Smoker Should I Buy?
The short answer is the one you can afford and the one that meets your needs.
If you only want to cook occasionally and don't need to feed a lot of people, then you can get away with a smaller no-frills pellet grill. these are great for learning and seeing if this is a hobby you actually enjoy before you drop a few thousand on a high-end pellet grill.
I'm not going to start a war and tell you to buy any specific brand, I have cooked with Traegers, Camp Chefs, Pit Boss, and Recteq, and all of them have their pros and cons, but all can produce great Pellet Grill Ribs.
The high-end pellet grill tends to be made with thicker gauge metal and is more durable. They tend to have more features like Bluetooth/Wifi along with multiple probes and Apps to track the exact temp of the meat throughout the cook.
The Economical Pellet Grills are smaller, made with a cheaper metal, and tend just to have a simple dial with just a few buttons.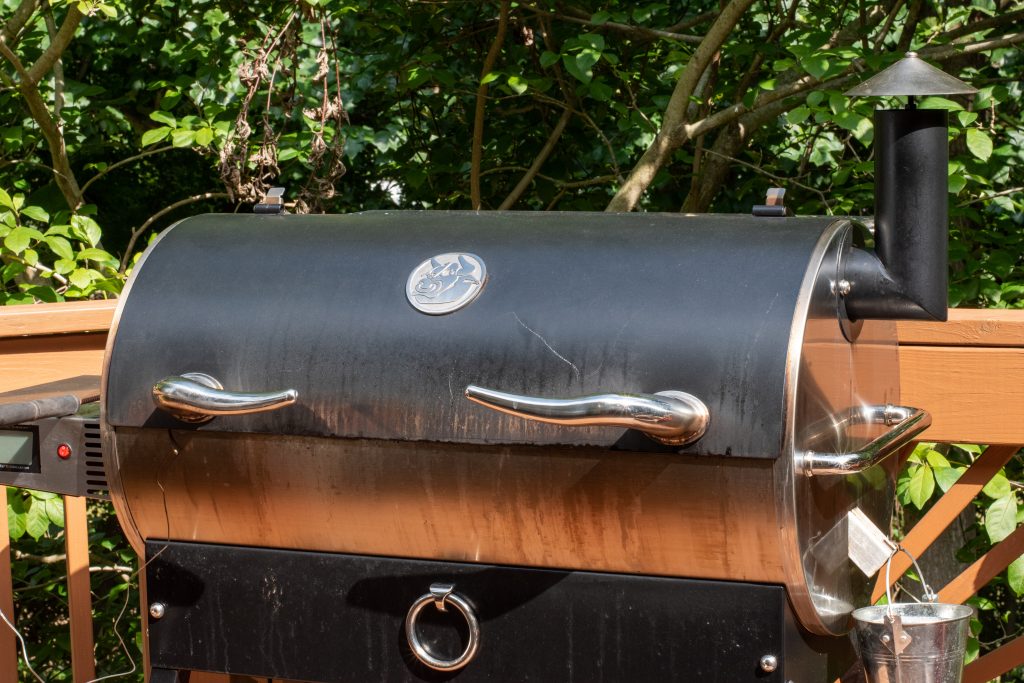 Don't have a pellet Grill and still want to make the best Ribs??
If you don't Have a Pellet Grill yet, don't worry. We got you covered with these rib recipes using other style cookers.
Top 5 BBQ Rubs for Pellet Grill Ribs (In my Opinion)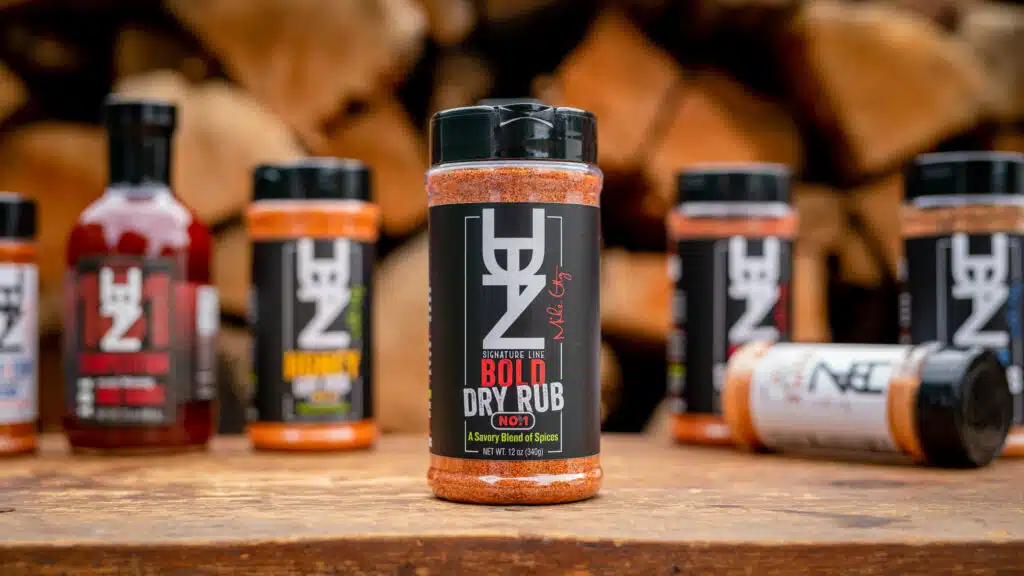 There are so many great brands of bbq rubs. I don't claim that I have tried them all, but out of the ones I have, these are my favorites!!!
Best Wood Pellets For Ribs (In My Opinion)
This will sound like a cop-out, but I don't notice a huge difference between the major brands of wood pellets.
I have tried a bunch of different blends and different woods, and my final product always comes out pretty similar. Strong woods like Mesquite are not my favorite on their own, but I don't mind as part of a blend.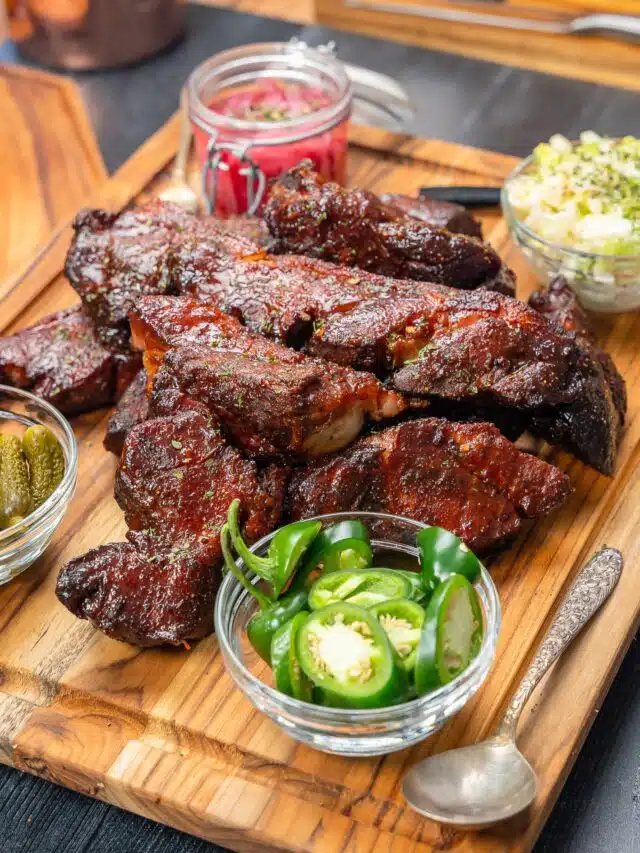 How to tell when Pellet Grill Ribs are Done?
You will find that there are several ways to tell when your ribs are done cooking.
Temperature Test
Using a meat thermometer, take a temp between the bones in the thickest part of the meat if the meat is between 195 and 205 degrees F. You know the meat is close.
The Poke Test
The true test is to use a probe thermometer and test for tenderness by poking the meat in between the bones. If the probe goes into the meat and pulls out with almost no resistance, you know the ribs are done.
The Tong test
Another method to tell if the ribs are tender is the tong test. Pick up the ribs with the tongs lengthwise so the point of the tongs is in the center of the rack.
gently pick up the ribs. If they feel like they will break immediately, the ribs are probably overcooked. If the ribs seem stiff and don't bend at all. They are not tender yet.
The ideal rack will bend, and you will see the meat beginning to pull apart but not breaking.
Best Pellet Grill Rib Recipes
Sauces To Serve with Ribs
Side Dishes That Go Great With Ribs