A collection of my top 5 favorite side dishes to serve this Labor Day Weekend. Hot & Cold Dishes that will go great with anything you're grilling
1. Grilled BBQ Spaghetti Squash Rings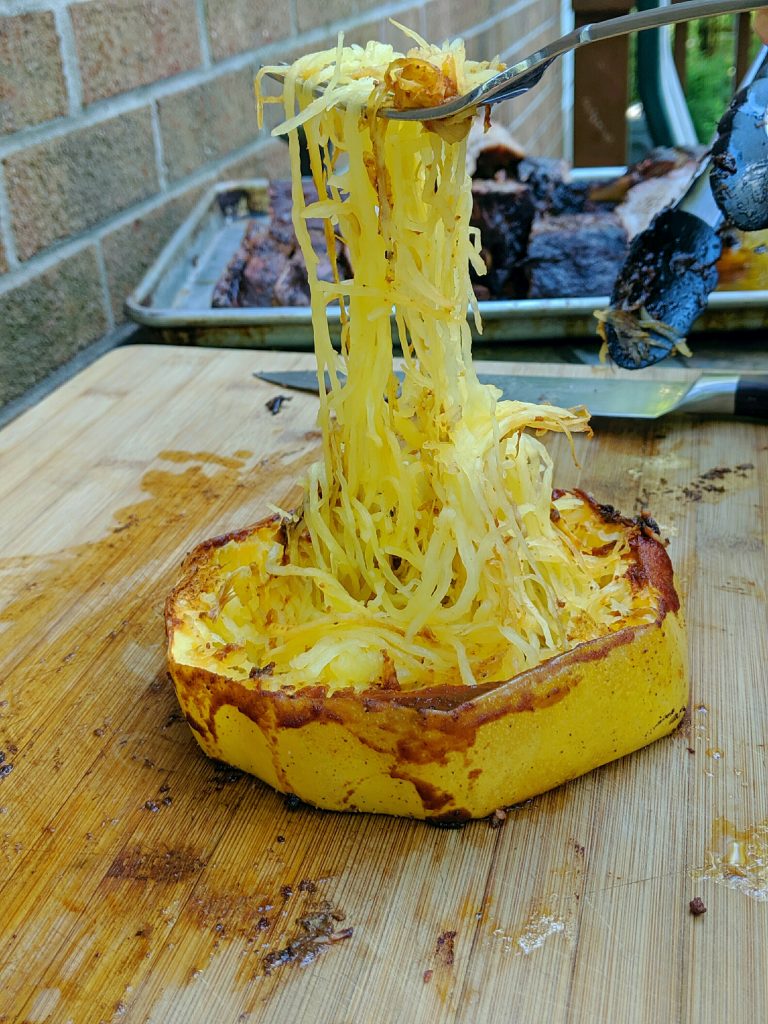 This Super simple recipe has always been a favorite at every cookout I've ever hosted. Grilled Spaghetti squash is a easy side dish that really only has 4 ingredients but doesn't skimp on the flavor. I slice the spaghetti squash into 2 inch rings instead of cutting the squash in half long ways. The rings are then grilled to bring out more flavor than traditional methods.
Slice the spaghetti squash into roughly 2 inch rings then scoop out the seeds using a spoon.



Brush the flesh of the spaghetti squash with melted butter and season generously on both sides.



Grill the squash over direct heat for a few minutes per side then move to indirect heat for the rest of the cook. Looking for a grill temp of between 325-350 degrees F.



Check for doneness by pinching the flesh of the squash looking for the fibers to separate easily. If the fibers are still tough continue cooking until the fibers separate with little tension.



Brush bbq sauce onto the spaghetti squash rings, cook for just a few more minutes to let sauce set up.

Serve individual rings that can be forked out to consume the flesh of the squash.


Calories:
167
kcal
|
Carbohydrates:
16
g
|
Protein:
2
g
|
Fat:
11
g
|
Saturated Fat:
6
g
|
Cholesterol:
24
mg
|
Sodium:
188
mg
|
Potassium:
255
mg
|
Fiber:
3
g
|
Sugar:
8
g
|
Vitamin A:
645
IU
|
Vitamin C:
4.6
mg
|
Calcium:
94
mg
|
Iron:
2.2
mg
2. White BBQ Broccoli Salad
This white bbq broccoli salad is a tribute to the famous Alabama white sauce made famous by Big Bob Gibson's in Decatur Alabama. Last fall I had the opportunity to taste their famous white sauce and bring home a few bottles for myself. Normally the tangy mayonnaise based sauce is used to dunk whole smoked chickens in. I've found it makes quite a tasty salad dressing and it's perfect for this broccoli salad. I use up all my sauce and was forced to make my own version. I've made a few changes but I think it's a very good representation of the iconic sauce.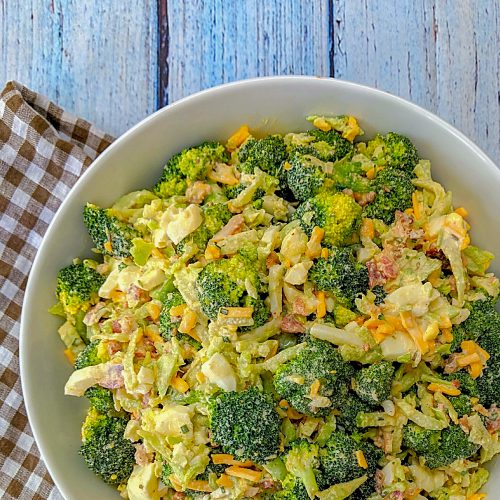 Boil eggs in Egg Cooker then run under cold water, peel and chop eggs. Set aside

Cut Broccoli into bite size florets, Grate the stems and add to a pot of salted boiling water for 90 seconds. Immediately drain broccoli and shock in cold water to stop the cooking process. Set aside

Combine all ingredients in a large mixing bowl so that the broccoli is fully coated. Chill for at least 1 hour before serving.
Calories:
217
kcal
|
Carbohydrates:
7
g
|
Protein:
7
g
|
Fat:
18
g
|
Saturated Fat:
4
g
|
Cholesterol:
112
mg
|
Sodium:
951
mg
|
Potassium:
348
mg
|
Fiber:
2
g
|
Sugar:
2
g
|
Vitamin A:
1125
IU
|
Vitamin C:
81.1
mg
|
Calcium:
106
mg
|
Iron:
1.5
mg
3. Alton Brown's Baked Beans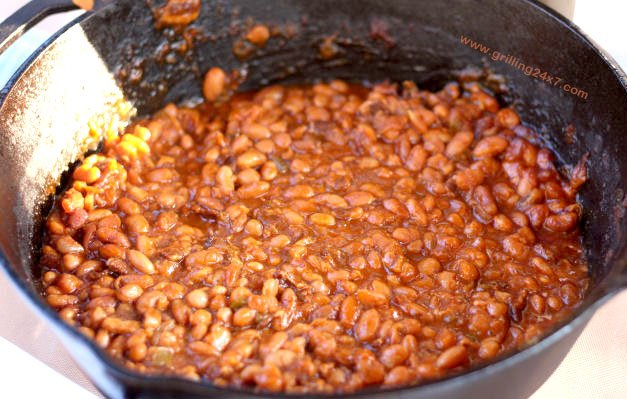 One of the most classic barbecue side dishes is baked beans. In my opinion this is one of the best recipes available. It's cooked in a cast iron skillet for a few hours and everytime I make this recipe it reminds of a baked bean recipe that a cowboy would be eating sitting out next to his horse on a campsite. This baked bean recipe is from Alton Brown's show on Food Network "Good Eats" Alton Brown's Baked Beans recipe requires soaking your beans overnight and then baking them for about 6 hours. It might sound like a lot of work but it is well worth it.
first step is to soak the beans overnight. I make sure to fill the bowl with enough water to allow for the beans to expand. This turns out to be about 1 inch of water over the beans.

The next day you chop the bacon, dice the jalapenos and onions and add them to your pan. Alton Brown recommends a cast iron dutch oven. I don't have a cast iron dutch oven but I do have a 4 qt cast iron skillet. I used this and it turned out just fine. I would imagine this baked bean recipe would also work well in a crock pot as long as you do the initial sauteing in a regular frying pan. Over medium heat sautee the onions, jalapenos and bacon until the onions are soft (about 5-8 min).

After the onions are soft, add the tomato paste, brown sugar and molasses to the skillet

Stir this around for a little bit and then strain the beans and add them to the skillet. Save the water the beans were soaking in and then add 4 cups of this water to the skillet. It may seem like a lot of liquid but all this liquid will reduce by quite a bit during the cook. Add the cayenne pepper, salt, and pepper and bring this to a boil over high heat.

Once the beans are boiling, cover the skillet and place it in a preheated 250 degree oven for about 6-8 hours
Calories:
254
kcal
|
Carbohydrates:
36
g
|
Protein:
11
g
|
Fat:
8
g
|
Saturated Fat:
3
g
|
Cholesterol:
12
mg
|
Sodium:
565
mg
|
Potassium:
745
mg
|
Fiber:
8
g
|
Sugar:
12
g
|
Vitamin A:
133
IU
|
Vitamin C:
7
mg
|
Calcium:
89
mg
|
Iron:
3
mg
4.Bleu Cheese Coleslaw
Start this one out by making the blue cheese coleslaw. It is really easy to make. First you mix all of the wet ingredients. Then combine them with the pre-shredded cabbage/coleslaw mix, then add the blue cheese and parsley. Easy.
Mix everything in a bowl except for the coleslaw.

Add in the coleslaw and mix well.

Top with some extra blue cheese crumbles.
5. Broccoli Bacon Cheddar Bake
Everyone says you need to eat your veggies. Nobody said I couldn't cover them in bacon, cheddar and cream first. This easy to prepare one pan side dish is perfect for any night of the week. Packed with cheesy bacony goodness.
2

Bunches

Broccoli

1

cup

Chopped Cooked Bacon

1

cup

Shredded Cheddar

1/2

cup

Heavy Cream

4

oz

Cream Cheese

softened

1/2

packet

Ranch Seasoning Packet

1

cup

Cherry Tomatoes

Sliced

1/2

cup

Sour Cream
Slice broccoli florets into bite size pieces and using a box grater or food processor grate the stems

Cook bacon until crispy and chop, then slice cherry tomatoes in half

Bring a pot of salted water to a boil then blanch broccoli for about 2-3 minutes then immediately shock the broccoli in ice waterloo stop the cooking process

Combine all ingredients except cherry tomatoes and half of the cheddar cheese in a bowl then pour mixture into a cast iron skillet.

Top broccoli mixture with remaining cheddar cheese and sliced cherry tomatoes. Bake at 400 degrees F. for 20-25 minutes then garnish with a dollop of sour cream
Calories:
207
kcal
|
Carbohydrates:
10
g
|
Protein:
7
g
|
Fat:
15
g
|
Saturated Fat:
9
g
|
Cholesterol:
48
mg
|
Sodium:
285
mg
|
Potassium:
474
mg
|
Fiber:
3
g
|
Sugar:
3
g
|
Vitamin A:
1345
IU
|
Vitamin C:
112
mg
|
Calcium:
172
mg
|
Iron:
1.1
mg